Are you always on the go living life in express mode? No time to tamp and grind your own espresso beans but absolutely love a great cup of espresso? Yes, we all agree that the eclectic espresso is the absolute elixir for those with the button stuck on express mode – and there is no doubt why! Here, you will be introduced to the most impressive, and the very best super-automatic espresso machines you can buy today!
QUICK GLANCE AT THE BEST SUPER-AUTOMATIC ESPRESSO MACHINES
You're in the market for a new Super Automatic Espresso Machine huh? Let this guide provide the insight and the resources to help you make the best decision in terms of features, benefits, functionality, product reviews, where to get the best deals… not to mention all of the pros and cons of the top-rated super automated espresso machines.
For anyone who leads a super-packed and fast-paced lifestyle, the espresso packs in the taste, punch, energy (Mmmm caffeine!), which is easy to drink in a fairly short time span. Let's face it, an espresso is perfect for any and all coffee lovers who prefer a condensed premium coffee experience. A great espresso can be made super quickly and efficiently – provided you have the right type of espresso machine. For anyone who people short on time, many opt for the fully automatic experience of an automatic espresso machine that can do pretty much all of the work for them, so they can carry on about their busy day.
The search for the 'right' espresso machine dates back to the age of steam. Technically speaking, people have been drinking espresso for over a hundred years. Angelo Moriondo is considered the first to encapsulate the modern espresso machine using steam, high pressure, and grounds-tightly packed. Bezerra and Desiderio Pavoni further perfected it by including steam wands, portafilters, and pressure release valves. Soon after, Achille Gaggia (a popular brand even today) improved the pressure control by introducing the barista-operated spring-piston lever.
<!–noptimize–> <!–/noptimize–>
Since that time, way back in the early 1900s, people worldwide have been enjoying a nice cup of espresso in cafés, restaurants, and even at home with the help of one of the new, top-of-the-line automatic espresso machines.
Semi vs Fully/Super Automatic Espresso Machine
You may be wondering then how does the 'super automatic' differ from a semi-automatic or fully automatic espresso machine. Don't worry, we'll break it all down for you.
Semi-Automatic Espresso Machines
A notch of pressure improvement from Gaggia's masterpiece! Ernesto Valente introduced a motorized pump mechanism that eliminated the need to manually pump the piston, hence delivering a stronger shot. However, this is why they are referred to as 'semi-automatic' espresso machines:
<!–noptimize–> <!–/noptimize–>
The barista decides when the shot is done, and not the machine.
You are required to tamp and grind your own beans.
It's often used in commercial settings and requires more group heads to pull many shots at once.
Fully-Automatic Espresso Machines
Quite close to achieving 100% automated brewing, but falls short of reaching the title of super-automatic due to missing some steps in the espresso making process. Herein, 'flowmeters' control the exact amount of water that has to be passed through the puck and stop the passage when the apt amount is filtered. The need to manually control the brew time is definitely kept at bay. But, here's why they don't let you sit on the couch waiting for your espresso to be ready:
You will need to go through the grind of grinding your own beans.
Most of these machines include semi-automatic redundancy features.
Due to the similarities, it is common to find them in each other's sections in retail stores.
So, What's so super about a Super Automatic Espresso Machine?
Super-automatic espresso machines are designed to truly automate just about every step of your espresso making experience, right from grinding the coffee beans to pressurizing and pouring. It's almost like waving a magic wand. Designed with high programmability technologies, some of these specialized espresso machines have automatic milk frothers or steamers. These can be a delight for the dairy-inclined coffee lovers who want that perfect frothy creme when on the go.
Let's find out which super automatic espresso machine can perfectly pull your shot.
We first thought of including some of the best Nespresso machines, but then dropped them. They are automatic and bring convenience to a great extent, but, are not complete bean to cup machines. Therefore, we have compiled this list of the world's best Super-Automatic Espresso Machines excluding the ones which are not 'Bean-to-Cup':
The Best Super Automatic Espresso Machines – Our Favorites
So, let's get started… Do you want all the insight into the Best of Automatic Espresso Machines? We break down our top-rated automatic espresso makers based on quality, customer reviews, features, and price. Here is our list of favorites that are super cool to operate and you will be proud to be owners of.
1. Gaggia Brera – Cheapest Super-Automatic
This compact super automatic espresso machine is quite capable of turning your kitchen into a café. Excelling in frothing milk, the Pannarello steam wand siphons air directly into milk resulting in a relish-worthy velvety foam beverage. In addition to espressos, this gives you levy to brew cappuccinos and lattes.
<!–noptimize–> <!–/noptimize–>
What we liked best about this Super Automatic Espresso Machine
It does bring out the 'explorer' within you. Although you may notice only 4 buttons on the panel which are super easy to operate, but adjusting them to match your preferences is an artistic skill to master! These 4 buttons, with varied adjustments, make all the difference. Bean-shopping doesn't need to involve wearing spy glasses anymore, since the sturdy ceramic burr grinder and bypass doser allow brewing with either whole beans or even pre-ground coffee.
It's not going to occupy humongous space on your counter as its front loading deg drawer and water reservoir make it slide under kitchen cabinets with ease. Just like a velvety espresso beverage sliding across your taste buds.
Want to make things steamy in under 10 seconds? It allows you to steam on demand – heating up to steam temperatures in under ten seconds.
Cons
Intuitiveness: Although the Gaggia Adapting System accommodates your preferred bean by adjusting how the grinder operates, this can be quite a learning curve to conquer for the newbie home brewing person.
If you drink multiple cups a day, be prepared to refill it often as the water tank is relatively small.
Cleaning: The metal area under the steam wand can be baked with milk. FYI: Put your mug under the dispenser BEDORE you press on. The automatic rinse function is quick to catch us all off-guard.
2. Delonghi ESAM3300 Super Automatic Espresso Machine
The Delonghi ESAM3300 is all out to cheer for the all the espresso drinkers in the crowd who love foam! It's ready to empower you and give you the freedom to make choices, 'Your foam. Your way'. The manual frother diligently mixes steam and milk to carefully create luscious and creamy foam for each espresso as needed. Equipped with 13 adjustable settings, the burr grinder grinds fresh beans with precision delivering bursts of freshness within each espresso shot.
Again, since this machine is also about letting you in control to make your choices, you can choose pre-ground in the second chamber as well. This automatic espresso machine was truly created with consumers in mind, giving you the flexibility to completely control the end results of every cup made, making it one of the top choices when it comes to super automatic espresso machines.
What we liked best about this Super Automatic Espresso Machine
The array of settings on this machine provide limitless choices for the user. You can brew your espresso or cappuccino by programming all of your desired choices to create your customized beverage exactly the way you like it. Which is fantastic, however, what's really cool is that once the machine understands your choice, it 'remembers' you and your preferences. It will remember the strength of your brew as well as the apt size of your beverage. Quite a score there! It is quite, and has an energy efficient 3-hour automatic shut off feature.
<!–noptimize–> <!–/noptimize–>
You'd think that in order to do all this work for you, you may wonder how much work is involved to clean up after it. Surprisingly, this super-automatic machine makes cleanup rather simple. The 'direct-to-brew' system keeps maintenance minimal. Chemical cleanings are not essential. Only, water can be caused due to the ground coffee blocked in the funnel, if any. Simply remove this using a fork/toothpick. Then clean up the inside. Simply as that.
Cons
Loud: It tends to get a bit noisy if you keep your hands off it. Many may not be pleased with unpleasant noises at the start of the day.
Construction: While it has energy-saving features, the plastic parts don't render it completely environment friendly. Plastic also makes it flimsy, and knobs can break quickly if you're a little rough on things.
Cleaning: The steam function in this automatic espresso machine releases water which drains into the tray for the cup which needs to be wiped frequently.
3. De'Longhi Dinamica Automatic Espresso Coffee Machine
Ice, Ice Baby. If that's your song and your brew; then the De'Longhi Dinamica will make you stop, collaborate, and listen. With its iced coffee function, it can craft a solid, yet smooth, and voluptuous iced coffee that will make your guests melt away in awe. Its unique TruBrew ice technology ensures that your iced-coffee isn't watered down making is an iced coffee lover's favorite. But don't count out its amazing hot beverage prowess, as this machine creates amazing espressos and cappuccinos equally as well.
What we liked best about this Super Automatic Espresso Machine
For the ones who like it hot, it delivers barista-level coffee in less than 40 seconds and all you need is a single one-touch operation to get things started. Talk about easy! It's Italian 15 bar high-performance pump makes this all possible. You can alter the strength of your coffee across a 5-setting spectrum (from extra-strong to extra-mild). It's quite a breeze to clean with its removable brew unit. Just remove and wash. The drip tray can be put into the dishwater too. Overall, this super automatic espresso machine is an amazing entry into the list that excites a lot of conquerors of the cup!
Cons
Time: Many machines can heat it up in 3 seconds so, the 40 second heating times can seem long for those who value every second. The lack of a secondary thermoblock heating system may cause a sacrifice of some consumer's precious time.
It lacks an automatic conversion milk foam feature. Without an active bean monitoring input, or powder detection for second ground coffee; it can seem pricey.
4. Jura Ena 1 Fully Automatic Espresso Machine
The Jura ENA 1 works well on the principle of – 2 birds in one shot. It's works great, not only for your coffee habit, but also for the esthetics of your kitchen space. The Juna ENA 1 boats a sleek and dashing appearance, designed to look amazing and compact enough even for smaller spaces. It can be placed almost anywhere on your counter and kept inside cabinets when not in use. While delivering richness in your cup, its highly advanced brewing modalities work seamlessly.
What we liked best about this Super Automatic Espresso Machine
It pledges brewing consistency each and every time. Each cup you make will be consistent in richness and taste. No new unwanted flavor surprises in the morning. The conical burr grinder houses multi-level grinding functions that optimally grind the beans to the right consistency. It's freshly ground and not capsuled. With a single touch, you're ready to prepare 3 specialties – Ristretto, Espresso or Coffee.
High on design and simple to operate! Quite the ultra user-friendly machine, its touch panel has three user-defined cup sizes and two aroma levels. It stays true to being kind to the environment, as it generates very little to no waste while grinding using its built-in energy efficiency rated motor. Pick up some good espresso beans and this machine will never disappoint you.
Cons
Residue woes: After carafe is removed, residues do drip. Due to this, scrubbing comes into play. Sometimes coffee tends to remain with the carafe, and it cannot be easily poured out.
Sometimes it speaks too simple: lacks a hot water dispenser, or even a cappuccino frother in there! Evaluating the price factor, it can seem steep.
Moreover, this super automatic espresso machine is limited to just 3 drinks – not the specialty ones.
5. Philips 3200 Super Automatic Espresso Machine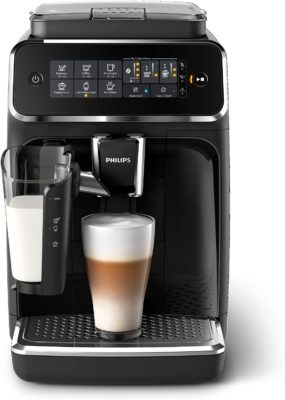 Dreaming of having a mini-coffee shop right in your home? The Philips 3200 is set out to make your dream come to life if you supply the coffee beans. It delivers 5 aromatic coffees at your demand. Be it an espresso, coffee or simply a milk-based recipe; this espresso machine is ready to make it happen.
Selection is simple. The intuitive touch display in this automatic espresso machine makes it a breeze to select the coffee of your choice. Head to the 'My Coffee Choice' menu, and adjust to your desired beverage strength and quantity. The 12-step ceramic grinder adjustment takes care of it all – from fine to coarse bean grinding.
What we liked best about this Super Automatic Espresso Machine
Frothy tops for your coffee! The LatteGo systems is prefect for taking your coffee to the next level in terms of frothy steamed milk creme topped espresso drinks! Milk and air are mixed at high-speed frequencies, and a velvety, smooth froth emerges from this built-in high speed function. Cleaning and maintenance are ultra-easy. Since the 2-parts milk system has no tubes or hidden parts, it can also be easily rinsed and even placed in the dishwasher.
Cons
The touch buttons are not very tactile for office use. It's better suited for the home.
The price is quite steep. It may roughly take 6 months of coffee-shop drinks' purchases to cover the cost for this machine. Only if you're an absolutely avid coffee drinker, this can be a valuable investment.
Sale
6. Saeco Incanto Super Automatic Espresso Maker
With its intuitive Italian craftsmanship, this Saeco espresso machine speaks toughness, innovation and sets high standards in its class. The construction along with its tough stainless steel design definitely makes it sturdy for anyone who may not be all too gentle with appliances.
What we liked best about this Super Automatic Espresso Machine
This automatic espresso machine advanced technology is geared to deliver maximum flavor – each and every time. Embedded with a super-fast heating boiler technology, one can quickly brew cups back to back. For the ones who may sometimes like some decaffeinated coffee, it houses a 'powder option'. The integrated milk carafe offers specialty coffees with milk for those who love a little diversity in their espresso or coffee experience.
It does aim to make it effortless for the user. The removable brew group helps do the machine everything by itself. The fresh beans are ground consistently every single time. All you need to do is simply 'hit that button' and this machine truly lives up to the "automatic" in term super-automatic espresso machine.
In the Coffee Industry, many know all too well how the type of water used to make coffee truly influences the taste – especially when using hard water. A few coffee enthusiasts turn to distilled water which still can contain minerals. These minerals can leave residue buildup on the coffee maker, which and again impact the taste. To circumvent this, the Saeco Incanto comes with its built-in AquaClean Filter. Descaling isn't essential as the AquaClean filter helps deliver up to 5,000 cups of coffee free from mineral deposits which can negatively affect the overall tastes and performance of your machine. You may just need to ensure that you do a regular replacement of the filter and each cup will be made with perfectly filtered water every time.
Cons
It's a bit tedious to clean. Probably due to the construction. The large brewhead requires quite a lot of water. A separate strong brush may need to be purchased in addition to the one given. An intense brushdown is necessary to remove residues.
Ceramic blade grinder – not very efficient given the cost.
7. Gaggia Anima Prestige Automatic Espresso/Coffee Maker
The Gaggia Anima Prestige is a sleek, slim, and programmable super-automatic espresso machine for your kitchen counter. The interface is very simple to understand in one go, with 6 dedicated buttons for each drink. Just one touch of a button is all it takes to make your espresso, cappuccinos, lattes and just about most things on your café menu. Along with an auto-frothing carafe, it's quite tempting for milk-lovers.
What we liked best about this Super Automatic Espresso Machine
It's high on that personal touch! The Gaggia Anima Prestige does a fairly good job to remember your personal taste. With its programmable brewing, temperature settings, and adjustable strength; truly focusing on a personal touch to your brewing experience. Quite an adapting system indeed!
A good choice if you love hosting guests. The Bypass Doser allows in brewing pre-ground coffee and makes it easy when you have a larger group of people to serve. Hosts love using this device for gatherings or get-togethers.
The water reservoir can be accessed from the top left or top right, keeping it effortless to access. The design almost resembles the famous Gaggia Accademia, but Anima Prestige is priced very fairly and is quite budget-friendly.
Cons
Single boiler. This results in higher waiting period to make things hot.
Compared to other options in the market, this one's quite pricey for the value delivered. Relatively, it's just a tad bit aging.
8. De'longhi Eletta Super Automatic Espresso Maker
This Delonghi espresso machine puts your espresso cup into the milky way by offering a nice crema. The auto-frothing wand also gives steaming hot milk. You can adjust the auto-froth level to match your preference. Set it to the finest level, and you will be served finer groups which give that smooth dash – in every sip. It delivers consistency each time, and also allows you to customise your coffee with simple settings.
What we liked best about this Super Automatic Espresso Machine
This super automatic espresso machine is very suitable to a pro or even a coffee brewing newbie or home brewer. Even though it provides multiple options, navigation and operation are quite intuitive. An auto-on function to automatically serve you hot espresso to really make your day more enjoyable. The milk cleaning system can be easily dialed. The angled-up control panel keeps the viewing quite easy to read from any tabletop or counter space.
Cons
In comparison to the rest, it is relatively slow to startup.
The price is high given the display. It doesn't offer user profiles to save coffee beverages per user. So if this is for a family, you cannot save each member's coffee preference profile.
The cleaning needs work. During start-up and shut down, the cleaning time to be dedicated needs to be factored in. Also, one will need to take out the dip tray and ground bin in order to remove the milk frothing system.
9. Gaggia Babila Super Automatic Coffee Machine
The Gaggia Babila is a newcomer to the super automatic espresso machine list and comes with both – a carafe and a steam wand. You can brew up your perfect drink with the push of a button, or manually on your own with the help of the manual wand. Great for those who want their espresso made for them and for want to use the wand like a barista for the perfect amount of froth since it is equipped to do both.
What we liked best about this Super Automatic Espresso Machine
Offering a magic wand to brew up the perfect espresso shot! The manual wand gives you the freedom to texture your milk in the way you want it. The Latte art quality micro froth, an airier froth for cappuccino, helps customize milk-based drinks.
The flow knob is your adjustment friend – you can easily switch between strong espresso or a lighter, larger coffee without having to over-extract. The bypass doser lets you use pre-ground coffee as well for varied coffee options (One-Touch Cappuccino, Tall Spouts, Stainless Accents).
It's pretty height-friendly. Pour into any cup from 3" inches to 6" inches with the help of the adjustable telescopic coffee dispenser. A great pick for espresso or tall to-go cups.
Maintenance is reasonable. The internal dreg bin can hold over 10 pucks of used coffee grounds. Now, that's quite a good amount. You just need to empty out the bin once it's filled up. Next, a simple wipe-down. With an entirely removable brew unit, it also comes with an automatic rinse and a descale cycle function.
Cons
Refilling Woes: Although this machine houses a pretty large water reservoir, some users find themselves having to refill the reservoir often between automatic rinse cycles and repeated brews.
Gaggia Babila Espresso Machine
One touch brewing and frothing: bean-to-cup...
ACCESSORIES INCLUDED: 1 bottle of Gaggia...
PROGRAMMABLE: 8 Programmable brewing options...
10. Saeco Xelsis Automatic Coffee Machine
A perfect pick for families. Since each member may have his/her own preference and it's important to address each one's cup; Saeco Xelsis offers 6 customizable user profiles. You need not change the settings to fit your taste each time. Just pick your saved user profile, the color touchscreen display will intuitively store everybody's favorite drink with personalized settings. Pull up any by one touch. It makes you cappuccinos, is a latte maker as well and a host of other great coffee drinks too!
What we liked best about this Super Automatic Espresso Machine
The cleaning chores are taken care off to a large extent. This machine has a HygieSteam function, which cleans up the entire milk circuit with steam, right from the spout to the milk tubes. Also, every time you make a milk-based drink, it automatically cleans the milk system with a jet of hygienic steam. Before you know it, it's ready and clean for you to make the next drink.
We spoke above about how AquaClean Filters can enhance your coffee taste. This machine too houses the AquaClean Filter delivering improved coffee taste.
Cons
It is a lot of money if you're only one person to use this machine. However, it's better suited for family setups.
Users have often expressed concern about the drip tray, as its susceptible to scratches.
11. Jura E8 Super Automatic
For someone who is already deeply-entrenched into the coffee community; this can be quite attention and value grabbing. The Jura E8 Automatic Espresso Machine brings precision on the forefront. It offers state-of-the-art technology with its six-level aroma G3 grinder. This preserves the coffee's aromas, and brings it right into your cup. It can easily grind fresh coffee beans, two times faster than conventional grinders.
What we liked best about this Super Automatic Espresso Machine
Engineered with the world class Pulse Extraction Process (P.E.P.), the coffee bean extraction time is optimised. So, what is the result exactly? Even short specialty coffees such as ristretto and espresso are infused with the bold intensity and breadth of aromas.
This machine is designed with techie prowess with an array of features. It houses a fine foam technology which serves a perfect layer of feather-light milk foam. I guess one could say a crowning glory for your drink!
Soaring high in design, this is pure elegance on your kitchen counter. It's sleek even in usage. The colour display is very easy to navigate and understand – with dedicated buttons assigned for dedicated drinks.
Cons
The milk features are quite tedious to clean.
The foam isn't as hot, but it's common with automatic machines. This wouldn't be appreciated by those who like to begin their day with piping-hot sips of coffee.
Dainty is good. However, some users have raised issues regarding the machine being too delicate. Do check up the warranty before purchasing.
If budget doesn't binds you, don't forget to check out another marvel, the Jura C65. We have not included that model in this list as the pricing part was a little on the higher side to accommodate in here, but if budget doesn't bars you, check our review about Jura C65.
12. Breville Oracle Touch Fully Automatic Coffee Machine
Breville as a brand has empowered people's potential to do more things, more easily and impressively than they'd think were possible in their own kitchen. Sticking to this idealogy, the Breville Oracle Touch has earned industrial clout. Though it can't be referred to as a true Super Automatic, it is an advanced device classified by many as one of the very best fully automatic espresso machines. So, we figured it would be best to include it here as Breville is one brand that simply can't be missed when thinking Espresso.
There is an outstanding feature is included in this machine. A commercial option, Over Pressure Valve (OPV), limits the maximum pressure throughout the extraction, preventing bitter flavors in the coffee shot. It delivers even extraction through a true low-pressure pre-infusion. The pressure is increased in a step-by-step fashion to carefully expand the grinds.
What we liked best about this Super Automatic Espresso Machine
This machine helps deliver 4 key formulas that make each coffee's math simple and tasty.
Full bodied flavour: The right dose of freshly ground beans to serve a rich, velvety and viscous espresso.
Well balanced taste: Digital temperature control (PID) technology to monitor water temperature and extract the best aromas.
Irresistible body: Low pressure pre-infusion that soaks the grinds, and allow water to get through evenly at the high pressure (9 bar) extraction process.
Micro-foam texture: A harmoniously sweet and flavoursome texture delivered through the micro-foam steam wand.
Cons
Designed for the ones who like it strong. This machine is well suited for the ones who love their brew to be strong. If you're not too much into strong flavours, this might not satisfy you completely.
It's important to source fresh roasted beans or get bags that have roasted on dates and not use by dates. If this is hard to find in your locality, you may not be able to enjoy the fullness of the flavours in your drink.
This machine requires ample space in the kitchen as it is pretty big in size. Not quite suited if space is an issue.
Buyer's Guide – 7 Commandments
Automation definitely does save ample time in any process. Combatting morning chores or the hustle and bustle of the daily grind can be conquered with a perfect espresso. However, with a multitude of automated machines out there, it can get fairly perplexing as to which one to opt for. While some may require you to buy your beans ground, or rely on the portafilter; others may demand that you tap into your explorative side to achieve that perfect shot. As this purchase should be a one-time affair, it will be advisable to review and make a list of a few of your preferences to ensure you get one that does everything you need.
Let's gauge the 7 key parameters to help you with the purchasing decision of your next super automatic espresso machine.
1. Boiler System – Single or Double
Let's get to the basics- a boiler is located within the machine. It's a sealed metal container that holds the water poured in the water reservoir. The water in the boiler is heated to the temperature required to make that espresso shot as well as to produce the steam for the milk frothing process.
Single boiler (with one boiler), in order to extract through the ground coffee, the water must be heated to the right temperature. A waiting period adds up while the water heats up to a hotter temperature, which is necessary to achieve correctly steamed/frothed milk. Double boilers (with two separate boilers having two individual heating thermostats) permit one to heat water to a hotter temperature than the other. As the correct water temperature is used for each function, better flavors can be extracted as it runs through the beans.
For the ones in a rush daily and yet not ready to compromise on flavour, double boilers will do the job.
2. Programmability
Making the perfect shot involves an artistic tech backend. Programmability can vary – some machines produce everything in a single click. While some need you to grind. Account in the ease factor, and the time in hand. If you sense, you're someone who has time to do the partial job – you can settle in for a cheaper machine with fewer features. However, if you sense the 'one-click-to-get-it-all' is what you've been looking for to ease your chores; then go all out by opting for advanced features.
FYI: Be sure that you can navigate around technology well. If not investing all the money and not being moderately tech-savvy; can be quite a nuisance.
Also, it's important to note that the advance technology does enhance taste, velvety froth and serve a richer experience with each cup.
3. Drink Options
If you're already spoilt for choice and love sipping a new drink almost every alternate day: then opt for the machine which provides a one-touch button for espresso, milk, cappuccino, latte, latte-macchiato, or hot water. Look for models that allow you to make adjustments to water temperatures, strength, and froth.
But if you're specific and consistent with your drink: a daily dose of espresso only – then there isn't a point of paying for what you wouldn't use.
4. Maintenance & Cleaning
Remember that purchasing a super automatic machine can save time. But another equally important factor is 'cleaning' which also takes up time. Coffee stains can be stubborn to say the least.
Make sure that your machine has atleast some level of auto-cleaning or provisions that allow 'drips' to occur. Find out which parts can be detached or not. Find out which parts are dishwasher-friendly. Assess the filters as this is one area which requires maintenance. This way, your cleaning hassle is addressed to quite a large extent.
Most of the top-notch machines demand relatively less upkeep.
5. Brew Strength
Opt for models that allow you to make adjustments to the strength of your brew. Experimenting with strength can also help you find your perfect taste preference.
Observe the bars of the machine and the pressure they can offer. Higher figures mean that they can offer higher pressures with which the coffee will come out. Enhanced flavour and greater intensity comes along with higher pressures.
6. Water Reservoir Size
The number of cups that can be brewed at a single time is crucial. Ask yourself as to how many members in the family will use this machine. Is it only to brew for you, or for your full family?
Also, how much space will this machine occupy in your kitchen?
Accordingly, set out to buy a machine whose water reservoir can do justice to both your responses.
7. Price
The steepest of the lot are the super Automatic machines. But of course, they also house the most advanced features and convenience. The double boiler semi-automatic machines are comparatively higher priced than the single boiler dual use machines.
These machines tick off almost each task: right from grinding the beans, tamping the grounds, brewing it with pressure, providing foam, options to experience multitude of strengths to even dumping out the coffee grounds. The machines on the market sell for a range of $400 to approximately $2,400; depending on internal upgrades.
As this isn't cheap, opt for machines that come with reliable and prompt customer service. Study your warranty timelines and what all does it include.
Cannot wait for that Delectable Espresso?
In conclusion, we found that a super automatic espresso machine does slave off a lot of your work and time with a touch of a button. An amalgamation of smart technology and artistic finesse is out to captivate your taste palate. If you are one who enjoys convenience and time management, yet are totally tempted by a steaming cup of espresso every morning, then opting for a super automatic machine is quite a perfect investment.
Furthermore, you can prepare other types of coffee for guests, hot or cold, or even foamed milk for hot cocoa for your kids. It's like having a coffee shop and with all of these options – in the comfort of your home. Ready to turn your home-sweet-home into a mini-barista? Pick up a super automatic espresso machine that suits all of your needs today and get brewing.
<!–noptimize–> <!–/noptimize–>