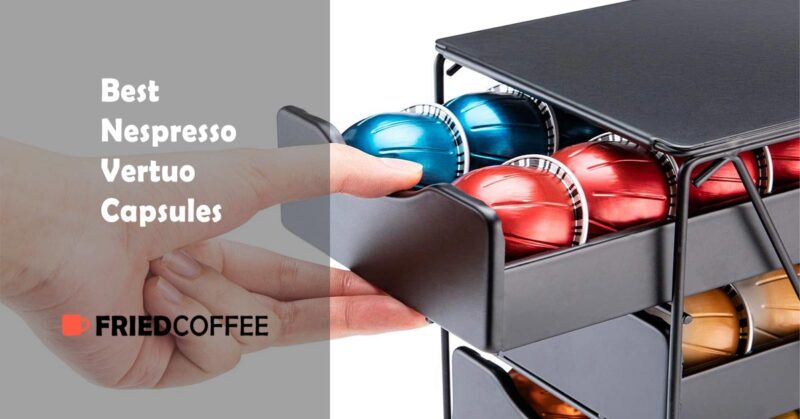 Coffee is the most consumed non-alcoholic beverage in the world. With radical growth, the industry has started innovating with a perspective to retain and enhance consumers. Back in time, there weren't many flavors or types. The spike in demand motivated companies to think outside of the box. This demand gave birth to the most convenient brand, Nespresso. It operates in two streams – The original line and Vertuo coffee machines.
Adding glory to this advancement, Nespresso Vertuo pods are garnering huge accolades for their taste and scents. Coffee aficionados are often confused about what is behind the seal-packed capsules.
Whether the beans are from Central America or South America? Are they 100% Arabica or a blend of Robusta or Arabica? The blog below will talk about the best pods, types, and factors to land on a perfect purchase.
Types of Vertuo Capsules
Before we discover the various tasting variants, let's first understand the size-types of Vertuo capsules. Yes, the Nespresso Vertuoline machines give the flexibility to choose between 6 drink size options among which 3 are for espresso and the rest 3 are for regular coffee.
Espresso – The very basis for all coffee drinkers. These capsules are simple espresso shots that vary in intensity from 4 to 11. You get a 1.35 oz drink with each capsule. This variation is available in 5 different variants by the brand. These are considered the most reliable shots for espresso lovers.
Double Espresso – As the name says it all, it is a double shot of espresso. The people who can't satisfy themselves with a single shot in the morning can top up with these 2.7 oz double espresso shots. It is again available in 5 flavor variants.
Gran Lungo – Gran Lungo can be described as perfect espresso that could be enjoyed for a longer time. The same has familiar Nespresso quality but comes in a larger size of 5.07 oz. This again has 5 flavor variants.
Coffee/Mug – Now apart from espresso, we are now onto the regular cup of coffee drinks. We will start with regular coffee pods that will give you 7.7 ounces of coffee. This particular type has the most flavor variations counting up to 18.
Alto – The Alto capsules brew 14 ounces of coffee drink and hence they can be enjoyed for a longer time. For now, they come in simply 2 flavor variants. Due to the long drink size, they are ideal for personal coffee for on-the-go services.
Pour-over style – The brand has just launched a variation that makes 18 ounces of coffee. It is currently available in just one variant.
Best Nespresso Vertuo Capsules
So you got the coffee machine and now also understand the size of Vertuo capsule drinks. Now we will talk about the variants that differ in taste, origin, roast, and a few more parameters.
Due to a plethora of choices, the selection of the best out of so many becomes hard especially when all the blends are flavorsome. Here are the top ten picks you can try your hands on for the best Nespresso Vertuo capsules. We have included decaffeinated coffees as well at the end of this list.
1. Starbucks Veranda Coffee
Starbucks by Nespresso Blonde Roast Veranda...
Contains 32 Starbucks Veranda Blend blonde roast coffee...
Light roasted Latin American Arabica coffee with mellow,...
Each capsule brews one 7.77 fl oz cup
Enjoy the familiar taste of Starbucks coffee at home
Experience the light flavors of these capsules as they aren't bold but leave a long-lasting effect with their soothing flavors. With each sip, you will relish the perfect roast. The rich blend includes notes of soft cocoa with slightly roasted nuts. They are gluten-free, sugar-free, and don't have any dairy products. Coffee lovers who lean towards the light flavor palate can try these capsules.
Intensity-Rating: 6
Volume: 7.7 ounces of coffee / Mug
Tastes like: Light, soothing soft notes of cocoa with roasted nuts
If you are a new Nespresso user, we highly suggest picking some carousel or drawer to keep your pods arranged or you might end up in a mess. For that, we have an article listing some of the best Nespresso pod drawers.
2. Starbucks Espresso Roast
Starbucks by Nespresso Dark Roast Espresso...
Developed with Nespresso to work perfectly with original...
Dark-roast coffees have fuller body with robust, bold taste
Each espresso capsule brews 0.85 or 1.35 ounces. Pop in the...
Package contains 5 boxes of 10 Starbucks Espresso Roast...
Bold, robust with rich espresso flavor, these dark roast coffee capsules have caramel notes that go well with steamed milk(if you like to combine). For the coffee devotees who like milk drinks and are looking for a brew that could give them the morning kick, these are the right ones to jolt you up.
People drinking these have found the blend perfect, as the boldness is not overpowering and by adding steamed milk, the result is flavorsome. The coffee leaves a long-lasting aftertaste to keep you up and running.
Intensity-Rating: 11
Volume: 1.35 oz / Espresso
Tastes like: Molasses and caramelized sugar notes
3. Starbucks Pike Place Roast
Starbucks by Nespresso Medium Roast Pike...
INCLUDES: Enjoy the Starbucks coffee you love with four...
INSPIRED TASTES This medium-roast coffee has a profile level...
BREW SIZE: Each Starbucks capsule for Nespresso Vertuo...
STARBUCKS QUALITY AT HOME: Starbucks capsules for Nespresso...
Neither on the light side nor the bold, these have a subtly balanced flavor. The blend comprises notes of toasted nuts and chocolate with a long well-rounded rich aroma. The capsule is gluten-free, dairy-free, and sugar-free. Each sip will play with your flavor palate with a hint of sweetness. The beans used are medium roasted which adds a light aroma complimenting the blend. These coffee capsules have gathered good reviews and are currently trending among coffee enthusiasts.
Intensity-Rating: 7
Volume: 7.7 oz / mug
Tastes like: Chocolate with notes of toasty taste of nuts
4. Starbucks Single Origin Sumatra
Starbucks by Nespresso Dark Roast...
INCLUDES: Enjoy the Starbucks coffee you love with four...
INSPIRED TASTES: This spicy dark-roast coffee has a profile...
BREW SIZE: Each Starbucks capsule for Nespresso Vertuo...
STARBUCKS QUALITY AT HOME: Starbucks capsules for Nespresso...
For herbal and spice lovers, these coffee capsules would be perfect. The coffee beans used in these capsules are dark roasted that attain deep earthy notes when brewed. They give the right kick of spicy flavors in the morning with a smooth mouthfeel. The coffee will leave a long entailing taste of dried herbs and spices with no acidic side effects. The distinct flavor is full-bodied and stands tall among the variety.
Intensity-Rating: 10
Volume: 7.7 oz / mug
Tastes like: Earthy flavor, spicy with herbal notes
5. Nespresso Vertuo Caramel Cookie
Nespresso Capsules VertuoLine, Caramel...
NEW indulgent flavored Nespresso coffee blends inspired by...
INTENSITY 6: Split roast the Brazilian beans are roasted...
CARAMEL COOKIE COFFEE BREWS 7.8 OZ: These Nespresso...
WE RECYCLE: Nespresso aluminum capsules are fully recyclable...
Are you looking for something notably sweeter than a regular coffee? If yes, you should try this variation. With each sip, you will have a taste similar to caramel cookies with notes of almonds, biscuits, and coconut.
This variation is a blend of Latin American and African Arabicas. The Brazilian coffee beans are medium roasted that adds balance and roundness whereas the Ethiopian coffees in the next split bring up the finesse of the flavors with a delicate aroma and a velvety texture. The blend has an aromatic sweetness that makes it a perfect choice for people with sweet tooth. This particular variation is a part of the Barista Creations collection created by Nespresso. It is also a good option if you have a desire for an Iced coffee cup.
Intensity-Rating: 6
Volume: 7.7 oz / mug
Tastes like: Classic caramel, sweet and velvety
6. Nespresso Vertuo Altissio
Nespresso Capsules VertuoLine, Altissio,...
FULL-BODIED & CREAMY: This Nespresso coffee is made from...
INTENSITY 9: This Nespresso coffee blend is intensely and...
ALTISSIO ESPRESSO BREWS 1.35 OZ: These Nespresso VertuoLine...
WE RECYCLE: Nespresso aluminum capsules are fully recyclable...
Being the perfect example of innovation, these capsules come with a different taste and texture than traditional coffee blends and aromas. These coffee capsules have High-Quality Arabica coffee beans from South America and Costa Rica that give a smooth rich flavor with notes of cereals. Precisely, the cup of coffee is a full-bodied drink to keep you up and running for the rest of the day. The coffee capsule is leaned towards the bold side rather than lighter. You can add milk to complement its full body.
Intensity-Rating: 9
Volume: 1.35 oz / espresso
Tastes like: Creamy with notes of cocoa
7. Nespresso Vertuo Bianco Forte
The intention behind creating these capsules was to bring the coffee house from Melbourne in a large cup of coffee. Thie variation is again a part of Barista Creations by the brand. It is a blend of the Arabicas beans collected from Kenya and Colombia that are split roasted and leave a velvety texture. One blend is dark roasted while the other blend is roasted fast with a little lighter.
The rich taste of these coffee capsules has the optimum intensity to push the aroma of roasted coffee through the senses without overpowering the milk added. The coffee strikes a precise balance with an addition of milk. When you sip these perfected blends, you can feel the powerful roasted coffee that is intense and full-bodied. The coffee has a bitter aftertaste and that is why adding milk is not a bad option. And we do recommend trying it if you like coffee with milk.
Intensity: 7
Volume: 7.7 fluid ounce/mug
Tastes like: Intense, roasted & balanced
8. Nespresso Vertuo Costa Rica
A scarce selection of beans from Costa Rica soaked for 12 hours in Orosi's mineral hot spring water. This spring is located high enough but the water brought is used only once for every batch of beans, thereby, making a clean coffee cup of exotic taste.
These beans are then split roasted in two batches where one goes to medium and the other goes to dark color. The medium intensity beans develop slight sweetness with malty notes whereas the darker beans add to the intensity.
This variation is among the Master Origins collection by the brand.
Intensity: 7
Volume: 5.07 oz / Gran Lungo
Tastes like: Malty sweet flavor with hints cereal notes
9. Nespresso Vertuo Diavolitto
For coffee enthusiasts who are searching for a strong espresso to get the best morning kick, Diavolitto is the way to go. The blend contains robusta beans from Central America and South America with Arabicas from Brazil.
The beans are washed to balance the intensity with a fine and smooth texture. They are then split roasted to bring the characters and intensity of each origin into your cup of espresso.
When you brew this capsule, you would notice an aroma of oak wood and leather with a creamy texture at the top.
Intensity: 11
Volume: 1.35 oz / espresso
Tastes like: Intense & strong flavor of a strong blend
10. Nespresso Vertuo Decaffeinato
Nespresso Capsules VertuoLine, Decaffeinato,...
ROUND & MALTY: This decaffeinated Nespresso coffee is...
INTENSITY 6: This medium roast Nespresso coffee blend is...
DECAFFEINATO COFFEE BREWS 7.8 OZ COFFEE: These Nespresso...
WE RECYCLE: Nespresso aluminum capsules are fully recyclable...
These coffee capsules offer perfect coffee for those who prefer a lighter taste and want to limit their caffeine intake. Relish in the perfect brew of Costa Rican and Colombian Arabicas that are carefully decaffeinated so that they don't lose their characteristics.
The Costa Rican beans are then roasted dark to bring the malty cereal notes whereas the Colombian beans roasting process moves for a long span to add the all-around and smooth taste.
The blend when brewed results in rich flavor, has an aromatic essence with a velvety texture and a balanced intensity level.
To find a perfect balance, add steamed milk with coffee and you will get hints of nutty flavor.
Intensity: 6
Volume: 7.77 oz / mug
Tastes like: Malted & cereal
Things to consider when buying capsules for Nespresso Vertuoline
A cup of coffee is merely a beverage to make everybody feel fresh, but Nespresso has made it a symbol of taste. As they offer a wide range, it often makes it difficult for the buyer to find the perfect set of coffee capsules. The basis of the selection mainly comprises the size of the drink, taste, texture, and intensity. So, before you continue to buy anything, make sure you consider these factors.
The size of the drink
We have already told you about the drink size variations of Nespresso Vertuoline capsules. Now you have to primarily decide the type of coffee you want – regular or espresso. And then decide between how many ounces of coffee you would love.
The espresso capsules are available in 3 size options namely, espresso, double espresso, or the Gran Lungo.
Regular coffee variations are also divided into 3 size options, Coffee/Mug, Alto, or Pour-over style.
So, first, decide the type of coffee you want and then proceed with their variations.
The intensity level of the coffee
It has been brought into consideration that the intensity level offers different tastes and notes. A pod that has 5 intensity level would be extremely different than the one with 11 intensity level. Decide your preferred intensity to make a smart decision. The intensity scale varies from 0 to 11 where 0 is the lowest and 11 is the highest.
The texture of the coffee
The texture of the coffee capsules is equally important as the same sticks around as the after-taste. Whether velvety or shimmery, the texture makes the coffee stand apart. So, make sure you decide upon the texture before choosing one.
The flavor of the coffee
The range of these Nespresso Vertuoline capsules offers a plethora of flavors. Right from nutty to caramelized, or fruity flavor, handpick the one out of the given option to relish the best possible experience.
Frequently Asked Questions
Can Nespresso Vertuo capsules be used more than once?

No, the Vertuo capsules are designed to be only used once. They have a barcode that sets the parameters for the brewing process which cannot be reproduced.

How much caffeine does the Vertuo capsule contains? 

Vertuo line capsules contain 60-150 mg caffeine for espresso, whereas, double espresso has >200 mg. Gran Lungo has 120-200 mg caffeine. Alto capsules have 130-200 mg caffeine content and decaffeinated capsules have around 12 mg of caffeine.

Are they planning to extend their range of products? 

Yes, the Nespresso Vertuoline series will soon be launching a new line of products. The shortlisting of the same is in the full spree. 

For how long can we use Nespresso Vertuo pods? 

As per the brand, you can use these pods within one year from the date of manufacturing. Although within this timeframe the capsule will not expire, however, it may lose its freshness required for an adequate brew. Thus, it is recommended that you use these pods as soon as possible after the purchase.
Wrapping Up
Above mentioned write-up discusses every bit related to Nespresso Vertuoline capsules in this blog. Also, the same includes the top ten picks from the range of Nespresso Vertuo.
Your choice regarding the coffee capsules might have now become easier after reading the factors and parameters. Now all you have to do is taste each of them to find your perfect intensity level and taste palate.