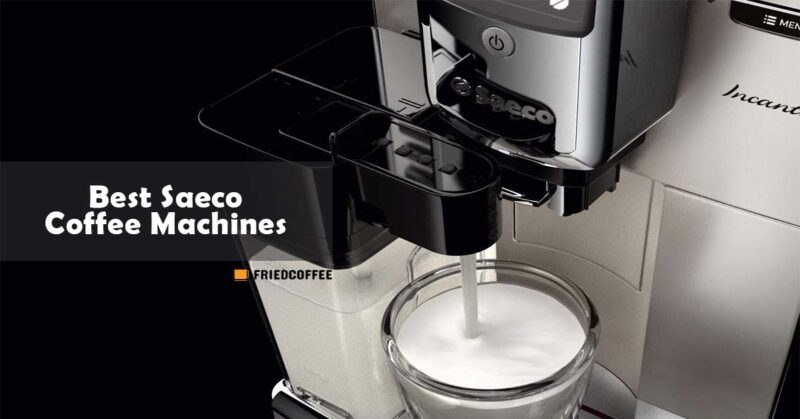 Saeco is a company that manufactures automatic espresso machines called "bean-to-cup" machines. An Italian -based company in Gaggio Montano, Saeco started its services around 40 years ago. Founded by Sergio Zappella and Arthur Schmed in 1981, Saeco first manufactured its fully automatic espresso machine for domestic use, named Superautomatica in the year 1985.
The historic brand of espresso Gaggia was acquired by the founders in 1999, which made them set a strong foot in the coffee market. The company started the production of vending coffee machines after joining hands with the Dutch manufacturer Philips in May 2009. Philips is a multinational conglomerate corporation founded in Eindhoven and is one of the largest electronic companies in the world, that now focuses more on health technology.
Saeco deals with the production of both commercial and non-commercial coffee machines. The main goal of Saeco is to manufacture automatic as well as semi-automatic espresso machines (under the name of Gaggia) that can be easily operated by users and can be used both at home and the workplace.
Why Choose Saeco?
Back in the 80s when other companies were busy improvising home entertainment and home computer technology, Saeco thought out of the box and planned to manufacture completely automatic coffee machines for home users. The idea behind producing a fully automatic machine was the effort reduction in brewing espresso and also accessible by all.
The concept of fully automatic eliminates the need for an external grinder, tamping, group head fitting, or manual dosing. The standard Saeco Super-automatic features, like essential configuration in dosing, grind, brew, temperature, etc., and price influencing features like double boilers, programmable LCDs, etc. make it different from other brands and the reason to choose Saeco.
Best Saeco Espresso Machines
When you are looking for a good espresso machine, there are several options available in the market to confuse you. To help you in easy decision-making, we are suggesting some of the best Saeco espresso machines.
1. Saeco Incanto
Saeco HD8911/48 Incanto Frother Espresso...
Elegant design, best materials, and high quality workmanship
Brew each Coffee as you like it, and save your preferences...
Professional disc grinder made of 100% ceramic for...
Classic milk frothier allows you to control the milk froth...
This espresso machine specializes in cappuccinos and latte macchiatos. It's perfect for those coffee cravers who love the milk and coffee combination. Saeco Incanto is available in 8.8″W x 18.0″ D x 13.3″H dimensions and weighs 21.0 lbs. It consumes up to 1400 W power while working. It comes with a stainless steel-lined aluminum thermoblock boiler that increases its efficiency.
The ceramic grinders are highly durable and the grinder settings can be set to 5. It consists of water hardness strips with 4 different settings. Saeco Incanto can deliver 2 cups at the same time and can attain a cup size between 4.5″ – 6.3″. Saeco Incanto comes with a 1-year warranty but additional 4 years warranty is provided on brew groups after registration only.
The presence of removable brew group, 15 bar Italian-made pump, bypass doser for pre-ground coffee, easily programmable for shot quantity, 60 oz water reservoir, 8.8 oz bean hopper, Panarello steam wand are some of the other features that Saeco Incanto is laden with.
---
Pros
It has stainless steel, Panarello wand.
It comes with ceramic grinders that can deliver 20,000 cups of coffee.
The machine has a quick heat boiler.
It can deliver specialty coffees within a touch
It has a bypass doser for pre-ground coffee beans.
---
Cons
It has early degradation of a milk frother.
There is an unavailability of the cup warmer.
The users have complained about the difficulty in filling the top-mounted water tank.
Verdict
Saeco Incanto has a large water container and bean container capacity. The bean container is capable of holding up to 9 ounces of bean. The machine also consists of a waste container that needs to be cleaned often. This machine also provides the option of instant coffee for those who don't have enough time to spare.
2. Saeco Xelsis
Sale
PHILIPS Saeco Xelsis Super Automatic Espresso...
With Philips Saeco Xelsis easily make up to 15 coffee...
15 Coffee Varieties at Your Fingertips: Explore the world of...
Personalized Preferences: Everyone's custom coffee...
LatteDuo Milk System: Prepare and enjoy single or double...
The body material of this espresso machine is partially titanium, which increases the functionality and durability of the machine. Saeco Xelsis is available in 23.43 x 14.49 x 20.47 (inches)and weighs 25.8 pounds. It's based on Latte perfecto technology and has the option to adjust the temperature, cup volume, and milk foam quantity.
The coffee container is capable of holding 450 g of coffee beans and the water tank capacity is 1.7 L. The milk carafe capacity is 0.6 L and the waste container can contain the waste up to 14 servings without being cleaned. Saeco Xelsis consists of a stainless steel boiler and TFT screen with 6 different user profiles. The grinder settings in Saeco Xelsis can be set to 12.
---
Pros
It can deliver 15 different drinks like espressos, macchiatos, lattes, flat white, cappuccinos , americanos, ristretto,etc.
the machine has 6 customizable user profiles.
The ceramic grinders are capable of producing 20,000 cups of fine coffee.
The coffee equalizer feature helps equalize different parameters like cup volume, the quantity of milk froth, temperature, etc.
It has a patented water filter Aquaclean.
It has an automatic cleaning system- Hygiesteam.
The bean container consists of an aroma seal to keep the beans aromatic.
---
Cons
The heating option is not efficient at times.
It lacks the usuals feature of automatic machines-auto start.
The grinder settings adjustment is one notch at a time.
Understanding the options and controls is a menace at first.
Verdict
Saeco Xelsis allows you to program everything from adjusting temperature, the dosage of the ingredient, customizing user profiles, and choosing your favorite drinks, etc. The machine remembers all the parameters and delivers the best coffee. The double thermo-block ensures consistent brewing temperature.
Saeco Xelsis won the iF Design Award in 2018, presented by the special International Forum in Hanover, one of the world's oldest design organizations. People who have a knack for exquisite design can go for this model.
3. Saeco PicoBaristo
Saeco PicoBaristo Super Automatic Espresso...
Note: 1)Too coarse a grind, too little coffee, or...
Easily select one of 15 delicious drinks, or customize it to...
Our Patented AquaClean water filter eliminates the need to...
Get superior taste for 20,000 cups with our durable ceramic...
Saeco PicoBaristo is a compact yet fully functional coffee machine. The word 'Pico' means small or compact, Saeco did go for a compact design without comprising the technology behind Saeco's fully automatic coffee machines. It is available in 16.8 x 8.4 x 12.9 (inches) and weighs 20.6 pounds.
It's made up of light aluminum and stainless steel body. It consumes 1850 W of power. Being compact, it's still easy to use, clean, and maintain. It consists of a premium carafe and an integrated milk carafe solution. The machine is provided with an LCD and 11 one-touch variety options. Some other features include grinder settings-10, a 250 grams bean container capacity, and a 1.8 L water container capacity. It can attain cups from 78-164mm height and consumes 45 to 100 seconds of brewing per cup. The machine comes with a 1-year guarantee.
---
Pros
It has a supreme ceramic grinder with 10 different options.
Choice of 15 different beverages.
It has an Aquaclean filter.
Comes with a bypass doser.
It has an

automatic system for milk cleaning

.
It comes with easy to use LCD screen.
---
Cons
It has small damage that hampers the overall functionality of the machine.
It contains more plastic material as compared to other Saeco products.
There is an absence of a cup warmer.
It has complicated access to the milk frothing unit and hot water spout.
Verdict
The machine has many features that have made it one of a kind. The indispensable touchscreen becomes indistinct with the black finish of the PicoBaristo. It can be considered as a combination of Saeco Incanto and Saeco Intelia Deluxe as it has adopted the options of milk carafe or steam wand from the former and the feature of large capacity from the latter. The special function of the milk cleaning system gets rid of stale milk and retains coffee lovers from getting bad coffee.
4. Saeco GranBaristo
Saeco has redefined the bean-to-cup experience after a span of 28 years into automatic coffee machine manufacturing, by designing the new GranBaristo. This is available in 205 x 460 x 360 mm and weighs 13 kg. It has the feature of an automatic descaling cycle and carafe cleaning. It works at 1900 W.
The easy customization per cup allows you to choose what you prefer. The thermo-speed boiler ensures faster heating. The brewing pressure can be adjusted depending on the choice of the drink. This machine has 500 L of milk carafe capacity, 1.7 L water container, and 270 grams capacity bean container.
It can accommodate cups sized from 75-165 mm, has a monochrome LCD to display information, and the capacity of the waste container is up to 20 servings. The display, water tank, and spout are easily removable. It is preferred for ground coffee powder and whole coffee beans.
---
Pros
Consists of a cup warmer.
The Thermo-speed technology consumes less time in delivering a cup of hot coffee as compared to other products.
Availability of 6 user profiles.
A quiet worker and produces 58 decibels when at its peak.
Bypass doser.
App slide bar feature for explicit customization.
---
Cons
The complex process to access milk froth unit and water spout.
It lacks the option to switch between a steaming wand and an auto-frother.
Verdict
The revolutionary redesigning of Saeco GranBaristo Avanti makes it the smartphone of espresso machines of Saeco's automatic coffee machine line. The features are almost similar to Saeco Incanto but have a larger capacity. The Bluetooth-enabled technology allows easy customization and placing an order of your drink with your smart device.
The Saeco App feature slide bar offers adjustment for espresso amount, water and milk temperature, etc, an explicit customization feature unavailable in other Saeco products. Saeco GranBaristo is mainly for commercial purposes because of its high-end features and cost.
5. Philips 3200 LatteGO
Sale
PHILIPS 3200 Series Fully Automatic Espresso...
With Philips 3200 Series enjoy the delicious taste and aroma...
LatteGo Milk System: Top your coffee off with a silky-smooth...
Intuitive Touch Display: Select the perfect coffee for your...
My Coffee Choice Menu: Adjust the strength and quantity of...
The Philips 3200 model with Lattego feature is a super-automatic espresso machine. This machine has a milk-steaming system, espresso brew unit, and a grinder. Apparently, all these features together make it super-automatic.
With a few button pushes, you can get the best-brewed cup of coffee in front of you. For making lattes and cappuccinos, you will have to hold a milk pitcher near the steam wand and for the rest leave it on the machine, a.k.a., Lattego. The machine is available in 13.0 x 8.6 x 16.9 inches and weighs 7.2 kg. The machine has a casting of stainless-steel-style plastic, which gives it a stylish look. And that is not all!
The super-automatic machine has a ceramic flat burr grinder and has twelve grinding sizes. The machine's frother mixes the milk and air at high speed, making it perfect for froth lovers. The 3200 model is easy to use and has a simple control panel. For a long shot Americano, latte, cappuccinos, or hot water, the functions are very simple and handy.
---
Pros
It has five drinking options.
Fast reactive touch display.
It contains 12-step grinder adjustment.
The machine comes with 20,000 cups of the finest coffee with its durable ceramic grinders.
It keeps the beans fresh for longer.
The Aquaclean feature gives 5,000 cups without descaling.
Contains a fully removable brewing group.
Makes Espresso, cappuccino, coffee, hot water, latte macchiato, and Americano.
Comes with a measuring scoop, Aquaclean filter, water hardness test strip, latteGo storage lid, and grease tube.
---
Cons
It lacks a display and has only touch buttons to operate.
The machine automatically turns itself off after every 10-15 minutes.
The size lever is not appropriate for a larger mug like traveling or something.
Verdict
The Philips 3200 is somewhat unique. The compact size and lightweight make it efficient for carrying it anywhere. It covers less space, and stainless steel casting adds extra oomph to the design. The Aquaclean feature is one of a kind. It magically cleans to perfection. The milk distribution is splash-free and does work very well.
You might love to read: Best Jura Coffee Machines
Things to Consider when buying a Saeco Coffee Machine
With the range of automatic espresso machines, it's not easy for purchasers to choose a certain type. When various products are available, each with some unique features, decision-making becomes a complicated task for the purchasers. However, to get rid of the confusion and make an easy, wise decision, ponder the following aspects.
Budget
Spending money on the product is a big deal as the same might remain with you for a long time. If properly picked, the purchased product ends up giving maximum satisfaction, a.k.a. value for money. Presently, there are various options for completely automatic machines at different price ranges.
Undeniably, the more features, the higher the price. However, this doesn't mean that you should surpass your budget. It is best to note down the features and price of the shortlisted products and then decide which can be used to the optimum and is value for money.
Frothing System
There are two types of coffee drinkers – one who loves the froth and others who don't. Well, the solution for both is now available in the market. The option of frothing is sometimes very essential; therefore, it is no harm to have something extra within the same price range. If you buy an automatic espresso machine with a frothing system, you won't have to buy a frothing machine separately. Also, the machines with a frothing system have adjustable settings.
Size of the Machine
Imagine an espresso machine – how large did you guess? Well, automatic espresso machines are completely opposite to your imagination. These machines are compact and occupy very little space. If you are a coffee lover and want something shrunk, full of features, and can give you an uber coffee experience, then automatic espresso machines are for you.
Drinking Options
Coffee drinkers worldwide have one common attribute – their love for coffee is eternal. Therefore, any espresso machine must have a good amount of drinking options. The automatic coffee machines can be used anywhere at any time. Drinking options for them are as crucial as the quality of a brewed cup. The above-mentioned machines have paid attention to this detail and thus come with a good number of drinking options.
Grinder Settings
Coffee experts believe that grinder quality plays an important role in delivering you the perfect cup of coffee. People have down the line understood the intricacies and have become very attentive about the grinding option. In automatic espresso machines, there are durable ceramic grinders. The grinder settings available in these models have more than ten adjustments that you can choose from. Also, coffee pots, thermos, cup sets, etc., play an important role in decision making.
Conclusion
Over the years, the automatic machines for coffee have proved to be one of the best specialized automatic espresso machines manufacturers. They provide machines that can be easily deployed at homes or in offices, and which anyone can operate regardless of prior experience. Philips coffee makers have an innovative approach that has led to comfortable home products.
The Saeco Incanto, be it in any version (either carafe or wand), is one of the best budget-friendly products in Saeco's automatic machine line. The Xelsis super-automatic espresso machine offers a combination of great features to brew the perfect cup of espresso. Even Picobaristo can be considered as a choice, as the machine is laden with the latest technology and elegant design.
Other Saeco automatic machines can be looked upon while choosing the right espresso machine for you. The Lattego model has unique feathers and is good for people who are always rushing.