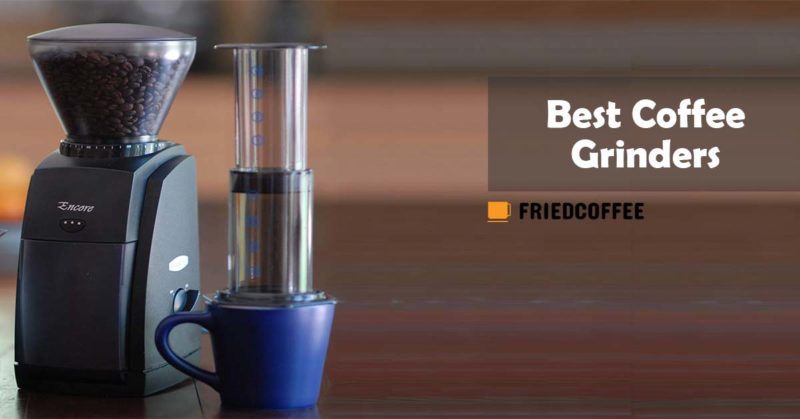 If you are a coffee lover, it's a good time to learn about tools that can enhance the flavors of your much-needed beverage. And this is what calls for coffee grinders. Grinding your coffee beans before each take can ensure you the finest brew.
To figure out which coffee grinders are worth the investment and give you the greatest bang for your buck, go through this article thoroughly. We have prepared this list with only top-rated coffee grinders and their key features to narrow down your search.
As a coffee connoisseur, don't expect any blade grinders in the list here. It is used for chopping vegetables, and chopping coffee beans like that is actually killing them. If you are serious about how your cup of coffee should taste, the burr grinder is the only way to go.
Why You Need A Grinder
Wise barista once said, 'Before you think about owing an espresso machine, invest in a quality grinder first'.
A grinder is the most vital equipment for quality home brewing. It prepares your raw material for processing which if gone wrong can break your coffee experience.
Often people think as to why invest in a coffee grinder when one can easily get coffee grounds from the market? Well, roasted raw beans retain their aroma much longer than the packed grounds.
When the beans are ground to powder, they gradually start losing their flavors.
So, always grind the beans just when you are about to brew. It will give you a completely different experience if you have not tried that before.
Coffee grinders at home not only facilitate preparing fresh grounds but also provide the facility to adjust the grind size for various types of brewing styles.
Blade vs Burr Coffee Grinders
The blade is the most affordable type of coffee grinder and is one of the first choices for beginners because it typically has specially shaped blades, identical to propeller grinders which can chop vegetables as well as beans.
For a newbie, it's a feature but if you really care about your coffee, don't even think about the blade.
A burr grinder comes a little heavier on the pocket but grinds the beans to consistent particles. The more you spend on a grinder, the more uniform the size of grinds and it will be more targeted towards your brew style.
So if you are even 20% serious about how your coffee tastes, only think about Burr and we are here to find only the best Burr coffee grinders.
The Best Burr Coffee Grinders
We have attached a tag with each product. Below is the description for each of those.
General

– You drink coffee and want to simply grind at home, adding convenience.

Coffee Hobbyist

– A little serious about how your coffee grinds as you love your coffee.

Beginner Home Barista

– You are trying to develop and improve your coffee-making skills.

Advanced Home Barista

– You have brewed with mid-range grinders and now want to play more precisely and closer to perfection.

Professional Home Barista

– You need the best in class with micro-precision without worrying about the budget.
Let's now begin with our list!
1. Capresso Infinity Plus – Best Budget Coffee Grinder
Capresso Infinity Plus Black Conical Burr...
Commercial grade grinding via solid steel burrs & advanced...
Innovative gear reduction motor creates less friction and...
16 grind settings: extra fine for Turkish to very coarse for...
See-through bean container holds 11-oz of coffee beans
QUICK SPECS
Usage Level: General
Best For: Drip/Pour-Over
Price: Starts from $99
Grind Mechanism: Time based knob
Motor Speed: 450 rpm
Burr: Stainless Steel Conical Burrs
Hopper Size: 11 oz
Operation: Single knob
Grind Settings: 16
Grind Retention: 1-2 gm
Portafilter Holder: No
Noise Level: 71 dB
Other: Safety Lock, Auto Off
Capresso Infinity Plus is known for its precision grinding technology, which brings you the perfect aroma of freshly brewed coffee. Its conical burrs are produced as identical pairs that are compiled in Switzerland for a precise fit.
Additionally, you get the 16 marked fineness setting for a range of brewing methods from Turkish, French Press, Espresso, Percolators, or Drip Coffee. Plus, Conical Burr Grinder's user-friendly design features heavy-duty zinc die-cast housing. And what caters to the high precision grinding are the commercial-grade, solid-steel conical burrs—granulating everything fine.
Key features
Easy to use and clean
Equipped with a safety lock system
Less noise level
Ensures maximum aroma and flavor retention
Advanced technology
Pros
Designed with high quality materials
User Friendly
Less noisy
Complementary tools available on purchase
Cons
Inconsistent coffee grind with every grind setting
Anti-static coffee container which tends to be messy
Lower burr is difficult to clean
2. Oxo Brew Conical Burr Grinder
Sale
OXO Brew Conical Burr Coffee Grinder , Silver
Stainless steel conical burrs create uniform grounds for...
15 grind size settings (plus additional microsettings) from...
One-touch start remembers your last setting, just push to...
Large-capacity hopper holds up to 3/4 lb/12 oz of coffee...
QUICK SPECS
Usage Level: General
Best For: Good for pressurized espresso, drip, cold brew (Medium and Fine grind)
Price: Starts at $99
Grind Mechanism: Timer Switch
Motor Speed: 400 rpm
Burr: 40 mm Stainless Conical steel burrs
Hopper Size: 12 oz
Operation: Timer based
Grind Settings: 15 (plus micro settings)
Grind Retention: About 3 gm
Portafilter Holder: Not available
Noise Level: 92-97dB
Other:
If you have ever used an Oxo product or maybe their awesome brewer, you can easily imagine how the products are by this brand. It has all the features one needs at home. The grinds are consistent and the body is durable giving you long-term security.
For serious coffee drinkers at home, this machine is a perfect powerhouse. We cannot compare it to professional grinders, but for home use, it's an ideal pick. Oxo has long been selling this grinder without many variations as this brand tries to make perfect things with features that are actually needed.
Features and Specifications
40 mm conical burrs
38 grind settings
Weighs – 5 pounds
Dimensions – 1 x 7.3 x 16.4 inches
Built-in scale
Hopper size -16 oz
Ground container holds 125 grams
Automatic shut off
Low rpm high torque motor
Overheating detection
Option to switch between cup or grams or manual mode via dial
Great customer care
Pros
Simple to use
Grinds faster and consistently in the category
Less, or no static construction
Cons
Little noisy
Inconsistent grind for coarse settings
3. Baratza Encore
Baratza Encore Conical Burr Coffee Grinder...
SPECIALTY COFFEE ASSOCIATION AWARD WINNING GRINDERS -...
GO-TO ENTRY LEVEL GRINDER - Baratza's best-selling...
USER FRIENDLY - A convenient, front-mounted pulse button,...
40 GRIND SETTINGS - Engineered with 40mm commercial-grade...
QUICK SPECS
Usage Level: Coffee Hobbyiest
Best For: Medium coarse to Fine grinds (Espresso and Drip)
Price: Starts at $139
Grind Mechanism: Basic On-Off
Motor Speed: 550 rpm
Burr: 40 mm Stainless Conical steel burrs
Hopper Size: 8 oz
Operation: Pulse/On-off switch
Grind Settings: 40
Grind Retention: 2 grams
Portafilter Holder: Not available
Noise Level: 76 dB
Other: Thermal overload cut/ Jam cut
Encore as the name depicts is the core product by the brand, Baratza. The Encore is for people who are thinking about growing their skills and are at the beginning of their coffee journey. It is very decently priced and works nicely for most of the brewing methods that need medium-coarse to fine grind size. We won't say that it's perfect, but the price it sits at makes it one of the most popular choices among the new buyers.
Key Features
40 Grind Settings
Dimensions – 6.3 x 4.7 x 13.8 inches
Weighs – 6.83 pounds
Removable 40 mm Conical Burrs
Small Footprint
Slow Speed Motor for Quiet and Cool operation
Bean Hopper – 8 Oz
Ground Bin Capacity – 5 Oz
Made in Europe
Pros
Reasonably Priced
Consistent grind
Cons
Grounds spray outside a little when in operation
A Little loud
Grinds slow
No scale or timer
Here is our detailed review of Baratza Encore.
4. Oxo Brew Conical Burr Grinder with Integrated Scale
Sale
OXO Brew Conical Burr Coffee Grinder with...
OXO Brew Conical Burr Coffee Grinder's built-in scale...
Durable, 40 mm stainless steel conical burrs create uniform...
High torque/low speed motor won't overheat beans,...
Use the single dial to switch between Cups Mode, Grams Mode...
QUICK SPECS
Usage Level: Coffee Hobbyist
Best For: General for all brew types
Price: Starts at $220
Grind Mechanism: Cups, grams, or manual
Motor Speed: 400 rpm
Burr: 40 mm Stainless Steel Conical Burr
Hopper Size: 16 oz
Operation: Single dialer button for all
Grind Settings: 38
Grind Retention: 3 grams
Portafilter Holder: NA
Noise Level: 88 dB
Other: Built-in overheating protection
Oxo brew grinder comes with an integrated scale to measure grinds not by time but by weight. This not only eliminates the need for a different scale but also ensures a precise amount of ground coffee.
The high torque/low-speed motor of the Oxo Brew Grinder is what works to preserve the essence of the beans. It does not overheat them and maintains a minimum static for less mess.
Next, Oxo Brew Grinder comes with the No-bean detector feature that does not let you grind until the hopper is empty. Herein, the hopper can hold 16 oz of coffee beans and is inbuilt with a trap door to hold them when the hopper is removed.
Besides, you can anyway choose to grind your beans in three different modes viz Grams Mode, Cups Mode, or Manual Mode.
Key features
Durable 40 mm stainless steel conical burrs
Flavor retention capacity
Easy to use display
Uniform grounds for 38 settings
Total grind control
Pros
Large capacity
Reliable and durable
Easy to use
Compact and stylish design
Cons
Inconsistent with the coarsest grind
Noisy
One button controls everything
5. Breville Smart Grinder Pro – Best Grinder for Pour Over
Breville Smart Grinder Pro Coffee Bean...
Stainless steel conical burrs designed to minimize grinding...
60 precise grind settings from the finest Espresso to the...
Precision Electronic Timer allows users to adjust grind time...
18 ounce coffee bean capacity with locking system for easy...
QUICK SPECS
Usage Level: Beginner Home-Barista
Best For: Best for medium to fine settings
Price: Starts at $200
Grind Mechanism: Time based
Motor Speed: 400 rpm
Burr: 40 mm stainless steel conical burrs
Hopper Size: 18 Oz
Operation: LCD display, Start-Pause button
Grind Settings: 60
Grind Retention: 2.5 – 3 gm
Portafilter Holder: 50 – 58 mm
Noise Level: 80-85 dB
Other: Portafilter holder, gold-tone basket holder, concise display
Breville is a pioneer when it comes to coffee and has many gears that pertain to coffee making. This grinder has 60 different settings from extra-fine espresso to the extra coarse for French Press brewing. The price is below $200, so would cost somewhere the same around the Oxo. It's a great pick, but if you can understand what those 60 different settings mean, or else, you'll be left with a whole lot of confusion.
This can be called a grinder for intermediate users who know already know about espresso-making stuff. It has some precise settings that allow good control over the output. Even the precise 0.2 seconds increments in the timer help in doing even controlled grinding. Moreover, it looks appealing and modern on any cabinet or table.
Key Features
Stainless steel conical burrs
Dimensions – 6.25 x 8.5 x 15.25 inches
Weighs – 6.4 pounds
Backlit Large Display
165-watt motor
Precision Timer with a 0.2-second increment
60 Grind Settings
18 Oz Bean Hopper
Locking system for easy removal of hopper
Direct grinding to the portafilter
The best grinder for espresso brewing at home
Burr cleaning brush included
Pros
Durable stainless steel body
Easy interface
Cons
6. Fellow Ode Brew Grinder
Fellow Ode Brew Grinder - Burr Coffee/Coffee...
ODE BREW GRINDER - A powerful, precise, and quieter home...
CAFE PERFORMANCE FOR YOUR COUNTERTOP - Grind what you need...
PRECISION GRIND QUALITY - With 11 settings and 31 steps in...
COFFEE BAR ACCESSORY - Ode transforms a morning chore into a...
QUICK SPECS
Usage Level: Beginner Home-Barista
Best For: Brewed Coffee, Pour-Over
Price: Starts at $299
Grind Mechanism: Stops when no beans are left
Motor Speed: 1400 rpm
Burr: 64mm stainless steel flat burr
Hopper Size: 2.8 Oz
Operation: Grind Settings: 31
Grind Retention: 0.3 gm
Portafilter Holder: NA
Noise Level: 85 dB
Other:
With 64mm burrs to produce perfectly brewed coffee, a grinds knocker to reduce the grind retention, and an appealing, classy black finish, Ode is perfect in every way for your coffee breaks. And this is not all.
It also features the auto-stop functionality, which automatically puts off the grinder when the beans are completely ground. However, what makes this powerful equipment stand out is its unique single dose loading feature that preserves beans' freshness for a long time. So, with Ode, you'd perhaps not need to compromise with the aroma of your coffee any day, anyway!
Key features
Precise grinding quality
Reduced grind noise
Auto-shutoff functionality
Small countertop footprint
31 adjustable settings
Pros
Easy to operate
Auto shutoff functionality
Precise grind settings
Less grind noise
Cons
Expensive in its category
Single dosing machine
7. Baratza Sette 30
Sale
Baratza Sette 30 Conical Burr Grinder
SPECIALTY COFFEE ASSOCIATION AWARD WINNING GRINDERS -...
ENTRY LEVEL HOME GRINDER - Capable of grinding for espresso...
DIGITAL TIMER - With resolution to .1 of a second, giving...
30 GRIND SETTINGS - User friendly grind adjustment. High...
QUICK SPECS
Usage Level: Beginner Home-Barista
Best For: Espresso, Finer grind settings
Price: Starts at $265
Grind Mechanism: Time Control, 1/100th of a seconds increments
Motor Speed: 550 rpm
Burr: 40 mm stainless steel conical burrs
Hopper Size: 10 Oz
Operation: 4 buttons with small screen
Grind Settings: 30
Grind Retention: 0.2-0.3 gm
Portafilter Holder: Yes
Noise Level: 84 dB
Other: Very fast grinding speed, easiest to clean
Baratza Sette is capable of grinding beans for espresso and finer brewing processes. The gearbox and burr set on the Sette have been completely revamped, with the outer ring burr rotating around a stationary cone burr. It provides a consistent grind.
This design allows high-speed grinding and minimal coffee retention in the grinding chamber. The innovative burr assembly and straight-through grind design make it easy to use. Thus, it is the best choice for an entry-level grinder at an affordable cost.
Key features
Digital Control Panel
40mm conical steel burrs
Grind for espresso or manual brewing
Grind directly into the anti-static grounds bin (included) or a portafilter
30 macro adjustment settings
LED display
Pros
Affordable coffee grinder
Easy to clean
Speed
Sleek design
Low grind retention
Consistent grind
Cons
High noise level
Fewer grind settings
Not capable of press pot grind
8. Baratza Sette 270Wi – Best All-purpose Coffee Grinder
Sale
Baratza Sette 270Wi-Grind by Weight Conical...
SPECIALTY COFFEE ASSOCIATION AWARD WINNING GRINDERS - The...
GRIND BY WEIGHT - The first ever espresso grinder to offer a...
EXCEPTIONAL ESPRESSO GRINDER - The Sette delivers beautiful...
270 GRIND SETTINGS - Macro/Micro adjustment for the most...
QUICK SPECS
Usage Level: Advanced Home-Barista
Best For: Medium to extra fine grind settings
Price: Starts at $549
Grind Mechanism: Grinds by Weight
Motor Speed: 550 rpm
Burr: 40 mm stainless steel conical burrs
Hopper Size: 10 oz
Operation: Weight-based grinding with 3 programmable dosing buttons
Grind Settings: 270
Grind Retention: 0.2-0.3 gm
Portafilter Holder: Yes
Noise Level: 84 dB
Other: Grinds up to 5 gm/second
The Sette series by Baratza is for serious coffee enthusiasts. The series contains 3 models, Sette 30, Sette 270, and the Sette 270Wi and we are talking about the last one. Sette 270Wi is the world's first home grinder to provide weight-based grinding functionality directly into your portafilter or grounds bin. The outer burr rotates while the inner burr remains stationary in this modern mechanism, which is a truly innovative concept.
This mechanism's design doubles the performance of grinders of a similar scale. Coffee moves vertically through the grinder and directly into the grounds bin or the portafilter.
Key features
40 mm steel burr
Bean Hopper
Digital dosing timer with three programmable settings
Adjustable grind size
A built-In convertible device holder
Bluetooth connectivity
Pros
High grinding speed
Zero retention
Compact design
Adjustment grind settings
Digital Control Panel
Dual dosing
Cons
High noise Levels
Plastic casing
Coarse burr is sold separately
Grind scale markings are comparatively small
9. Eureka Mignon Specialita – Best Value for Money Espresso Grinder
QUICK SPECS
Usage Level: Advanced Home-Barista
Best For: Espresso, Fine drip, Pour-over
Price: Starts at $699
Grind Mechanism: Time based dosing
Motor Speed: 1350 rpm
Burr: 55 mm stainless steel flat burrs
Hopper Size: 12 Oz
Operation: Touchscreen
Grind Settings: Stepless
Grind Retention: 1 gm
Portafilter Holder: Yes
Noise Level: 72 dB
Other: Settings apply to lower burr which stays intact during cleaning operations
The Eureka Mignon Specialita has quickly become one of the favorite flat burr espresso grinders, thanks to its Italian styling, near-silent grinding, and exceptional durability. With 55mm flat steel burrs, the Eureka Mignon Specialita is a dedicated home espresso grinder.
This burr grinder features a white-on-black digital timed dosing display, a simple stepless grind adjustment dial, and excellent noise insulation. It is a perfect fit for those who need accurate dosing and distribution so that your morning coffee ritual is precise and consistent without any chaos.
Key features
55 mm flat hardened steel burrs
Steel casing
Micrometric stepless adjustment
Sound insulation for quiet grinding
Doserless
Digital dosing timer with two programmable settings
Pros
Stepless grind adjustment
Durable
Easy to clean
Reduce noise levels
Less expensive
Cons
Messy static
Setting timer is not easy
10. Niche Zero
One of the most amazing grinders loved by so many espresso aficionados.
QUICK SPECS
Usage Level: Advanced Home-Barista
Best For: Coarse to Fine grind
Price: Around $700
Grind Mechanism: Single Dosing
Motor Speed: 330RPM
Burr: 63 mm stainless steel conical burrs
Hopper Size: 2oz
Operation: Single Switch
Grind Settings: Stepless
Grind Retention: 0.1 – 0.2 gm
Portafilter Holder: No
Noise Level: 72 dB
Other: Adjusting the burrs from drip to espresso is a breeze
This sleek, compact beauty is a must-have in every household. Well, it's not just about appearance. Niche Zero grinder is built with durable brew components for fine grinding to extract every bit of flavor from the beans.
More so, its stepless grind dial allows you to adjust the grinding consistency for any of your brewing methods. Being an exclusive premium, the pricing of Niche Zero might call for a second thought before purchase. Nonetheless, the quality grinds and materials well validate its hiked cost.
Key Features
One switch operation
Infinite grind control
Modern design
Professional 63mm conical burrs
Excellent range of grind sizes
Pros
Made of long lasting material
Zero retention
Easy to clean
Simple grind adjustment settings
Visually attractive design
Consistent grind
Cons
Manual turn off
Small dosing chamber
Less capacity
11. Ceado E6P – Best Value for Money Grinder
Call it an entry-level grinder by Ceado for its unmatchable performance. The brand has high precision in making quality grinders.
QUICK SPECS
Usage Level: Professional Home-Barista
Best For: Espresso
Price: Around $900
Grind Mechanism: Time based
Motor Speed: 1380rpm
Burr: 64 mm Flat Steel Burrs
Hopper Size: 21.16 oz
Operation: Touch display
Grind Settings: Infinite, Stepless
Grind Retention: 0.5 to 2 grams
Portafilter Holder: Adjustable Clip
Noise Level: 72dB
Other: Programmable, durable, and extremely compact
What more could you ask for other than a full-size coffee grinder that takes up just a fraction of the room? The Ceado E6P is the one to go for!
With a total redesign, Ceado E6P achieves an even more efficient and convenient use, even during heavy usage. It comes with an asynchronous motor with thermal cut-out and polycarbonate hopper in a light alloy housing.
The exceptional compactness of the Ceado E6P offers an adequate working room while still allowing you to supplement the service coffee grinder conveniently. It also includes a touch display for ease of use. You can opt for hands-free operation while grinding the coffee beans by using its portafilter catch.
Key features
All-new touch display
Light alloy housing
Hands-free operation
64 mm flat burrs
Compact sized
Adjustable hook allows Hands-free grinding for all sized portafilters
2-timed grinding presets
Pros
Hands-free grinding
Easy to operate
Zero spillovers and dispenses cleanly
Low noise level
Infinite grind settings
Cons
No separate container for ground coffee
12. Atom 75
Eureka Atom 75mm Espresso Grinder, Short...
Sound Insulation - Much like its diminutive brethren, the...
75mm Flat Burrs - Equipped with the same burrs as the Eureka...
Timed Dosing - Program single- and double-shot doses, or...
Stepless Grind Adjust - Stepless grinders offer nearly...
QUICK SPECS
Usage Level: Professional Home-Barista
Best For: Espresso
Price: About $1500
Grind Mechanism: Timer Based, Programmable
Motor Speed: 1400RPM
Burr: 75mm Flat Steel Burrs
Hopper Size: 10oz
Operation: 5 buttons, LED Screen Display
Grind Settings: Stepless, Infinite Settings
Grind Retention: 0.3 grams
Portafilter Holder: Yes
Noise Level: 80dB
Other: Anti-clump and Anti-Electrostatic system; Bottom burr adjust so that you won't lose settings when disassembled
The Eureka Atom 75 is a professional home coffee grinder with 75 mm flat steel burrs that specializes in espresso. This burr grinder has a hands-free portafilter holder and a digital timed dosing mechanism with stepless adjustment. If you are very serious about your home espresso and have enough budget, this grinder is another level of espresso brewing.
It is simple to use and has buttons for single, double, and manual doses, as well as + and – buttons for adjusting dosing times.
Eureka grinders, on the whole, have low grind retention. With blazing quick grind times, whether single dosing or using the entire hopper, near-silent running, and minimal retention, there is a lot that you can find in this grinder.
Since the bottom burr on the Eureka Atom75 is used for adjustment, there's no need to reset your grind setting after cleaning the top burr or even dismantling the grinder.
Key Features
75mm flat hardened steel burr
Perfect Grind for espresso
Aluminum casing
Stepless Grind Adjustment
Anti-Clumping system
Anti-electrostatic
Bottom-Adjust burr
Less noise level
Programmable dosing functionality
Pros
Easy adjustment setting
Easy to operate and clean
LED light at portafilter area
User-friendly display
Cons
You might like: Best Coffee Grinders for Espresso
13. Ceado E37S – Best Coffee Grinder for Espresso
One of the most amazing innovations for espresso grinding. If you have the budget, you will be surprised at what you were missing as a home barista.
QUICK SPECS
Usage Level: Professional Home-Barista
Best For: Espresso, but can be used for others well
Price: Around $1700
Grind Mechanism: Doserless
Motor Speed: 1400 rpm
Burr: Stepless 83mm flat stainless steel
Hopper Size: 11.28 oz
Operation: Touch display
Grind Settings: Infinite
Grind Retention: 2-3 grams
Portafilter Holder: Adjustable hooks
Noise Level: 78 dB
Other: Bottom burr is used for calibration. When the top burr is removed for cleaning, settings are not lost
To be precise, Ceado is another level of grinding your coffee beans!
The Ceado E37S—with 83 mm flat burrs—is one of the best coffee grinders out there in the market. The unique mechanism of the Ceado E37S maintains a constant distance between the burrs under any operating stress condition.
It thereby maintains the precision and efficiency in the grinding consistency. The touch display complements the design and also simplifies your job. You can grind the coffee beans into the portafilter catch, which is provided, making the operation hands-free and less stressful.
Ceado E37S coffee grinder is the quietest on the market, thanks to the advanced mechanical suspension of the motor and soundproofing. Maintenance is easy and inexpensive due to the anti-clogging mechanism and convenient access to the burrs.
Key features
Simple touch display
Hands-free operation
Quick set gear tech
Silent operating conditions
Simple maintenance
Pros
Grind adjustment mechanism
Easy to clean
Easy maintenance
Simple display with touch screen
Cons
Takes more time to retain more ground coffee
Small hopper size
14. Hario Skerton
Hario Ceramic Coffee Mill - "Skerton"
Manual coffee mill grinds beans to your desired texture
Ceramic conical burrs ensure a precise, uniform grind.
Nonslip rubber base keeps the mill in place during grinding.
Ergonomically designed crank handle detaches for compact...
This Hario Skerton hand grinder operates using an adjustable conical burr mechanism, rather than the usual steel blade found in most hand grinders. That mechanism allows it to deliver even grounds, much like an automated burr grinder, though it takes a little longer, about 2 to 3 minutes. It's among the best manual grinders used for French Press coarse grind settings.
Key features
A manual grinder can fit your backpack
Lightweight – 1.25 pounds
Ceramic conical burrs
Removable parts for easy storage and cleaning
Adjustable grind settings
Heat resistant glass
Pros
Made up of high quality material
Ceramic burrs ensure perfect tasting coffee
Cons
Glass can break if fallen
Setting the grind size is confusing
Takes little time and effort to grind
Hario is one of the known brands for manual brewing and grinding with its V60 brewer and Skerton grinder. If you have both, it's a magical combination for brewing an amazing cup of coffee. Moreover, they are feasibly priced to satisfy all user needs.
How To Buy The Best Coffee Grinder
Before we begin our list, here are some factors to consider when buying a coffee grinder. You can totally skip this if you know what you are buying and the factors associated with it.
Type of Grinder
Coffee grinders can be divided into two categories: Burr and blade. Blade coffee grinders use a propeller-like blade that works similarly to blenders. They are the more cost-effective choice. Burr coffee grinders have two surfaces on which the beans are crushed in between. Both of them are widely used in homes and commercials.
We have already suggested and have only listed burr grinders here. So if you are really serious, go for them only.
Types of Burr
In particular, there are two types of burr – Conical and Flat and both have their own pros and cons. There is always a dichotomy between the usage of both in the coffee world and the choice literally depends on your own personal experience. So, it's better to understand how both of these work to make a better-informed decision.
Conical Burr – A conical burr is made up of a circle with sharp ridges. In other words, there is a spinning piece that has a rounded top and is shaped like a cone. If you ask experts, they will tell you that conical burrs are better if your brewing method doesn't require a finer grind, but rather on the coarser side. For example, for pour-over or a French press, the conical burr is better as compared to flat.
A flat burr provides a cutting face that is parallel, but a conical burr provides around a 60-degree cutting face. Due to the shape, the conical burr requires a smaller motor since it requires fewer rotations to grind the beans when compared to flat burrs. It is highly recommended because it provides a better level of control and creates low noise and heat.
Flat Burr – In flat burr, there are two same pieces (teeth/discs) that sit flush alongside each other, and coffee beans are propelled towards the two pieces with the use of centrifugal force. The grind profile can be adjusted by moving the discs further apart for a coarser ground or by moving them closer for a finer ground.
Flat burrs grind finer than conical burrs and it becomes almost necessary to replace them after their use for a period of time. They are deemed as best for making great espresso due to their design. Flat burrs provide higher extraction and better espresso variability. Still, due to the shape and friction between them, they require faster rotations to complete the same task. For faster rotation, they require a faster motor which produces more noise. Being flat, the outfall depth(the space between the teeth of burrs for passing the grounds out) is much precise and small when compared to conical burrs resulting in more uniform particles. And that is why, for finer grinds, flat burrs are preferred over conical.
Burr Material
When it comes to looking for the best burr coffee grinder, one must consider the material of the burr too seriously. Here are the variations along with their details.
Stainless Steel Burrs – As the name implies, these are made of steel along with the addition of chromium to resist corrosion and molybdenum to resist acidic corrosion. Although it is a recommended choice for applications involving drinks and foods, it is not the best material for every situation. It is because stainless steel burrs can absorb and retain heat. This means that the steel burr can heat up and transfer the heat to the beans if you grind a large amount of coffee. It can affect the taste of the coffee.
Ceramic Burrs – These are made from non-metallic, inorganic material and have high strength but a brittle body. It is recommended to use ceramic burr if you do not want a burnt coffee taste. It is because they do not retain or conduct heat even if you grind a large amount of coffee. They are a bit costly as compared to steel burrs and can break easily.
Manual vs Electric
Another factor to decide between is buying an electric one or a grinder. And it is fairly quick to decide. If you grind a small batch of beans like say for a single cup or if you are a frequent traveler, the manual grinder can be a good companion.
Whereas if you usually brew coffee at home, an electric grinder is the better option. It gives you flexibility over single vs many cups to brew.
Doser vs Doserless
So the next thing is to decide between a Doser or a Doserless grinder. In the former, the grinders have a container that collects coffee after it is ground. This container is then attached with the doser mechanism that divides and outputs the grounds into equal portions. At a push of a lever, this system outputs one portion among the equally divided portions into your choice of container which can be a portafilter, a Chemex, or anything.
A doserless grinder doesn't have a mechanism to divide the grounds into equal parts. It outputs the coffee grounds directly into a basic container through the chute. This means you have to decide how much grounds you need either via a scale or your guess.
If you exactly know how much to grind and are okay with a little inconsistency, a doserless can be a better choice. Whereas if you need to be precise, a doser grinder can be a better pick as it outputs exactly the same quantity of grounds helping to brew a consistent shot always. But do take a note, more comes with more maintenance and the dosing grinder comes with an extra mechanism to take care of including extra cleanup of sophisticated parts.
Doser grinders are generally accommodated at coffee shops where volume is high and one knows that the coffee grounds will be consumed in a short span of time. It saves them some time to prepare coffee. At home, a bare number of cups are required until and unless you are a coffeeholic person. So, a doserless is better for a home in many ways.
Grind Retention
Another aspect that is often missed is grind retention. It can be referred to as the amount of grind retained inside the grinder when we perform the grinding process. Like say, you put 18 gm of whole beans and the grounds that come out are 15 gm, then 3gm is the grind retention.
A good example of low retention grinders is Eureka Mignon Specialita. With the flat burrs, it retains only 1.5 gm of grounds which is far better than most. Another great example is the Baratza Sette with grind retention of almost zero grams. Thanks to its beautifully designed conical burrs that leave no space for grounds to collect.
Grind Consistency
Though most of the burr grinders come well with this particular aspect, still there is one ahead of another. Grind consistency is a very important factor as that decides how well your grinder will perform in the long run. If it fails to grind consistently the same kind of grind size under the same circumstances, you better look for another. This single factor can really ruin your coffee experience.
Motor Speed (and Heat)
Not as simple as it sounds, you might wave towards the high-speed grinder, but wait, high speed means more heat and more heat means your coffee grounds will burn and the actual flavor that was to come out will fade away. But there is another angle to this story too; the high-speed grinder will give a more consistent grind, especially for espresso.
The grinders with big and flat burrs tend to become less heated at even higher rpm or speed and are generally considered great for espresso brewing. Whereas, conical burrs get heated quickly and hence they come with mostly low rpm motors to avoid the heat problem, and so they are considered better for manual or drip brewing grind size.
Hopper Size
When it comes to choosing the right hopper size, you have to ask yourself a question – Do you prefer freshness or convenience. If the hopper can accommodate large amounts of coffee beans, it can be far more convenient, but it also means that the coffee beans will be sitting in the hopper for a bit longer than usual. If the hopper accommodates small amounts of coffee beans, it is less convenient for you but there will be no compromise on freshness. So, buy a bigger hopper if you brew large amounts of coffee daily and a smaller one if you only do a few.
Pulse, Auto or Timed Grinding
The next feature which might make your coffee life easier is to decide between how you want to grind. With Pulse, it's like pushing a button and keep it pushed until the beans are done grinding. The Auto grind is to turn the dial, and the grinder will stop when the grinding is done. Timed grinding allows the user to set the time for grinding and it will stop the process when the timer gets over.
Well, if you brew 2 or 3 cups a day, the pulse option is not much bothering. But if you grind too many cups a day, grinding again and again with a button pushed might make your thumb swell. So in that case, the Auto-grind or the Timer feature can be a good feature to look for.
Number of Grind Settings
Humankind is a victim of the 'More' word. We are always after more, but sometimes, having more complicates the normal. The grinder also has the same theory. We generally need around just 40 settings, but when we see figures that this grinder has over 300 grind settings, our excitement level goes up and the grinder with the highest settings wins.
The suggestion is to go with a grinder with over 40 settings if you wish to try almost all of the brew styles from espresso to Cold brew.
And if you are not a scientist and do not want to play much, even a grinder with 20 settings can work perfectly. So, don't over-complicate things as our real-life already is complicated.
Ease of Cleaning
The unit that can be easily disassembled are usually easier to clean as each individual part can be taken care of separately. Also, it allows us to go deep inside the grinder for thorough clean-up periodically. You can read our guide about 'How to clean a coffee grinder' to understand the depth of maintenance.
Price
Blade grinders are quite inexpensive and you can get one for less than $20. However, these grinders are cheaply made and can provide inconsistent coffee grinds. So, keep in mind that you won't get much quality with these grinders.
Burr grinders, on the other hand, are expensive as compared to blade grinders. They are made of durable burrs that stay sharp for years. Overall, burr grinders provide quality regardless of higher rates.
Wrapping Up
Instead of making the mistake of buying an average quality grinder, it is best to invest in a more robust and somewhat expensive grinder. After all, your main concern is quality, right? If not, then there are coffee grinders that come in an economical price range.
Whichever you pick as the best coffee grinder, grinding your own coffee means that you can look forward to the best-tasting, freshest espresso you've ever brewed!