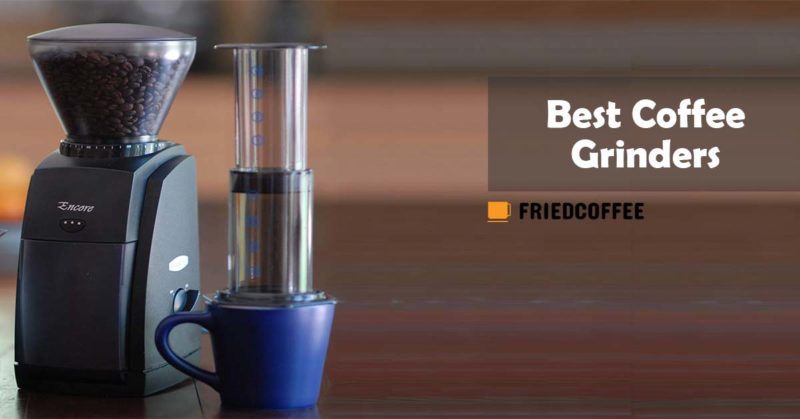 If coffee is an important part of your daily life, then you must know about the significance of having a good coffee grinder in achieving unwavering quality and consistency in taste. If not, then what have you been drinking all these years? As surprising as it may sound, a good coffee grinder plays a pivotal role in making a delicious cup of coffee.
Do you know that for the best tasting espresso, it's important to use freshly roasted beans and grind them just before brewing!
The quality of the grind is just as important as freshness and so a quality coffee grinder comes up as an important aspect. May be if, with an inexpensive blade grinder, you might have already experienced the problem of flavor loss and non-uniform grind. In that grind, half of the coffee is churned to powder but you can still find a lot of big chunks and maybe even whole beans! Blade grinders also cause friction that tends to heat coffee during grinding causing the flavor to deteriorate.
No matter how you brew your coffee, the grind is an important concern and it's always better to use a burr grinder. These machines grind evenly so that all of the coffee grounds are approximately the same size with very little dust (or "fines" as they're known.)
Why Use a Coffee Grinder?
Here are some of the main reasons why it is in your best interest to buy a coffee grinder. After all, no one should compromise on taste.
<!–noptimize–> <!–/noptimize–>
The taste of pre-ground coffee is just not good enough
The consistency of grind increases with the use of a right grinder
It saves you money while you travel
You can even combine beans for a different taste
Freshly brewed coffee every single time
Provides more control over your espresso
Before you buy a coffee grinder, here is everything you need to know. So, without any further ado, let's get started:
Types of Grinder
When it comes to buying a coffee grinder, you must know that there are different options to consider. Therefore, it is important for you to make a decision whether you want to buy a blade or burr grinder.
Blade Grinder – In this coffee grinder, coffee beans are sliced into multiple parts with blades (obviously). With this grinder, it is best to keep a check on the time. It is because if the grinder is running for too long, the grind size will become finer.
Even though it is quite cheap, it is recommended to buy a blade grinder that comes with a timer. It is best for beginner brewers, but if you are a coffee drinker who does not compromise on taste, this is not the best grinder for you. It is because it produces an uneven and unpredictable grind.
Burr Grinder – There are two burrs or two revolving abrasive surfaces used in a burr grinder to grind the beans. As compared to a blade grinder, it crushes coffee beans to produce a more uniformly consistent grind. It gives a more unswerving grind because the force of impact works on all points rather than just one.
It is a bit pricey as compared to a blade grinder and heavier as well. However, it provides better control and grinds which also overcomes the fact that it takes more time to grind the beans.
<!–noptimize–> <!–/noptimize–>
Just like many coffee enthusiasts out there, it is safe to assume that you'll go with a burr grinder. However, it doesn't end here because you have to choose from one of the burr types as well.
Type of Burr Grinders
There are two types of burr: conical and flat. So, before choosing the burr type, you need to know the difference between them:
Flat Burrs – In flat burr, there are two same pieces (teeth/discs) that sit flush alongside each other, and coffee beans are propelled towards the two pieces with the use of centrifugal force. The grind profile can be adjusted by moving the discs further apart for a coarser ground or by moving them closer for a finer ground.
Flat burrs are cheaper than conical burrs and it becomes almost necessary to replace them after their use for a period of time. They are deemed as best for making great espresso due to their design. Flat burrs provide higher extraction and better espresso variability.
Conical Burr –A conical burr is made up of a circle with sharp ridges. In other words, there is a spinning piece that has a rounded top and is shaped like a cone. If you ask experts, they will tell you that conical burrs are better as compared to flat burrs because you can easily adjust them by degrees.
A flat burr provides a cutting face that is parallel, but a conical burr provides around a 60-degree cutting face. It is highly recommended because it provides a better level of control and creates low noise and heat.
All in all, if you are looking for a heavy body and rich flavor, it is best to go with a conical burr.
At a Glance on BestSellers
Best Coffee Grinders – Our Favorites
1. Baratza Virtuoso – Conical Burr Coffee Grinder (with Bin)
Baratza Virtuoso+ Conical Burr Coffee Grinder with...
SPECIALTY COFFEE ASSOCIATION AWARD WINNING GRINDERS - Baratza grinders are preferred by coffee...
DIGITAL TIMER and BACKLIT GROUNDS BIN - a 40-second digital timer, adjustable to a tenth of a...
40 GRIND SETTINGS - With enhanced commercial-grade conical burrs to help you explore an extensive...
STYLISH - A sculptured metal top and base give the Virtuoso+ a modern image that highlights your...
WARRANTY/QUALITY PARTS - Engineered with 40mm hardened alloy steel burrs manufactured in...
Virtuoso from Baratza is a bit more upscale, featuring an elegant sculpted design and a powerful motor. There are 3 grinders from Baratza which are popular in the market: Encore, Virtuoso, and Preciso. The Virtuoso ranges between Encore and Preciso and are also the most popular. It is also a recommended product by Amazon.
Features and Specifications
40mm conical burrs
Second Generation Gearbox 2.0 (Increased Durability, Decreased Noise)
Grind range from 250 to 1200 microns (Espresso to French press)
Powerful DC motor stays cool during grinding
40 Grind Settings
Speed Control: 405rpm to 495rpm
60-second timer switch
8-ounce hopper
Front pulse button for grinding into the portafilter
Cons
One of the key features of the Virtuoso is its motor: the DC motor turns slowly in order to grind quietly and prevent the beans from being overheated. This grinder is a good choice for every brewing method from Espresso to French press and produces an exceptionally even grind at all settings. To adjust the grind settings, there is no lever instead you have to rotate the hopper.
The pulse button on the front of the machine makes it easy to grind directly into your portafilter, a bonus if you make a lot of espresso at home. The grind bin is plastic but is designed to eliminate static: don't put it in the dishwasher or you will lose the anti-static properties.
Considering the price of this grinder, the small size of the hopper is slightly disappointing, but the quality of the motor and the grind helps to make up for it. Overall, it's a good product from the brand and is worth the price tag.
2. Capresso 560.01 Infinity Burr Grinder
Sale
Capresso Infinity Conical Burr Grinder, Black
PRECISION GRINDING: Commercial-grade, solid steel conical burrs with advanced cutting design
WIDE GRINDING RANGE: From ultrafine Turkish to French Press coarse and everything in between
PRESERVES AROMA: Gear reduction motor grinds slow with reduced noise and little static build-up
LARGE CAPACITY: 8.8 ounce bean container and 4 ounce ground coffee container.Watts/Volts/Hertz:...
EASY TO CLEAN: Removable upper burr allows access for easy cleaning
With over 3500+ customer reviews, this grinder can be called a masterpiece. Its elegant sleek look is great and doesn't occupy much space on your counter. This machine offers an exceptionally wide range of grinds (overall 16) for its price point, and overall is a good choice when you're looking for value for money.
Features and Specifications:
100-watt conical burr grinder
Simple and easy to operate
Solid commercial conical steel burrs for quality grinding
8 ½ ounce bean hopper
Slowest grinding speed in its class produces less friction and heat preserving maximum aroma and flavor
4-ounce grounds container
16 grind settings
Safety Lock System
Built-in timer
Cleaning Brush and Measuring Scoop included
Wide range of grinds including Turkish
Cleaning up the burrs is not a breeze
If you want to be able to grind a large quantity of coffee in one go, the Capresso Infinity is a good choice. This grinder is a workhorse, producing everything from an ultra-fine Turkish grind up to a coarse French press grind. The Infinity seems to work better at the fine end of its range than at the coarsest settings, making it a good choice for espresso. The hopper will only hold about half a pound of beans, so most people will need another place to store their beans.
To change the grind settings, you just turn a collar around the bottom of the hopper to the desired grind. The timer is a simple dial that you turn manually. There's no "smart" technology, which means you won't have to worry about it breaking.
Overall, this grinder delivers what counts – a great quality of grind – without a lot of bells and whistles.
3. Secura SCG 903B
Secura Electric Burr Coffee Grinder Mill, Adjustable...
Secura electric burr grinder comes with 17 Grind size selections, from extremely fine (Espresso) to...
Quantity control dial from 2 to 12 Cups. On/off button, automatic shut off.
Burr grinding mechanism grinds uniformly and preserve natural aroma.
This Automatic burr Coffee grinder takes little counter space. Always available when you need...
Only for use with North American Electrical standards, 120V, 110watt motor. Dimension 6" x 4" x...
For guys looking for an electric grinder that is pretty simple to use, Secura has made a masterpiece. This grinder is extremely economical as compared to its built and has a very simple interface that is easy to understand and use.
Features and Specifications
Dimension 6" x 4" x 8.75"
110 Watt motor
Burr Grinding Disc
17 Grind Settings from Espresso to Coarse
Quantity selection from 2 to 12 cups
Automatic Shut Off
2 Years Warranty
Made in China
Cons
Material a little cheap
Fragile if not taken care of
Secura packs in itself a great package that gives grind settings from extra fine to coarse covering almost all sort of brewing methods. If you are a beginner and are just starting grinding at home, this one is a good buy. But, if you have used a burr grinder before, like Baratza or Breville, this is not for you.
4. Baratza Encore
Baratza Encore Conical Burr Coffee Grinder
SPECIALTY COFFEE ASSOCIATION AWARD WINNING GRINDERS - Baratza grinders are preferred by coffee...
GO-TO ENTRY LEVEL GRINDER - Baratza's best-selling grinder, with its small footprint, is THE...
USER FRIENDLY - A convenient, front-mounted pulse button, plus a simple ON/OFF switch make it easy...
40 GRIND SETTINGS - Engineered with 40mm commercial-grade conical burrs that help you explore the...
WARRANTY/QUALITY PARTS - Hardened alloy steel burrs manufactured in Liechtenstein, Europe, plus a...
Encore as the name depicts is the core product by the brand, Baratza. When anyone is serious about grinding at home, the first suggestion is Baratza Encore. It's an advanced entry-level grinder that is not much expensive and gives most of the desired features.
Features and Specifications
40 Grind Settings
Dimnesions – 6.3 x 4.7 x 13.8 inches
Weighs – 6.83 pounds
Removable 40 mm Conical Burrs
Small Footprint
Slow Speed Motor for Quiet and Cool operation
Bean Hopper – 8 Oz
Ground Bin Capacity – 5 Oz
Made in Europe
Cons
Grounds spray outside a little when in operation
A Little loud
So overall, the Encore is a great grinder for newbies brewing coffee via drip, pour-over, or French press. Though it's good for espresso shots too, still there are better options for that. Baratza has a name that comes first when searching for grinders and has maintained that reputation from long ago. The units are trusted and well built.
Read our complete review about Baratza Encore
5. Delonghi Airete
Ariete Conical Burr Electric Coffee Grinder -...
Ariete: the World-famous coffee machine brand, Well known for the design of its products, Certified...
ULTRA FINE GRIND: Heavy duty conical burr disc allows for ultra-fine grind and is suitable for...
REMOVABLE BEAN HOPPER: Automatic locking bean hopper can be removed with beans inside without...
CUSTOMIZE YOUR GRIND, with the 15 GRIND SETTINGS you can customize the grind for your percolator,...
ADJUSTABLE CUP SIZE: After you choose your coffee grind size use the User Manual guide (pg 4) to set...
For people who love to stay simple with perfection, the Airete can prove to be a good companion. It's relatively quick and makes less mess as compared to other units in the same category. We especially loved its designing aspect as all the controls are neatly and conveniently placed.
Features and Specifications
Stainless steel conical burrs
Quick operation
Dimensions – 6 x 11.1 x 7.6 inches
Weighs – 6.3 pounds
15 grind settings
The ultrafine setting for Turkish coffee
Automatic locking bean hopper
Adjustable cup size
Removable parts
Easy to clean
ETL certified
Cons
Lot of plastic parts so static builds up
Coarse grinds are not so coarse, so might not be a good grinder for a French press
Overall, Delonghi Airete is a great grinder for espresso or drip but not ideal for French Press brewing. The reason behind this is – when we move from medium-coarse to the highest coarse setting, there is not much difference resulting in an imperfect grind for a French press. For other brewing methods, it's a good option but could have been a little cheaper.
6. Oxo On Conical Burr Grinder
OXO BREW Conical Burr Coffee Grinder with Integrated...
OXO On Conical Burr Grinder built-in scale measures grounds by weight instead of time, eliminating...
Durable, 40 mm stainless steel conical burrs create uniform grounds for up to 38 settings -- from...
High torque/low speed motor won't overheat beans, preserving flavor and generating minimal static...
Use the single dial to switch between Cups Mode, Grams Mode or Manual Mode. In Cups mode, you grind...
No-bean detector won't let you grind if the hopper is empty.Voltage is 120V/60Hz
For serious coffee drinkers at home, this machine is a perfect powerhouse. We cannot compare it to professional grinders, but for home purposes, it's an ideal pick. Oxo has long been selling this grinder without many variations as this brand tries to make perfect things with features that are actually needed.
Features and Specifications
40 mm conical burrs
38 grind settings
Weighs – 5 pounds
Dimensions – 1 x 7.3 x 16.4 inches
Built-in scale
Hopper size -16 oz
Ground container holds 125 grams
Automatic shut off
Low rpm high torque motor
Overheating detection
Option to switch between cup or grams or manual mode via dial
Great customer care
Cons
If you have ever used an Oxo product or maybe their awesome brewer, you can easily imagine how the products are by this brand. It has all the features one needs at home. The grinds are consistent and the body is durable giving you long-term security.
7. Breville BCG820BSSXL Smart Pro –

Best Grinder For Espresso
Sale
Breville BCG820BSS Smart Grinder Pro Coffee Bean...
Stainless steel conical burrs designed to minimize grinding heat and protect the essential oils in...
60 precise grind settings from the finest Espresso to the coarsest French Press Grind. Voltage: 110...
Precision Electronic Timer allows users to adjust grind time in 0.2 second increments and consistent...
18 ounce coffee bean capacity with locking system for easy removal, storage, and transfer of the...
Grind directly into portafilter, grinds container, gold tone filter basket or paper filter
Breville is a pioneer when it comes to coffee and has many gears that pertain to coffee making. This grinder has 60 different settings from extra-fine espresso to the extra coarse for French Press brewing. The price is below $200, so would cost somewhere the same around the Oxo. It's a great pick, but if you can understand what those 60 different settings mean, or else, you'll be left with a whole lot of confusion.
Features And Specifications
Stainless steel conical burrs
Dimensions – 6.25 x 8.5x 15.25 inches
Weighs – 6.4 pounds
Backlit Large Display
165-watt motor
Precision Timer with a 0.2-second increment
60 Grind Settings
18 Oz Bean Hopper
Locking system for easy removal of hopper
Direct grinding to the portafilter
The best grinder for espresso brewing at home
Burr cleaning brush included
Cons
This can be called as a grinder for intermediate users who know already know about espresso making stuff. It has some precise settings that allow good control over the output. Even the precise 0.2 seconds increments in the timer help in doing even controlled grinding. Moreover, it looks appealing and modern on any cabinet or table.
8. Bodum Bistro Electric Burr Coffee Grinder
Sale
Bodum BISTRO Burr Coffee Grinder, 1 EA, Black
The Bistro Burr Grinder consistently crushes beans between stainless steel conical burrs. This...
Push button, pre-set timer allows users to grind the exact amount of coffee needed, keeping beans...
12 Adjustable grind settings allow users to go from Espresso to French Press with ease.
Equipped with a friction clutch, which protects the grinding gear by the presence of small stones.
Dishwasher-Safe Borosilicate glass catcher with grip reduces static cling of coffee grounds.
With its winning combination of style, features, and affordability, the Bodum Bistro is one of the most popular home grinders on the market. It's not pricey and won't take up much space in your kitchen. This grinder comes from a family that has a history of providing the world with the best French Press gears.
Features and Specifications
Stainless steel conical burrs
Borosilicate glass coffee catcher reduces static
14 grind settings from French press to espresso
Hopper holds almost a full pound of beans
Silicone hopper lid keeps beans fresh
Available in white, black, red, orange, and lime green
Two-year warranty
Cons
Little Messy
5 Minute required between grounds for cooling
This grinder produces a good even grind without a lot of fines. The glass coffee catcher prevents the buildup of static electricity, which can make your grinds messy and hard to work with. The hopper is a generous size and airtight enough to store your beans all the time.
Some customers have noted that the glass coffee catcher is a little bit fragile. If you do break it and need to replace it, you can order a replacement from the website. For all other defects, this grinder is under a two year warranty.
This grinder is a good choice for espresso brewing, but a little harder to work with if you're brewing 12 cups of auto drip on a regular basis. Overall though, the Bodum Bistro is a solid choice and is available in a wide enough range of colors to suit most kitchens. It has the casual, funky design that has made Bodum products so popular over the years.
9. Cuisinart DBM-8 Supreme Grind Automatic Burr Mill
Sale
Cuisinart DBM-8 Supreme Grind Automatic Burr Mill
Removable grind chamber holds enough ground coffee for 32 cups. Dimensions : 6.00 L x 7.13 W x 10.75...
4 to 18-cup slide dial
Scoop/Cleaning Brush is included
18-position grind selector; 4- to 18-cup slide dial
The top selling grinder on Amazon, just a few units more from Capresso Infinity. This is the least expensive model on our list, and it's got some pretty impressive features to offer considering the low price. If pricing is a bar, this grinder gives great results and will not cost you even 50 bucks.
Features and Specifications
Disk burr grinder
Separate power bar
Stainless Steel Styling
18 selections from coarse to ultra-fine, 6 settings per grind type
Large grounds chamber has lid
Slide dial with 4 to 18 cup settings
8-ounce removable hopper
Grind Chamber holds coffee for up to 32 cups
Electric timer with automatic shut-off
Removable parts are top-rack dishwasher safe
Cons
Loud
Plastic bin produces static grounds, making a mess
Inconsistent grind
Not so easy to clean
The Cuisinart Supreme Grind, unlike the other models reviewed here, uses disc burrs instead of conical burrs. These are a definite step up from blade grinders, but do not function quite as well as conical burrs. For example, you will find more fines mixed in with your grind. You might also find that the coffee gets a bit warm while you are grinding it.
This grinder is a good choice for French press and auto-drip coffee. Although it has an espresso setting, the grind is probably not even enough to keep a serious amateur barista happy. However, if you're on a limited budget and want to upgrade from a blade grinder, the Cuisinart is a great option.
Read our complete review about Capresso Infinity Burr Grinder
10. Hario Skerton –

Best Coffee Grinder For French Press
Hario Ceramic Coffee Mill - "Skerton"
Manual coffee mill grinds beans to your desired texture
Ceramic conical burrs ensure a precise, uniform grind.
Nonslip rubber base keeps the mill in place during grinding.
Ergonomically designed crank handle detaches for compact storage and easy travel.
Stepped grind adjustment mechanism is easy to use and change
This Hario Skerton hand grinder operates using an adjustable conical burr mechanism, rather than the usual steel blade found in most hand grinders. That mechanism allows it to deliver even grounds, much like an automated burr grinder, though it takes a little longer, about 2 to 3 minutes. It's among the best grinders used for French Press coarse grind settings.
Features and Specifications
A manual grinder can fit your backpack
Lightweight – 1.25 pounds
Ceramic conical burrs
Removable parts for easy storage and cleaning
Adjustable grind settings
Heat resistant glass
Cons
Glass can break if fallen
Takes little time and effort to grind
Hario is one of the known brands for manual brewing and grinding with its V60 brewer and Skerton grinder. If you have both, it's a magical combination for brewing an amazing cup of coffee. Moreover, they are feasibly priced to satisfy all user needs.
11. Porlex JP30
Porlex is one of the finest brands when we talk about manual coffee grinders. The body is narrow and long somewhat similar to a pepper mill. The built quality is strong and you can judge that by even holding it for while. The grind settings can be adjusted from powder to coarse for a French Press and the output we get is consistent.
Features and Specifications
Stainless Steel Body
Ceramic burrs
Grind setting from powder to French Press
30 Gm capacity, outputs almost 4 tablespoons at once
9 x 7.6 x 1.9 inches
2 Oz
Made in Japan
Cons
Harder to fit directly to Aeropress
Small Capacity
Manual grinders are mostly made for camping or French Press coffee making. In short, this grinder grinds the best coffee for a French Press. It gives a consistent grind always.
For grind adjustment, You can find a white wing-type nut beneath the body. Just remove the cylindrical canister and we can find a white nut attached. Screw it for a finer grind and unscrew it for a coarser. When you will do it, you will feel clicks, count those and remember the number of clicks for your favorite grind setting. To avoid confusion, start with the nut completely screwed in then back it off. Say, for Espresso, 2 steps back after screwing fully will give the best grind.
12. Javapresse – Best Manual Grinder
JavaPresse Manual Coffee Grinder with Adjustable...
[ Built-in Adjustable Grind Selector ] Equipped with over 18 click settings ensures you have 100%...
[ Convenient & Easy to Use ] Removable hand crank mechanism consistently eliminates over 90% of the...
[ Grind Fresh Coffee, Everyday! ] JavaPresse Manual Coffee Grinder only dispenses your desired fresh...
[ Coffee is in our DNA ] Each JavaPresse manual grinder is designed to liberate and empower you to...
[ Patented Ceramic Combo Burrs ]- Our Signature Burr Grinder blades are designed and tested through...
This is one of the highest-selling grinders in the manual category as it offers great grind control in a very feasible amount. Javapresse has 18 click settings providing grind settings for a French Press, pour-over, drip, cold brew, and much more. As it requires no power or batteries, one can take it anywhere.
Features and Specifications
Stainless steel body
Ceramic Burrs
18 grind settings
Dimensions – 1.8 x 7.5 x 1.8 inches
Weighs – 7.2 Oz
Little see-through window
Includes Quick Start guide and Grind Chart
Removable Hand Crank
Very Less Noise
Made in Japan
Most sold Manual Grinder on Amazon
Cons
Slow and takes patience to grind
Plastic part connected with burrs
Sold over 4000 units on Amazon maintaining an average review of 4.5, you can yourself imagine how the product should be. For below $25, it's a steal compared to other products in the same category. The working is also simple and the crank is removable.
Things to Consider Before Buying
Given that burr grinders are most in-demand, here are a few things you need to consider:
Stainless Steel vs. Ceramic Burrs
When it comes to looking for the best coffee grinder, one must consider the material of the grinding burr.
Stainless Steel Burrs – As the name implies, these are made of steel along with the addition of chromium to resist corrosion and molybdenum to resist acidic corrosion.
Although it is a recommended choice for applications involving drinks and foods, it is not the best material for every situation. It is because stainless steel burrs can absorb and retain heat. This means that the steel burr can heat up and transfer the heat to the beans if you grind a large amount of coffee. It can affect the taste of the coffee.
Ceramic Burrs – These are made from nonmetallic, inorganic material and have high strength but a brittle body.
It is recommended to use ceramic burr if you do not want a burnt coffee taste. It is because they do not retain or conduct heat even if you grind a large amount of coffee. They are a bit costly as compared to steel burrs and can break easily.
Grind Settings
A better burr grinder comes with more grind settings. Therefore, it is best to buy a burr grinder with more settings as it enables you to accurately grind according to your choice.
Although commercial grinders come with more than 40 grind settings, make sure you buy a grinder that comes with at least 20 grind settings.
Hopper Size
When it comes to choosing the right hopper size, you have to ask yourself a question: Do you prefer freshness or convenience.
If the hopper can accommodate large amounts of coffee beans, it can be far more convenient for you but it also means that the coffee beans will be sitting in the hopper for a bit longer than usual.
If the hopper accommodates small amounts of coffee beans, it is less convenient for you but one thing can be said with certainty that there will be no compromise on freshness.
Brewing Method
It is definitely not recommended to use blade grinders for espresso. Instead, choose a burr grinder with a conical burr as it provides a fine grind. For a French Press, a burr grinder is a far better choice than a blade grinder. However, you can successfully use a blade grinder for drip coffee.
How Easy is Cleaning
Blade grinders can be cleaned rather easily as compared to burr grinders. However, the hopper of the burr grinder can be removed easily for proper cleaning as well.
Price
Blade grinders are quite inexpensive and you can get one for less than $20. However, these grinders are cheaply made and can provide inconsistent coffee grind. So, keep in mind that you won't get much quality with these grinders.
Burr grinders, on the other hand, are expensive as compared to blade grinders. They are made of durable burrs that stay sharp for years. Overall, burr grinders provide quality regardless of higher rates.
Conclusion
When it comes to investing in a coffee grinder, there are several other factors to consider as well such as the size, hopper size, dosing options, number of grind settings, voltage, price, etc.
Instead of making the mistake of buying an average quality grinder, it is best to invest in a more robust and somewhat expensive grinder. After all, your main concern is quality, right? If not, then there are coffee grinders that come in an economical price range.
Whichever you pick as the best coffee grinder, grinding your own coffee means that you can look forward to the best-tasting, freshest espresso you've ever brewed!