There's been a war going on, fought for decades with passionate people on both sides. It's been growing gradually, spreading its tendrils across the borders of the world. It is the war of coffee vs tea. For a few hundred years the ammunition aimed at the caffeine consumers was strong. They included the impact on the digestive system, loss of sleep, and other health ramifications caused as a result of constant consumptions of high doses of caffeine. Then came into battle, the advent of the Decaf Coffee…
Why use Decaf Coffee
While we definitely understand the appeal and adoration towards coffee, there are a lot of people that have either chosen to jump ship to a lesser caffeinated option or have possibly chosen to never board the vessel in the first place. Decaf has stood through time as the poster-child for women who are either trying to conceive are pregnancy or breastfeeding.
It is the answer you've been looking for if you have a highly sensitive stomach that seems to detest coffee despite your palate calling out for it. It also is a comfort you can turn to if you're in the mood for a cup of coffee after the sun sets and don't want to be up and jittery all night long. If you are a single-serve machine user, you would be better with our Nespresso decaf capsules guide.
The Best Decaf Coffee Beans
1. Café Don Pablo Subtle Earth Decaf
5LB Subtle Earth Organic Decaf - Swiss Water Process...
Swiss Water Process Decaf - 100% Arabica Coffee - GMO Free
USDA Organic Certified - Whole Bean - Medium Dark Roast
Rich and chocolatey with profound depth of flavor, velvety body, and low acidity
Origin: Honduras
REFUNDABLE - Try Don Pablo Risk-Free: Buy now, and if you don't love our coffees, contact Burke...
Stepping in to start our list are the little brown beans from the fields of Honduras in Central America. The Café Don Pablo Subtle Earth Decaf is a shade-grown coffee that is nurtured without the outside intrusion of any chemical pesticides or artificial herbicides. You can, if you choose to, trace the gene map of the beans to confirm that they have never been genetically modified in any way shape, or form.
<!–noptimize–> <!–/noptimize–>
The beans are carefully roasted to a medium-dark resulting in a deliciously rich dose of chocolatey goodness. Don't miss out on the surprise hits of cocoa, caramel, and honey while you guzzle down your second or third cup.
Café Don Pablo Subtle Earth uses the organic swiss water process to decaffeinate their beans. The people at Don Pablo offer a risk-free purchase offer. So if for any reason the decaf doesn't appeal to you, you can get your money back guaranteed.
You can choose to brew yourself a cup either using an automatic or manual drip machine or even a french press if you're in the mood for it. If you're feeling too lazy, or only brewing for one, you can even opt for the single-serve pods. The cold brew version is particularly comforting on a hot summer's day.
2. Volcanica House Blend Decaf
Sliding into the second slot, we have the Volcanica family offering up coffee beans from their fields in Central and South America. Volcanica is known for some of the very best coffee beans collection with several distinct variants to easily confuse as to which one to try and which one to leave.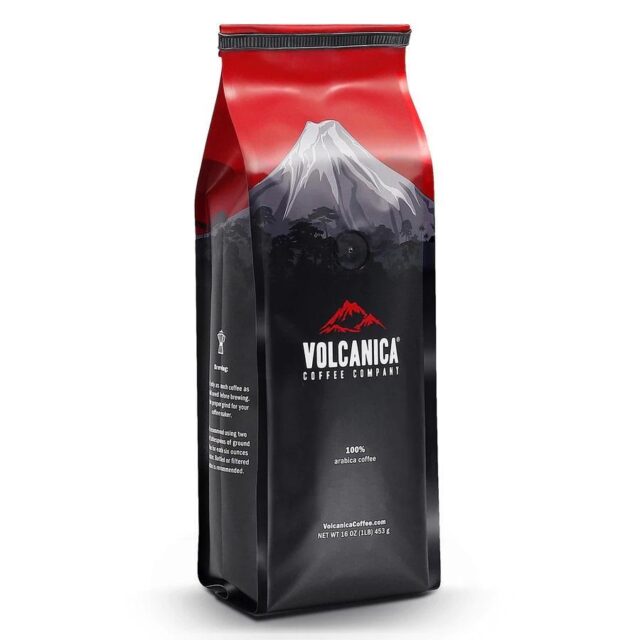 The company is highly dedicated to ensuring that its coffee is shade-grown and organic. They do not allow for the outside interference of artificial pesticides, herbicides, or any other chemical element in the growth, processing, and packaging of their coffee. It is for this reason they employ the Swiss Water process in their attempt to decaffeinate their beans while holding onto the natural oils and flavors within them.
The medium roast decaf packs a bold punch with its rich body that offers up tones of caramelly sweetness. You can choose to unwind at the end of the day creating a cup of this decaf using either the espresso grind or brew it with an automatic or manual drip machine or even a french press if that is where your talent lies.
<!–noptimize–> <!–/noptimize–>
As a contribution towards ensuring everyone in the world has access to basic clean water, the company has promised that one percent of the coffee beans sales made on the official site goes towards the charity: water organization that works to do just that.
3. Kicking Horse Decaf
Kicking Horse Coffee, Decaf, Swiss Water Process, Dark...
Dark roast, whole bean: Swiss water process. Decaffeinated coffee should be exactly like every other...
Tasting notes, brew method: Roasted hazelnuts, chocolaty balanced body and a long lasting finish....
Origin Central & South America: Grown in a socially and environmentally responsible way, by farmers...
Organic, Fairtrade, kosher, shade grown, Arabica coffee: Coffee that is good and fair for the coffee...
Roasted in the rocky mountains: It's all deep, dark and delicious, roasted right below the...
Storming through our list next is a decaf that is going to need you to recheck the label a couple of times. No one really seems to believe that these dark roasted Arabica beans offered up by Kicking Horse are in reality a decaffeinated delight. The beans are grown in fields high up on the hills of Central and South America.
Roasted in the infamous Canadian Rockies, the blend is a blissful mix of roasted hazelnuts, caramel, and milk chocolate
The people at Kicking Horse were one of the first in Canada to lead the way towards ensuring the farmers in their coffee fields were treated fairly for their work. The company has also ensured that every step of the process from the planting of the seeds, to the packages standing on the shelves in grocery stores, has been sourced and processed using organic safe methods. They even use the safest, purest, and most effective methods to decaffeinate their beans. The Swiss Water process removes the most caffeine possible from the beans without corrupting their flavor or texture.
You can brew yourself a cup or four using either a manual, automatic drip coffee maker, a french press, or any other pour-over technique. You can even choose to chill out after a rough day with the cold brew variant of the blend.
4. Lifeboost Organic Decaf
The next decaf in our list comes all the way from high up in the slopes of Nicaragua. Lifeboost organic coffee offers shade-grown beans that are hand-picked with care and attention to detail. The altitude, climate, and environment work in harmony with the plant allowing it to grow without the need for any intervention through the use of artificial pesticides or herbicides.
The beans are washed with spring water and dried in the sun before they are carefully hand-roasted to a beautiful medium brown. The coffee is decaffeinated using the Swiss Water process sticking to the banner of only using organic elements in the entire process. Each batch of beans is also carefully scanned for mycotoxins to ensure there isn't any mold that could potentially contaminate the quality and taste of the decaf.
Once you bring a bag of these beans home get ready for a palate pleaser. The bold mesh of chocolate, nuts, and fruitiness with the smooth undertone of caramel round it out to a clean finish.
It's not just the people directly connected in the process of constructing the coffee that Lifeboost coffee looks after through their fair trade practices. They have a continuous contribution towards the animal and environmental causes in the country through a percentage of the company's profits. You can also try their coffee subscription service if your first experience satisfies you
5. SF Bay Gourmet Decaf Coffee
SF Bay Coffee DECAF Gourmet Blend Whole Bean 2LB (32...
DECAF GOURMET BLEND: This medium/light roast blend of 100% Arabica beans from Central America...
NATURALLY DECAFFEINATED: We decaffeinate our coffees via a Natural Water Process that uses water &...
WHOLE BEAN COFFEE: Whether you're into finely ground espresso or drip coffee, or coarsely ground...
QUALITY COFFEE: San Francisco Bay Coffee uses only 100% arabica coffee and certified Kosher coffee...
SF BAY COFFEE is a family owned, American made company with a rich tradition. Our reputation...
Entering halfway through our list is the offer from San Francisco Bay coffee company. The blend presents a delicious medium-light roast of solely Arabica beans grown in the coffee fields in Central America. The beans are decaffeinated using a Natural Water Process. The practice ensures there are no artificial or potentially harmful elements included in the entire operation.
The result will have you relishing a smooth cup that melds creamy chocolate and with a taste of toasted almonds and finishes off with a punch of sweet mandarin.
You can opt to buy a bag of whole beans to enjoy a fresh grind when you brew using a french press or any other pour-over method. If you don't have a coffee grinder at home for any reason don't worry about missing out. There is even a pre-ground variety available.
Along with coffee grounds and beans, there are also SF Bay Decaf K-cups for people seeking single-serve coffee pods.
The family-run company strives to build and grow relationships with the farmers that are working on the coffee fields. Paying special attention to their imprint on the environment, they have succeeded in becoming a carbon-negative company. The team at SF Bay practices fair and direct trade while sourcing and processing their coffee.
Apart from their contribution to the coffee community, SF Bay also works to enrich the communities that are home to the fields where they grow their crop. To date, they have built 63 schools and 1,775 housing complexes across Rwanda, Mexico, Kona, and Panama.
6. Jo Decaf
NO FUN JO DECAF: 2 lb, Organic Decaf Ground Coffee,...
NO FUN JO DECAF PROFESSIONAL CUPPING NOTES: SWEET BLUEBERRY | MILK CHOCOLATE | COMPLEX | FULL BODY |...
Each batch of this fresh roasted organic coffee is hand-crafted, by artisan coffee roasters, in our...
Available in 12 oz or a 2 lb money-saving package, both packaged with resealable tin-tie for...
Our organic coffee is specialty grade coffee, which is the top 2% specialty grade of organic Arabica...
This coffee is USDA Certified Organic, Fair Trade Certified, and Kosher Certified. Contact us for...
The next contender for the title of the best decaf coffee beans has a lot of plaques on their wall certifying and cementing their dedication to well-sourced and well-treated produce.
Jo decaf cuts no corners offering up 100% rich medium-dark roasted Arabica beans. Each and every step from the growth and nourishment of the coffee beans, to the roasting and packaging process, is conducted under strict supervision. There are regular checks to ensure there is no chemical or artificial contamination from any pesticides or herbicides or other chemicals during the whole process. The beans are decaffeinated using the Swiss Water process which ensures the organic standards are maintained.
The result is an exciting and enticing meld of milk chocolate, hazelnut and sweet blueberries.
The people at Jo coffee are invested in fair trade practices so be assured the farmers working the fields to get you your cup of coffee are treated with respect and compensated in accordance with their efforts. You can brew the full-bodied decaf using either a drip brew or the pour-over method, the espresso grind is particularly enticing. In their bid to watch their environmental footprint, the company has ensured that their Keurig K-Cup brewer options are eco-friendly.
7. Equal Exchange Organic Decaf
Equal Exchange Organic Whole Bean Coffee, Decaf,...
Contains 3 bags, 12 oz per bag (36 oz)
TASTE: Organic Decaffeinated Ground Full-Bodied Coffee with a Balanced Flavor of Sweet Nutty &...
ROAST: Full City Roast Blend
100% Arabica Coffee Sustainably Grown by Small-Scale Farmer Cooperatives in Latin America, Africa &...
100% Fairly Traded Ingredients, Certified Organic by the USDA, Gourmet Quality, & Certified Kosher....
Striding in next is a decaf that takes a holistic approach in their contribution to the coffee world. Equal Exchange Organic Decaf is composed of one hundred percent Arabica beans. The beans are gathered from the continents of Asia, Latin America, and Africa.
The beans are shade-grown which helps protect them from any harmful effects the harsh sunlight can cause. It also helps the plants grow without the need for any additional aid in the form of artificial pesticides or herbicides.
The caffeine is removed from the beans using a process called CR3 Natural Liquid Carbon Dioxide Decaffeination. It ensures that by the end of the exercise, 99.9% of the caffeine has left the beans leaving the flavor and texture of the beans untouched. Their flavor is enriched through a careful full city roast blend.
Equal Exchange Organic Decaf promises to complement your mind, body, and soul with its offerings. The beans used are sourced through fair trade practices. The company works with small-scale farmers and hopes to nurture and grow relationships with both the farmers and consumers through their practices.
So sit back and enjoy a full-bodied fiesta in your that melds caramelized sugar and chocolate in your coffee cup. The arch enemies of the dessert world, aka vanilla and chocolate, unite along with toasted almond cookies to offer up an inviting and intoxication scent.
8. Koa Coffee Decaf
The coffee world has proven time and again that can never have enough of Kona coffee. The tiny brown beans hailing from Hawaii have always had a seat at the table of coffee royalty.
The altitude at which the beans are grown along with the climate and environment in the area work together resulting in these uniquely delicious beans. The beans you taste in the Koa Coffee Decaf grow on the slopes of Mauna Loa volcano. The beans are roasted to a comfortable medium brown before being packaged.
In an effort to preserve the natural flavor and ensure the least amount of artificial interference The caffeine is removed from the coffee beans through the Swiss Water method. It is also available in the pre-ground variant, so those without a grinder at home don't have to be left out.
Enjoy a cup morning, night, or noon and get lost in the smooth combination of chocolate and nuttiness that is beautifully balanced out with the sweet citrus.
You shouldn't be surprised to find a bag of Koa Coffee Decaf to be priced slightly higher than its competitors. It is the legacy you are paying for and we promise you won't be disappointed.
9. AmazonFresh Decaf Colombia
Coming in next on our list is a contender offered up by the online tech giant Amazon. AmazonFresh Decaf Colombia gets you everything that you could need in a flawless cup of decaf coffee. The blend is composed solely of Arabica beans, and as the name suggests, they grow in the coffee fields of Colombia.
The medium roast coffee is also available in the pre-ground variant, which means it doesn't matter if you don't have a grinder at home. The beans are packed in the US in specialized one-way freshness valve bags directly after they have been roasted.
Treat yourself to a delicious cup of decaf layered with tinges of brown sugar and cocoa. And don't miss that sublet whiff of citrus that's going to hit you as soon as the water hits the beans.
AmazonFresh is confident you're not going to be disappointed. They offer a hundred percent satisfaction guaranteed, an offer you can hold them to for up to a year.
You can brew yourself a cup of the full-bodied AmazonFresh Decaf Colombia using a pour-over, steep, or drip method via a Chemex, French Press, or Auto drip. You can even opt for espresso if the mood nudges you that way.
10. Starbucks Decaf Sumatra
Sale
Starbucks Decaf Sumatra, Whole Bean Coffee (1lb)
Full-bodied decaf with a smooth mouthfeel and lingering herbal flavors. Amazing with savory foods.
Tasting Notes: Earthy & Herbal
Enjoy this with:Baked brie, a warm baguette and a breathtaking sunset.
Roast: Dark
Wrapping up our list is a name almost synonymous with coffee culture itself today.
Not willing to be left out of anything related to the little brown bean, Starbucks offers its own unique variant through the face of Starbucks Decaf Sumatra.
This dark roast derives its hundred percent Arabica beans from the coffee-rich fields in Indonesia. The coffee is decaffeinated through a process that removes the caffeine while holding onto the flavor and fragrance of the beans. The beans are then roasted in Seattle, Washington from where they are shipped wherever desired.
This decaf delivers a strong hearty flavor through its heavy body. You can go through a cup or two every day with a side of something savory. The Starbucks Decaf Sumatra works to tease all your senses with an undertone of cinnamon, nutmeg, roasted pine, and just a touch of grapefruit and apricot. As a delectable double treat, the drink leaves you with an enticing earthy and herbal aftertaste.
You can choose to either use a pour-over, drip method, or french press to brew this coffee. If using a clever brewer to brew is more your style, it yields great results using this method too.
How To Choose Decaf Coffee Beans
Once you've decided that decaf is the way to go don't just rush to the store, online or otherwise. There are a few things you need to consider before you pick a brand to commit to.
To start off it is important to know, decaf coffee is not a hundred percent free of any and all traces of caffeine. Depending on the company, one cup could contain anywhere up to 7 milligrams of caffeine.
Be sure to take a look at how the coffee family chooses to remove the caffeine from the coffee beans. There are four methods used by most companies to complete the process:
The Direct Method – In this process, the beans are first steamed for about 30 minutes to open their pores. After that. the beans become receptive to solvent. They are then soaked and rinsed in water with a special solvent to remove the caffeine. The beans are then dried for roasting. In the roasting part, most or all of the solvent gets evaporated. The negative part of this method is that the solvent forms a layer on the beans when soaked. After roasting, most of the traces are evaporated but still, some is left which is harmful.
The Water Decaf Method – Here, the beans are first soaked in hot water for several hours to extract the caffeine. Along with caffeine, the beans also lose their oils and other flavor elements. After soaking, the beans are then washed with either methylene chloride or ethyl acetate for about 10 hours. The molecules of caffeine tend to stick with molecules of solvent. The mixture is then heated to evaporate the caffeine with solvent.
The Swiss Water Method – Now this method is what we can call progress. Here, the beans are soaked in very hot water to dissolve the caffeine. The water also extracts oils and flavor elements from the coffee beans. This water is then passed through an activated charcoal filter with the porosity to capture larger molecules of caffeine only. As a result, we get a container with flavorless beans and another with 'caffeine-free flavor-charged' water. This water now already contains flavor elements, is then used with a fresh batch of beans. Now, the water is already saturated with flavor elements, it only extracts the caffeine molecules from the fresh batch of beans. The result now is decaf beans, naturally. We recommend the Decaf beans marked with this method.
CO2 Process – This is the most expensive method which is used by only commercial brands with large volumes. Here, the liquid CO2 is forced at high pressure into a sealed chamber containing coffee beans. This extracts the larger caffeine molecules and then this loaded CO2 is transferred to another chamber. The pressure is released and CO2 is converted in a gaseous state and leaves the caffeine molecules behind. The gas is now pumped back into the beans chamber for reuse.
'Swiss water method' is considered by many as the safest, and most successful and of the choices. Since taste has always been a big factor in turning people away from decaf in the past, it is also the method that best manages to preserve the natural oils and flavors of the beans. The whole process is conducted without the use of any artificial or chemical components. S.W.M. succeeds in removing up to 99.9 percent of the caffeine from the beans before they are packaged.
At the End of the Day
There has always been a strange stigma around decaf amongst the coffee fraternity of the world. It simply hasn't been the most sought-after of all the coffee beans offerings.
One of the main reasons presented as an explanation has always been the unfavorable taste. Luckily though. The world has progressed, and with changing times, there is a palpable shift towards the acceptance for and appreciation of decaf as a viable option. The results are for you to see above.
So the next time you're craving a coffee but not the caffeine, be sure to approach one of the many delicious alternatives.