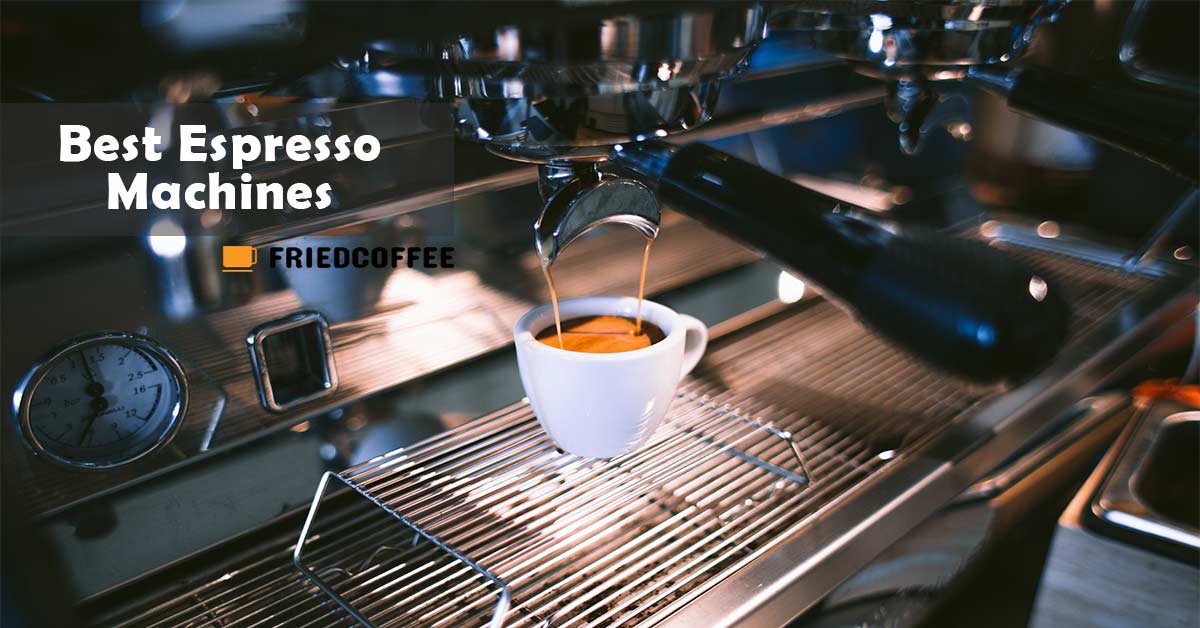 AT A GLANCE ON OUR FAVORITE HOME ESPRESSO MACHINES
A Perfect Home Espresso Machine can bloom your lifestyle by pulling consistent shots every time and extracting all the essential oils and flavors from coffee grounds for the perfect taste. The job of this machine is to produce a highly concentrated, dark, and rich textured drink or more precisely – Finely ground coffee beans are packed into the portafilter onto which highly pressurized boiling water is passed, the outcome is called Espresso Shot.
Types of Espresso Machines
Before we begin our list of best picks, let's first have a glance at the type of espresso machines so as to be more clear about exactly what we are looking for. There are in general four variants that are generally talked about.
Manual Machines
It is fair to say that these machines are for those people who are not reluctant to put some work into their espresso. These machines are not only elegant and have an old charming design but are capable of producing an exceptional espresso if operated properly.
<!–noptimize–> <!–/noptimize–>
The most distinctive thing about these machines is the lever. Some have a direct lever or spring piston lever design while others have electronic pumps in place of the lever (advanced ones).
Semi-Automatic
The water is heated by the electronically controlled pressure pump to let it stay at a consistent temperature while pulling a shot. However, the flow of water during the shot is controlled manually. The user has to start and stop the water flow and that's why these are called semi-automatics. Grinding, filling the portafilter and tamping is the responsibility of the user. Many coffee lovers consider these as true espresso makers because of the maximum control over the process. Gaggia, Delonghi, and Rancilio are some great examples of semi-automatics. These machines are considered best for optimal espresso extraction.
Fully Automatic
The brew cycle, or more easily the flow of water is controlled by the machine automatically so that there are consistent espresso shots over time. So, we don't have any control over the length of the shot. Grinding, filling, and tamping is still the user's part. Some machines though come with a built-in coffee grinder, but tamping again is the user's part here.
Super-Automatics
If you don't want your hands to get dirty on grinding, tamping, or pulling the shot manually, we suggest going for the super-automatics. These machines grind, fill, tamp and pull the shot automatically. You just have to fill the machine with your favorite coffee beans, or more specifically espresso beans, then select the type of coffee drink you want, and wait for the machine to make that for you.
What really distinguishes super-automatic espresso from a semi-automatic is the inclusion of a built-in coffee grinder and a built-in frother. Jura and Saeco are brands involved in making amazing automatics.
We will not be considering the manual types as they are mostly bought for artistic placements and we suppose that you are here for an electric espresso machine. In this article, we will be more focused towards the two categories – Semi and Fully-automatics.
<!–noptimize–> <!–/noptimize–>
Note: Before you proceed further to our section about the home espresso machines, check below if you fall exactly into any of these categories as we have separate articles for those.
If nothing specific matches up, go ahead reading the article to discover the best of each category in the reviews about top-notch espresso machines below.
Best Espresso Machines – Our Top 12 Picks
1. Delonghi EC155 Espresso and Cappuccino Maker – Most Affordable Espresso Machine
DeLonghi EC155 15 Bar Espresso and Cappuccino Machine
EVERY CUP TO YOUR LIKING: 15-bar professional pressure assures quality results every time, and...
BREW LIKE A PRO: Whatever your preference – single or double espresso, cappuccino or latte – the...
YOUR FOAM, YOUR WAY: A manual frother mixes steam and milk to create a rich, creamy froth for evenly...
ONE ESPRESSO SHOT OR TWO? The three-in-one filter holder, included with the unit, has filters for...
NO WAITING BETWEEN CUPS: The Advanced Cappuccino System maintains the optimal temperature so you can...
For people looking for affordable options and demanding a cappuccino maker, this is the one to owe. We always wanted to include a budget option that costs around $100 and is not among the cheap espresso machines but does make a decent drink. EC155 by DeLonghi is our choice for that. With numerous positive reviews from users, the EC155 is already serving great for many.
Features and Specifications
Compact design
Can use ESE pods as well as ground coffee beans with dual functionality patent holder
Priming option for fast start-up
Easy to use interface to prepare that delicious coffee drinks without getting annoyed with controls
Separate thermostats for steam and water
Stainless steel boiler
Swivel Jet Frother
So, under a small budget, the machine that withstands is De'Longhi EC155 having many features which premium machines generally have. If you are seeking a product in the budget of a stove-top espresso maker, this one is perfect to go. It is also one of the best Delonghi espresso machines in the market that sells like a hot cake and doesn't burn a hole in your pocket.
2. Hamilton Beach 40792
Sale
Hamilton Beach Espresso Machine, Latte and Cappuccino...
CAFE-QUALITY RESULTS: Indulge in espresso, cappuccinos and lattes right at home using either...
15 BAR ITALIAN PUMP: Supplies the pressure necessary for excellent extraction and rich crema.
EASY SETUP: No fiddling with brew heads in hard-to-access areas – just slide the patented Slide &...
SWIVELING STEAM WAND: Lets you steam and froth milk for cappuccinos and lattes.
CUP WARMER: Keeps cups warm until serving time.
If you're looking for an entry-level machine that doesn't cost too much, the Hamilton Beach 40792 might the right one to go for. It is among the best budget option for casual beginners, makes a good espresso cup and that is all that makes sense.
Features and Specifications
15 bar pump
Removable drip tray and water reservoir
Fairly Compact design
Swivel steam wand
Filter takes ground coffee or ESE pods
Cup warmer
Slide and Lock filter for easy set-up
HB 40792 is an easy machine for someone who is just learning to pull shots. The Slide and Lock feature holds the filter attachment securely in place when pulling the shot. It comes with two filter baskets to make either single or double espresso shots in case you need a high coffee strength. The single-shot basket can also be used with ESE coffee pods. Users report that they get decent crema with this machine.
However, Hamilton Beach does have some limitations. It has no programming options at all – you even have to manually stop the flow of water when your cup is full. Also, the housing is plastic and really isn't built to withstand the test of time. But if you're looking for an easy introduction to espresso and don't want to spend a lot of fortune on the first machine, you can't go wrong with this model.
3. Mr. Coffee Café Barista – Best Affordable Espresso Machine with Frother
Sale
Mr. Coffee Espresso and Cappuccino Maker | Café...
Semi automatic 3 in 1 espresso maker, cappuccino maker, and latte maker
15 Bar Pump System Brews Rich Tasting Espresso Coffee
Trouble Free Automatic Milk Frother Removes the Guesswork. Do not wash the water reservoir in the...
One touch control panel for drink selections
Easy fill, removable water and milk reservoirs
Become the envy of your neighbors with your very own personal barista! The Café Barista is the perfect companion for bringing the coffee house experience into the comfort of your home. Choose your favorite drink – lattes or cappuccinos, single or double espresso, with just a single press of a button. The automatic brewing and frothing guarantees barista-level perfection for each and every drink been made and what's more – it's the affordable price tag that is just marked under $200!
Features and Specifications
One-touch controls for single or double-shot drinks
Small compact design
Automatic hands-free built-in frother for perfect foamy milk
Removable milk reservoir for hassle-free cleaning
Removable water reservoir again for easy clean-up
Adjustable cup tray for allowing taller mugs
Removable drip tray for cleaning spills and drips during the process
Complete set of accessories that includes a filter for single and double shot, a measuring scoop, tamper, and a book of café-quality espresso drinks recipes
Automatic self-cleaning cycle for easy maintenance
The simplicity of the controls is only matched by the simplicity of the maintenance and cleanup of the Café Barista. Now, you can enjoy the perfect latte any time without having to leave your house. Impress your friends, or simply spoil yourself! This machine is for people looking for easy and automatic frothing functionality for milk-based drinks within a minimum budget.
4. DeLonghi EC702
De'Longhi 15 bar Pump Espresso Maker, EC702, Metal
Pump driven and 15 bars
Automatically self-primes; Water level indicator: Yes
Use pods or ground coffee with the convenient patented filter holder. On/Off switch- Yes
Craft cappuccinos or lattes with the patented easy to use frothier
44 oz. and 1.3 litre removable water tank. Never install the appliance in environments where the...
DeLonghi EC702 is another great pick if you are looking for a semi-automatic around a $200 bracket to learn to pull espresso shots. As for the first, people generally look for something affordable so that they can have a check as to whether it is for them or not.
This Delonghi comes packed with some extra features than the Hamilton Beach 40792 and is one of the most popular coffee machines available in the market.
Features and Specifications
15 bar pump
Compact Design
44-ounce removable water reservoir
Stainless steel boiler
Separate thermostats for water and steam
Automatic self-priming
Patented filter holder takes ground coffee or pods
Easy-to-use manual steam wand
Cup warmer
Just as with Hamilton Beach, you can use either ground coffee or ESE pods with this machine too. The pressurized portafilter baskets mean that you'll get good crema every time even if you're a beginner at pulling shots.
The DeLonghi EC702 features a good-quality stainless steel boiler along with a separate thermostat for the steam wand and pulling shots. The automatic self-priming means that you don't have to wait around for long waiting for the machine to warm up.
This machine has very few bells and whistles – no automatic shut-off, no pre-infusion, and no programmability. But if you're just looking for a basic entry-level machine that produces great shot and foam, this machine will keep you happy.
Although it's a little costlier than Hamilton Beach which we stated above, it is worth the money spent with the increase in the quality of coffee being produced.
Read our complete review about DeLonghi EC702 Espresso Machine
5. Calphalon Temp IQ
Sale
Calphalon BVCLECMP1 Temp iQ Espresso Machine with Steam...
15-Bar Italian pump delivers the right amount of pressure for maximum flavor extraction and produces...
Dial interface for selecting steam, hot water, and pre-programmed single and double shots
58mm café-sized porta filter holds more grounds and ensures even water dispersion and extraction...
Thermoblock heating technology and PID temperature control delivers even heat for consistently...
Removable 2.0L water reservoir with hinged lid for easy filling
Another marvel that is among the latest introduction to semi-automatics is the Temp IQ by Calphalon. The brand is doing great for many consumers and they are happy with the consistent results. What marks this machine among the best picks the 58mm café-sized portafilter and the price point below $300.
Features and Specifications
Brushed steel finish
15-Bar Italian pressure pump
Single Dial for selecting steam, hot water, and single-double shots
58mm café-sized professional portafilter
Dual Wall 1 and 2 Cup Filters
Thermoblock heating technology
PID temperature control delivers even heat
Pre-infusion for blooming the espresso grounds for optimal extraction
Removable and large 2.0L water reservoir
Reservoir has a hinged lid for easy refills
Cup warming tray at the top
Accessories include stainless steel milk pitcher, tamper, and cleaning pin
Storage area under drip tray to store small accessories
Calphalon is one of the most sought out machines by new buyers. It pulls great shots with its thermoblock heating technology combined with a PID controller for stable temperatures. Moreover, the pre-infusion features allow blooming for optimal extraction of flavors. It even comes with a cup warmer at the top for heating espresso cups at such a feasible price tag. If you trust this new brand, you can blindly go for it.
6. Gaggia Classic Pro – Best Beginner Espresso Machine
Gaggia RI9380/46 Classic Pro Espresso Machine, Solid,...
Rugged Brushed Stainless Steel housing
Commercial three-way solenoid valve. Capacity water tank - 2,1 liter
Commercial-style 58mm chrome-plated brass portability and brew group
Commercial steam wand. Rotating steam want movement type
Easy-to-use rocker switch controls
Put your professional barista skills to the test with Gaggia's latest installment—the Classic Pro Machine. Constructed of high-grade stainless steel, this compact-sized machine has the feel of a coffee shop espresso but is small enough for any countertop.
The latest design Pannarello steam wand ensures perfect milk froth to produce café-quality espresso drinks and cappuccinos in each and every go. Can be said as among the best for people who are just starting up, are serious but don't want much mess, just a machine that brews perfectly. It doesn't costs much and has straight controls combined with features that are actually important. The latest update has added some marvelous colors to suit your lifestyle.
Features and Specifications
Compact sleek design
Can use ESE pods or pre-ground coffee
72 Oz high capacity water reservoir
Separate thermostats to maintain temperatures of water and steam
Built-in safety switch to turn the boiler off in case of malfunction
Durable professional-grade stainless steel
Pannarello steam wand for professional perfect foam
Hot water dispensing for hot chocolate or Americanos
Warming top for keeping cups hot
Comes with a portafilter, single and double shot basket, espresso tamper, and measuring scoop
Whether you choose to entertain friends or simply indulge in your favorite coffee shop beverage at home, the Gaggia Classic Pro is a perfect balance between quality and budget that will enable you to make café-quality espresso drinks in the comfort of your own home. Don't forget to put out a tip jar! It looks like a traditional espresso machine but does a very decent job.
Read our complete review about Gaggia Classic
7. Breville Duo-Temp Pro – Best Easy-to-use Espresso Machine
Sale
Breville BES810BSS Duo Temp Pro Espresso Machine,...
The Breville Duo Temp Pro lets you create third wave specialty coffee at home; This espresso machine...
PRECISE ESPRESSO EXTRACTION: Low pressure pre-infusion helps ensure all the flavors are drawn out...
WATER TEMPERATURE: The 1600W Thermocoil–Integrated stainless steel water path accurately controls...
MANUAL MICROFOAM MILK TEXTURING: A high power 1600W element delivers sufficient steam to create...
AUTO PURGE: The Duo-Temp Pro Espresso Machine automatically purges the heat system after steaming,...
Breville Duo-Temp is a mid-range affordable machine for budding home baristas who are looking to upgrade. In many aspects, it resembles the Infuser but is a tad different. It may also be a good first machine if you're already a bit familiar with the extraction process. You can even spot this machine in a few small to medium-sized cafes for pulling an excellent shot. Many people have been using it for a long and are all satisfied with the performance. For us, this one is the best home espresso machine that comes with a feasible price tag and doesn't compromise on performance.
Features and Specifications
Stainless steel thermocoil
Brushed Stainless Steel
61-ounce water reservoir with built-in filter
Very fast warm-up
Pre – infusion
Comes with pressurized and non-pressurized baskets
Cup warmer
15 bar of pressure pump
PID for ideal temperature control
Accessories include stainless steel pitcher, fallen key, water filter, and its holder
First of all, this Breville machine is a definite step up from the entry-level models. The precision of the PID temperature stability controller combined with pre-infusion allows you to get optimal results. Pressurized filter baskets make it easy to get good crema even if your grind and tamp are not perfect. With the Breville Duo-Temp, you can also start to work on your skills by using non-pressurized baskets. They require a bit better technique, but most people agree that they make a better end product.
Maybe the biggest difference between this model and the high-end machines is the lack of programmability. With the Duo-Temp, you even have to manually stop the brewing process. If you care more about the underlying quality of the machine than about programmability, this model offers excellent value for money. You can call it the most desirable espresso machine, which is both affordable and is durable on built quality!
Read our complete review about Breville-Duo Temp
8. Rancilio Silvia – Best Built Espresso Machine
Sale
Rancilio Silvia Espresso Machine with Iron Frame and...
Ergonomic porta filter handle same as the proven design of Rancilio commercial machines
Commercial grade group head for superb heat stability and extraction quality
Articulating steam wand offers complete range of motion and professional steaming knob precisely...
Classic linear design fits most decors
Optional pod and capsule adaptor kit available
This is not a machine for beginners, but if you're experienced at pulling shots of espresso, you will love the results with this machine. The machine is priced around $750 which is the most feasible price bracket among the high-grade espresso machines. It is designed beautifully using brushed stainless steel that looks good on any countertop.
Rancilio can be found in many homes and even small cafes as it pulls a wonderful shot, always. What's more, the descaling is easy for smaller machines like this. Just grab the recommended descaling solution and follow the easy-to-use instruction manual.
Features and Specifications
67-ounce water reservoir
Chrome-plated commercial-grade steam wand
15 bar pump
Brushed stainless steel finish
Commercial grade group head
Chrome-plated brass portafilter
12-ounce brass boiler
Three thermostats separately monitor steam pressure, boiler, and espresso temperature
3-way solenoid valve for easy clean-up
The Silvia is intended for residential use, but it includes many of the same features as Rancilio's commercial machines and that is why many small cafes have been using it for pulling quality shots. The group head, portafilter, and boiler are all made up of solid brass, and the powerful steam wand is also commercial-grade. The portafilter handle has the same ergonomic design found in the commercial models too.
What really separates this model from the commercial espresso machines is its single boiler design. Because it can't froth and pull shots back to back, you can't produce a lot of drinks in a short amount of time like in commercial models.
The Silvia is a bit unforgiving when it comes to the consistency of grind and tamps. But if you've got the skills to deal with it, this machine will give commercial quality espresso at a more affordable price. It comes at a price higher than its category due to the quality parts used, but the brand should have included at least a quality milk pitcher for a complete espresso set.
Note – Always try to use an espresso knock box to puck the used grounds instead of throwing them in the dustbin. This will save your bin from hard knocks that can damage it. To your knowledge, there are many uses of those grounds such as using as compost or as a deodorizer in the refrigerator.
9. Breville Barista Express BES870XL – Best Café-Style Espresso Machine
Breville BES870XL Barista Express Espresso Machine,...
The Breville Barista Express delivers third wave specialty coffee at home using the 4 keys formula...
DOSE CONTROL GRINDING: Integrated precision conical burr grinder grinds on demand to deliver the...
OPTIMAL WATER PRESSURE: Low pressure pre-infusion gradually increases pressure at the start and...
PRECISE ESPRESSO EXTRACTION: Digital temperature control (PID) delivers water at precisely the right...
MANUAL MICROFOAM MILK TEXTURING: The powerful steam wand performance allows you to hand texture...
Breville Barista Express has gained the brand a lot of popularity among espresso lovers over years with its exceptional performance year after year. It's a semi-automatic machine that has enough controls to make you feel like a real barista at home. What's more, the output that comes from this machine is amazingly well and better than its competitors including super automatics too.
Features and Specifications
Dimensions : 5 x 13.25 x 15.75 in
Weighs: 23 lbs
Brushed stainless steel finish
1600W Thermo coil heating system
15 bar Italian Pump pressure
Integrated Conical burr grinder at the top
Grind Size settings from Coarse to fine
Customizable settings
Grind amount selector
Built-in Pressure gauge at the center
54 mm magnetic tamper
½ lb bean hopper
2 Liter large water tank
360 degree swivel action steam wand
Cleaning indicator
Purge function for optimal water temperature
Includes dual wall filters for learners and a single wall for experienced
Comes with a Stainless Steel Portafilter
Accessories include Measuring Scoop, Tamper, Stainless Steel Milk Jug, Cleaning Disc, Cleaning Tablets, Brush Tool & Allen Key, Water Filter & Filter Holder
Hideaway storage department for cleaning kit and filters
Removable Drip Tray
Have Café-Quality Espresso Drinks At Home
Brewing with Barista Express is fun at home and making delicious espresso requires some understanding about the preparation. Before buying this machine, you should acquire some basic knowledge about pulling a shot, tamping, and steaming. Once you are familiar with these, Breville BES870XL is going to be a great companion at home for producing professional drinks. Whether you want to make a cappuccino or a flat white, this product has all features to serve you well. Its stainless steel body makes it durable for the long term and the design is elegantly well.
What's more, it comes with all the required accessories like a tamper, filters, and a milk pitcher to begin right away.
Read our complete review about Breville Barista Espresso Machine
10. Breville Dual Boiler BES920XL- Best in Features
Breville BES920XL Dual Boiler Espresso Machine, Brushed...
The Breville Dual Boiler with commercial features delivers third wave specialty coffee at home using...
DOSE CONTROL GRINDING: Achieve a consistent and balanced espresso using the right amount of ground...
OPTIMAL WATER PRESSURE: The Over Pressure Valve limits the maximum pump pressure throughout...
PRECISE ESPRESSO EXTRACTION: Dual stainless steel boilers and heated group head controlled by...
MANUAL MICROFOAM MILK TEXTURING: The steam wand performance allows you to hand texture microfoam...
Another great option is the Breville BES920XL for those who are really serious about their cup of espresso. Due to a high price, this option is mostly neglected but is the best pick if you're willing to pay more for the added functionality. The dual boiler design allows for a shorter extraction time. We have kept this machine in almost the last positions due to the pricing part and nothing else.
Features and Specifications
Stainless steel double boiler
Brushed Stainless Steel Finish
84-ounce water tank
Pressure Gauge
Programmable shot volume and digital temperature control
Pressurized and non-pressurized filter baskets
Cup warmer
Separate hot water dispenser
Automatic on and shut-off
Pre-infusion
Over-pressure valve limits extraction pressure
Comes with a frothing pitcher
PID temperature control
It's right there in the name – dual boilers mean that it can steam and pull shots simultaneously and have temperature stability. This may not sound that important when you're just making yourself a morning latte, but if there are guests over and everyone wants a cappuccino, it saves a lot of time. Moreover, the temperature is more stable when pulling shots which pave the way for quality drinks.
Both the Breville models reviewed here come with tampers that attach magnetically to the slot provided in the machine. Most of the brands provide useless little plastic tampers, but Breville actually binds a decent solid metal tamper with its products.
The programming options in this machine allow adjusting the length and temperature of the shot, as well as automatic on and off times for the machine. This one is a great companion for home if you've got a bigger budget and want a fast, high-quality machine with plenty of bells and whistles. Also, Breville is a company that puts a lot of care into the details. The product comes packed with necessary accessories like a milk pitcher, stainless steel tamper, and filters to start pulling right away.
Read our complete review about Breville Dual-Boiler Espresso Machine
11. Nespresso Vertuoline with Aerocinno Frother – Best Single Serve Pod Machine
Sale
Breville BNV250CRO1BUC1 Vertuo Coffee and Espresso...
AUTOMATIC COFFEE/ESPRESSO MACHINE: Create barista grade brewed single serve coffee or espresso cups...
VERSATILE COFFEE MAKER: Brew 5 different cup sizes at the touch of a button - Espresso (1.35 oz),...
SMART COFFEE MAKER: Brew the perfect single serve coffee or espresso drink time after time, thanks...
FEATURES: Includes 40 oz. water removable water tank for no hassle refilling. Fast heat up time of...
BUNDLE: The Aeroccino 3 milk frothier is included to create the perfect finish to your coffee...
For those who enjoy straight espresso, or rich, creamy coffee with crema, the Nespresso Vertuoline is a must-have. This machine can deliver the perfect 1.35 oz shot or an 8 oz cup of velvety, smooth coffee with just a single press of a button. The Vertuoline capsule guarantees the highest quality ingredients, while the Centrifusion system promises the perfect experience every time.
Features and Specifications
Centrifusion technology. The Nespresso Vertuoline uses a patented centrifugal method for brewing coffee. This method spins the capsule as fast as 7,000 rotations per minute, mixing the water with the contents of the capsule to create rich, creamy cups of espresso.
Aeroccino frother. The innovative design of the Aeroccino frother provides the perfect amount of foam for a Cappuccino or Latte, hot or cold.
With two cup sizes, you can enjoy the versatility of a 1.35 oz shot or an 8-oz cup of delicious espresso.
The versatility of the Vertuoline is matched only by its simplicity. One-touch commands deliver the perfect beverage with minimum effort.
Blend Recognition. A state-of-the-art sensor reads the barcode on the Vertuoline coffee capsules, adjusting the brew settings to match particular blends.
With the Vertuoline, you no longer have to choose between the perfect shots of espresso or the perfect cups of coffee. It allows having the best of both worlds with its patented brewing and frothing systems. Nespresso continues to be the leader in single-serve with this latest innovative design, bringing the cafe experience into the comfort of your own home.
12. Nuova Simonelli Oscar 2 – Best Professional Espresso Maker
Nuova Simonelli Oscar II Pour-Over Espresso Machine -...
New material, new design Among the new features of Oscar II is to the extensive use of stainless...
Compact At only 30 cm, Oscar is able to work in both a home and office setting.
Perfect extractions The brewing unit is temperature compensated giving consistent and quality...
Professional Oscar enables the production of espressos or cappuccinos just like in a café. The...
Versatile Available with a direct water line connection or a 2.3 liter reservoir to brew quality...
Learn the art of pulling shots by a professional barista with the Nuova Simonelli Oscar 2. It is considered as a benchmark for home and small cafeterias by experienced coffee lovers. The solid design and direct water connection mean this model can function in an industrial capacity, making it a perfect choice for small coffee shop owners. Though it costs around an automatic espresso machine, the price is still worth the quality of drinks you get from it.
Features and Specifications
Professional quality portafilter: The Nuova Simonelli Oscar comes with the same type of portafilter used by professionals at coffee shops around the world.
Heat exchanger: Now you can steam your milk while pulling a shot with the same efficiency of a double boiler but at a fraction of the cost.
Easy controls: With only two buttons and steam control, the Nuova Simonelli Oscar is the epitome of uncomplicated perfection.
Spacious water reservoir: The 2.3-liter reservoir means that you can pull so many shots before having to stop and refill.
Direct water option: The Nuova Simonelli Oscar is equipped for connecting to your water line, allowing you to use this machine in a commercial setting as well as in your home.
Warming platform: The top of the unit can serve as a warming platform, keeping shots warm while the milk is frothed.
Removable drip tray: The tray at the base of the unit can be easily removed to clean any wayward drips or spills.
Industrial strength: The solid construction of this unit makes it capable of surviving the stresses of a workplace environment.
Whether you use the Nuova Simonelli Oscar 2 at your coffee shop or in the comfort of your own home, you can be sure of barista-quality lattes and cappuccinos with this high-performing gear. Grab an apron and get started!
Read our complete review about Nuova Simonelli Oscar II
Home Espresso Machine Buying Guide
It can be a tricky process to find your perfect espresso machine from the numerous models in the market. We have written this buying guide to introduce you to the most important aspects to consider when buying one. These parameters actually affect the quality of shots and that's why are important to think about.
To help narrow down the choice among the Espresso Machines, first of all, ask yourself a few questions:
How much are you able or willing to spend?
How much space do you have?
Do you have any experience pulling espresso shots?
How often do you drink espresso-based drinks?
Once you have a better handle on the priorities, it's time to take a look at a few models, that are considered to be the best picks.
Below are some important aspects or parameters to pay attention to!
Pump vs Steam
When it comes to choosing an espresso machine, there are two types of mechanism: Steam or Pump powered.
Even though there is a use of higher temperatures in steam espresso machines, they are not very good at creating the golden brown foamy layer or crema – something that is the main characteristic of most espresso drinks. Given that high temperatures are used, the machine can produce burnt tasting drinks.
Pump espresso makers use a thermo-block system enabling them to produce 15 or more bars of ideal pressure. The thermo-block system produces perfect crema and the steam that is required for making enjoyable cappuccinos and lattes.
It is recommended to choose pump espresso machines over steam because they produce much better café quality espresso flavors. However, you must know that steam-powered machines are more affordable than pump machines.
Portafilter
It is an essential component of any espresso machine that holds the ground beans before and during the entire brewing process. All machines (manual, semi, and super) have a portafilter.
There are different kinds of portafilters in the market such as pressurized portafilters, non-pressurized portafilters, and pod portafilters. If you are a hands-on type of person, it is recommended to have the non-pressurized type and if you don't like a lot of fuss, it is best to choose pressurized portafilters.
Boiler – Single or Double
You have to decide whether to buy a machine with a single or a double-boiler. The single-boiler is a sealed metal container that boils the water for a shot and also produces the right temperature for the steam used in frothing.
Double boiler, as the name implies, has dual boilers and is deemed as the best in producing the quality result. Espresso machines that have double boilers work independently as one works for pulling espresso shots while the other one works for steam for milk. So, the best part is one can work on both processes simultaneously saving time.
It is recommended to choose the machine with dual boilers whenever the budget allows. They not only provide better results but also eliminate the waiting period between steaming and espresso sessions.
Precise Water Heating
When it comes to achieving precise heating, semi and super-automatic espresso machines are the best at it. However, in a manual espresso machine, the user has to control the use of water in the shot and the best thing about manual machines is that we can introduce extra water as well.
There is a cavity in the group-head in both manual machines that fill up with hot boiling water once the lever is fully engaged. As the lever is pushed, the slightly elevated pressure of both boilers moves water to the overhead, it happens as a result of valve opening between the group-head and boiler.
Steam Wand
The frothing device of an espresso machine is the steam wand. It has a valve on it that releases pressurized steam. You should check the bottom of the wand that has a tip with a small hole or multiple small holes.
Water Reservoir Size
Most of the espresso machines have in-built water reservoirs that allow to easily pull 6-10 shots. However, the reservoir size depends on the brand and the machine. With semi and super-automatic machines, the reservoir size is much bigger as compared to manual machines.
Features
Plumbing (Direct Water Connection)
Most commercial and pro-consumer espresso machines come with the direct water connection feature. There is a general opinion that tap water shouldn't be used. But it all depends on whether you need a machine with this feature or not.
Digital Display
You can usually find the digital display on expensive machines e.g. super-automatics. With a digital display, it all becomes more convenient for the user. If you are into making espresso without any fuss at all, you should go with one that is equipped with a digital display. You can even have digital temperature control for more precise pulling your favorite shots.
Pre-infusion
If you ask any coffee expert, he will tell you that one of the biggest factors in producing a perfect shot of espresso is pre-infusion. Given that the users of automatic and semi-automatics have no control over how long the water sits over the bed of coffee ground, spring-piston lever and direct lever machines (manual espresso makers)give you this control.
Typically, there is 1.2 to 1.4 bar boiler pressure in the spring piston lever machine. However, the most important part is how you take the best advantage of pre-infusion. This means that you need to keep a close eye on the coffee grind, dose, temperature of the water, and almost everything that plays a role a making espresso.
Programmability
Some machines allow to program some features like the length of extraction, what buttons do what, shot time, how much water to pull, and a few more. If a machine has programmable options, one can customize a few parameters as per his preference.
Integrated Grinder
A built-in grinder ensures that you get freshly ground coffee for an optimal shot of espresso whenever you need it. Machines with integrated coffee grinder are highly recommended to those people who are conscious about the freshness and taste of their hot beverage. Most of the automatic espresso machines come with built-in grinders.
However, if there is no integrated grinder in the espresso machine, you can obviously buy a separate one as the one that comes in-built has very minimum grind size settings.
Machine Size
Manual espresso machines are not big and do not take too much counter space. However, semi-automatic and super-automatics can take extra counter space. Still, few semi-automatics like Gaggia classic pro, Hamilton Beach and Breville Duo-temp are designed sleek than the others.
Easy to Use Interface
Be it manual, semi, or super-machines, the first-timers will find it a bit tricky to use the machine. However, the interface of most is quite easy to understand and use. Needless to say, patience and practice are the requirements to use these machines.
Wrapping It Up
Finally, which among the above is the best espresso machine for the home? Obviously, this is going to be a personal choice depending on your own needs, budget and priorities. To ease, we have picked up the top machines in which you can easily find your very best one!
For beginners or basic use, the overall best value for money is the Breville Duo-Temp. If you're not concerned about programming options and don't mind manually timing the length of the shot, you are getting a really good machine for just a few hundred bucks. The choice of pressurized or non-pressurized baskets is great if you're just starting out but want to improve your skills over time.
Additionally, the Rancilio Silvia is great for experienced people who want the quality and feel of a commercial model at home. Also, the solid brass construction of the group head and other key parts means that you will enjoy this machine for years to come.
Moreover, if you are looking to be caught up with professional barista skills, Nuova Simonelli Oscar Pour Over and Breville Barista Express are the best options. They will cost on the higher side, and the reason for the higher cost is precision and a big pack of features.