Jura is known for its long line of automatic espresso machines. People, who look for reliable and automatic machines often go for this brand. One of such models from this brand is the C65 Super Automatic Espresso Machine and we were more than happy to do a review article about this product.
Glance on Jura C65 Super Automatic
Jura is named for it's amazing machines and people who owe one of these can easily make their neighbors jealous. These machines mostly carry a heavy price tag and that's why many coffee people satisfy there needs with other brands. For this, Jura has launched the C65 in a very feasible price point. This machine is often compared with Saeco espresso machines because of it's descent and affordable price range.
The brand can be trusted with closed eyes for a super automatic as they are build with utmost care and attention. To elaborate further, lets have a look on it's features.
Features and Specifications
Dimensions : 11 x 16.1 x 13.6 in
Weight : 22 pounds
Futuristic Design
Less clutter of buttons
15 bar high performance pump
Thermoblock heating system
Hot water function
Rotary switch for easy operation
Height adjustable coffee spout
Energy Saving mode
One touch operations
Seamless display
People are often confused between the Jura C60 and the C65. The only difference between both is appearance. C65 is crafted with dual color tone of black and silver whereas, C60 is the elegant plain black. All the features are same in both.
Simple Operation
In this busy world, the majority of the people don't have enough time for learning things like how to operate a new espresso machine and fortunately, the Jura C65 comes with a very simple operation. Want to know how? It is based on the concept of one-switch operation. With a simple turn of the button, it can do all the things that you wish to do. This machine comes with 11 different languages to further enhance its operation.
The Aroma+ grinder
Some people are quite concerned over grinders. The main reason for this is the fact that coffee flavors are effected by grinders. Grinding can actually burn the beans of coffee and therefore it changes the flavor one is looking for. And this machine (Jura C65) has an impressive technology in order to deal with this problem. The cutting angle inside the cone of grinding of Jura C65 was especially designed for increasing the efficiency while preserving the aroma and flavor. And the same technology also results in decreasing the operation noise which is another positive factor.
Height-adjustable Coffee Spout and Fine Foam Frother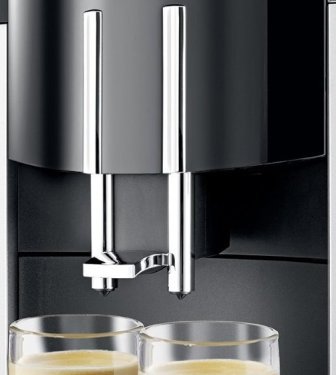 Modern espresso machines come with foam frother which is a vital part because the users are fond of making lattes and cappuccino. Jura C65 also comes with revolutionary fine foam technology. In simple words, it delivers unique milk foam quality with a fine consistency each time. Milk has lots of foam. Also, Jura C65 has height adjustable coffee spout which can fit easily between 65 mm & 111 mm height allowing, virtually, any size of cup to be used.
Compact Design
With it's compact design, one doesn't have to worry placing it. With it's compact dimension, place it under the cupboard with a gap of 16.5 inches as the machine with it's grinder lid open measures 16.25 inches tall. This much height is mostly available with all the kitchens.
Pros
More aroma from the great aroma+ grinder
Easy operation
Adjustable spouts are a great thing for making less splashes
Compact in size
Easy cleaning process
Cons
Maximum cup size is 8 oz whereas many people prefer to have 10 or 12 oz
Limited settings of the steam wand
Above all, an impressive espresso maker
Jura 15068 IMPRESSA C65 Automatic Coffee Machine, Platinum
Simple operation - thanks to the one-switch operating concept of the smart...
Height-adjustable Coffee spout - the Height of the Coffee spout can be adjusted...
Fine foam frothier - the revolutionary fine foam technology ensures unique milk...
Wrapping Up
Running a 15-bar pressure into the grounds, Jura C65 is able to pull out the right flavors. This machine comes with a 1.9 liters water tank, enough for dozens of shots. And while enjoying your espresso, you can easily save precious power with its programmable switch-off time. For this price, if a Jura is coming to home, it's worth considering as the cons will easily fade out with the delicious cup of coffee every time.
Recommended Reads