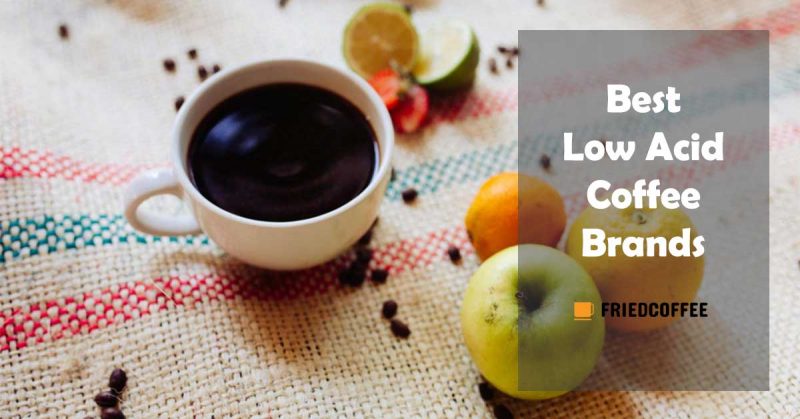 <!–noptimize–>
<!–/noptimize–>
<!–noptimize–>
<!–/noptimize–>
The coffee market is getting bigger and bigger each day, and there is no sign of slowing down soon. With even the number of coffee lovers also ballooning swiftly, coffee is here to stay and remains the nectar of the gods. But as the coffee market continues to get bigger and better, it crucial to note that coffee has a dark side, specifically for people sensitive to acid levels in coffee. Such people only find comfort in taking low acid coffees.
Do you always find your throat burning and stomach rioting after gulping a cup of java? You might be sensitive to acid reflux problems!
The good news is that there are plenty of acid-free or low-acid coffee beans in the market you can try. So, if worried about giving up on coffee completely, worry not because we got you covered. Below we have a solution for you: the best low acid coffee brands that will always make sure you continue to enjoy your cup of Joe without worrying about acid reflux and still great in flavor.
Coffee and Acidity
Remember the science experiments you did back in high school to measure pH levels using pH test strips? That knowledge comes in handy when measuring acidity in coffee.
Acidity is measured using a pH scale, which ranges from 0 to 14. 0 is extremely acidic, 7 is the middle neutral point, and 14 is extremely basic. Often mostly, the pH of coffee is around 5. Although this is not too much acid, if you have a sensitive stomach, you may be forced to give up on standard coffee brands entirely. Luckily, low acid coffee comes in handy, and there are many varieties to choose from.
With that in mind, let's have a look at the top less acid coffee brands on the market.
Best Low Acid Coffee Brands
1. Mavericks Low Acid Coffee
Mavericks Low Acid Coffee - Midnight Ride...
Easy on Your Body - Upto 90% Less Acid -
Great for Suffers of GERD, IBS, Heartburn, etc. -
Low Cholorogenic Acid - Perfect for Keto Alkaline Diet -
NO pre-treatments, NO chemicals, just Slow Roasted and...
Bean type: Arabica
Origin: America
The Maverick's less acid coffee is 100% organic. No addictive or chemicals are added to it. The slowed roasting process reduces chlorogenic acid resulting in a low-acid coffee that you can enjoy comfortably any time of the day. If you have a sensitive stomach, suffering from IBS or GERD, you will love Maverick roasts. They are easier on your body. Additionally, if you are on a keto alkaline diet, you will never get disappointed by investing in Maverick coffee.
With just a hint of America's earthiness, you will always enjoy a rich and bold cup of coffee that is not bitter.
Pros
A great option for people suffering from IBS and GERD
High quality. Verified by an independent laboratory
Easy on your body. Has 90% lesser Chlorogenic acid
100% organic
Perfect for keto alkaline diet
Built-in spout for easy pouring
Conveniently packed. Packaging keeps coffee fresh and strong for an extended period
Cons
2. Simpatico Low Acidity Coffee
Simpatico Low Acid Coffee, Regular, Organic...
If coffee upsets your stomach or causes acid reflux, GERD,...
Our coffee beans are shade grown under the natural forest...
Simpatico's super smooth, full rich taste is the result of...
Simpatico Organic Low Acid Black & Tan Smooth Roast Coffee...
Beans: Arabica
Origin: Mexico
Tired of high acid coffees but not ready to give up the taste of dark roasts? Then Simpatico got your back! This low acid coffee offers deep, rich flavors and a full-body brew that is gentle on your throat and stomach.
But how is it possible to achieve full flavors without saturated acids? The Simpatico's organic harvesting and processing process make sure your brew delivers the same taste without causing trouble where your organs are concerned. It is such an excellent brand that will easily turn you into a coffee addict without harming your health.
Pros
Non-irritating and non-inflammatory.
Super smooth
Fully decaf, about 95% of its caffeine content removed
Certified organic coffee
Roasted carefully to maintain freshness
Achieve full flavor still avoiding acidity
Cons
3. Cafe Don Pablo Subtle Earth Gourmet Coffee
2LB Subtle Earth Organic Coffee - Medium-Dark...
Certified Organic by CCOF - 100% Arabica Coffee - GMO Free
2LB - Whole Bean - Medium-Dark Roast
Rich and chocolatey with profound depth of flavor, velvety...
Origin: Honduras, Sharing Certified Program
Beans: Arabica
Origin: Honduras
Grown and harvested in the high mountains of Honduras that are characterized by fertile soil and fresh air, this organic coffee is both eco-friendly and gentle on your stomach as well as your teeth. You will never complain of stomach discomfort anymore once you settle for this low acid coffee.
Subtle Earth boasts of a complex and fully developed flavor profile. Its hints of caramel, chocolate, and honey suppress any bitterness in your morning cup of joe. It offers a perfect balance between sweet and strong.
Pros
Easy to brew with any machine
100% certified organic coffee
Competitive price
Complex and fully-developed flavor profile
Long shelf life
Cons
It is smooth, but not too flavorful
4. Java Planet Colombian Organic, Medium Dark Roast
Java Planet, Organic Coffee Beans, Colombian...
☕ Great Tasting Low Acid Coffee! Our single-origin coffee...
🐦 Peace of Mind! In addition to being certified Organic,...
🐦😝 No Pesticides! We use only 100% organic certified...
🤩 Whole Bean is Better! We only package whole bean coffee...
Beans: Arabica
Origin: Colombia
Java Planet is grown and harvested in the wilds of Columbia. This low acid coffee is 100% organic, with no chemicals, oil, or toxins that can ruin your cup of java added.
You will enjoy a rich, full-body brew as you taste spices and nuts. Although its flavor is bold, Java Planet will never leave your stomach rioting and your throat burning. So, if tired of that harsh cup of coffee every morning, consider ordering Java Planet today and enjoy a smooth non-acidic brew every day.
Pros
Smooth taste with no bitterness
Certified bird-friendly
Available in a variety of roasts, from medium to very dark
100% organic and has the certified USDA organic label
The date of roasting is labeled on every bag to ensure freshness
Cons
Only available as whole coffee beans, you may need to buy a grinder to prepare the ground
Flavors can be bland or muted in a lighter roast without acid
5. Mommee Coffee
Mommee Coffee - Half Caff, Low Acid Coffee |...
Half Caff - A small boost of caffeine for when you just need...
Designed for Moms - Guilt-free coffee for all stages of...
Low Acid - Easier on your more-sensitive-than-usual stomach...
Organic & Water-Processed - No harmful chemicals are used in...
Beans: Arabica
Origin: USA
The name "Mommee" clearly points out that this brand is designed with mommies in mind. And yes, this is one of the brands that never disappoint pregnant and nursing women. They can enjoy it comfortably without worrying about their health. It has 60% less chlorogenic acid than other coffee brands on the market. Hence a safe for pregnant women who have limited options when it comes to coffee.
Mommee is 100% organic. This means you don't have to worry about your unborn child been hurt by chemical additives. If you have conceived and nursing, you are also assured your child is safe.
While it is marketed toward women, men too can enjoy it without any limitation.
Pros
Very low chlorogenic acid
Suitable during pregnancy and breastfeeding
Water processed
Beans are available in a range of caffeine content
Cons
Costly
Dark roasts with low acid content can be burnt-tasting
6. Tieman's Fusion Coffee, Low-Acid Dark Roast
Tieman's Fusion Coffee, Low Acid Medium...
Low acid, ultra smooth flavor, stomach settling benefits,...
100% premium Arabica coffee naturally fused with Matcha...
We use only 100% Arabica premium coffee from Central and...
5-times the body's daily requirement for anti-oxidant...
Beans: Arabica
Origin: Colombia, Guatemala, Ecuador
Tieman's Fusion Coffee, as its name suggests, it incorporates Rooibos Red Tea, Goji berry powders, and Matcha Green Tea with old-fashioned java.
Rooibos Red Tea helps settle your stomach. Goji berry powders provide anti-inflammatory benefits, and Matcha green tea increases your energy level for 5-7 hours. The result of this union is a tasty alliance (a light and smooth cup of joe) that is good for you.
This low-acid coffee will always give you the energy you need to start your mornings while at the same time soothing your stomach throughout the day.
Pros
Available either pre-ground or as a whole bean
More antioxidants than pure coffee
A rich, full-bodied taste and creamy mouthfeel
The teas and Goji berry additives provide more health benefits
Cons
Pricey due to added additives
You may not like the flavor of tea in your cup of Joe
7. Puroast Low Acid Coffee, Organic French Roast
Puroast Low Acid Ground Coffee, Lost Art...
70% LESS ACID: Puroast low acid coffee is perfect for every...
7X HIGHER ANTIOXIDANTS: It turns out there is a connection...
PURE TO THE POUR: From our humble origins in the foothills...
FEEL BETTER, NEVER BITTER: Take on the daily grind with a...
Beans: Arabica
Origin: USA
Trying to live better without giving up entirely on coffee? Puroast never disappoints. It 100% organic, certified Kosher, calorie-free, and gluten-free. Additionally, this coffee is 5 times higher in antioxidants than regular coffee.
Puroast low acid nature results from the roasting process, where the beans are slowly roasted to their fullest potential. At the same time, acids are siphoned away; hence the resulting coffee has low acidity.
Pros
Low in acid, 70% lower than traditional ones
Backed by scientific research
7X More Antioxidants than Green Tea
5 times higher in antioxidants than regular coffee
Affordable
Kosher certified
Innovative roasting process
Cons
Large volume pre-ground bags are prone to going stale
Some report a bitter or bland flavor
8. Natural Force Organic Clean Coffee
Natural Force Organic, Mold Free Clean Coffee...
✨ORGANIC MEDIUM ROAST WHOLE BEAN CLEAN COFFEE: As much as...
🔬TESTED FOR MOLD, MYCOTOXINS, GLUTEN, & MORE - Natural...
☕LOW ACID + MORE ANTIOXIDANTS: Clean Coffee is a smooth,...
✔️CERTIFIED KETO, PALEO, & VEGAN – Natural Force Clean...
Beans: Arabica
Origin: Colombia
Organically grown arabica beans are sourced from coffee plantations in the high mountains of Columbia. The beans are further cleaned to remove impurities before been stored in temperature-controlled warehouses.
Roasting takes place in smokeless machines resulting in a final product that has little or no harmful compounds like acrylamide. This is a guarantee you will enjoy a brew that is free from any impurity.
Although Clean coffee boasts of many health benefits, it is a bit expensive compared to other ground coffee. Not to mention that you will have to endure its weaker flavor as most of the original flavors are lost during roasting.
Pros
Pure
Satisfaction is guaranteed.
Mold and toxin-free
Incredible test and aroma
More antioxidants
Cons
Weak flavor
Ground coffee
Pricey
9. Trücup Low Acid Coffee
trücup Low Acid Coffee- Born to Be Mild...
SWEET LIGHT ROAST: Smooth and light, the Born to Be Mild,...
GENTLE, LOW ACID COFFEE: Creating a smooth taste, each...
ROASTED WHOLE BEANS: Born to Be Mild is available in whole...
FRESH TWO POUND BAG: Ensuring a smooth, fresh cup of coffee...
Beans: Arabica
Origin: Central and South America
This is yet another low coffee acid that is easy on the stomach. It is ideal for you if suffering from heartburn, general stomach irritation, acid influx, peptic ulcers, and GERD. The unique processing process used by the manufacturer makes sure that you continue to enjoy caffeinated, flavourful, and smooth coffee that is gentle on your body.
Trücup medium roast produces a sweet, delicately sweet flavor. The beans are selected from premium coffee beans; hence the roasts retain brighter notes for a mild, flavorful brew that is slightly sweet with no bitterness.
Pros
Uses premium coffee bean blend
Easy on your stomach
Sweet light roast
Smooth taste
Available in whole bean form for grinding
Securely packed in a two-pound bag for optimal freshness
Processed using an all-natural process that uses steam and water
Cons
The flavor is weak for some people
Medium roast
10. Moose Drool Coffee
Moose Drool Coffee
FOR FREE SHIPPING MIX AND MATCH ANY HUNTER BAY COFFEES FOR A...
Flavor Notes of spiced caramel and brown sugar. Moose Drool...
Roasted just long enough to retain the origins' flavors,...
Beans: Arabica
Origin: Multiple locations across the globe
You don't have to know Moose Drool, the beer to love Moose Drool, the coffee! This organic coffee has an amazing taste and suitable for coffee aficionados with delicate stomachs or low tolerance to acids. You will enjoy a rich cup of java as you taste spiced caramel and brown sugar. Naturally, Moose Drool is sweet with a long, extra smooth aftertaste.
Single Origin coffees from the best estates of the world are carefully roasted to retain the original flavors and siphon away harsh acids that leave your stomach uncomfortable. You can enjoy this low acid coffee every morning or after dinner comfortably.
Pros
Very low in acidity with soft hints of spice
Naturally sweet and smooth
Certified organic
Adhere to the Specialty Coffee Association of America (SCAA) roasting practices and industry standards
Cons
Whole beans. You may be forced to get a grinder if you don't have one.
Why drink Low Acid coffee?
There are several reasons why you should switch to low acid coffee. As mention earlier, if regular coffees are harsh on your body, you may want to consider acid-free brands in the market. These make sure you continue to enjoy the same great taste without worrying about your throat and stomach been torn up.
Additionally, you enjoy other great benefits by taking coffee lower on acid. These benefits include:
Suitable for keto alkaline diet: If on a keto diet, a less acidic selection like Mavericks will never disappoint. You can enjoy it without hurting your keto goals.
More antioxidants and phytochemicals: These are also very effective in protecting your body against irritation, inflammation, and chronic diseases. Consider Tieman's Fusion Coffee that has numerous health benefits.
You can enjoy your brew anytime: There are no limitations as to when you can grab your cup of joe. You have the freedom to enjoy your brew any time of the day. Whether in the morning before starting your day or after dinner, low acid coffees come in handy.
Shifting to low acids is a wise decision and one you will never regret, especially if looking to live a better and healthier life without giving up on coffee. You will find the above list very helpful. Plus, here are tips on how to reduce acidity in coffee that will really spice up your effort.
Handy Tips to Make Coffee Less Acidic
Choose Arabica beans: Arabica beans are less acidic than Robusta. As you can see, the list above is predominantly Arabica coffee.
Choose dark coffee: Pick dark coffees over the lights ones as they are less acidic. The drying and roasting processes help in creating N-methyl pyridinium (NMP) that lower acid secretions in stomach cells.
Avoid fine grind: Coarse grounds have low acidity
Add milk or cream: Calcium in milk and cream dilutes the acidity of your java.
Add stomach-soothing powder: While adding these powders is a good idea, be careful as they may affect the flavor of your brew.
Brew method: Slow steep your cold brew for 12 to 24 hours. Cold-brewed coffee is 70% less acidic than a regular hot coffee made from the same beans.
Use Cold Brewing Method
In recent years, cold brewing has been gaining popularity every day, and many people are finding cold-brewed coffee to be healthier. So, what is cold brewing?
It is a method that involves adding cold or room temperature water to coffee grounds and letting the solution slowly steep for 12 to 24 hours. The result is a highly concentrated brew. The concentrate can be diluted with water (cold or hot) or milk.
The concept here is that the cold water extracts less of the oils found in hot water extraction, which results in a lower acidic coffee. You can store the concentrate in the refrigerator for a short period (about six weeks) or for a lengthy period after freezing.
Cold brew coffee has been seen to contain less acid, and less caffeine than the coffee made using the traditional methods. When tested, cold-brewed coffee has had a pH of about 6.31, as opposed to about 5.58 pH for the hot brewed. This means cold brew coffee is suitable for you if you often experience acidic reflux.
Basically, shifting to cold-brewed coffee will step up your effort into enjoying low acid coffee every day. So go, grab a cold brew coffee maker, and experiment on your own until you get that taste that you prefer.
Go for Dark Roast Coffee
Are you finding dark roast to be easier on your stomach? The dark roasts are less acidic compared to the light roasts. The entire process of drying and roasting coffee results in the production of N-methyl pyridinium (NMP) that lowers the acid secretions in the stomach. Although the amount of NMP can vary depending on the variety of the bean, dark roasts remain the clear winner when it comes to stomach-friendly roasts.
One thing to keep in mind is that if you go for dark roasts, you must be ready to give up the original flavors of the beans and enjoy those taken during the roasting process. Again, you must be prepared for less caffeine if you opt for dark roasts.
Ultimately, if you are more concerned about your health rather than the taste, the aroma, and flavor, then go for the dark roasts.
Wrap Up
Your health is paramount and should always be a top priority. That said, anything that in one way or the other that seems to hurt your good health should not be given a second chance. So, if acids in coffee are really spoiling your experience, it the right time you shift to low acids coffees.
Fortunately, you have more options to consider if you decide to shift. We have taken you through the best options in the market. You are also free to try other brands available in the market, but be cautious to avoid falling prey to dubious brands. Need additional support to pick a brand that is suitable for you? We are here to help.
<!–noptimize–> <!–/noptimize–>