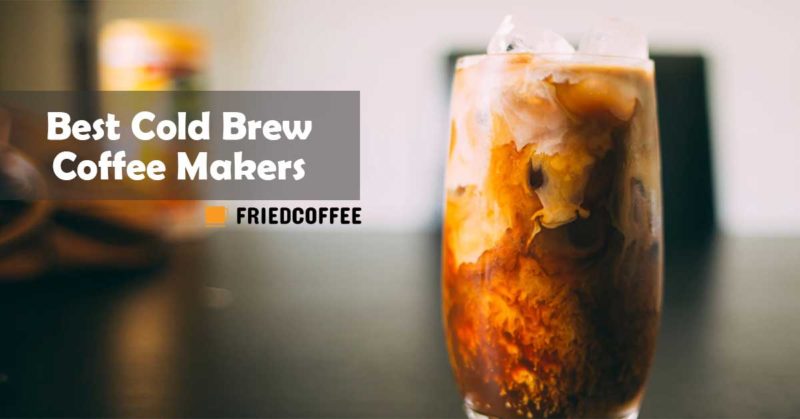 Summer is the season for sand, swimsuits, and sunglasses. Summer is also the season you could find yourself sluggish and sizzling through a sweltering sun. While ordinarily, a steaming cup of coffee is the perfect starter pack to power you through a busy morning or pick me up to carry you over a particularly tiring day.
Summer often calls for something special – Enter the cold brew!

While the beverage has had a cult following for over four centuries, there are some amongst the coffee community that still stand in the dark. We're here to shed a little light on what the cold brew coffee creation is, and the best cold brew coffee makers out there. So you can have a go at creating the magical concoction for yourself.
What is a Cold Brew?
The first thing that comes to mind when a cold coffee is mentioned in the act of tipping a warm cup of coffee over some ice and calling it a day. However, this description couldn't be further away from the fact.
The truth is, that the coffee grinds used to prepare a cold brew never really come in contact with hot water at any time. If you want to get technical about it, you're going to need to implement the system called steeping. If you've ever used a French Press, a drip coffee maker, you're probably familiar with the basic logic.
A cold brew is when coffee grinds are immersed in cold or room temperature water for anything between twelve hours to an entire day. Time is the element that replaces heat in drawing out the oils and flavors from the coffee grinds. A cold brew ensures a cold caffeinated beverage while trying to preserve all the possible flavors from the coffee beans. If you do things right, you're rewarded with a rich velvety, cool cup of caffeine.
If you've heard the term Iced coffee, you might be in a confusion. For that, we have a full-fledged article on cold brew vs iced coffee.
Do you need a cold brew coffee?
Well, cold-brewed coffee tastes a lot different from hot coffee and it's good for your stomach. Few studies have found the cold brew to be less acidic than the hotter one. Also, the carbohydrates contained in cold-brewed coffee boost the immunity of our digestive system resulting in improved digestion.
Also, the cold brew is less bitter than the hot brewed coffee, so one might find it much easier to drink!
Is cold brewed coffee stronger?
A cold-brewed coffee when compared to iced coffee or hot coffee has more caffeine even with the same ratios. This is because the caffeine content in cold brew coffee is not as diluted as in others.
Now, let's head over to the best products to make cold brew coffee!
How to Make Cold Brew Coffee
Maybe we've got you intrigued. And you're willing to give it a go.
Or maybe you've always loved cold brew coffees but have only ever ordered them at cafes. Whatever the reason. If you want to attempt a first-hand approach to creating a cold brew coffee in your home. This is how you go about it.
The Requirements
Coffee
Grinder
Water
Coffee Maker
Muslin or Cheesecloth
Coffee Mug
Step by Step Cold Brew Coffee
Start by placing your coffee beans into the grinder and placing it on a coarse setting before giving it a whirl.
Empty the coarse coffee grinds into the mason jar.
Pour in the water and stir. The ratio of water to coffee used should be close to 5:1.
All you have to do now is wait. How long you allow the coffee to steep depends on personal tastes. Use twelve to fourteen hours as your starting point and keep moving up from there.
If you've got yourself a cold brew coffee maker, the machine will probably have a filter of its own. If you're using a mason jar, when you think it's time; pour the brew through the cheesecloth.
You have not created your concentrate.
Store the brew either in your fridge or on your kitchen counter and enjoy it over the next few days. You can choose to add milk, water, or simply some ice cubes and sip away your summer blues.
To understand the method in more detail, we suggest you read our guide How to make cold brew coffee!
11 Best Cold Brew Coffee Makers
If you've decided to take the plunge and enter the world of cold brew, chances are you're going to find yourself sinking. Fast. There are just so many options to overtake your senses. To make things easier, we've noted down the top ten cold brew coffee makers marking a presence on everyone's list today. They work a little different from those automatic drip coffee makers and are mostly non-electric.
1. Ninja Hot and Cold Brewed System, Auto-iQ Tea and Coffee Maker
Sale
Asobu Coldbrew Portable Cold Brew Coffee...
INNOVATIVE- Asobu® Coldbrew Insulated Portable Brewer is...
PORTABLE- The coffee maker comes along with an easy take on...
HASSLE FREE- Use your standard medium course coffee grind...
FRESH AND COLD- Our airtight and leak proof lid keeps your...
Kicking off with a king, the first one on our list personifies the phrase; all in one.
Living up to the name of its maker, the Ninja excels at brewing both hot and cold caffeinated beverages. The machine can adapt to meet all your caffeine needs. The settings allow you to brew into a coffee carafe, your favorite mug, or a travel-size mug. You can call it a kind of 2-way coffee brewer that can adapt to your various needs.
Since the cold brew is our point of contention today, sit back in surprise. The machine can whip up a cold brew coffee in 10-15 minutes. While this doesn't provide the traditional tastes of a cold brew. It offers a comfortable compromise in a fraction of the time.
What's Great
If a tea vs coffee debate has been raging in your house for eons. The Ninja Hot and Cold Brewed System offer a steady compromise. You have access to two different permanent filter baskets. One for your coffee grinds, the other for loose-leaf or bagged tea.
The fold-away frother works on both hot and cold milk offering you creamy goodness no matter how you choose to brew.
What's Not So Great
The machine does stand slightly on the higher side of the price scale. An aspect that should be expected given the hoard of functions it performs.
The thermal Carafe that comes with the machine is unfortunately not dishwasher safe. Something you need to be aware of if cleaning is an issue.
Why Buy
A range of brew sizes to choose from.
Up to five styles of coffee to pick from.
The option to opt for tea if you're in the mood for change.
Access to a cup that tastes like cold brew coffee in fifteen minutes.
2. Royal Brew Nitro Cold Brew Coffee Maker
Sale
The Original Royal Brew Nitro Cold Brew...
The #1 Nitro Cold Brew Maker — Great Present for Secret...
Don't Forget Royal Brew Nitrogen or Nitrous Cartridges (sold...
Save Over $700 Annually — Known as the best cold brew...
Fits In Your Fridge, Upgrades Coffee Bar — Get the classic...
Nitro coffee, a craze that hit the coffee community, and has been going strong for close to seven years now. You've probably come across a few artsy cafes that offer it on their menu for the price of an arm and a leg. Luckily for us, Royal Brew has brought the kit to your kitchen top with their Nitro cold brew coffee maker home keg kit system.
The unique design that mimics a beer dispensing system contains a gas blend and beer faucet that help create a velvety rich cup of coffee with a crown of foam on top. You can construct over one liter of creamy foamed coffee every time you brew.
What's Great
Once you purchase the Royal brew nitro, you have access to customer support twenty-four hours a day, seven days a week for the rest of the machine's lifespan.
Constructed from Stainless steel, it will be tough to get your hands on anything made of tougher stuff than this.
What's Not So Great
The Nitrogen cartridges the maker runs on are not included with a purchase of the coffee maker. The cost of each replacement starts adding up.
The Royal brew coffee maker will make quite a big dent in your wallet. However, if you prefer this style of caffeinated beverage, it might prove to be worth the cost in the long run.
Why Buy
Easy to use.
Access to over a liter of Nitro cold brew coffee at home in an hour.
Lifetime Warranty.
3. Keurig K-Elite Coffee Maker
Sale
Keurig K-Elite Single Serve K-Cup Pod Coffee...
WHAT'S IN THE BOX: One water filter handle, and one filter...
BREWS MULTIPLE CUP SIZES: 4, 6, 8, 10, 12oz Enjoy the most...
STRONG BREW BUTTON: Increases the strength and bold taste of...
ICED SETTING: Brew hot over ice at the touch of a button for...
Trotting through third on our list is the K-Elite coffee maker by Keurig. The American company has been contributing to the coffee community for over two decades now. Their coffee machines have served as the single-serve coffee drinkers' savior for years. The K-Elite coffee maker is perhaps one of the most customizable machines offered up by the Keurig family. It allows you to tailor the size and strength of the coffee to your tastes.
The coffee maker allows you the option to brew anything from hot cocoa and tea to specialty coffees and of course the prized iced beverages. The Keurig K-Elite has a quiet brew technology. This means you're not going to need to worry about waking up the entire building every time you brew your morning cup of coffee. You're treated to a 6-count k-cup pod variety pack as a complimentary prize with a purchase of this coffee maker.
What's Great
Cleaning is everyone's favorite thing to forget. Luckily for us, the Keurig K-Elite coffee maker has an alert light that goes off to remind you every time it's time for the machine to be descaled.
If you've got an eye on the energy you're using in your home. The programable on/ off function allows you to set the exact time you need the machine to start in the morning.
What's Not So Great
While the machine does have an iced setting. It brews coffee over ice cubes in your cup. So while the drink in your cup might imitate the flavor profile of a cold brew to a comfortable extent. It is not the same thing.
While it doesn't take too long to brew a cup. If you're looking to fill a coffee carafe in one go, you're going to have to set your sights on another machine.
Why Buy
Can choose from up to five cup sizes.
Removable parts that are easy to clean.
A removable water dispenser can hold over two liters of water at a time.
4. KitchenAid Cold Brew Coffee Maker, KCM5912SX
KitchenAid KCM5912SX Cold Brew Coffee Maker...
Make up to 19 servings - simply mix 2 oz of coffee...
Smooth, rich full-bodied flavor - simply fill with coffee...
Built in stainless steel tap to easily dispense your cold...
Small footprint ideal fit for any refrigerator or kitchen...
KitchenAid; a company committed as the name suggests, to providing appliances to assist in the kitchen enters our list next offering up their cold brew coffee maker. All you really have to do is mix your favorite coffee blend into cold water and allow it to steep for up to a day. Then treat yourself to a velvety smooth rich cup of cold brew coffee.

If you don't consume too much coffee in a day, don't worry. Your coffee will stay fresh inside the KitchenAid cold brew coffee maker for up to two weeks. The coffee maker also comes with a handle on top that is perfect for moving it around.
What's Great
Wherever you choose to place it, in, or outside the fridge. The coffee maker doesn't take up a lot of room. Additionally, the sleek design ensures it looks good if stored on your countertop.
With an aim to minimize waste. The coffee maker comes with a reusable stainless steel steeper. The steeper has quantity markings within its walls. So you know exactly how much coffee needs to go in every time you brew.
What's Not So Great
There have been a few reports about leaking at times. If you face a similar problem don't hesitate to contact customer support.
Why Buy
Allows you to create authentic cold brew coffee by steeping coffee grinds overnight.
Can keep brewed coffee fresh inside for a fortnight.
Small footprint.
5. Cuisinart DCB-10 Automatic Cold Brew Coffeemaker
Cuisinart DCB-10P1 Automatic Cold Brew...
7-cup glass carafe with removable stainless steel filter lid...
Strength Selector for mild (25 min), medium(35 min) and...
Clear brewing chamber; removable water tank and Coffee...
Coffee release lever with indicator light. MC Cubic Feet:...
It's time to make room for the DCB-10 automatic by Cuisinart. The company has incorporated centrifugal spinning force technology previously seen in machines like the Nespresso Vertuoline on the brew basket in this coffee maker. The aim of course was to get the work done in a slice of the time it would otherwise take for a traditional cold brew coffee.
This compact machine can brew up to seven cups at a go. The amount of time involved in getting a cold brew into your coffee cup depends on the setting you choose.
If you're one for a mild mug, it won't take more than 25 minutes. If your comfort zone is in the middle ground, 35 minutes in Cuisinart's DCB-10 should do the trick. For the bold bosses out there; allow your coffee to be agitated for a whole 45 minutes before draining through into your cup. The coffee maker comes with a three-year warranty.
What's Great
The removable parts of the coffee maker are all dishwasher safe taking the hassle out of cleaning up afterward.
The machine will present you with a bona fide cold brew coffee in less than forty-five minutes.
What's Not So Great
There have been those that claim that even the strongest drinks brewed through this coffee maker are a little too mild for their tastes.
Since the resulting coffee is not particularly strong, it cannot be used for specialty drinks like an iced mocha or frappuccino.
There have been a few reports of the filter basket bot being strong enough to withstand the process and getting damaged early on. So don't forget to keep an eye on that warranty date when you brew.
Why Buy
Easy to fill and clean.
Coffee remains fresh in the container for up to two weeks.
Quick cold brew coffee available without waiting for hours.
6. Asobu Coldbrew Portable
Asobu Coldbrew Portable Cold Brew Coffee...
INNOVATIVE- Asobu Cold Brew Insulated Portable 40 oz Brewer...
PORTABLE- The coffee maker comes along with an easy take on...
HASSLE FREE- Use your standard medium coarse coffee grind...
FRESH AND COLD- Our airtight and leak proof lid keeps your...
Crossing the halfway mark now with our next participant is brought in by Asobu. This distinctive design is constructed of 100% BPA-free Stainless steel and Tritan. What's more, it's surprisingly light on your pocket when compared to some of the other machines on our list.
When creating your brew using this device, remember to not pour all the water in at one go. Pour in a little water at first and move it around, as you would when brewing with a french press or another pour-over coffee apparatus. Allow the coffee up to sixty seconds to bloom, then pour in the rest of the water into the top part of the coffee maker. Wait for a minimum of fifteen hours before pressing the button in the center and allowing the coffee to drip through to the bottom. Finally pour it out, sit back and treat yourself to a delicious cup of amazing coffee.
What's Great
The compact design makes it an ideal travel companion.
Kitchen counters can at times present as extremely cluttered spaces. The reasonable size also makes it easy to store.
The airtight lid ensures your coffee stays cold for hours on end.
What's Not So Great
Once you're done creating your coffee. You will need to dismantle the coffee maker and wash it by hand carefully as not all parts are machine safe.
While there have been a few scattered reports of leakage, be sure to contact customer support if you are faced with a defective piece.
Why Buy
Very small coffee maker, close-packed and portable.
Double-walled copper insulation to keep the coffee fresh for hours.
7. Ovalware Airtight Cold Brew Iced Coffee Maker
Airtight Cold Brew Iced Coffee Maker (& Iced...
➤ HEALTHIER & SMOOTHER COFFEE, NOW BIGGER AND BETTER –...
➤ LOCKS IN FRESHNESS AND FLAVOR FOR UP TO 2 WEEKS –...
➤ QUALITY YOU WON'T REGRET – 18/8 rust-free superfine...
➤ ICED AND HOT TEA COMPATIBLE – Great for loose-leaf...
Sauntering into our seventh slot in a basic and bold airtight cold brew iced coffee maker by Ovalware. The container is constructed of lab-tested borosilicate glass and holds a stainless steel dual-mesh filter that flawlessly strains your coffee and teas.
Placing ease of use as a priority, the cold brew iced coffee maker has a measurement label that's easy to read, and handle that's easy to handle. The people at Ovalware are so sure you're going to love the brewing glass carafe; they're willing to give you your money back if you're unhappy with the product in the first three months from purchase.
What's Great
The airtight container works well to draw the flavor out of both freshly ground coffee beans and loose tea leaves.
Once the BPA free silicone seal is closed, the container can hold in the flavor and freshness for up to two weeks.
What's Not So Great
Unfortunately, there have been a few reports of the glass being a little brittle and breaking easily. So be sure to be careful handling.
Why Buy
Easy to clean and dishwasher safe.
Good for both tea and coffee.
90 Days post-purchase money-back guarantee.
8. Bodum Bean Cold Brew Coffee Maker
Bodum Bean Cold Brew Coffee Maker, Press,...
Innovative locking lid system keeps your Coffee hot or cold...
Includes two lids; one for the fridge overnight, and one...
No paper filters required, means more flavor without any...
Dishwasher safe
Entering in eighth we have the Bodum Bean cold brew, coffee maker. We're sure most self-proclaimed coffee connoisseurs would make the connection at sight. If you think it looks eerily similar to a French Press, that's because it works in a very similar fashion.
The Bodum Bean is both BPA-free and dishwasher safe. To use it, you simply pour in the freshly ground coffee beans. Add in the cold water after, and then place the flat lid over the container. Allow it to sit for a minimum of twelve hours. When it finally comes time to serve, swap the lid for the one with the plunger and press down. Finally pour out your coffee, sit back and enjoy.
What's Great
The ingenious lid locks in the coffee flavor. And holds the beverage at the temperature it is brewed.
The compact size makes it a great companion for camping trips and other travel adventures.
What's Not So Great
There have been a few complaints about the lid with the plunger with some people claiming the coffee grinds pass through the mesh.
There have also been a few unfortunate people who've had the lid cracking or breaking off.
Why Buy
Small and portable.
Easy to use. And easy to clean.
Light on the wallet.
9. OXO BREW Compact Cold Brew Coffee Maker
OXO Brew Compact Cold Brew Coffee Maker,Black
Brew low-acid coffee concentrate for hot or iced coffee
24-oz brewing container makes enough concentrate for up to...
Compact size is ideal for brewing on countertops or in...
Draining starts automatically when brewer is placed on...
Nearing the end now with the ninth entry on our list wearing the face of the compact cold brew coffee maker from OXO brew. An easy-to-use apparatus with clear measure markings the coffee maker promises to provide big flavor despite its small size.
All you have to do is measure out the fresh coffee, pour in the cold water, and place the lid on. You can choose to brew on your kitchen countertop or even place it in the fridge for close to twelve hours. The OXO compact coffee maker possesses a technology that mimics the one used in a Clever Dripper. Once the brewer is placed on the carafe it releases a lever and automatically starts draining. All that's left to do. Is pour it out in your cup, sit back and enjoy.
What's Great
The lid sits snugly locking in the flavor and holding the water at the temperature you brew.
You get a burst of flavor without needing to hit your wallet too hard.
What's Not So Great
Unlike the other coffee makers on our list, this coffee maker can only brew close to half a liter of coffee at a time. If you've got a big household, this might not be enough given that each brew cycle can take an entire day.
There have been a few complaints of the coffee maker leaking onto the countertop.
Why Buy
Small physical footprint
Relatively light on the wallet
10. Takeya Cold Brew Coffee Maker
Takeya Cold Brew Coffee Maker with Black Lid...
The Deluxe Cold Brew Coffee Maker is a durable BPA Free...
The Fine-Mesh Coffee Filter in this cold brew coffee maker...
Premium Bottles and Lids: Our innovative line of insulated...
BPA Free Hydration Solutions: From insulated stainless steel...
Closing our list off with a cold brew coffee maker that has conquered a lot of hearts in the coffee community. That's right! The Takeya cold brew coffee maker is what most people introducing themselves to the caffeinated concoction reach for. The BPA-free brewer has a non-slip silicone handle that is easy to grip and helps maneuver. It is also dishwasher safe, taking the horrendous task of cleaning up your hands.
Composed of Tritan plastic, this coffee maker can offer up to four servings of flawless smooth soothing caffeine. While the coffee maker is shatterproof, any spare parts required can easily be replaced if and when the time arises.
What's Great
The FreshLok system helps seal in the flavor and prevents any outside elements from interfering with the temperature of the beverage while it brews.
The convenient size allows it to fit in most fridge doors and on all fridge shelves.
What's Not So Great
A few people have faced a little trouble cleaning out the coffee grinds from the filters.
There are those that find the final brew to stand somewhere on the milder side of the taste test.
Why Buy
Easy to use
Lightweight and easy to store
Light on your wallet
11. Soulhand Cold Brew Coffee Maker
Soulhand Iced Coffee Maker Quick Brew Drip...
☕ PREMIUM MATERIALS: Soulhand ice coffee maker is made of...
☕ ADJUSTABLE-RATE DRIPPER: Soulhand iced coffee machine...
☕TASTE THE DIFFERENCE: This cold brew machine can produce...
☕ REMOVABLE AND EASY CLEANING: Each part of the cold brew...
Aligning well to one's liking in terms of aesthetics and ease of use, the Soulhand cold brew coffee maker is pretty slim & compact and is capable of brewing several brewings of iced coffee per batch. What looks elegant is the 27oz flask-like carafe complemented by a stainless steel coffee filter which accommodates around 50 grams of coffee. The filter is reusable and works great in holding small particles, which gives an extra advantage as there's no need to use paper filters.
One of the biggest drawbacks of the cold brewing process is the steeping of coffee which takes around 12-24 hours; however, this sweet little coffee maker can minimize the length to just 3-4 hours. Talking about the taste, it certainly deserves 5 stars as the taste is authentic, well-rounded, and smooth.
The gadget is pretty straightforward to use – be it a well-versed barista or a newbie in domestic brewing; the chances are high that once you master coffee to water ratio, drip rate, and grind size, you will soon be eligible to rival the quality of cold brew coffee at your favorite cafe. Additionally, cleaning and maintenance are one of the easiest parts of this machine.
Overall, it won't be wrong to say that rich and beautiful iced coffee can't only be brewed from expensive machines. Soulhand cold brew coffee maker is an inexpensive, easy-to-use, and hassle-free option for anyone looking to enjoy smooth and delicious cold brews at their best.
What's Great
Very easy to use for domestic cold brewing
Elegant and minimalist design
Delivers authentic taste
Shorter brew time
What's Not So Great
Bit tall
The carafe isn't sealed
Why Buy
Buying Guide
Before you drop those notes and bag yourself a cold brew coffee maker, there are some key elements that you need to pay special attention to.
Ease is Essential
We live in a fast-paced world. Everything we need is available at the push of a button. No one really has the time or patience anymore to figure out complicated contraptions when there's an easier option. Look for coffee makers that don't have too many unnecessary bells and whistles that require you to bend over backward to either brew your coffee or clean up afterward.
Environment Friendly
Sustainable is the new sexy! So look for cold brew coffee makers that allow you to use reusable filters. Or look for coffee makers that use permanent filters removing the need for replacements altogether.
Money Matters
Coffee machines are usually brought home to save on the money you'd otherwise spend on a daily trip to your local cafe. Take a good look if you're making a smart deal. Keep track not just of the cost of the machine, but also additional costs that would pour into upkeep and replacements of your coffee maker.
FAQs
Can I use a preground coffee mix in a cold brew if I don't have access to whole coffee beans?
While freshly grinding your coffee is always better, if that is not an option. Yes, you can use a preground variant. Just stay away from espresso blends.
Can I create a cold brew coffee with a finer grind?
The simple answer is no. The finer the grind the more bitter your cold brew will taste.
Is there any particular roast or flavor of coffee you should opt for?
Not necessarily. Coffee tastes are a purely personal experience. While some prefer their cold brew to carry chocolate flavors, others choose blends with fresh bursts of fruit. You do you.
At the End of the Day
A cold brew is an answer a lot of coffee lovers were looking for to combat a dull day. And while some find the process intricate and extensive the rewards are worth the wait for many. While we understand, the sure number of options available out that can confuse even the clearest mind out there. It's important to pick a cold brew coffee maker that ticks all the boxes high up in your list.
References: