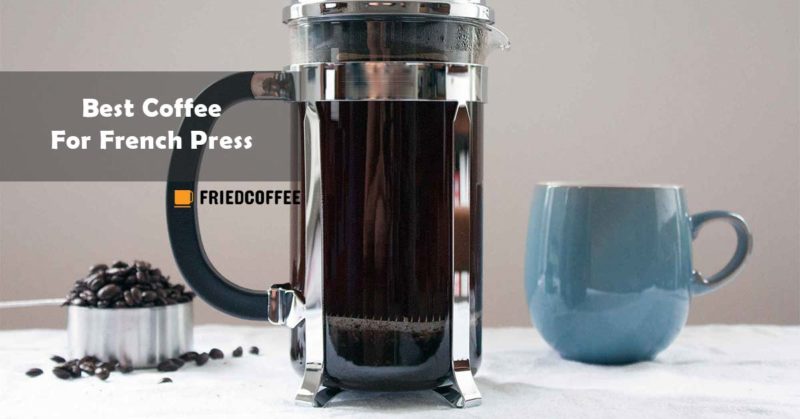 For most coffee lovers, making an avant-garde brew every morning is no less than a sacred ritual to kick-start their day on a perfect note; and when it's about specialty coffee, French press stands unbeatable. Often treated as Jason Segel's character in Forgetting Sarah Marshall, a French press is the one people want but, however, flock blindly to the flashy, temperamental types like siphon coffee or Russell brands.
Many coffee buffs believe that there's no other brewing method that can help in getting the best flavor and subtle nuance from beans rather than French Press. Even if we agree on this, the success of home barista endeavors in terms of flavor is dependent on many factors, out of which, the choice of bean and grind stands paramount. 
Don't worry, it isn't rocket science… but it is science, indeed. Here's a quick tip!
Though most French Press fans grab hold of excellent quality and delicious ready-ground coffee, the secret to extract maximum flavor and brew not just coffee but savoriness is to grind beans yourself just before you brew. A medium to coarse grind is ideal as the flavor extraction process needs maximum water surface area for effectiveness. Additionally, it induces carbon dioxide release from the coffee grounds, adding more to the flavor. 
Now that you know the science behind brewing a refreshing cup of java with French Press let's take you through our hand-picked list of the best coffee for French Press. A blend of science and coffee-making art is what's required to make one say 'yummo.'
Note: We have an article about the best coffee beans suitable for any brewing method. If you have multiple brewers, do have a walk-through on there for beans that are good for all types of brewing.
Best Coffee Beans For French Press
1. Volcanica Coffee Ethiopian Yirgacheffe
In a one-liner, you can say that when it comes to arresting the novelty of the cup, Volcanica's Yirgacheffe simply masters the job!
Origin: Ethiopia 
Roast: Medium-Light 
Tasting Notes: Lemon, Blueberry, and Blackberry
Ethiopia, regarded as the birthplace of humble coffee beans, is the home to some of the world's best coffee growers. They work tirelessly throughout the year to make coffee lovers across the globe smile with cups of balanced, pleasing coffee. From the cradle of coffee, Volacnica presents the Ethiopian Yirgacheffe for you to enjoy! It is grown in the Gedeo Zone in the Yirgacheffe region of Southern Ethiopia.
These high-end beans are grown at high elevation – approximately 1700 – 2200 meters above sea level and they are handpicked. Once picked, growers wet process or wash them, which allows the beans to render a bright, clean taste and high acidity.
The coffee is fairtrade certified and grown sustainably without exploiting the trading and growing communities involved. These 100 percent organic beans are free from harmful chemicals and pesticides. Additionally, the Ethiopian Yirgacheffe from Volcanica is Kosher certified.
Volcanica's Yirgacheffe comes with a medium body and complex flavor profile that produces cups with a lemony yet sweetish tang, with the undertones of blueberry and blackberry. Its extended aftertaste and floral nuances bring an exceptional exoticness to your cup!
However, the uniqueness of this coffee variant is not only limited to its typical floral and fruity notes but also in its versatility! When you have Yigracheffe with spicy, peppery foods, they bring out the herbal notes, while sour, strong cheeses make the actual citrus notes pop.
Who is this for?
Anyone who's looking for a bold and versatile cup that's eligible to provide a burst of energy for the rigors of the day ahead!
You might like to read: Best Ethiopian Coffee Brands
2. Medium Roast Coffee from Lifeboost
Lifeboost's Medium Roast is highly admired for its delicious, enticing aromas. Once brewed, it's exceptionally smooth and incredibly drinkable! The infusion of chocolate blended with a winy tinge makes this variant stand out in miles.
Origin: Nicaragua, Central America 
Roast: Medium 
Tasting Notes: Mocha, Cocoa
Lifeboost is one of those legitimately delectable coffee brands that has managed to acquire almost every kind of certification and gourmet label. The list includes – single-origin, Organic, Fair Trade, bird-friendly, and shade-grown.
Lifeboost sources the beans for their medium roast specialty from the mountains of Nicaragua. As the name suggests, the roster focuses primarily on promoting healthy beverage habits. A chiropractor founded the company, and probably this is the reason behind their extraordinarily health-conscious approach.
When you brew a cup of Lifeboost medium roast, you can bet on its low acidity, which won't trouble your stomach ever. In addition, its pH level is above 6, which helps you avoid teeth decay.
The medium-light body and a well-rounded flavor add more to its Duende. The flavors complement each other, which eventually creates a genuinely delicious medley in each cup.
Who is this for?
This coffee is best when brewed without sugar or cream. So, this low-key coffee is possibly the perfect choice for black coffee lovers and fitness freaks who are looking to cut creamer out of their diet. The delicate, sweetish taste never requires anything to tone it down!
3. Geisha Coffee in a Handcrafted Wooden Box – by Spirit Animal Coffee
Each sip of the exotic Geisha is smooth and pleasantly sweet. The high quality is exuded through a prominent and decadent chocolate flavor. This is well complemented by hints of sweet caramel, which elevate the flavor and add a new dimension to the taste!
Origin: Colombia 
Roast: Light-Medium 
Tasting Notes: Rich Chocolate, Sweet Caramel
Geisha is a rare and premium coffee variety. The Spirit Animal Geisha is grown in the Santander region in Colombia at an elevation of 1900 meters above sea level. It is available in limited quantities due to its rarity and commands a higher price than other varieties.
This coffee is delivered in a deluxe wooden box of fine craftsmanship. This makes for the perfect gifting option for discerning coffee lovers, who will surely appreciate the quality, rarity, and sophistication of the Spirit Animal Geisha.
It is available in both light and medium roasts, depending on preference. The light roast has a more natural rawness and higher caffeine content. The medium roast is a more balanced brew in terms of the flair profile.
Who is this for?
The Geisha makes for an ideal gifting option. It will be loved by those looking to make a statement and purchase a rare, high-quality, and premium coffee. Its sweet notes and floral aroma will establish its stature as a coffee strictly for the discerning enthusiast!
Also Read: Best Colombian Coffee Brands
4. Exotic Peaberry Gift Box
Discover the Exotic Peaberry flavors in one box by Volcanica and you will be amazed by what they have for you!
Origin: Tanzania, Guatemala, Malawai, El Salvador
Tasting Notes:
Tanzania - Smooth buttery body, dry finish, delicate sweet acidity
Guatemala - Lively cup with subtle smokey spicy overtones
Malawai - Soft floral tones and notes of spice and chocolate with a caramelized tangerine zest
El Salvador - Tart, cinnamon spice, and caramel sweetness
Well, Peaberry coffee is one of the most appreciated types, we have a whole bunch here. The package contains four 16 ounces packs – Tanzania Peaberry, Guatemala Peaberry, Malawai Peaberry, and El Salvador Peaberry.
Volcanica coffee company is one of the largest importers of gourmet coffee beans from volcanic regions all around the world. The coffee is Organic, Fairtrade, and Rainforest Alliance certified. It is packed in a beautiful satin box tied with a ribbon, so it can also be a great gift for a coffee lover.
Each coffee box is freshly roasted just before it is set to leave for the customer. This ensures that your coffee is freshly roasted and will taste optimal.
Who is this for?
Those coffee buffs who want to spread the coffee love among their family & friends. This exotic gift box contains some of the most delicate coffees of the peaberry variant, which produce amazingly refreshing and delightful cups.
5. Ethiopian Yirgacheffe Fresh Roast Coffee
Fresh Roasted Coffee, Ethiopian Yirgacheffe...
ETHIOPIAN YIRGACHEFFE KOCHERE COFFEE Is A Well Balanced,...
SINGLE-ORIGIN FROM KOCHERE, ETHIOPIA. Medium Roast. Heirloom...
ALL FRESH ROASTED COFFEE IS Kosher Certified, Sustainably...
ALL OUR COFFEES ARE ROASTED  in Our Environmentally...
Origin: Ethiopia
Cupping Notes: Lemon, Honey, Mild
Roast: Medium
A list without Ethiopian coffee is incomplete as Ethiopia is the birthplace of coffee. This is 100% Arabica coffee with no preservatives, additives, or artificial interference. African coffees are often bright and fruity than their siblings. With low acid content, this coffee can be an excellent pick for people with stomach problems.
The coffee has dominant lemon notes with some hints of honey. It has a balanced profile that is loved by almost every coffee person. Kochere is a small area 5900-6550 feet above sea level within the well-known Yirgacheffe coffee-growing region of Ethiopia. The area has acidic mineral-dense soil and soaring altitudes, perfect for growing coffee.
Who is this for?
An ideal pick for those who are looking for the ultimate pleasurable lemony & honey tang in their cups to kickstart a fresh, new day!
Also Read: Best Low Acid Coffee Brands
6. Starbucks Breakfast Blend
Starbucks Medium Roast Whole Bean Coffee —...
PREMIUM WHOLE BEAN COFFEE—Starbucks delivers exceptional...
STARBUCKS BREAKFAST BLEND COFFEE—Notes of brown sugar and...
FRESH TASTE—Starbucks adheres to the highest quality...
MAKE IT YOUR OWN—An everyday cup no matter how you brew...
Origin: Latin-America
Cupping Notes: Sweet Orange and Brown Sugar
Roast: Medium
Starbucks can be said as one of the pioneers of the coffee industry. We won't say as all of their coffee is best, but few of them are. They rooted themselves in the coffee industry through the amazing experience they created with their popular Starbucks cafes. People just love to hang out or spend time there.
The breakfast blend by Starbucks is a great one to start your day with. It's a medium roast coffee with a bright and tangy profile. It's a lively and medium-light roast with a smooth crisp finish. It's a not too bold coffee, nor too mild and gets the job done every morning.
Overall, this blend is a great start to kick up your day. The quality control and bean selection are at par with Starbucks.
Who is this for?
Anyone who is looking for the best beverage to complement his/her breakfast. This avant-garde roast from Starbucks can add more charm to your busy mornings.
7. Death Wish Coffee
Death Wish Coffee, Organic and Fair Trade...
EXTRA KICK OF CAFFEINE: Our whole roasted coffee beans will...
PREMIUM QUALITY BREW: This ain't your normal cup of coffee -...
EMBRACE THE BOLD: Immerse yourself in a smooth, subtle...
FAIR TRADE AND ORGANIC: Every single 80 oz. Death Wish...
Origin: India and Peru
Cupping Notes: Hints of cherry and chocolate
Roast: Dark
If you are not a normal human being and need a heavy kick to wake up, Death Wish might be a perfect pick for you. It's claimed to be among the strongest coffee on the globe with almost double the dose of caffeine than in a normal cup. So if you are a lazy person who really needs a physical kick to wake up from bed must try this coffee.
The coffee is Fair Trade, USDA Certified Organic, and Kosher that obviously gives hints for a quality coffee. It's obviously a dark roast, but only buy, if you can really deal with it. For the coffee to be strong, it's not 100% Arabica but rather a mix of Robusta and Arabica beans.
Who is this for?
Dedicated to those who want their cups to act as an effective wake-up call. This variant is packed with exceptional enthusiasm and energy-boosting virtues!
You might like to read: Best Dark Roast Beans
8. Koffee Kult Dark Roast
Origin: Colombia, Guatemala, Brazil and Sumatra
Cupping Notes: Cocoa Cinnamon, Smooth, Heavy Body, Bright with a long finish
Roast: Dark
Our next strongest coffee is the Koffee Kult. We picked up the dark roast beans as it's one of the hottest sellers by the brand. It's a 100% gourmet coffee that is carefully picked and served with quality standards. The pack is a blend of beans from Colombia, Guatemala, and Sumatra.
Though it's a dark roast, the end results will not be bitter. It's less acidic and so good for people with sensitive stomachs. Koffee Kult is a family-owned business and has its own well-trained artisan roasters. They even welcome anyone to visit their premises and watch their process for complete peace of mind.
Who is this for?
The admirers of the dark roast variety, who want their cups to be strong and refreshing. A perfect pick to combat stress caused by a long day.
9. Real Good Coffee Co Donut Shop
Real Good Coffee Company - Whole Bean Coffee...
Medium Roast Coffee: Our Donut Shop whole bean coffee has a...
Sustainable Medium Roast Coffee Beans: Our coffee is made...
Tasting Notes: Our Donut Shop coffee features the flavors of...
Works With All Coffee Brewers: Our medium roast whole bean...
Origin: Central and South America
Cupping Notes: Brown sugar and hazelnut, with a hint of plum
Roast: Medium
The name says it all, Real Good coffee is an amazing option to try next. They are a small team doing beans sourcing and craft roasting in Seattle for 30 years. The main objective of this team is to provide quality beans at a reasonable price, so no waste in unnecessary fancy things. you will feel their sincerity by the sweet and smooth flavor from the first sip to the bottom of the cup.
The Donut Shop blend is 100% arabica and has origins from Central and South America. For French press brewing, they recommend 55 grams of coarse coffee grounds for 34 oz water. After that, steep for 4 minutes before you plunge and it's done!
Who is this for?
Meant for those who are looking for a cup that offers exoticness, pleasure, and purity. You can ally it with your breakfast or bedtime snacks and experience the bliss of sipping a mind-blowing cup.
Where To Buy Coffee For French Press
The first option everyone must seek is a roaster around your area. If there is one near you, try that at first priority as it will give you the freshest beans possible. However, not everyone is lucky enough and therefore you can try to buy online.
For your online confusions, the above-listed beans will all be roasted near the date you are buying. Most of the beans above are freshly roasted and shipped directly from the roasters.
If you buy from a supermarket, the dates are often skipped and people just pick the brands. Checking with the date is an important aspect when buying coffee beans as that is the only factor that decides what you are getting.
Another good option is to attach yourself to one of the best coffee subscription services that we have listed and taste something new every month. However, there are customizations so that you can personalize the beans for your French Press needs.
Connect with a Coffee Subscription
Yep, you heard right! A coffee subscription is a service that sends you your favorite type of freshly roasted coffee beans in your decided interval weekly/monthly/quarterly. Below are some services you can try!
Blue Bottle Coffee – Well, they have their own definitions! They say Single origins, blends, and espresso coffee hit their peak and stay at peak for 2 to 3 days. Consuming at that interval will give you an amazing experience. Here is the table to understand what peaks when. They have a Single origin, some amazing blends, especially espresso, and decaffeinated coffee for their lovers. You can try on them or can also give preference to what your needs are.
Driftaway Coffee – You might already have heard about them as they are one of the oldest subscription services. They came so long as the team loves what they do. From packaging to roasting and shipping, the team just loves doing it themselves.
Tips For Brewing With French Press
Try to buy the most freshly roasted coffee. So always buy from reliable coffee roasters that roast their beans fresh.
Grind just before brewing to ensure the most out of the beans. The best is to grind coarse because it aids maximum water surface area to extract the most flavors out.
Always dual-check that you have cleaned your french press so that the old smell doesn't mix up with the fresh brewing.
Do not buy pre-ground coffee, you won't get good or full flavors from that.
Use a burr grinder and a good french press to avoid hiccups in the brewing process.
Wrapping Up
We have tried to gather just the best beans for your French press brewing experience. You can start from the first one and can taste till the last until you are satisfied with your palate. The subscription services are also selected for French Press brewing.
FAQs
What kind of Beans goes in a French Press?

Usually, people go with a medium to dark roast as the steeping process in the method reduces the bitterness in darker roasts.

What is the best grind for a French Press?

A coarse grind is best for French press brewing as it allows maximum water surface area for the extraction process.

Why French Press coffee is better?

In drip brewing, much of the oils from coffee beans are soaked in the filter whereas in a French press, there is no such filter and even some grounds stay in the brewed coffee that percolates flavors resulting in a better flavor.

Why French Press coffee is bad for you?

Well, in this process, the coffee is actually unfiltered coffee that contains some oils. Too much of that oil results in raised LDL cholesterol bad for your health. Just limit your intake to a max of 4 cups a day and it's alright.

Does coffee from French Press raise LDL?

Unfiltered coffee contains bad cholesterol LDL which is not good for health. Just drink within 4 cups a day and that will be alright.