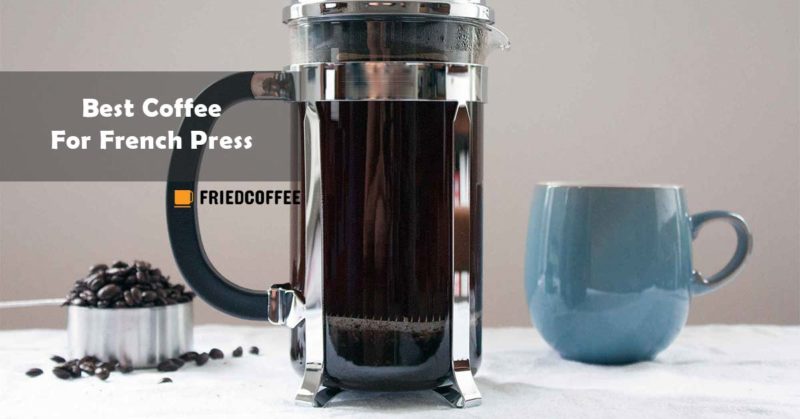 <!–noptimize–>
<!–/noptimize–>
<!–noptimize–>
<!–/noptimize–>
Coffee Brewing is an art no one can deny and has many forms. One of the most praised forms is the French Press. Most of the coffee connoisseurs have this equipment and they test their brewing skills from time to time. Being so popular, people are often found searching for the best coffee beans for French Press. Here we are going to give a glance at our favorites.
You can find many great ground coffees in the market that do well in espresso but don't expect that it will work equally well with a French Coffee Press. Most of the coffee available in the market is too fine and it tends to pass through the mesh filters of a Press; result – Sediments in a coffee cup!
The flavor will also suffer as medium or coarse grind gives a much brighter flavor in Press brewing. For best results, we suggest grinding the beans just before you brew. In French Press, a medium to coarse grind size is the most appropriate.
Note: We have an article about the best coffee beans suitable for any brewing method. If you have multiple brewers, do have a walk-through on there for beans that are good for all types of brewing.
Best Coffee Beans For French Press
1. Exotic Peaberry Gift Box
Exotic Peaberry Coffee Gift Box, Whole Bean,...
Peaberry is the best of the best and this gift box include...
Arrives in a beautiful gift box.
Medium roasted whole beans allowing the true flavor...
Fresh roasted the immediately packed and sealed to assure...
Cupping Notes:
Tanzania – Smooth buttery body, dry finish, delicate sweet acidity
Guatemala – Lively cup with subtle smokey spicy overtones
Malawai – Soft floral tones and notes of spice and chocolate with a caramelized tangerine zest
El Salvador – Tart, cinnamon spice, and caramel sweetness
Well, Peaberry coffee is one of the most appreciated types, we have a whole bunch here. The package contains four 16 ounces packs – Tanzania Peaberry, Guatemala Peaberry, Malawai Peaberry, and El Salvador Peaberry.
Volcanica coffee company is one of the largest importers of gourmet coffee beans from volcanic regions all around the world. The coffee is Organic, Fairtrade, and Rainforest Alliance certified. It is packed in a beautiful satin box tied with a ribbon, so it can also be a great gift for a coffee lover.
Each coffee box is freshly roasted just before it is set to leave for the customer. This ensures that your coffee is freshly roasted and will taste optimal.
2. Ethiopian Yirgacheffe Fresh Roast Coffee
Fresh Roasted Coffee, Ethiopian Yirgacheffe...
ETHIOPIAN YIRGACHEFFE KOCHERE COFFEE Is A Well Balanced,...
SINGLE-ORIGIN FROM KOCHERE, ETHIOPIA. Medium Roast. Heirloom...
ALL FRESH ROASTED COFFEE IS Kosher Certified, Sustainably...
ALL OUR COFFEES ARE ROASTED  in Our Environmentally...
Cupping Notes: Lemon, Honey, Mild
Roast: Medium
A list without Ethiopian coffee is incomplete as Ethiopia is the birthplace of coffee. This is 100% Arabica coffee with no preservatives, additives, or artificial interference. African coffees are often bright and fruity than their siblings. With low acid content, this coffee can be an excellent pick for people with stomach problems.
The coffee has dominant lemon notes with some hints of honey. It has a balanced profile that is loved by almost every coffee person. Kochere is a small area 5900-6550 feet above sea level within the well-known Yirgacheffe coffee-growing region of Ethiopia. The area has acidic mineral-dense soil and soaring altitudes, perfect for growing coffee.
3. Starbucks Breakfast Blend
Starbucks Medium Roast Whole Bean Coffee —...
Breakfast Blend is a lively and lighter roast with a crisp...
While we've updated our look and how we describe our tasting...
Enjoy the Starbucks coffee you love without leaving the...
For finest taste, always use clean, filtered water, clean...
Cupping Notes: Sweet Orange and Brown Sugar
Roast: Medium
Starbucks can be said as one of the pioneers of the coffee industry. We won't say as all of their coffee is best, but few of them are. They rooted themselves in the coffee industry through the amazing experience they created with their popular Starbucks cafes. People just love to hang out or spend time there.
The breakfast blend by Starbucks is a great one to start your day with. It's a medium roast coffee with a bright and tangy profile. It's a lively and lighter roast with a smooth crisp finish. It's a not too bold coffee, nor too mild and gets the job done every morning.
Overall, this blend is a great start to kick up your day. The quality control and bean selection is at par with Starbucks.
4. Death Wish Coffee
DEATH WISH COFFEE Whole Bean Coffee [16 oz.]...
WORLD'S STRONGEST COFFEE: Our whole coffee beans will...
QUALITY BREW: Hands down, the best whole coffee beans in the...
BOLD FLAVOR: Immerse yourself in a smooth, subtle, never...
FAIR AND ORGANIC: Every 16 oz. bag of Death Wish Coffee is...
Cupping Notes: Hints of cherry and chocolate
Roast: Dark
If you are not a normal human being and need a heavy kick to wake up, Death Wish might be a perfect pick for you. It's claimed to be among the strongest coffee on the globe with almost double the dose of caffeine than in a normal cup. So if you are a lazy person who really needs a physical kick to wake up from bed must try this coffee.
The coffee is Fair Trade, USDA Certified Organic, and Kosher that obviously gives hints for a quality coffee. It's obviously a dark roast, but only buy, if you can really deal with it. For the coffee to be strong, it's not 100% Arabica but rather a mix of Robusta and Arabica beans.
You might like to read: Best Dark Roast Beans
5. Koffee Kult Dark Roast
Cupping Notes: Cocoa Cinnamon, Smooth, Heavy Body, Bright with a long finish
Roast: Dark
Our next strongest coffee is the Koffee Kult. We picked up the dark roast beans as it's one of the hottest sellers by the brand. It's a 100% gourmet coffee that is carefully picked and served with quality standards. The pack is a blend of beans from Colombia, Guatemala, and Sumatra.
Though it's a dark roast, the end results will not be bitter. It's less acidic and so good for people with sensitive stomachs. Koffee Kult is a family-owned business and has its own well-trained artisan roasters. They even welcome anyone to visit their premises and watch their process for complete peace of mind.
6. Real Good Coffee Co Donut Shop
Real Good Coffee Co Whole Bean Coffee, Donut...
Medium Roast Coffee: Our Donut Shop whole bean coffee has a...
Sustainable Medium Roast Coffee Beans: Our coffee is made...
Tasting Notes: Our Donut Shop coffee features the flavors of...
Works With All Coffee Brewers: Our medium roast whole bean...
Cupping Notes: Brown sugar and hazelnut, with a hint of plum
Roast: Medium
The name says it all, Real Good coffee is an amazing option to try next. They are a small team doing beans sourcing and craft roasting in Seattle for 30 years. The main objective of this team is to provide quality beans at a reasonable price, so no waste in unnecessary fancy things. you will feel their sincerity by the sweet and smooth flavor from the first sip to the bottom of the cup.
The Donut Shop blend is 100% arabica and has origins from Central and South America. For French press brewing, they recommend 55 grams of coarse coffee grounds for 34 oz water. After that, steep for 4 minutes before you plunge and it's done!
Where To Buy Coffee For French Press
The first option everyone must seek is a roaster around your area. If there is one near you, try that at first priority as it will give you the freshest beans possible. However, not everyone is lucky enough and therefore you can try to buy online.
For your online confusions, the above-listed beans will all be roasted near the date you are buying. Most of the beans above are freshly roasted and shipped directly from the roasters.
If you buy from a supermarket, the dates are often skipped and people just pick the brands. Checking with the date is an important aspect when buying coffee beans as that is the only factor that decides what you are getting.
Another good option is to attach yourself to one of the best coffee subscription services that we have listed and taste something new every month. However, there are customizations so that you can personalize the beans for your French Press needs.
Connect with a Coffee Subscription
Yep, you heard right! A coffee subscription is a service that sends you your favorite type of freshly roasted coffee beans in your decided interval weekly/monthly/quarterly. Below are some services you can try!
Blue Bottle Coffee – Well, they have their own definitions! They say Single origins, blends, and espresso coffee hit their peak and stay at peak for 2 to 3 days. Consuming at that interval will give you an amazing experience. Here is the table to understand what peaks when. They have a Single origin, some amazing blends, especially espresso, and decaffeinated coffee for their lovers. You can try on them or can also give preference to what your needs are.
Driftaway Coffee – You might already have heard about them as they are one of the oldest subscription services. They came so long as the team loves what they do. From packaging to roasting and shipping, the team just loves doing it themselves.
Tips For Brewing With French Press
Try to buy the most freshly roasted coffee. So always buy from reliable coffee roasters that roast their beans fresh.
Grind just before brewing to ensure the most out of the beans. The best is to grind coarse because it aids maximum water surface area to extract the most flavors out.
Always dual-check that you have cleaned your french press so that the old smell doesn't mix up with the fresh brewing.
Do not buy pre-ground coffee, you won't get good or full flavors from that.
Use a burr grinder and a good french press to avoid hiccups in the brewing process.
Wrapping Up
We have tried to gather just the best beans for your French press brewing experience. You can start from the first one and can taste till the last until you are satisfied with your palate. The subscription services are also selected for French Press brewing.
FAQs
What kind of Beans goes in a French Press?

Usually, people go with a medium to dark roast as the steeping process in the method reduces the bitterness in darker roasts.

What is the best grind for a French Press?

A coarse grind is best for French press brewing as it allows maximum water surface area for the extraction process.

Why French Press coffee is better?

In drip brewing, much of the oils from coffee beans are soaked in the filter whereas in a French press, there is no such filter and even some grounds stay in the brewed coffee that percolates flavors resulting in a better flavor.

Why French Press coffee is bad for you?

Well, in this process, the coffee is actually unfiltered coffee that contains some oils. Too much of that oil results in raised LDL cholesterol bad for your health. Just limit your intake to a max of 4 cups a day and it's alright.

Does coffee from French Press raise LDL?

Unfiltered coffee contains bad cholesterol LDL which is not good for health. Just drink within 4 cups a day and that will be alright.
<!–noptimize–> <!–/noptimize–>