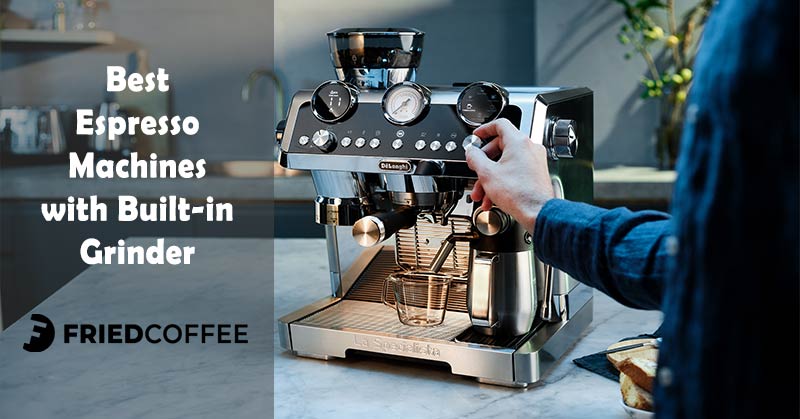 A 2020 survey from the National Coffee Association says that a staggering 70% of the U.S population prefers to sip cups of coffee every day. Probably, the delectability of this brewed beverage has helped it in winning over the hearts of millennials. Hot, cold, blended, over ice – the varied brewing methods add more to its appeal.
When it comes to talking about the best form of brewing, espresso tops the list. A unique pressurized brewing method to produce concentrated shots of coffee has made its way to excellence.
Indeed, espresso's are quite complicated to make if compared with a pot of coffee; however, with the right espresso machine, you can learn to master the art of world-class brewing espressos at home and surprise your coffee aficionado circle with delightful cups of espresso.
This post introduces you to the best espresso machines combined with a built-in grinder, which can help you turn yourself into a home barista. Additionally, it helps you with a handful of the vital info that ensures a justified investment. Let's delve deeper and take a closer look at them!
Why Espresso Machine with a Grinder?
The espresso machines with built-in grinders are arguably functional, and they come with a number of unavoidable benefits. The list includes the following.
Space saver
There's a common belief that an espresso machine with a built-in grinder tends to be bigger than the ones that don't have a grinder attached. However, in actuality, an espresso machine with a grinder is more ergonomically designed for space, and it helps to optimize every inch of the machine. So, those who are looking for a compact unit should unhesitatingly go for an espresso machine with a grinder.
Pocket friendly
When it comes to saving money, buying an espresso machine with a built-in grinder can help. When you try to enquire about the price of a grinder and an espresso machine, you will find that it is hitting your pocket hard as a unit with a grinder comes at a lesser price.
Compatibility
Pulling off a delicious brew requires a consistent grinder. The sad truth is consistency is hard to find in a coffee grinder. When you purchase an espresso machine with a compatible grinder, you simply cut out the middleman.
Expediency
Spending hours picking up the right espresso machine, then starting a fresh search to find out a compatible grinder for it – doesn't it look hefty? When you have the option of saving a considerable amount of time, why won't you go for it? As said before, an espresso machine with a grinder omits the necessity of looking for a compatible match and works as a one-stop solution, offering you a higher level of convenience.
Best Espresso Machines with Grinder Built-in
Now when you know that buying an espresso machine with a grinder is worth it, let's check out the best list.
1. De'Longhi EC9355M La Specialista Prestigio Espresso Machine
De'Longhi EC9355M La Specialista Prestigio...
FRESHEST COFFEE, EVERY TIME: Integrated burr grinder with...
TAMPING WITH EASE AND LESS MESS: Proprietary Smart Tamping...
MORE CONTROL OVER EXTRACTION: Explore single wall filter...
DYNAMIC PRE-INFUSION: Consistently evenly wet coffee for the...
When it comes to hand-crafting your favorite espresso, La Specialista Prestigio empowers you with the desired level of confidence. A traditional coffee-machine-influenced design and amazing functionality allow this state-of-the-art espresso machine to recreate the authentic cafe-like coffee experience at home.
Compact design and space-saving design make it perfectly commendable in your kitchen or living area. The process of brewing is quite simple, enabling you to enjoy a sensory coffee-making experience.
The innovative 'my menu' button empowered by smart technology allows you to customize and save the recipes you like the most. Amazing and advanced grinding technology ensures the right coffee dose, and the credit goes to its one-of-a-kind grinding sensors. Additional advantageous features include –
Active temperature control 
Dynamic pre-infusion 
Authentic milk creation
Auto shut-off
Removable water tank and drip tray
Water level indicator 
Dual single-wall filters 
Integrated smart tamping station
---
Pros
Easy to use
Brews avant-garde espresso
Amazing performance
Milk frothing technology
Separate hot water spout
---
Cons
The model is semi-automatic
Why buy?
The De'Longhi EC9355M La Specialista Prestigio Espresso Machine is an example of innovation and comes with some best-in-class features. Though the machine is semi-automatic, it carries plenty of reasons to convenience a coffee aficionado to go for it. Therefore, it's going to stand high on expectations when it's about experience cafe-like coffee at home.
Also Read: Best De'Longhi Espresso Machines
2. Breville BES870XL Barista Express Espresso Machine
Sale
Breville Barista Express Espresso Machine,...
The Breville Barista Express delivers third wave specialty...
DOSE CONTROL GRINDING: Integrated precision conical burr...
OPTIMAL WATER PRESSURE: Low pressure pre-infusion gradually...
PRECISE ESPRESSO EXTRACTION: Digital temperature control...
This mid-priced gizmo is a fantastic choice for numerous coffee buffs because of its budget-friendly, functional outlook. Doesn't matter you are a beginner or an expert in making espressos, the unique brewing ability of Breville BES870XL Barista Express enables it with the ability to cater to the needs of anyone who loves coffee!
It comes with two pressurized and two non-pressurized versions of single and double filters. If you want to keep everything utterly concise, the pressurized filter baskets will help as they omit the necessity of dialing in the shot precisely by adjusting grind settings and grind amount.
On the other hand, the non-pressurized filter versions are meant for those confident brewers who hold a great sense of dialing the shots in with the right grinds. ,
Additionally, the custom controls of the device enable you with the power of modifying your espresso shots in the way you want then. The innovative dose control attribute aims to facilitate you with a varied grind amount for different coffee recipes, and the range varies from 19-22mgm defining the coffee-to-water ratio perfectly.
With the smart grind size control, you can choose 16 levels of fineness that help extract the different tangs of espresso, which varies with the ground level.
Breville BES870XL Barista Express Espresso Machine comes with a built-in, conical burr coffee grinder and bean hopper that awards one an easy and enjoyable coffee brewing experience, omitting the need of buying a grinder and bean hopper differently. Cleaning and refilling the bars is extremely easy!
Additional lucrative features of Breville BES870XL Barista Express Espresso includes –
Manual microfoam milk texturing.
Razor Dose Trimming Tool
Integrated Tamper and milk jug.
---
Pros
Brews amazing quality espresso.
Easy to use and clean.
Comes with a built-in burr grinder.
Sturdy stainless steel design.
---
Cons
 Being a semi-automatic device, it requires a bit of manual effort to operate.
Why buy?
A user-friendly machine that suits your budget and won't be hard-hitting your bank. With features like smart grind control, and milk texturing, the Breville BES870XL Barista Express Espresso Machine is indeed worth buying.
3. Calphalon Temp IQ Espresso Machine with Grinder & Steam Wand
Calphalon Espresso Machine with Coffee...
Note: 1)Too coarse a grind, too little coffee, or...
15-Bar Italian pump delivers the right amount of pressure...
Freshly grind your beans to your preference With the...
Pre-programmed settings for single and double shots, and...
When it comes to talking about a cafe-quality yet amateur-friendly machine, Calphalon Temp IQ definitely deserves mention! It's known for its unique ability to make fantastic espresso consistently.
This state-of-the-art device uses a preprogrammed, 3-second pre-infusion period that gently wets the grinds before applying the full espresso-brewing pressure. Naturally, it ensures even grinds free from all imperfections!
In addition, the in-built convenient instruction feature guides you throughout your journey of making hear-winning cups using this machine. It will look even more helpful when you need help to figure out the exact grind size you need for the specific coffee beans.
In a one-liner, accuracy, agility, ease of use, high-quality brewing ability – this coffee machine has simply everything that's required to turn your brewing session into an amazing one! The beneficial features that add more to its appeal include the following.
15-Bar Italian pump that delivers the perfect amount of pressure.
Preprogrammed settings for single and double shots
Thermoblock heating technology and PID temperature control
Cup warming tray
Integrated conical burr mill Grinder with more than 30 grind settings.
---
Pros
Sleek design
A simple yet efficient display
BPA-free
Comes with a cleaning brush, cleaning disc, and pin, making the cleaning process easy.
Cost-efficient
---
Cons
Like any other coffee machine with a steam wand, Calphalon Temp IQ is also elementarily noisy.
Why buy?
When we talk about sipping a cup of coffee, we always expect something top-notch. Therefore, to align well with the expectations of a coffee enthusiast with prior experience of home-brewing or even a newbie, the Calphalon Temp IQ Espresso Machine with Grinder & Steam Wand will leave no stone unturned.
Also Read: Calphalon Temp IQ Vs Breville Barista Express
4. Breville BES880BSS Barista Touch Espresso Machine
Sale
An intuitive touch screen display and preprogrammed settings allow the Breville Barista Touch to bring a delicate touch of uniqueness in its approach. It has a built-in grinder, conveniently adjustable controls, and auto milk frother that lets you brew barista-quality coffee in minutes.
Made up of stainless steel, Breville Barista Touch is durable and sturdy. Talking about its usability, its automatic grinding, one-touch brewing, and agile milk frothing features will definitely blow a beginner barista's mind away. 
On the other hand, the extensive grinding options, texturing, and brewing features will also please the coffee experts. Hence, it's versatile!
Its amazing attributes look like the following –
BPA free water tank of 67oz capacity
Accessible drip tray 
Innovative touch screen display
Personalized coffee settings
Hands-free operations
Thermojet hitting system 
A built-in, conical burr grinder 
Agile heat uptime
---
Pros
Amazingly user-friendly
The perfect combination of espresso machine and grinder
Sleek design, making it space saver
Brilliant automatic steam wand integration
Responsive and easy to navigate touch screen display
---
Cons
The coffee puck gets stuck to the group head, not in the portafilter
Doesn't have a preheating option
A bit expensive
Why buy?
If you are looking for a feature-rich coffee maker that's easy to use and performs brilliantly, the Breville BES880BSS Barista Touch Espresso Machine is the one that is waiting to enhance your coffee-making experience. Though the machine might seem a bit expensive, the personalization, agility, and automation it offers will indeed justify its price in the long run.
5. Breville BES878BSS Barista Pro Espresso Machine
With barista-level performance and out-of-the-ordinary features, Breville Barista Pro allows you to make your choice of espresso at home. This high-tech gizmo is the perfect pick for those looking for a distinctive and trustworthy espresso machine for their home kitchen.
This automatic stainless steel espresso machine aims to render an adorable user experience. An improved heat-up time and a smooth workflow allow this machine to prepare delectable cups in just a couple of minutes. Moreover, this model from the house of Breville lets the coffee enthusiast enhance the flavor of the drink.
Its avant-garde features include the following –
Digital temperature control 
Advent latte system 
An inbuilt conical burr grinder 
Innovative interface  
Functional thermojet heating system
---
Pros
Convenient and user-friendly
Fully automatic
Comes with an advanced steam wand
Makes flavorful cups of espresso in minutes
Enhances the coffee-making experience with the freedom of extracting the flavor of the beans to the fullest
---
Cons
The machine is a bit costly 
Why buy?
Breville itself is a brand that stands synonymous with excellent build quality and innovative gadgets. One of the best examples to prove this fact is the Breville BES878BSS Barista Pro Espresso Machine. Be it an amateur or someone well-versed in using coffee-makers; this machine brings a unique class of coffee. It's a bit expensive, but the beauty it carries along with; the investment will be worth every penny.
6. Breville BES980XL Oracle Espresso Machine
Among the popular line of espresso machines from Breville, the Oracle has probably managed to create exceptional buzz because of its near-to-high price. A lot of debates have already been there related to its price justification compared to its usability and functionalism.
However, the undeniable fact is, for those who want a coffee at home that renders a taste better than any random crap of Starbucks or Costa coffee, it's the Breville Oracle capable of doing the magic.
Its fantastic features are mentioned below –
A pre-infusion feature that evenly douses the coffee grounds at low pressure. 
Dual boilers, one is for brewing espresso, and the other is for steaming milk. 
PID temperature control allows you to regulate the temperature of the boiler with just a touch.  
Heat exchanger technology facilitating you with simultaneous brewing and steaming.
Automatic grind and tamp makes it amazingly beginner-friendly
Automatic milk-steaming attribute contributing to the milk structuring abilities.
---
Pros
Advanced grinding, brewing, and steaming technology
Short clock feature
Automatic tamping
Removable bean hooper
Fully automatic yet handy
---
Cons
The cost may look adequately high
Why buy?
Dual boilers, heat exchanger, and automation – all this together comprise this worth-buying Breville BES980XL Oracle Espresso Machine. The price tag it comes with might seem expensive for many; however, for any coffee aficionado, if a machine is capable of meeting all that's required to deliver seamless and delectable cups of coffee, the price factor might get over-looked.
Super Automatic vs. Espresso Machine With Grinder
An automatic or semi-automatic espresso machine with a grinder differs a lot from the super-automatic ones. The primary one among them is what comes out of a super auto; it may not always cater to personalized coffee needs.
When you start using a super-automatic coffee machine newly, you may find the shop good. However, with time the monotonousness kicks in, and those good shots turn into junk ones.
Here, the semi-automatic or automatic espresso machines with built-in grinders comes into play as an essence of freedom that allows you to customize your cup of espressos in the way you want.
A variety of grinds, a wide range of brewing options, and many other features that require manual interference allow them to render a human-like feel, making the brewing experience even more exciting and enjoyable.
Therefore, if it's about declaring the winner of the battle, a super-automatic espresso machine vs. espresso machine with grinder, 95% of the coffee enthusiasts will probably stand with the semi-automatic or automatic espresso machines with grinder.
They come at a justified cost, allows you to flaunt your barista skills, and gradually turn into your trustworthy kitchen companion. Hence, investing in them is worth it.
Also Read: Best Super-Automatic Espresso Machines for home
Wrap Up
Now, when you have managed to acquire a considerable idea about the best espresso machine with a built-in grinder, put in a little effort in recognizing your needs and pick up the one that caters to them well. Happy brewing!