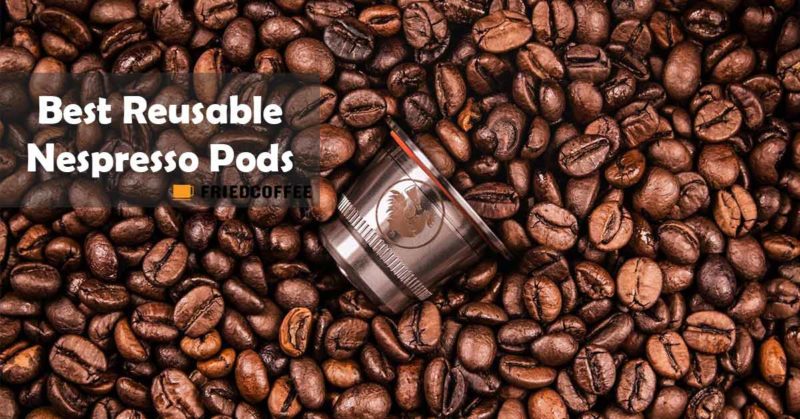 We understand that using Nespresso machines regularly sometimes can feel a little costly, especially if your family is huge and addicted to coffee. The best solution is to start using Nespresso reusable pods that allow refilling our favorite coffee grounds from our favorite roasters.
Why Use Reusable Capsules?
The solution not only saves us from the heavy costs of Nespresso coffee capsules but also aids in the following benefits:
Fresh Coffee: We are free to use fresh ground beans which is not possible in the original Nespresso pods. Though they are vacuum-sealed, we know that coffee packed inside is many days or months old.
Ecological Benefit: You are not contributing to the tons of plastic waste which as a result comes from the use of original capsules. Every time a pod is used, we are contributing the used plastic scrape for the landfills which takes years to decompose. Just think for a while as to how many Nespresso machines are used all over the world and so how many pods are dumped every year!
More Variety: You will not be just limited to the flavors that come into pods, as we can use our favorite coffee blends or single origins from our choice of favorite roasters.
In many ways, the better option is to start the use of Nespresso refillable pods and help in saving the environment from tons of plastic waste every year. If this idea works for you, go ahead and encourage more people for this by gifting them a refillable capsule for a good reason.
Previously, the reusable pods were limited to only the Original Line Nespresso machines, but now, we also have reusable options for the Vertuo machines. The actual Vertuo line capsules are even more costly than the basic Original line capsules, and so, it's good news for the Vertuo users as they are going to save even more.
Anyways, now let's check out the best options available for our favorite coffee machine.
The Best Nespresso Reusable Pods
With the rise in the use of single-serve machines, many brands have jumped into reusable capsules and are already used by many Nespresso users. Obviously, when there are numerous options, we have to choose the good, better and best. To ease the selection, we have pre-selected some of the top products already doing great for the consumers.
1. Recaps Stainless Steel Reusable Capsules
RECAPS Reusable Coffee Filter Capsules...
1. Compatible with Nespresso essenza en85,Essenza Mini...
2. Compatible with DeLonghi Lattissima Pro, Compatible with...
3. NOT Compatible with Dolce Gusto, Nes Essenza C100, Nes...
4. Easy to operate: Fill the reusable pod with scoop...
Recaps is a reputed brand when it comes to reusable capsules and was found in 2010. The mission was to make the environment greener and that's why they used the 'Re' in the beginning. They developed a complete kit containing 3 refillable pods, a tamper to press, and 120 Lids. You can buy lids separately when exhausted. They are available as separate products also.
These pods are compatible with all the OriginalLine machines like Pixie, Inissia, Citiz, Essenza, Latissma, and more. For brewers with a single pin and the brewers before 2010, the company suggests not to buy as there might be a compatibility issue.
2. Sealpod Nespresso Refillable Nespresso Pods
SEAL POD Reusable Nespresso Capsules -...
【Compatible With: Nespresso Original】: Pixie, Inissia,...
【Your Coffee, Your Choice】: With SealPod, you get to...
【Help the Planet / Save Your Wallet】: Reduce single-use...
【Rich Crema, Strong Coffee】: Sealpod is specially...
Another marvelous product on the list is the Refillable Pod by Sealpod. It is available in either 2 or 5 pc packs as required along with an option to choose either 24 or 100 packing lids. These are again metal capsules that last a lifetime or until they are lost somewhere. Compatible with most of the Nespresso Machines, Sealpod is a little costly than the Recaps, just slightly which is negligible.
Sealpod even sells reusable units for Keurig and Dolce Gusto machines. They have been long in this business and have made a consistent run.
3. i-Cafilas Reusable Capsule
i Cafilas Stainless Steel Reusable Capsule...
1,ONE IS ALL-Durability,crema Reusable capsules pods,made by...
2,Equipped with stainless steel lids help you save more than...
3,Crema coffee style design,Advantage than others reusable...
4,Package includes: 1 reusable capsules and lid, Gift:1...
Another product that we loved was by i-Cafilas. It's a complete stainless steel capsule that comes with a unique steel lid so you don't have to worry about disposable lids getting empty. The lid locks via O ring, so no tightening of the screw and spilling your coffee. The kit comes with a free brush and spoon for easy refill and cleaning. This capsule is compatible with all the Original Line machines.
4. MG Coffee Stainless Steel
MG Coffee Stainless Steel Refillable Coffee...
Make coffee in rich Crema style,Compatible for X7.1 X8 X9 Y...
Durable, built-in permanenSafe to use, 100% BPA Free, made...
Durable, built-in permanent stainless steel (body and mesh...
Eco-Friendly, saves up to 80% over the cost of pre-filled...
Another new arrival in the market is the stainless steel capsules by MG. Because they are made of metal, they are hygienic and safe to use. The kit also contains a tamper properly sized to tamp the coffee grounds inside the capsule. The mesh filter is also made up of stainless steel to extend its life.
The material used is 100% BPA-free eco friendly. The package set includes – a capsule, tamper, filling spoon, and a brush for cleaning purposes.
The cleaning is very easy and the product is great to use.
5. My-Cap Sampler vPack [Nespresso Vertuo Reusable Pods]
Now, this is good news for the Vertuoline machine owners: My-Cap has released a kit to make reusable Vertuo pods. This was not available for a long since because these machines use different brewing technology than the Original Line machines. The basic capsules were a bit difficult to reuse.
The kit contains 50 foil seals, 1 refillable cap, 20 coffee filters, 1 capsule holder, coffee scoop, a cleaning brush, and an instruction manual.
Therefore, My-Cap with long research and testing has introduced this product which allows the used capsules to be reused and is 100 percent BPA free. The design is very different from the normal capsules but refilling is easy. Just fill the capsule with desired coffee grounds and seal with the filter provided. There are optional filters that you can use.
6. My-Cap Silicone Caps, Lids & Filter Kit
My-Cap Reusable Coffee Capsule Caps & Lid Set...
Complete coffee capsule solution: Our set includes 3 x...
Cost-effective and flexible brewing: With our silicone pod...
Beautiful crema and superior taste: Our silicone Vertuo pod...
Safe and environmentally friendly materials: We prioritize...
Now, this is again the same thing as the last product, but it's a complete kit. This kit contains 3 Caps, 3 lids, and 100 filters. The process is the same for refilling. You now rather have 3 lids so at a time you can make 3 capsules and can store them by sealing them with lids for future use.
Do note, the caps are for sealing coffee grounds for machine use whereas the lids are to store the prepared capsules for the future.
7. Geesta Vertuo Capsule Refill Kit
Sale
Easy-Seal Coffee Capsule Refill Kit for...
Complete Kit: Brew creamy espresso for pennies with this...
Perfect Seal: Apply and seal your foil lid with a single...
Easy To Align: Reusable Nespresso Vertuoline capsules only...
Premium Quality: Thick, food-grade aluminum foil lids are...
Geesta is the latest product on the list and is fairly new, but is doing a great job. Moreover, Vertuo refillable options are very less and slowly new brands are coming up. Geesta kit allows you to refill the used Vertuo capsules easily and efficiently with its twist seal feature. The kit comes with the capsule holder, brush, scoop, and 80 food-grade foils.
Just simply place the used capsule over the holder, put the lid, and twist rotate a little with the top of the holder to lock the grounds. This 'Twist' feature perfectly seals the capsules for the Vertuo line machine's use. The holder also has a reference marker that allows aligning the capsules at a correct position so that foils can be placed precisely.
Things to consider when buying Reusable Nespresso Pods
Things are easy when it comes to a single or two options but they become confused when there are more. Here are some factors to take care of when you are buying a reusable Nespresso pod for your single-serve machine.
Compatibility
What kind of machine do you own? Check the manual of capsules you are buying to ensure that they are compatible with your kind of machine or not as the Original line machine has a different process than the Vertuo machines.
In Original machines, the capsule itself is used to build pressure something similar to in traditional espresso machines whereas in Vertuo, the water is passed into capsules and then they are spin at high speeds to create the drink. This spinning requires different mechanics and hence these are not compatible with Original machines.
So, do your research before buying one.
Material
The most common materials used in the making of reusable capsules are plastic and stainless steel. While the plastic pods come at a much cheaper cost, they are mostly questionable because the process involves the passing of hot water through them. If they are certified BPA-free, then it's fine to use them but if not, don't indulge in that.
On the other hand, stainless steel capsules are a little costlier than plastic but offer unquestionable usage and durability. One doesn't have to worry about BPA-free certification when buying a metal capsule.
Type of Lid
The lid however seems like a simple thing but it's an important component. It is the lid that is responsible for the pressure building for espresso extraction from the capsule.
If you have paid a little attention, we included products with two different types of lid systems – one is adhesive sticker type and the other is latching type.
The adhesive type is disposable and can be used only once. So you have to restock these lids repeatedly so that you don't run out of capsules. The good thing about this lid is that it seals the capsule properly which makes them handle higher pressures. As a result, you are presented with a nice crema. The drawback is that they are not much environmentally friendly as these have to be disposed of after each use.
The latch type can be used again and again but the pressure building is not the same as the sealed type, so you might notice a little difference in crema.
How to use Reusable Capsules
Brewing with refillable coffee capsules is very easy and won't take much time. Below are the steps to do so:
Wipe or clean your capsule;
Grind your coffee fine, for espresso;
Use a scale to weigh 5.5 gms of grounds. You can increase or decrease according to your requirements;
Seal the capsule with a lid or screw the cap – depends on your capsule type; and
Brew as you do with the machine.
Here is a video for visual instructions:
FAQs
Can Nespresso Pods be used twice?
The short answer is, Yes! There are lids available that can stick to the used capsules by Nespresso. Fill your favorite coffee grounds and seal with the lid. It's a very easy task and is also a cheaper alternative.
How many times can we reuse a capsule?
We recommend using the capsules only 2-3 times, and not more than that as the material won't be able to bear heat so many times.
Are there Reusable capsules for Nespresso?
Yes, there are and that saves a lot of money and gives a fresh cup of coffee on every use. We have already selected the best ones and you can pick from them.
So, Can we use our own coffee with Nespresso?
Yes, of course! By using any of the products below, we can use our choice of coffee grounds. This ensures that the coffee we are using is not stale and is from our favorite roaster or blend. This opens our selection to thousands of options available in the market.
Are Refillable Nespresso Capsules good?
In our words, obviously! The first reason, you are using fresh coffee; the Second reason, you are saving money; the third reason, you are not contributing aluminum or plastic waste to the environment. It just takes a few minutes to prepare a capsule for reuse.
How many shots are there in a Nespresso Capsule?
In a basic capsule, there is one shot but last year (2018), the brand has launched a double shot espresso capsule for Vertuoline users with a very balanced profile.
How much money can be saved with refillable capsules?
A single Nespresso pod costs around $0.70 whereas if we use some other brand of compatible capsules, they will cost between $0.50 to $0.80 depending on the blend and flavor. Now, let's see how much it costs with a refillable one.
A 12 lb or a 340 gm ground coffee costs around $15 and each refilling uses 5 grams of coffee. So we can use the pack 68 times which means $0.22 per refill. So even if we drink coffee 2 times, we are saving $0.56 in a single day, so $16.8 a month and $201.6 in a year. Isn't it a good saving!
Wrap Up
Our favorite picks in the above collection are Recaps and Sealpod as they have long been serving the refillable capsules with no pinned issues. We have seen them stand tall now for a couple of years. So, if you are in any confusion, go ahead and try those brands and you will not be sad with them.
Nespresso is no doubt an expensive affair because of the ongoing cost of their capsules. If you are a coffee addict and have a lot of cups in a day or the whole family consumes coffee 2-4 times per day, the pods are surely going to burn a hole in your pocket.
The best way is to either use compatible capsules from other brands or go with the Reusable capsules. With other compatible brands, a prominent issue that people mostly face is disposing of the used pods.
Another benefit of reusable capsules was for those people, who are afraid of caffeine. The Decaf pods have limited variety whereas one can refill his own choice grounds in the refillable.
Finally, it felt great to write about the reusable Nespresso capsules as encouraging the use of these helps cleaning some clutter for the environment. We have covered here the best options and have neglected the products with bad reviews.