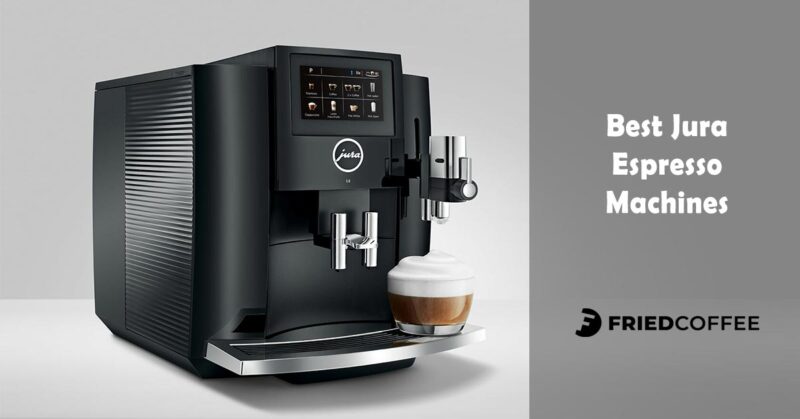 For coffee snobs, life is way too short for a bad cuppa, irrespective of the time. Undoubtedly, a good coffee machine can save the hustle of waking up early and rushing down to a cafe or starting the day on an average note.
Presently, there are way too many coffee machines out there with different usage qualities. While filtering some of the best, Jura machines are the absolute choice of coffee lovers.
Although buying a coffee machine may seem a usual task, it's really not the case. So, to help you out, here is a well-curated list of the best Jura coffee machines. Read on to know about the specifications and special attributes before making a decision.
Why Jura?
The brains behind Jura are from Switzerland. After the Japanese, the Switz people are considered to be the most meticulous and hardworking people. The Jura company first produced household products. However, the game-changer for the company was the production of the coffee machines. So, if you are not sure about the reasons to choose Jura, the below-mentioned are some of the compelling ones:
Aroma + Grinder
Aroma is referred to the coffee tribe word that outlines how the grind influences the coffee quality. The aroma settings are explained by a picture of coffee beans under the profile "Aroma" in the settings, as illustrated on the screen. This signifies how strong your brew is going to be because of the grind's fineness. Generally, you get options from 1-5 in settings. If you are new to it, you can begin at the lowest level to experiment. Although Jura grinders might not be the same all the time, in every machine, these days most of them at least have the Aroma + Grinder. And, irrespective of the situation, Jura grinders are quiet, quick.
Pulse Extract Process System
The Pulse Extraction Process (PEP) system is specifically the next step in the entire process. This methodology makes sure that the shot gets precisely and evenly pulled. It is also integrated into some of the basic models; thus, making them stand apart.
Intelligent Pre-Brew Aroma System
The Intelligent Pre-Brew Aroma (IPBA) system is referred to as the pre-infusion feature that is used once beans are processed with the grinder. It helps bring the full flavor profile by adding water to the grounds.
Fine Foam Technology
The Fine Foam Technology (FFT) helps froth the milk two times to create professional-looking microfoam. This entire process takes place in separate chambers. And then, the compacted milk foam slowly runs into your drink. This technology offers a delicate, creamy consistency.
CLARIS Filter System
This one is an anti-scaling technology that has been designed to filter minerals, prevent possible damage, and scaling to the heating element of the machine.
Intelligent Water Systems (IWS)
IWS is referred to as the detection technology that helps in running internal tests on the basis of your water quality. It also ensures whether everything is in perfect shape or not. If not, the IWS comprehends what needs to be done and notifies you regarding the needed maintenance, such as running a cleaning cycle, changing the filters, etc.
Bypass Doser
The bypass doser is referred to as a small chamber that allows you to bypass the grinding process, and use coffee grounds instead of beans.
Energy Save Mode
Energy Save Mode is one such tech feature that enables you to customize the energy usage of the machine to save electricity when the machine is not in use. In Jura models, the ESM-equipped ones can be seamlessly programmed to save up to 40% of the output.
You might like to read: Best Super-Automatic Espresso Machines
The Best Jura Coffee Machines
Jura machines have astounded aficionados across the globe with their high-tech integrated coffee machines. However, when it comes to the best-brewed cup that tastes exotic and a one-stop solution for coffee snobs, all heads turn to the ones mentioned below.
1. Jura A1
Jura A1 Automatic Coffee Machine Piano White
ONE TOUCH: Prepare 3 barista quality specialties including...
PERFECT ESPRESSO: Ultimate coffee quality thanks to JURA's...
CONICAL BURR GRINDER: Fast and precise AromaG3 grinder...
ECO FRIENDLY: JURA is always freshly ground, not capsuled -...
With an elegant design, this specific coffee machine offers up to three styles of barista-quality coffee with specialties in espresso, ristretto, and coffee – all of them with a touch of a button. The model is intelligently engineered and has an aesthetic design. The machine comes with a Pulse Extraction Process to give its users the perfect cup of coffee with a rich aroma.
In addition, it comes with an AromaG3 grinder that ensures precise and fast grinding. The machine has a 4.4-ounce bean container and a 37-ounce water tank. The TFT display is high resolution and has complete touchscreen functionalities. The best part about the machine is that all sizes of mugs will go with this machine. In addition, the single-serve espresso machine is a high-end brewer and has a brilliant brewing capacity.
Key Features
AromaG3 grinder
Pulse extraction process
Adjustable settings
Easily monitored drip tray
Programmable switch-off times
---
Pros
Simple and elegant design
Easy to operate
Adjusts both small and large mugs
---
Cons
Lacks a milk-steaming function
Machine doesn't support pods or capsules
Could be heavy and difficult to handle
Who is this for
Black coffee lovers can definitely go for this model. Also, if you have never bought a Jura espresso machine, starting with this model would be highly recommended. It gives spill-free preparation and premium quality coffee.
2. Jura D6
Jura D6 Automatic Coffee Machine, 1, 37...
Note: 1)Too coarse a grind, too little coffee, or...
VERSATILITY: Cappuccino, espresso and coffee maker,...
OPERATION: Plain text display or Smart Connect App control
CUSTOMIZATION: Adjustable water level, coffee strength and...
Be it espresso or a cappuccino, this model offers the utmost versatility. The model has the patented pulse extraction technology that ensures that the coffee is extracted to the optimum. Additionally, it offers a plain text display and smart connect app control.
In terms of customization, you can seamlessly adjust the water level, temperature, and strength of the coffee. Furthermore, like other models, even this one is integrated with a precise and fast Aroma G2 grinder.
Key Features
Fine foam frother
Pulse extraction process
Plain text display with rotary dial
Intelligent water system
---
Pros
Easy to operate and programme
Elegant look
Durable and long-lasting
---
Cons
Self-cleaning technology may have several fall-offs
Who is this for
The coffee machine was designed for the newbies. Also, people who want to add a Jura coffee machine to their decor and are avid fans of cappuccinos and espressos can pick this model.
3. Jura E6
Jura E6 Automatic Coffee Center,1892.71...
Makes 6 specialty drinks including: cappuccino, Coffee, two...
Controls make it easy to find, customize and brew your...
Pulse extraction process brews Coffee with a full, rich...
Eight Coffee strength levels allow you to fine tune each...
The features of Jura E6 and E8 are almost similar, apart from a few super high-tech additions. This one is an automatic coffee machine that looks elegant. The model comes with the Aroma G3 grinder. Thus, the grinding of the coffee beans is extremely fast yet very quiet.
The grinder settings are available till level eight, where one stands for mildly ground and eighth for almost powered. The TFT display is clear and makes the operation simple and hassle-free. The machine comes with a physical button on the side dedicated to cappuccino, coffee, espresso, and milk foaming.
Key Features
Pre-brew aroma system
PEP technology
Milk texture setting
Smart connectivity
---
Pros
Elegant design
Customizable and savable settings
Wireless connection available
---
Cons
Entirely made from plastic
Doesn't support coffee capsules or pods
Limited number of drinking options
Who is this for
If you fall in the category of coffee lovers who aren't satisfied with a cup or two, then this coffee machine is for you. It may cost you a little high, but later, you will realize that it was worth the shot.
4. Jura E8
Jura E8 Automatic Coffee Machines 15271, 64Fl...
17 Programmed Specialties: The new Jura E8 Automatic Coffee...
Professional Aroma Grinder: The Professional Aroma Grinder...
Pulse Extraction Process: The Pulse Extraction Process...
2.8-Inch Display: A 2.8-inch color display, six buttons, and...
Made with state-of-the-art technology, this coffee machine has true and authentic attributes. It is equipped with a six-level Aroma G3 grinder that preserves the aroma of coffee. Jura has borrowed upgrades and features from some of the best baristas of the world to craft the Pulse Extraction Process (PEP).
This revolutionary technology helps optimize coffee bean extraction time. It also features the patented Fine Foam Technology that offers delicious, rich-tasting coffee with an adequate layer of feather-light milk foam. Furthermore, automatic filter detection is equipped with an advanced water system.
The upgraded version of the model has 16 drinking options, including americano, ristretto, latte macchiato, cappuccino, espresso macchiato, espresso doppio, and others. The model comes with a bean hopper of 9.9 oz capacity and can hold almost 63.6 oz of water at a time.
Key Features
Six-level aroma G3 grinder
Pulse extraction process
Fine foam technology
Intelligent pre brew aroma system
---
Pros
Easy-to-operate display
Ample of customization options
Easy maintenance
Elegant design
---
Cons
Lacks android or iOS connectivity
Who is this for
The primary reason that attracts buyers to the Jura E8 model is that it gives a perfectly brewed cup of coffee. The size of the E8 is compact and can fit in on small countertops. Thus, if your house doesn't have enough space, you can go with this machine.
5. Jura WE8
Jura 15145 Automatic Coffee Machine WE8,...
ONE TOUCH: Prepare 12 barista quality specialties including...
CONICAL BURR GRINDER: Fast and precise AromaG3 grinder...
ECO FRIENDLY: JURA is always freshly ground, not capsuled -...
OFFICE USE: Perfect machine for your workplace - ideal for...
This specific model allows you to prepare up to 12 barista-styled specialties, including espresso, americano, ristretto, latte macchiato, cappuccino, and more, just with one touch. The machine comprises an AromaG3 grinder that operates efficiently and quietly to grind whole beans to adequate fineness.
Along with automated attributes, this coffee machine has a 101-ounce water tank and a 17.6-ounce bean container. This model can brew straight for about 25 minutes before it requires basic cleaning. Integrated with IPBAS technology, it can prepare perfectly aromatic coffee beans for the extraction process.
The machine also has a milk foam feature for the ones who like creamy tops on their beverages. Apart from the predetermined adjustments for the beverages, it comes with a plethora of customizations as well.
Key Features
Pulse extraction process to optimize extraction time
One-touch function to make trend specialities
Customization for amount of ground coffee and water
Integrated rinsing and cleaning programs
Intelligent water system
---
Pros
Can use milk frother for multiple drinks simultaneously
Easy to program
Holds adequate amount of coffee and water
---
Cons
Occupies a good amount of space
The coffee spout space is far from the milk spout
Fingerprint impressions might be visibleOccupies a good amount of space
The coffee spout space is far from the milk spout
Fingerprint impressions might be visible
Who is this for
People looking for a model that supports both android and iOS devices can go with the Jura WE8 coffee machine. It is also ideal for galleries, upscale shops, small offices, boutique hotels, and business premises.
You might love to read: Best Latte Machines for Home
6. JURA S8
JURA S8 Automatic Coffee Machine, 64 ounces,...
ONE TOUCH: Prepare 15 barista quality specialties including...
PERFECT ESPRESSO: Ultimate coffee quality thanks to JURA's...
CONICAL BURR GRINDER: Fast and precise AromaG3 grinder...
ECO FRIENDLY: JURA is always freshly ground, not capsuled -...
With just a single touch, this coffee machine becomes capable enough to prepare up to 15 barista-style coffees, including espresso, flat white, and more. Courtesy of the Pulse Extraction Process by Jura, it offers ultimate coffee quality. This machine is also equipped with a precise and fast Aroma G3 grinder that grinds whole beans to precision.
In terms of capacity, it has a 64-ounce water tank and a 10-ounce bean container. Furthermore, it has 2x programs and other options for beverages. The machine also has an extremely intuitive interface. The TFT display is 4.3-inches high resolution and has complete touchscreen functionalities.
Key Features
Automatically grinds whole beans
One-touch preparation
Adjustable and programmable
---
Pros
Operation Instructions (OI) get displayed on the screen before preparing a beverage
OI advises the position where the dial should be based
Perfect milk quality
Manual transition
Easy to maintain and durable
---
Cons
All cup sizes might not accommodate
Lacks android or iOS connectivity
Who is this for
This machine is for the people who have dreamt of buying a Jura coffee machine but couldn't due to the high price range. Also, it is perfect for advanced coffee drinkers who want to experience the taste and aroma of the coffee consistently.
You might like to read: Best Cappuccino Machines for Home
7. Jura Z8
Jura Z8 Aluminum Automatic Espresso &...
RANGE OF BEVERAGES: 21 Specialty drink options
SIMPLE TO USE: Intuitive operation using 4.3" Touchscreen or...
CONVENIENT: One-Touch, Americano function for long coffees
TECHNOLOGY: Flavorful ristretto and espresso with P.E.P...
Manufactured with high-quality aluminum, the model comes with a 4.3-inches touchscreen display feature with easy-to-operate functionality with self-explanatory graphics. The machine has up to 21 varying drink options, including Caffe Barista, Latte, Espresso, Americano, Flat White, and others.
The machine has a rotary switch at the top right corner that can give two cups of coffee simultaneously. It also comes with programmable milk settings, meaning you can change the settings of milk texture as per the requirements.
Key Features
Driven by Pulse Extraction Process
One-touch Americano function
AromaG3 grinder
Fine foam technology frother
---
Pros
Connect through Bluetooth to the app
Delivers a quick to serve feature
Simple and easy to operate
Coffee customization and saving options available
---
Cons
Occupies more space at the counter
Needs more accessories to use all features
Who is this for
The coffee snobs who love trying varied options should definitely go for this model. The grinding feature and programmable milk texture aspects attract coffee lovers who prefer to drink the best brew instead of settling for a machine coffee experience.
Things to Consider When Buying A Jura Espresso Machine
The best-in-line products by Jura are reviewed above. Although all the important details are mentioned above, here are a few pointers that you should go through before making the purchase.
Before making the purchase, list down your requirements, the preferences of coffee can vastly vary, so it is crucial to understand the requirements. This will help you to shortlist the type of Jura machine. The coffee machines by Jura have a plethora of drinking options.
The size of the machine is equally important as the flavors. Jura automatic coffee machines turn off in regular intervals. Therefore, if the size isn't assessed, you won't utilize the coffee machine to the optimum.
Features and specifications
Jura machines have a variety of features. However, don't let the features mislead you into buying something that isn't best for you. It would be a wise purchase if you pick a machine in which you can use most of the aspects.
The newly launched Jura machines can brew your coffee in 40 secs or less. However, in old models, the time consumed in brewing was approximately 2 mins. Therefore, it is recommended to always select the newly launched models as they have upgraded features.
It is necessary to always check the ratings and reviews. The comments are always true and unbiased.
Most of the Jura machine offers a variety of preset drinks one can select for an automated process. Thus, have a check if it contains your favorite drinks when choosing a Jura coffee machine.
Jura has done a really good job as far as convenience and innovation. All of the machines have self-cleaning programs that avert scaling and other problems that are ordinary with coffee machines. You would have to ensure that you use the correct cleaning product. Thus, keep an eye on this requirement before buying a product.
Frequently Asked Questions
How durable are Jura coffee machines?

Jura machines are ideally quite durable. As per the user reviews, the coffee machines have a life of almost ten years. 

How often do Jura milk systems need replacement? 

Jura machines' milk pipes should be replaced within three months.

What makes Jura machines so expensive? 

The quality of the machine is undeniably brilliant. Also, the technology used in Jura machines is the latest and premium quality. All these factors make the machine cost more. 

What roast is best for Jura machines? 

While Jura machines can be used with any, we would suggest using medium-darker roasts.
Final Verdict
Jura machines have a stellar reputation in the market. The company has been holding the flagship of producing the best espresso machines across the world for almost nine decades. With its experience and expertise, the company will likely rule the market for the next nine decades. There is absolutely no comparison in quality and technology with Jura.
All of the Jura machines give the ultimate cafe-like experience. However, if the choice is among the best out of the best then, Jura Z8 and WE8 models will take the place of machines with the most features. If you are looking for a value for money Jura machine, the S8 model will fit in your box of requirements.