The Italian company Gaggia has been producing coffee machines for years now. They are a name of quality and when they launched their product Gaggia Brera, the expectations were high. It didn't take much time to establish that Brera is a fully-equipped and result-oriented automatic machine. It has a compact footprint to ensure that you get to save counter space while having a delicious cup of your favorite beverage every day.
You are searching for an automatic machine and that too within a reasonable budget – your search is over, Gaggia Brera is the answer to your search. It is easy to use, and easy on the eyes – a perfect espresso maker for home.
Glance on Gaggia Brera Super Espresso
Brera can be said as the most economical super automatic and that's why the product is so much success. It gives chance to so many owing a super espresso at the cost of a simple coffee machine. Though it doesn't contains all the features, but it does boasts the required ones. Before we get into details, let's have a look on it's features:
Features and Specifications
Dimensions : 15.5 x 10 x 11.5 in
Weight : 19 lbs
Programmable brewing
Front panel made of stainless steel
Front loading water reservoir for easy access
Removable brew group for easy cleaning
Pannarelo steam wand
Bypass doser to choose between whole beans and or ground coffee
Optimal extraction is assisted by a 15-bar pressure pump
Energy efficient, it goes to standby mode after 1-hour of inactivity
LED display that makes operating easy and lets you select your brew options
Installed rapid-steam technology
Frothing option for milk beverages
Grind can be adjusted
2 boilers used in the machine
It gives pre-cleaning notifications
Elegant Look
The front of the machine has a stainless-steel panel, giving GaggiaBrera a classy look. The design of the machine is compact enough that it takes less counter space.
Adjustable Grinding Option
To hold the fresh beans, an adjustable grinder is placed at the top of the holder. The grinding system installed is automatic and it adjusts itself to ensure that an optimal grind is achieved and a perfect cup is delivered.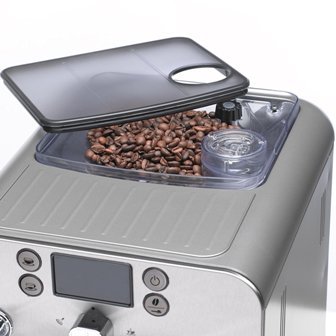 A smart feature like this surely distinguishes a brand from others since many machines are not able to reduce heat transfer and ensure grind consistency. There is always a big ask about aromatic and flavorful coffee, Brera is a machine that is up to the task.
Bypass Doser
The Gaggia Brera gives you the option of using the Bypass Doser; you can simply skip the grinding process and start brewing with pre-ground coffee.  It is a cool feature since you can experiment with your taste, plus you won't need two separate machines.
Steam Wand
A stainless steel Panarello steam wand is perfect for producing nice frothy milk for our beloved beverages such as cappuccinos, espresso macchiatos, and lattes. The steam wand can easily be swiveled right and left.
Water Filter
For any automatic espresso maker, a water filter plays an integral role in removing impurities that a tap water might contain. The use of Mavea water filter in Gaggina Brera makes it more desirable. The water is utterly filtered in a four-step process.
Pros
It is energy efficient, it goes to standby mode as soon as there is no activity for 60 minutes
The dispensing spout slides can be moved up and down so that mugs of various sizes can be accommodated. Plus, there is no splashing for small espresso shots or Ristretto
The bypass doser is a good feature that allows you to enjoy interim shots of various kinds of coffee grounds
It is easy to clean and maintain
The frothing of milk is done in an exceptional manner
Cons
It has a higher plastic-metal ratio
It makes noise while grinding, the noise is not much and definitely a lot better than many other machines out there
The small size of drip tray needs to be emptied and cleaned on frequent basis
No Timer 
Overall
There is not much to complain about the energy-efficient and user-friendly Gaggia Brera. It needed to make perfect coffee and this is where it scores high marks, it makes an impeccable cup of coffee.  So, if you looking for an automatic machine then Brera is undeniably a solid buy.
If you have some more budget or can spend more, consider looking for Titanium or Accademia by Gaggia which have more features and are already doing great at many homes and offices.
Recommended Reads
Gaggia Brera Rating
Design

Features

Brew Control

Built Quality
Summary
Brera is a budget espresso machine from the house of Gaggia, which has history creating great coffee machines.