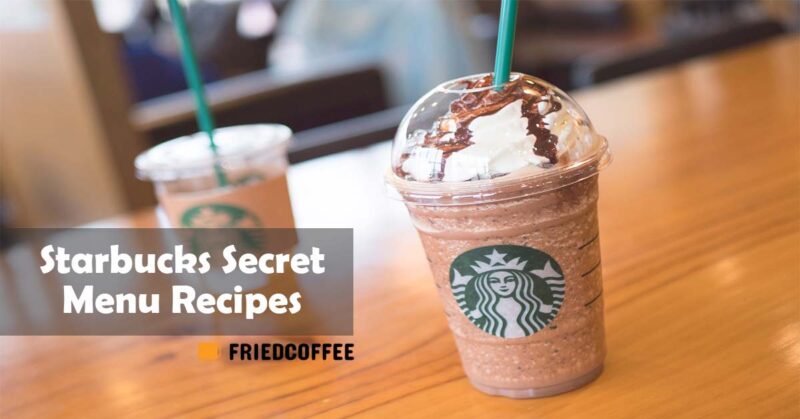 Forty-nine years ago three men came together in the city of Seattle to form an unlikely alliance. The result of it stands today as the largest coffeehouse chain in the world.
Starbucks has grown into a name almost synonymous with the little brown bean itself. Chances are, you've spotted a branch, or twenty, of the empire among the lanes of your city. If you haven't seen them in person, you've definitely caught sight of the famed Starbucks beverages paraded on social media sites.
Have you ever wondered how they come into being?
What are the magic ingredients and secret formulas that have managed to captivate the world for all these years?
Well, it's not a secret anymore. We're here to try our hand at re-creating some of the brand's big hitters, and give you the chance to attempt the same at home.
Starbucks Copycat Secret Recipes
Starbucks boasts of a drinks menu that is constantly evolving. They have a few faithful that have stuck around for eons. Added in are a few classical seasonal drinks that appear on the menu at the same time every year. They also have a secret menu that builds a lot of intrigue among fans of the franchise.
So tighten up those apron strings, and let's get ourselves caffeinated with these Starbucks Copycat Recipes.
1. Caramel Macchiato
A drink that balances out the bitter hit from a shot of espresso with just the right splash of caramel sweetness. Constructing it is going to make you feel like you're involved in creating a science experiment.
Requirements
A cup of milk – Try to stay away from whole fat milk for this recipe. 2 % milk should suit your needs fine
A vessel to warm milk
An Espresso machine or Moka pot
A milk frother. Either manual or electric
Espresso roast – Since you're trying to replicate a Starbucks creation, consider using a Starbucks Espresso Roast. You don't really need to be so specific, if you prefer another, any espresso roast should do
A tablespoon of Starbucks Vanilla Syrup – Again if you're not really bothered, you can use vanilla syrup of any brand you prefer
Your favorite coffee cup
Caramel Sauce to drizzle and decorate
The Secret Recipe
Prepare espresso – Start by preparing your espresso coffee. If you don't have an espresso machine at home to create the concoction, don't worry. You can use either a stovetop or electric macchinetta to get the work done.
Next, it's time to work the milk – Warm the milk up in a vessel. Then using any milk frother, whip up some delicious foam on a medium setting. If you don't have a frother, simply grab a whisk and use some good old manual labor to aerate the milk.
Pour vanilla syrup in your mug – Now get your favorite coffee glass/ mug out and pour in the tablespoon of Vanilla Syrup.
Pour milk – Next, pour the milk into your cup till it's three-quarters full. Follow that by adding in a layer of foam till it reaches the top.
Add espresso shot – Next carefully pour in that espresso shot you brewed at the start.
Notice when you do, it's going to leave a mark on the foam. It is from this step, that the drink gets its name. The Macchiato in a Caramel Macchiato stands for 'marked' when translated from Italian.
Sprinkle caramel sauce – Finish off by sprinkling some of that drool-worthy caramel sauce on top.
Be as generous as your conscience will allow. Sit back and enjoy.
P.S. If you feel like enjoying this drink on a hot summer day, you can drink it chilled too.
Follow the exact same steps, simply do not warm the milk up before you begin to froth.
2. Starbucks Pumpkin Spiced Latte
A seasonal entry in the Starbucks menu, the pumpkin spice latte Is a long-standing favorite. It has been described as Fall in a cup by Starbucks patrons. Allow yourself to Indulge in this coffee with a spicy kick that is sure to warm you up and have you rearing to go.
The Requirements
A Saucepan
Spoon of whisk for stirring
1 cup milk
1 Tablespoon pumpkin puree (which is basically roasted pumpkin that had a ride in the blender)
Half a teaspoon pumpkin spice
This is made by mixing 2 teaspoons of cinnamon, ¼ teaspoon grated ginger, ⅛ teaspoon nutmeg, 1/4th teaspoon ground cloves, and ½ a teaspoon of allspice.
1 teaspoon vanilla syrup
1 ½ tablespoons sugar. Brown, white, or any other variety, the choice is up to you
1-2 Espresso shots
Whipped Cream
A Coffee cup of Glass
Step by Step Recipe
First things first, brew yourself some coffee.
Depending on how strong your preference at the time is, brew one or two shots of espresso using whatever tools or appliances you have at home.
If you don't have an espresso blend, this recipe works well with instant coffee too.
Grab a saucepan and place it on the stove.
Add in the brewed coffee, pumpkin puree, vanilla syrup, milk, sugar, and pumpkin spice.
Set the stove on medium heat and slowly stir the ingredients together.
Pour it out into your favorite cup and pipe some delicious whipped cream on top.
Finish off by sprinkling a few flakes of pumpkin spice on the cream.
Sit back, sip your drink and enjoy.
3. S'Mores Frappuccino
Nothing personifies camping and bonfires quite like some sinful smores. If you've never had the chance, or choose not to experience the outdoors; consider constructing Starbucks's bonfire twist to their classic Frappuccino. Whip up a bunch of these so you can involve a lot more people in this wicked pleasure.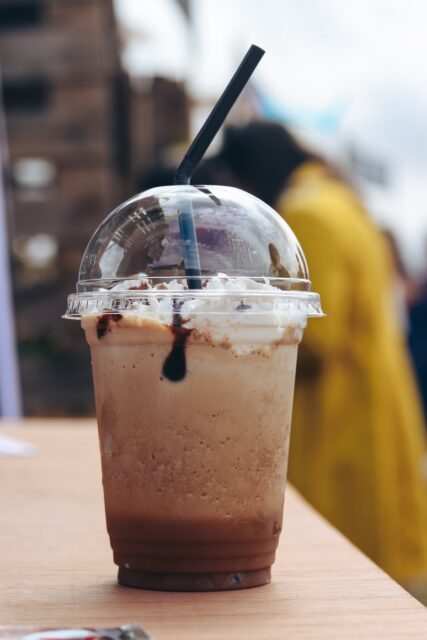 The Requirements
Half a cup of milk
Three-quarters of a cup of Ice Cubes
Half a tablespoon of cocoa powder
For a slightly milder flavor, try to get your hands on dutch processed cocoa powder and not natural)
Espresso roast
You can go with the Starbucks variation of an Espresso Roast to be more authentic and stick to the flavor profile, or choose any other that you prefer.
Espresso machine or Moka pot
Whipped cream
One tablespoon of chocolate sauce of any brand that tempts your tastebuds
Graham cracker crumbs
Three tablespoons marshmallow topping
A glass to serve
The Recipe
Get things going by first starting on your espresso coffee. Use either an espresso machine or Moka pot to create your caffeinated drink. Brew one or two shots depending on how strong your preference is.
Once that is done, grab your Nutri blender.
If you do not have one residing in your house, grab any other blender or food processor you can get your hands on.
Place the milk, ice cubes, cocoa powder, espresso, chocolate sauce, and marshmallow topping inside. Make sure the lid is closed properly and blends away. Keep blending till you can't hear the clunky pieces of ice moving around anymore.
Once that is done, grab your cup and pour in all the contents from the blender.
Top that off with some delicious whipped cream.
Wash the blender out and dry it well.  Add in the graham crackers and run the blender till you're happy with the size of the grind.
If you want bigger chunks, ditch the machine and simply crunch the crackers with your hands.
Sprinkle the Graham cracker crumbs on top of the cream.
Sit back, sip your drink and enjoy.
4. Salted Caramel Hot Chocolate
Nothing warms up a cold winter's day quite like the steaming comfort that can be found in a hot chocolate. Throw some salted caramel in the mix, and everything is better in the world. Its the perfect fix for those mid-day blues when you need a pick me up and also something to help you power through the rest your chores.
The Requirements
A saucepan
1 cup Milk
Preferably full cream
Spoon or whisk for stirring
Chopped up dark chocolate
Choose anything between 50 – 75 %dark depending on your tastes.
2 tablespoons of salted caramel sauce
Whipped cream
A Coffee mug or cup
The Secret Recipe
Let's get started. First set the saucepan on the stove to medium heat.
Add the milk, pieces of chocolate, and the salted caramel sauce.
The trick to treating yourself to a rich thick hot chocolate is allowing it to remain on the heat for between 2-3 minutes while continuously stirring.
Take it out and pour it into your mug.
Top that off with a generous serving of whipped cream.
Lastly, drizzle some salted caramel sauce on top of that for decoration and added delight.
5. Pink Drink
If you haven't heard of the legendary Starbucks pink drink, chances are you've been living under a rock, or at the very least, very far away from social media. Every summer this refreshing drink arrives through their secret menu into the online feed of every Starbucks lover around. This summer you make it yourself and see what the whole hype is about.
The Requirements
3/4th cup cold water
Glass vessel or Jug
A cup of strawberries.
Fresh strawberries are best if you can get your hands on them. If not frozen work as well.
1 packet of Starbucks instant refreshers very berry hibiscus powder.
A glass
Spoon to stir
Tazo iced passion herbal tea
Ice cubes
Unsweetened coconut milk
Your favorite coffee cup or glass to enjoy your drink in
The Recipe
Start by slicing up some strawberries as thick or thin as you like.
Fill a glass up three-quarters full with some cold water and pour in the packet of Starbucks instant refreshers very berry hibiscus powder. Stir till it has dissolved.
Fill in the remaining glass with the Tazo iced passion herbal tea and mix them together.
Next, grab your favorite coffee cup and pop some cubes of ice in.
Pour in the mixture you just created till the cup is slightly less than half full.
Place the sliced strawberries into the cup. However many you want.
Fill the rest of the cup up by pouring in the chilled unsweetened coconut milk.
Lastly, stir everything in well, Sit back, sip your drink and enjoy.
6. Starbucks Iced Coffee Lemonade
Who doesn't like a glass of refreshing lemonade to bring a bit of that extra jazz to a tiring day? Add in a dollop of coffee and you can stride your way into any surprises the day might bring. It's a take many have never thought to try.
Well… Here's your chance.
Requirements
Fresh juicy lemons
Water
A knife
A lemon juicer
A cup of double-strength coffee
A shot of sparkling water
Sugar
A Saucepan
A spoon
Glass vessel
Coffee cup
Step by Step Recipe
Set your saucepan filled with water and sugar on a medium flame. Stir the concoction until the sugar dissolves to create a syrup. Then set it aside to cool.
Freshly brew your double-strength coffee using either a French press or any other pour-over or steeping method.
Slice your lemons in half and use a juicer to squeeze out all their delicious juice.
Grab your glass vessel and mix in the syrup, lemon juice, and some water with a spoon.
Next, take a hold of your favorite coffee cup or glass and fill it up with ice.
Pour in the freshly brewed coffee and lemonade to fill out two-thirds of the glass.
Fill the rest up with the shot of sparkling water to add that special zing.
Finally, drop your straw in, sit back, sip your drink and enjoy.
At the end of the day
How many times have you spotted a great-looking dish, or drink and thought to yourself… "I can totally make that at home for less than half the price."
When it comes down to the execution though, chances are you've left your kitchen resembling a war zone on more than one occasion.
Well, now you've got a map. So bring home the necessary ammunition mentioned and execute your battle plan.
Treat yourself to Starbucks copycat delights from their secret recipe menu at the comfort of your home, and shock your relatives and guests into believing you're better than a barista.