Why Go to Starbucks?
Starbucks is arguably the most successful coffee company in the world, and a part of daily life in most American cities. This chain has given rise to the current coffee culture in the country, and changed how Americans think about coffee. How has Starbucks managed to become a national icon and why people love Starbucks so much?
#1

The Coffee Itself
Starbucks opened its first shop in 1971, and started expanding outside the Seattle area in 1987. At that time, coffee connoisseurs were rare in the US, and espresso was seldom found outside of Italian restaurants. At diners and donuts shops across the country, people drank generic, mass-produced and often weakly brewed coffee.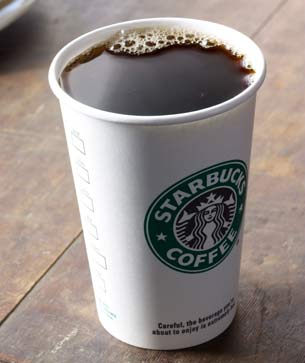 A generation of Americans has grown up with Starbucks as the better alternative to their grandparents' coffee. Food critics aren't big fans of Starbucks' over-roasted beans – in fact, in blind taste-tests most people prefer McDonald's – but the coffee is a definite improvement on what was standard before. It's good enough, and that's good enough for most people.
#2

 The Specialty Drinks
For many customers, it's all about the Caramel Latte Granita, or the Frappuccino or Pumpkin Pie Latte. It has to be said that the excessive roasting gives the espresso shots a flavor that works well with these sweet concoctions. These drinks are so popular that other coffee chains have had to introduce similar products in order to compete.
Just be aware that some of these drinks can top 500 calories if you order the "venti" size, and more if you add whipped cream.
#3

The Brand, A Majorr Reason As Why People Love Starbucks
Above all, Starbucks has successfully branded itself as a little bit of luxury that almost everyone can afford. With its Italianized names, it's inviting décor, and even its unreasonably high prices, Starbucks feels like an indulgence or a reward. It's easier to drag yourself to work on a Monday morning when you treat yourself to your favorite latte on the way. Many studies have shown that our enjoyment of foods and drinks, even our perception of how they taste, is enhanced by branding and clever packaging.
#4

 The "Third Place"
The rise of Starbucks has happened in parallel with some big changes in how people live, work and interact. Urban planners speak of a "third place" which is neither home nor work, but a neutral community space where people can meet on an equal footing. A cup of coffee may cost more at Starbucks than at McDonalds, but you're also paying rent on a pleasant, inviting living room where you can stay for a while and meet with friends or work colleagues. With the rise of the Internet, more people are working from home, and what better way to deal with the isolation than to spend part of your day working from a coffee shop? Free Wi-Fi is another secret to Starbucks' success.
In a country where the coffee choices used to be limited to "Regular or Sanka," Starbucks has forever changed the way people consume coffee. You can find their cafés in most urban neighborhoods and even in many cities when you travel abroad. With its blend of luxury and familiarity, and with the popularity of its signature drinks, it's no wonder that Starbucks dominates the American coffee landscape.
#5

The Starbucks Store

Apart from providing a good ambiance and coffee, the brand also has an array of things to offer in the cafe and this might also be the reason as of why people love Starbucks. One can also prepare coffee like them at home with a host of products by Starbucks. From Coffee beans to Coffee Makers; from Cups to Tumblr, they sell many things to keep their customers engaged. Few of their popular products are:

Starbucks Verismo Coffee Maker

This is a favorite among many customers of Starbucks. It helps you perpare few of the delicious drinks by Starbucks at home. This is a Single Serve Pod Machine, so no worries of much cleaning and maintenance. It has height adjustable drip tray, quickly removable water tank and auto off function. The machine heats up merely in 15 seconds and that is quick.

Starbucks Italian Roast

Another marvellous product by the brand is the Italian Roast Coffee. This is 100% Arabica coffee micro grounded, that can just be prepared by adding a cup of hot water.

Starbucks Venti Insulated Travel Tumbler

If you are a travelholic or have less time to sit, than you are going to like this product. This is an insulated clear Travel Tumbler by Starbucks. It's refreshed design keeps you coffee visible.

There are many more products by Starbucks and you can have a look on them by clicking here.

At the end, we would like to say that Starbucks actually provides a great atmosphere and services to meet and enjoy with your loved ones and that is what the reason behind Why People Love Starbucks.

(You might also like to know about Rising Starbucks Culture in India)

Summary
Article Name
Why People Love Starbucks
Description
Starbucks is arguably the most successful coffee company in the world, and a part of daily life in most American cities.
Author
Publisher Name