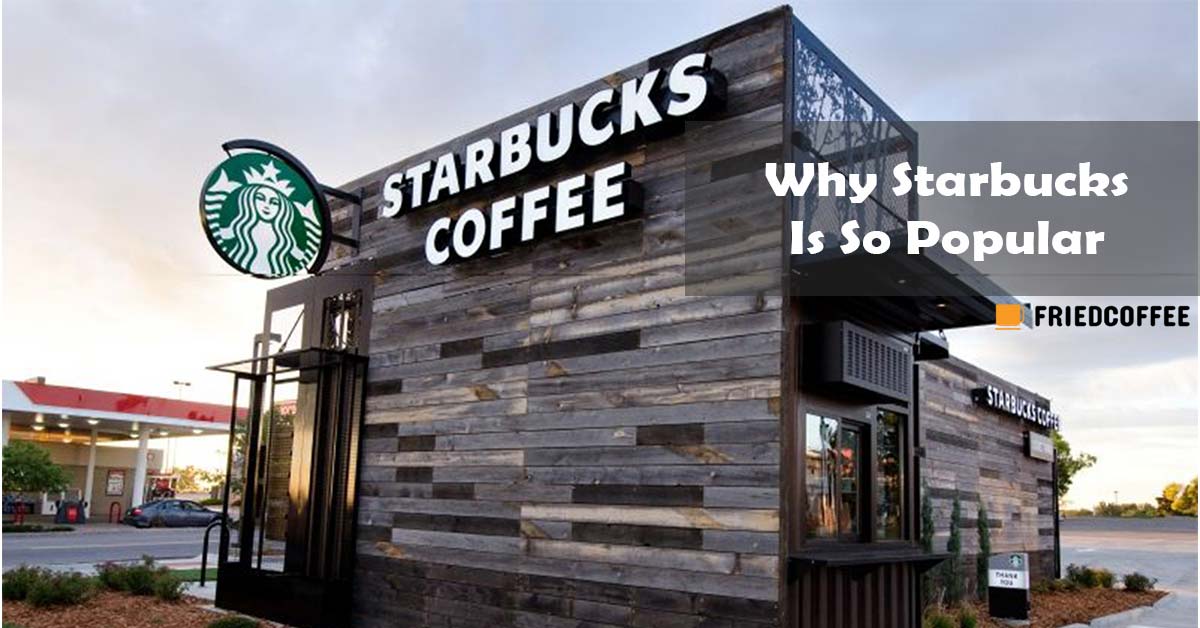 Seattle Washington-based coffee retailer and coffee bean roasting brand Starbucks Coffee is arguably the most successful coffee chain in the world. This American-born coffee brand has become so popular it is literally a part of daily life for many people living in the cities and suburbs.
This popular coffee chain has given rise to the current coffee culture in the country and changed how Americans think about coffee. In this article, we will try to answer the following questions:
Why Is Starbucks So Popular?

What Is Starbucks Known For?

Why do People like Starbucks?
The above questions are more or less related to each other and the answers or the reasons are merely the same. In this article, we are going to cover the basic run-down of what Starbucks did and continues to do to maintain its popularity for the long term so that people become fans and always love them.
Why is Starbucks so Popular
Here we go… Let's jump right in with some of the primary reasons for what may provide some serious justification for Why Starbucks is so popular. We have done some extensive research and pulled data from various resources to help bring some perspective on the popularity of the Starbucks Coffee brand. We even collected data via social media platforms and consumer feedback given from people who regularly visit Starbucks for their dose of caffeine or, as we will soon learn, some of Starbucks' many other products or shopping experiences they provide. So let's dive in and discover what makes Starbucks one of the most popular Coffee Retail Brands in the world.
1. The Coffee Itself
Starbucks opened its first shop in 1971 and started expanding outside the Seattle area in 1987. At that time, coffee connoisseurs were rare in the US, and espresso was seldom found outside of Italian restaurants. Very few people even knew the difference between espresso and coffee. At cafés, diners, and donuts shops across the country, people drank generic, mass-produced, and often weakly brewed coffee. With the introduction of the Starbucks brand across the nation, this was soon about to change dramatically.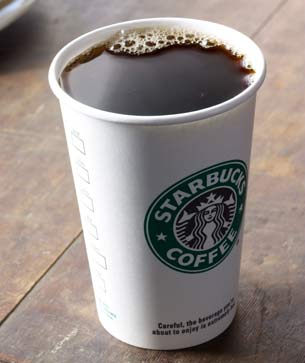 Multiple generations of Americans have now grown up with Starbucks as a better alternative to their grandparents' coffee. Food critics aren't big fans of Starbucks' coffee, claiming imperfect taste due to over-roasted beans – in fact, in blind taste tests most people actually preferred McDonald's – but the coffee is a definite improvement on what was standard before. It's good enough, and that's good enough for most people. However, where Starbucks outshines the competition is in its very wide range of menu items and diversified coffee beverages that get the public so buzzing over Starbucks Coffee.
We have seen people often comparing Dunkin Donuts with Starbucks, and that's because they both offer some good coffee. Even still, the variety and ambiance of Starbucks win over coffee lovers more often than not.
2. Popular Specialty Drinks
For many customers, it's all about the Caramel Latte, or the Frappuccino, or in the fall, the Pumpkin Pie Latte. It has to be said that excessive roasting gives the espresso shots a flavor that works well with these sweet concoctions creating the right balance of flavors for each of Starbucks ' premium specialty coffee drinks. These drinks are so popular that other coffee chains have had to introduce similar products in order to compete.
Just be aware that some of these drinks can top 500 calories if you order the "venti" size, and more if you add whipped cream. After Covid has hit the industry, many people have tried avoiding going inside to follow social distancing. Which has made the Starbucks stores with drive-thrus heavily trafficked, with some very long lines of cars waiting for their Starbucks fix. So, if you are carving for these specialty drinks, we have some secret recipes by Starbucks to try at home so you can avoid the line. Speaking of secret recipes, true Starbucks coffee fans are well aware of their extensive "Secret Menu" filled with variations of concoctions typically found on their regular menu, which may provide a twist on your favorite Starbucks drinks if you know what to ask for. Another crowd-pleasing perk of this top-rated coffee chain.
3. The Brand – Major Reason Why People Love Starbucks
Above all, Starbucks has successfully branded itself as a little bit of luxury that almost everyone can afford. With its Italianized beverage names, its inviting décor, and even some of its unreasonably high prices, Starbucks feels like an indulgence or a reward. One that happens to be conveniently located, well pretty much everywhere. It's easier to drag yourself to work on a Monday morning when you treat yourself to your favorite latte on the way. Many studies have shown that our enjoyment of foods and drinks, even our perception of how they taste, is enhanced by branding and clever packaging.
4. The "Third Place"
The rise of Starbucks has happened in parallel with some big changes in how people live, work and interact. Urban planners speak of a "third place" which is neither home nor work, but a neutral community space where people can meet on an equal footing. A cup of coffee may cost more at Starbucks than at McDonald's, but you're also paying rent on a pleasant, inviting living room where you can stay for a while and meet with friends or work colleagues. From a design and branding perspective, what Starbucks does is rather brilliant in fact.
In a country where the coffee choices used to be limited to "Regular or Decaf", Starbucks has forever changed the way people consume coffee. Long gone are the days of Sanka and Folgers. You can find Starbucks cafés in most urban neighborhoods, shopping malls, and in many cities even when you travel abroad.
5. Social Media Presence
On social media platforms like Facebook, Pinterest, and Twitter, Starbucks has a high number of coffee lovers who are loyal to their brand. Their followers are people who visit both their social feeds and their retail stores regularly. They have a very high number of followers on these platforms and they do take those followers seriously. Their promotions follow a one-on-one principle which means, you have promotions specifically targeting your interests! This results in higher engagements, conversions, and returning happy customers.
6. The Starbucks App
The mobile app by Starbucks was launched in 2011 to provide another level of hassle-free experience to their regular customers.
This app allows you to order, pay, and pick up the drinks without waiting for them in the long queues. Just simply order your favorite drink from the app and it will tell you when your order is ready for pickup. You can even order using the app while you leave your home or office and by the time you reach the store, your drink will be ready. Talk about Easy and Convenient!
7. Popular Celebrities + Starbucks
This popular and very hip coffee retailer can be frequently found with celebrities' enjoying their day out as well as their favorite Starbucks beverage of choice! These celebs often post their experience of Starbucks or simply post selfies on their social media pages resulting in high engagement further increasing the brand's popularity.
This sharing of Starbucks on social media by celebs is nothing other than magic for the brand and that is why Starbucks isn't known for collaborating with celebrities for advertisements as many are already promoting them without asking. Frankly speaking, celebs have made Starbucks into something of a status symbol.
8. The Ambiance
With the rise of the Internet, more people are working from home, and what better way to deal with the isolation than to spend part of your day working from a coffee shop? Free high-speed Wi-Fi, in a lounge-like atmosphere, fresh with the aromas of freshly brewed coffee, is another secret to Starbucks' success.
The ambiance they provide is not disturbing and is a perfect place for meeting people or working for a while. With its blend of luxury and familiarity, and with the popularity of its signature drinks, it's no wonder that Starbucks dominates the American retail coffee landscape.
9. The Starbucks Store
Apart from providing a good ambiance and coffee, the brand also has an array of things to offer in the cafe and this might also be the reason why people love Starbucks. One can also prepare coffee like them at home with a host of products by Starbucks. From Coffee beans to Coffee Makers; Coffee Cups to some of the best Coffee thermos, they sell many things to keep their customers engaged.
The Social media presence of Starbucks is solid, and they often leverage this app to provide users with amazing deals and discounts on the various items they sell in their store locations. The social media team behind this tries to take care of each customer and that brings them a lot of repeat business that become loyal customers for life.
The Popular Starbucks Products
Starbucks, along with its amazing café experiences also provides coffee consumers with a great shopping experience for the roasted bean-loving people of the world. As a brand, Starbucks has fully developed a product development strategy that provides a diverse enough range of product offerings to provide shoppers with everything they would need. The people visiting there just can't resist it, some of them will wait to buy new product releases each year, as they come out.
Starbucks Verismo Coffee Maker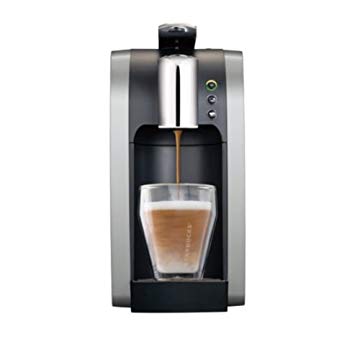 The Starbucks Verismo is a favorite among many regular customers of Starbucks. It helps you prepare a few of the delicious drinks by Starbucks easily at home. This coffee machine is meant for hassle-free espresso shots or cappuccino and lattes and doesn't need much cleaning or maintenance. The unit has a height-adjustable drip tray, a quickly removable water tank, and an auto-off function. The heat-up time is merely 15 seconds which is very fast compared to other machines in a similar category. Most of the people who regularly visit Starbucks, at some point, buy the Verismo coffee machine just to be able to recreate the Starbucks coffee experience at home.
Starbucks Italian Roast Coffee
Another marvelous product by the brand is the Italian Roast Coffee. This is 100% Arabica coffee micro grounded, that can just be prepared by adding a cup of hot water. It's an intense coffee with deep notes of carnalized sugar. It has a fuller body and you would be amazed at its bold taste. The coffee is roasted just below the smoky edge of French roast to reach a balance between intensity and sweetness.
You can even explore more flavors by Starbucks that can fancy you. If you have a Keurig, you can even hunt for some amazing variants of K-cups by Starbucks, in our other article which details all of the best deals for instance.
New York City Mug – Special Edition
Their collection contains some of the best coffee mugs, which are irresistible. If it's your first visit, you'll for sure come out with their accessories that may include a mug or double-walled beverage container at the top of the list.
One of their most sold design is the New York City coffee mug shown in the photo. It pictures many famous landmarks that the place is all about that including the Empire State Building, the Brooklyn Bridge, and Central Park. This Starbucks Mug holds 14 oz. coffee and is dishwasher and microwave safe.
Some fans of Starbucks know that each Starbucks store in each city often has mugs that are exclusive to the local area, region, or landmarks. Often they will buy a mug in different places they travel as souvenirs.
Starbucks Venti Insulated Travel Tumbler
If you are a travelholic or your legs just can't stay in one place; you are going to love this Venti Tumbler. This one is a double wall insulated clear Travel Tumbler by Starbucks for cold-brewed coffee or other cold drinks. These have become one of the hottest selling non-beverage/food products by far. Its design keeps your coffee visible and cold. There are many other tumblers to choose from which are updated with time, but this one is rare and is often out of stock in the stores. Most of the people who visit Starbucks have one of these, especially in warmer climates. You can spot many people walking out of the store holding this tumbler filled with iced tea or cold-brewed coffee as a refill.
Nespresso capsules by Starbucks
The brand also launched capsules to make Starbucks-infused drinks at home in collaboration with the brand Nespresso which really got hit. They are now among the best Nespresso capsules in demand and are loved by coffee drinkers to get the Starbucks experience at home. They are available as sleeves of 10 capsules and around 6 variations namely House blend, Colombia, Blonde, Caffe Verona, Pike Place, and Espresso roast. The intensity level varies from 6 to 11 which covers most of the taste buds. These capsules are available for Original line machines as well as now for Vertuo also. Apart from Starbucks, one can buy these capsules at other retailers also like Walmart, Bed Bath and Beyond, Target, and Macy's.
Starbucks DoubleShot, Espresso + Cream light
Another thing to try at home is the DoubleShot Espresso with Cream. If you are health-conscious, you'll feel good to know that it has 45% fewer calories than the same drink provided by the restaurant. So packaged product is a better one to go for and you can have it at your convenience.
FAQs
Why is Starbucks so famous?

The brand got immense popularity because of the ambiance it provides to relax and relieve stress, people just fall in love with that culture. People never experienced the coffee shops like Starbucks before as how they can sit and enjoy coffee without much time restriction, even more with free Wi-Fi facility. It has been now a hub for many celebrities growing in the popularity of Starbucks.

Why is Starbucks so successful?

Starbucks is a name that stands in front when we talk about cafes. It's actually not the taste of coffee that puts it to the top but rather the quick service, easy ambiance, and the culture it brings to people.

Is Starbucks coffee high quality?

This question has different opinions throughout the world. For coffee aficionados, the coffee is of questionable quality but when we talk about the common people who like to drink simple and are not coffee freaks don't question the coffee quality.
So we can say that the coffee is at par, but there is scope for improvement. Since it's a chain business and they have to balance between the expenses and services, so there might come some effect.

Why is Starbucks coffee bitter in taste?

You will notice that the drinks by Starbucks are strong with a burnt-bitter taste. This is because they are trained to dark roast the coffee beans at a higher temperature to output large quantities of coffee beans in a short interval of time.

Why is Starbucks so addictive?

It's actually the caffeine in coffee that is addictive. If you don't like caffeine, you can have decaf drinks available on the menu. Other than that, the ambiance is so good, that it can too be addictive.
In The End
In conclusion, we would like to say that Starbucks provides both a great atmosphere and outstanding services. Starbucks also provides an excellent environment to meet and spend time with colleagues, co-workers, friends, or loved ones. The above were some of the major reasons Why People Love Starbucks so much and why it has gained so much popularity in the hearts of coffee lovers worldwide. Starbucks since its inception has changed how people drink coffee in a coffee shop.
After all, people on this earth are eager for Happy moments in their life! Starbucks certainly has become a part of many lives. Some may say that Starbucks has played a role in some of their most cherished moments each holiday season with every new year that they release amazing new coffee treats and seasonal favorites. Although some may have a different opinion, it is true, Starbucks is one of the most popular retail coffee brands for many valid reasons as we soon learned during our research.