For those who can't live without a cup of coffee in the morning, a home coffee station is something that they really need. The National Coffee Association states that 64% of Americans drink coffee every day. Interestingly, 79% of people consuming coffee on a daily basis brew it at home. If you still waste your precious time visiting Starbucks to get a fresh cup of coffee, consider the pros of making coffee in your own coffee space.
First of all, it's much cheaper. People spend on average $300 a month on buying coffee at a cafe. Just imagine, it's nearly $3600 per year! With a home coffee station, you can put aside such a big amount of money and buy something really significant.
Another advantage of a home coffee station is that it allows you to be creative. You can experiment with tastes, techniques, and decorations. Use your imagination and make a cup of coffee that perfectly fits your mood. Whether you need a strong drink or a sweet one with cream, you can make it according to your liking.
Besides, brewing a cup of flavored coffee can be your morning ritual. It could be a thing that tunes a positive mood at the very beginning of the day. You don't need to rush, just stay in pajamas and enjoy the process of brewing coffee in your beautiful home bar.
Where to get Home Coffee Station Ideas
Many resources are offering various solutions for a home coffee station. Probably, the biggest platform with creative ideas is Pinterest. You can find thousands of suggestions on how to decorate your space there. Just type in what kind of design you need and choose the one that matches your wishes and budget. But if you don't want to waste a lot of time scrolling tons of images, look at the best options that we found for you there!
Everything you need to implement these ideas in real life is to carve out some room in your kitchen. And even if you have a tiny kitchen, it's not a problem, as a coffee station doesn't require much space. It can be placed in empty cabinets, on countertops, or moving bar carts. Mobile kitchen carts allow you to put a station where you need it, which is especially helpful when you invite guests or throw a party.
General Tips for a Home Coffee Station
Just placing hi-tech coffee gear is not enough to create a beautiful space. To make your coffee corner look attractive, use some decorative items like jars, baskets, or flowers. You can fill a jar with cinnamon, cookies, brown sugar, or chocolate. Jars will make your corner look neat instead of messy and cluttered.
If you want to clear counter space and create some authentic coffee shop atmosphere, you could hang your mugs and place an accessory holder. Choose an organizer that can hold napkins, spoons, stirrers to create a highly functional corner.
Add your favorite mugs to create a positive mood each time you come up to your station. It would be great if your mugs fit in the color palette of other details. It also looks beautiful when there are coffee beans put on display. They can serve as a special accessory that gives the vibe of a coffee shop to your home.
Another thing that can make your coffee space cozy is a book. Have you noticed that many coffee houses expose some books or magazines for visitors? Probably they do so as there is nothing better than enjoying a cup of coffee with an exciting novel. A small book will add an accent to your station and create a real coffeehouse feel.
What's more, you can set a nice Bluetooth speaker in your home coffee bar. Your favorite music jams will create a special atmosphere associated with the best coffee shops you've visited. A stylish speaker can also be a decorative item for your corner.
How to Set up a Home Coffee Bar Step-by-Step?
Find a perfect location

-The first step in creating a coffee station is to choose a location. Don't think that any spare corner will fit this purpose. It's essential to find a place where you can place a coffee machine as well as store all the necessary items for making coffee. What's more, the location must allow easy access to the sink, trash, and outlets. It would be perfect if you could find a space next to an empty wall, so you can either use it as storage with shelves or just decorate it. And remember that you will need some empty counter space to brew your coffee.
Gather all supplies needed – Depending on the way you make your coffee, you'll probably need some appliances except a coffee machine. Maybe, you need a milk frother, a coffee grinder, or even an electric kettle in case you want to make tea before sleep. Think properly about what you want to have in your coffee bar and arrange it creatively. Devote some time to choose stylish mugs, napkins, and jars to make your coffee space a unique place. You may also add a decorative tray, cute baskets, and a vase with flowers. Make your station a point where you'll enjoy having a cup of coffee.

Add fun decorations

– Don't forget about decorative accents! Use your imagination to choose the details that will be a good fit for your space. They may be a fun coffee sign or a cute plant. You can also hang a chalkboard to write special coffee recipes on it. Don't limit yourself to ordinary decorations.
Few Coffee Station Ideas To Inspire
A Small Invisible Coffee Cabinet
This variation of a coffee station is a perfect fit for those who want to save space in their kitchen. If you have an empty cabinet, why not use it for creating a beautiful and functional space? Transforming a cupboard into a coffee bar is easy if you have small accessories to add. Use marshmallows, small cups, and beautiful baskets to decorate it. Having a secret cabinet will surprise your guests and make your kitchen a welcoming place.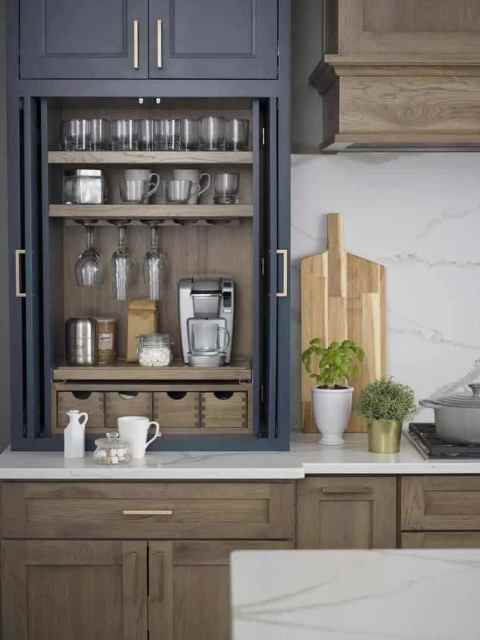 Themed Coffee Bar
Setting a theme for a coffee station is a great idea for the holidays. Whether it's a Halloween, Christmas, or Easter, you can decorate your space according to the occasion. It will add some magic to ordinary things and make daily routines more beautiful. Moreover, if you a fan of some TV shows or movies, you can bring a part of it to your home. Just imagine that your coffee cabinet can be turned into a mysterious Narnia. You can implement any original ideas that come to your mind and create unique space that reminds you of what you love every morning.
Glamorous Coffee Space
Most girls would definitely love this kind of coffee station. Add some shiny details and pinky colors to create a lovely corner for making coffee. A vase with flowers, decorative crystals, and cute napkins are also good supplements to your glamorous bar. The glamorous style will always be in fashion!
Luxury Style Bar
You can make a luxurious place for brewing coffee if you create a clean space and keep out of sight all non-coffee related things, like cans or packages. It would be even better if you add a built-in refrigerator to your coffee station as it hides all the stuff that may look messy. Put their milk, cream, chocolates, and other foods to keep your luxury home bar uncluttered. Use an accessory holder and choose beautiful ceramic mugs to create a sophisticated space. A luxury coffee bar will be attractive adding to your home design!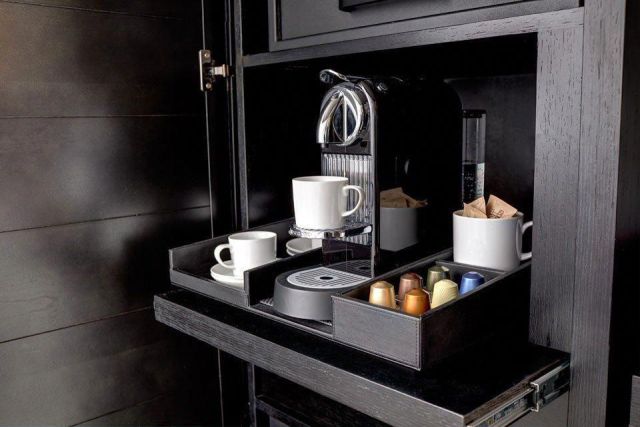 Coffee Cart
Using a cart can be a great solution for your home coffee station, as it's mobile and doesn't need much space. It helps you to save room and gives an airy feel in your kitchen. Put all your supplies for making coffee in one place and keep them organized. Best of all, you can move your home coffee bar to any place you need. This idea is really worth using, as it's a highly functional and mobile option.
Minimalistic Coffee Corner
Fans of minimalism will be happy to create a clean and clutter-free space. All you need is a small coffee machine and a few essential things like mugs, spoons, and jars. Nothing more to add to keep your space airy and mind clear. Remember that the essential element of minimalism is simple beauty!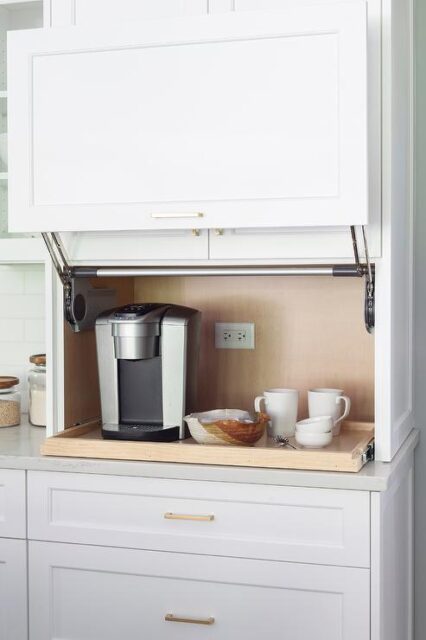 Dark Coffee Space
For those who find dark colors attractive, it would be a great option to fill the space with black cups and steel coffee pots. You could also place dark furniture, like a table with drawers, or a cupboard or maybe shelves. In case your home design consists of light colors, it will add some contrast. Dark accents will make the space look extravagant. Don't hesitate to experiment with black colors!
If you think that the Scandinavian style resonates with your mood, you can create a Scandinavian corner in your kitchen. It's not that difficult to do if you've read about minimalism above. Clean lines, functionality, neutral colors with pops of black are the essential elements of the Scandinavian design. Add them to your coffee space and enjoy the Scandi atmosphere while having a cup of flavored coffee in the morning.
Bright Accents
If you don't want your design to look dull, incorporate some bright colors into your home coffee station by adding colorful furniture or painting a piece of the wall near it. Remember about the perfect ratio of 60/30/10 which means that the accent color should take 60 percent of the surface, while 30 percent of it must be taken by a secondary color and 10 percent by a shade. Don't be afraid to take a paintbrush and touch a wall to add accent colors. This will create a happy mood in your coffee space and make it a special point in your home.
In case you are not ready to paint the walls, you can add colorful touches by putting bright mugs, containers, or decorations. You can use pictures, signs, or paper butterflies as decorative items. But remember that the most important is to make your space practical and highly functional, so don't add too much decor.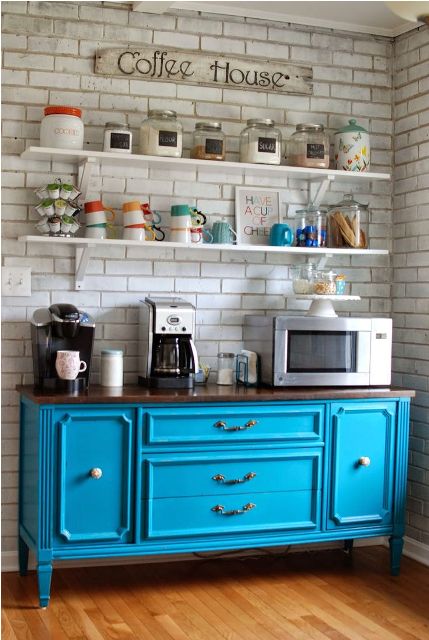 Chalk Corner
Setting a chalkboard will create a charming coffeehouse atmosphere in your kitchen. Hang it up to warm up your space and use it for leaving cute morning messages to your loved ones. You can also start your day by drawing simple images while brewing coffee. Isn't it creative? Chalk corner is the easiest way to feel coffee shop vibes in your kitchen.
Farmhouse Station
If you enjoy spending time in the countryside, bring a piece of it to your kitchen. You can hang wooden shelves with labeled jars and put wildflowers into a vase to create a farmhouse coffee station. Make it cozy by placing doilies under the mugs and brew your morning drink in a sweet country atmosphere. This type of coffee space looks really inspirational!
Elegant Space for Coffee
Silver, grey, and white are the colors that must be used to add elegance to your home coffee bar. Buy a fancy tray, luxurious napkins, and add special lighting to your coffee corner. You can use glasses instead of mugs to make the space even more elegant. Also, if you place black and white photos or artworks on the wall, it will look really cozy. Elegance always looks attractive!
As you can see, there are numerous ideas on how to create your unique coffee station at home. Pick the one you like most and just make it true! Consider all the advantages of a home coffee bar listed in the article and unleash your imagination. It's a creative process that will bring you positive emotions and real satisfaction.