A Coffee table top can help weave together all the finishing touches, pieces, and elements in a living room. Because there is a large variety of glass tabletops for a unique coffee table, choosing the right one is essential. You want to design to flow in a cohesive way with the rest of your décor of your coffee bar. With that said, you also want it to stand out and make a statement. So here are the 5 best glass coffee table top designs available in the market for stylish homes.
Why Does Coffee Table Top Design Matter?
Coffee table top design can make or break your living space. If you go for clunky materials, they might clash with a busy space. On the other hand, if you choose a minimal design, it might look dull and boring. This is especially true if the rest of the room is also minimalistic in nature.
A coffee table top design that greatly complements its surroundings is a decisive touch. Perhaps your living room needs more space and less clutter. Or perhaps it's in dire need of a bold trace of color that will instantly steal the spotlight. Whichever one it is, the style of the tabletop matters so you need to choose wisely.
Best Coffee Table Top Glass Design Ideas
There are many glass tabletop options available in the market. However, with a dizzying amount of choices, how do you pick the right one? Below, we've compiled a top 5 list that comprises the best coffee table top glass design ideas.
1. Pattern Glass Coffee Table Top
Pattern glass is a great way to bring some refreshing texture into the room without it being too loud. The unique features of this type of glass help add visual interest to create a more intimate space. Moreover, it comes in varying degrees of opacity. So you can choose just how much light transmission you wish your glass to have.
If the living room is a bit dark or cramped, the lighter the better. For rooms that already get enough natural light, you can go as high in opacity as you want. Pattern glass comes in a large range of patterns. This includes Spraylite texture, Gluechip, Aquatex Obscure, Matte, Reeded, and Rain texture.
2. Back Painted Glass Coffee Table Top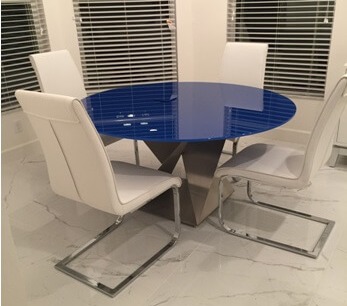 Back painted glass is an innovative design that can bring any room back to life. You can go as bold as you desire and add that much-needed splash of color to your coffee table top. This technology has breathed new life into many dull kitchen and bathroom backsplashes. So why not use it for your coffee tabletop as well?
One of the unique and most appealing features of this glass is the unlimited color options. So that any color can be a perfect match to the design scheme your living room represents. The ultra-clear glass that is then back painted also ensures that the color is as lively and vivid as possible. Moreover, you can get a custom design to properly suit your table and accommodate your space.
3. Silk Printed Glass Coffee Table Top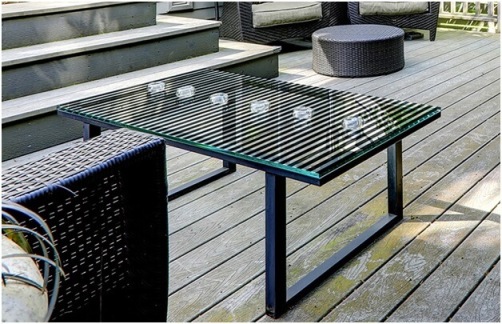 Silk printed glass is a cutting-edge technology that can act as a great focal point on any surface. The printing process uses a mixture of opaque and transparent ceramic inks. The result is an image on the glass that comes in multiple shapes, designs, and colors.
This is ideal for enhancing both residential and commercial interiors. From dots to thick lines and from black to blue, the styling options are countless. In addition to that, the silk print will provide your coffee table top with a luxurious flair that is unmatched.
4. Tinted Glass Coffee Table Top
Unlike back painted glass, tinted glass doesn't come in bright colors but is rather a more muted version. This makes it perfect for interiors that value simplicity and minimalism. If you're looking to bring a unique touch without making a loud statement, tinted glass is the right choice.
Adding light colors is a great way to make your coffee tabletop show style and stand out from the norm. The subdued shade is an easy way to attract attention and create a unique piece that distinguishes your elevated taste. Moreover, tinted glass is incredibly easy to clean and maintain. So in that regard, it's also versatile in use as you can put it both indoors and outdoors.
5. Crackled Glass Coffee Table Top
Crackled glass is by far the most singular design and perhaps the most captivating as well. To make this unique glass, there are different laminated glass panels. The middle one goes through cracking or shattering to give it that distinguishing look. It is them locked inside, sandwiched between the two other tempered glass pieces.
As a result, you get the crystal-like appearance and icy-effect on both sides. Crackled glass coffee table tops can enhance the outlook of any interior (or exterior). Not only that but it adds an exclusive and one of a kind finish. Such a polished aesthetic has become incredibly trendy among interior designers. In addition to that, the durability and sturdiness of the laminated glass also contribute to its roaring success.