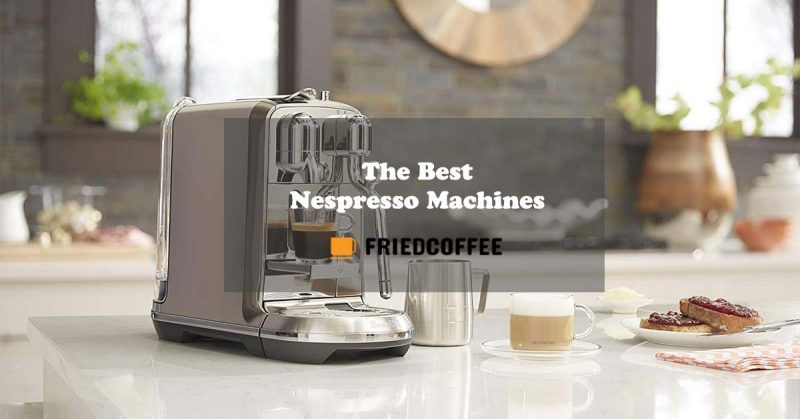 In the years since its invention, Nespresso System has taken the coffee world by storm. If you are seeking a Nespresso, you are probably trying to find a convenient coffee and affordable espresso machine that has less clutter of controls, takes less space, brews easily, and most importantly gives a great cup of espresso every time even without much experience. In this article, we will introduce you to the most desirable and best Nespresso machines. Just pick anyone that fulfills your real requirements as each machine listed here is top-notch in its category.
Introduction to the World of Nespresso Coffee Machines
Nespresso is an independent operating unit of Nestle group based in Laussane, Switzerland. Jean-Marc Duvoisin is the present CEO from 1st Mar 2013. It is one of the ten multinational companies that control an amazing number of consumer brands.
The brand is known for its quality machines that are trusted all over and are spread in almost all regions of the world. These are quick, make a minimal mess, and are also not heavy on pockets. A typical Nespresso coffee machine can cost around $100 and can go as high as $500. These can be called a type of espresso machine that is economic with no fuzz of many controls and is almost automatic.
With a Nespresso brewer, you don't need any prior experience of brewing coffee as it serves an amazing cup of drink with just a press of a button. Just choose your favorite machine which looks good in your kitchen as most of the machines work similarly except few parameters which you'll get to know ahead in this article.
Types of Nespresso Machines
The Nespresso line of machines is subdivided into 2 major categories – OriginalLine and VertuoLine. The major difference between both is that the former simply brews just Espresso's via pump pressure mechanism whereas the VertuoLine uses Centrifusion technology and brews both Espresso and the Regular Coffee. So, it's both a coffee and espresso maker.
<!–noptimize–> <!–/noptimize–>
OriginalLine
The most common and easy machines are OriginalLine. They can be found in many households and even small coffee shops. These are most easy to operate and use simple Nespresso capsules that are most affordable. However, to cut costs, many other brands make compatible capsules for these machines and are a cheaper alternative to Original Nespresso capsules. OriginalLine machines running costs are cheaper than VertuoLine machines.
VertuoLine
<!–noptimize–> <!–/noptimize–>
VertuoLine machines use a patented method of brewing developed by Nespresso. In the process, water is injected into the coffee capsule spinning at around 7000 rotations per minute resulting in a smooth and delicious cup of espresso. All vertuo capsules have a specialized barcode that is scanned by the machine and it adjusts the brewing parameters accordingly to make a perfect cup every time. There are no other alternate brands that produce capsules for the Vertuoline series, and so these are a little costly.
Here is our favorite list of Nespresso espresso machines that are doing brilliantly in providing amazing coffee cups every time. We suggest you read the brief reviews of each before making any final decision.
Best Nespresso Machines – Our Favorite Picks
1. Nespresso Inissia Espresso Maker
Inissia is the very basic model by the brand that offers convenience, quality, and speed at a very normal price. With a price tag of approximately $100, this machine lives in many households, corner coffee shops, and office pantries. Without Inissia, Nespresso wouldn't have been such a success. It's fancy and comes with many color options to suit your kitchen interiors. Its compact design suits almost any counter, and if you are short on space, this might be the one you are looking for.
The machine boasts a 19-bar high pump to make amazing espresso shots at a press of a button. It has nothing fancy to play and therefore wins via its simplicity. The 2 programmable buttons for espresso and lungo can be reset for required output quantities. It is also available in an array of colors to choose from.
Features and Specifications
Dimensions: 4.7 x 12.6 x 9 in
Weight: 5.29 lbs
Heat up time: 25 seconds
Water tank capacity: 24 oz
Available with or without Aeroccino or Aeroccino Milk Frother
Programmable cup sizes
19 bar high-pressure pump
Dedicated buttons for Espresso and Lungo
Folding drip tray
Used capsule capacity: 11
Auto shut off after 9 minutes of inactivity
Warranty: 1 Year
Inissia is the smallest machine by the brand and is best suitable for people short on space. The exteriors are mostly plastic that is a little delicate to handle. There is no empty water indicator but the tank is made up of transparent material, and hence not a major issue. The machine doesn't have any power button as it automatically shuts down after 9 minutes of inactivity.
<!–noptimize–> <!–/noptimize–>
2. Nespresso Essenza Mini by De'Longhi
Next on our list is the Nespresso Essenza, which is again an entry level capsule machine that is picked well by coffee lovers. The machine has recently been upgraded to a new modern look that can amazingly complement any kitchen with its range of colors. The machine delivers up to 19 bar pressure adequate for brewing quality espresso.
Features & Specifications
Dimensions: 4.3 x 12.8 x 8.1 inches
Weight: 5.1 lbs
Minimalist design
Separate button for Lungo and Espresso
Fast heat-up time of 30 seconds
Low energy consumption after 3 minutes of inactivity
Auto shut off after 9 minutes of the ideal time
Removable Water Tank – 20.3 Oz
Can keep up to 5-6 used capsules
Complimentary 16 capsule pack
The working of Essenza is quite simple. Just with the dedicated buttons for Lungo or espresso, you get your favorite coffee cup in minutes. There is no hard work until you spill your coffee. There is no fuzz of extra settings to waste your precious time. The body of this Nespresso machine is easy to clean with just a soft damp cloth.
Most of the Nespresso machines come with a complimentary pack of 16 capsules to start right away, and this one too is not at the odds. We suggest adding a Nespresso pod storage solution like a drawer or carousel in your package to avoid the mess in your kitchen with flooding coffee pods later.
Sale
3. Nespresso Pixie
Another piece of perfect technology is the Pixie that is very much similar to that of Inissia. The machine is again compact but adds some Smart functionalities like low water level warning. It also has used pod storage of 11 that reduces mess in the kitchen.
The Pixie couldn't be simpler to use. It just has two buttons apart from the power button – espresso and a lungo. Both of these cup-size come pre-programmed but can be customized just by holding down the button until the desired amount of coffee has been brewed. Again this machine comes with minimal settings to deep dive onto, so no complications.
<!–noptimize–> <!–/noptimize–>
Features and Specifications
Dimensions: 4.4 x 12.8 x 9.3 in
Weight: 6.04 lbs
Preheat time: 25 seconds
Water reservoir of 24 oz with empty indicator
Available with or without Aeroccino Milk Frother
Programmable cup sizes
Dedicated buttons for Espresso and Lungo
19 bar high-pressure pump
Folding drip tray
Used capsule capacity: 11
Auto shut off after 9 minutes of inactivity
Warranty: 1 Year
As its name suggests, the Pixie is the minimal size for a small kitchen or coffee corner in your workplace. With its industrial metallic exterior, it also adds a touch of class to your countertop. It does nothing but brew espresso, but does this exceptionally well, producing a flavorful brew with a good amount of crema.
The Pixie is made up of few metals and some plastic parts making it somewhat durable than that of Inissia. Our personal choice is this machine because it is manufactured in Switzerland and has exceptional built quality.
Speaking about peace of mind, you will be happy to hear that this coffee machine comes with a one year warranty as long as you register the product after buying it.
4. Nespresso Creatista by Breville –

Best Overall
Nespresso machines have long been in the coffee industry focusing on convenience and simplicity in coffee making. The taste has always been consistent due to a fix process of pod brewing.
Breville on the other hand has been good in the research and development of a few of the best espresso machines that are loved by barista masses. They have visit great cafes regularly to meet the always new customer and barista demands.
Nespresso machines in the past have been a little weaker in producing creamy cappuccinos or latte macchiato because they lacked proper frothing function. The brand then added an external Aerocinno frother that helped a little but not to any perfect point. The froth was good but the texture was not up to mark.
Recently, Breville launched an espresso machine called Oracle equipped with one of the most advanced self frothing steam wand capable of producing the textured milk needed in latte art. This innovation caught the attention of Nespresso which then resulted in Creatista as we see.
Creatista is among the most innovative Nespresso models that have both – the simplicity of pod brewing along with excellent milk frothing wand that is able to deliver great latte and cappuccino. The result is hence, consistently tasting espresso shots accompanied by amazing latte art.
Features and Specifications
Dimensions: 6.7" x 16.1" x 12.2"
5 L water tank
Advanced Frothing wand
10 Capsule holding capacity
Quick heat-up time of 3 seconds
19 bars of pressure pump
Pop-out shelf for smaller cups, fold it for larger cups
Assisted cleaning system
Cool to touch steam wand
Auto purge function when you are done steaming
Adjustable milk temperature
Adjustable milk texture for flat white, lattes, and cappuccinos
Barista jug is included
2-year warranty
If you have budget and are looking for a cappuccino system, go with this and you would feel proud owing it.
5. Nespresso CitiZ & Milk
The next on the hierarchy is the Citiz by Nespresso. It has a slim profile and is the first choice for people living in urban apartments looking for a stylish machine. The machine boasts a retro design and is loved by people looking for classic things. It does come with 2 programmable buttons as in the previous ones. The major change is the water reservoir capacity, it's larger and holds up to 34 oz.
Features and Specifications
Dimensions: 8.61 x 14.6 x 10.9 in
Weight: 8.92 lbs
Preheat time: 25 seconds
Automatic flowstop
Programmable cup sizes
Aeroccino frother included
Water tank empty indicator
19 bar high-pressure pump
Folding drip tray
Used capsule capacity: 9-11
Auto shut off after 9 minutes of inactivity
Warranty: 1 Year
With just 2 press of buttons, you will be presented with a great cup of latte in your cup. One can make an endless number of milk based drinks in just minutes of hassle free efforts.
6. De'Longhi Silver Lattissima Plus
For people who are looking for milk-based drinks like Latte, cappuccino, mocha, or more, this one is the pick. Lattissima Plus combines itself with an integrated milk frother that is removable and so, the unused milk can be kept in the refrigerator. It has 5 dedicated buttons where three are for milk based drinks and two for pure coffee. The quantity of milk and coffee can be adjusted as per preference.
It has a dedicated cleaning button for easy clean up. A unique sliding tray also allows accommodates tall Latte cups. There are milk froth settings on top of milk container to adjust the froth level.
Features and Specifications
Dimensions: 6.6 x 12.5 x 10.2 in
Weight: 9.92 lbs
Patented one-touch milk heating system
Automatic flowstop
Milk tank has one-touch cleaning
30 oz water tank; 17 oz milk container
Ready to use in 40 seconds
Adjustable automatic shut-off timer
Illuminated control panel
16 used capsule container
Customizable selections: 2 for coffee and 3 for milk
Make Cappuccino or Latte in minutes
Cable Storage
One year warranty
Unlike a traditional super-automatic, it uses Nespresso pods instead of ground coffee, making for a less expensive machine that is easy to clean.
Because it truly steams the milk, you will end up with a better microfoam with the Lattissima than with an Aeroccino Plus. The machine has two separate thermal blocks for steaming and brewing. With Nespresso capsules, the espresso is delicious every time. You can customize the quantity you brew (both coffee and milk) and save choice for your favorite drinks.
Sale
The Lattissima is self-priming, which means that it heats up for brewing in just 40 seconds when you turn it on. Furthermore, it has energy efficient with an automatic shut-off setting to save energy. Although the factory setting is for nine minutes, you can customize it so that your machine shuts off after 30 minutes or even several hours.
7. De'Longhi Lattissima Pro
With a more advanced interface and more functionality, this De'Longhi espresso machine comes next in line. Lattissima Pro boasts a sensor touch display and has 6 pre-programmed drinks – ristretto, espresso, lungo, cappuccino, latte, hot milk, and also a hot water output for anything like tea or soup. The volume of coffee and milk can be adjusted as per requirements as not everyone would like to have a mild cup of coffee. The auto cleaning milk carafe adds convenience and is easy to use.
Features and Specifications
Dimensions: 7.6 x 10.79 x 13 in
Weight: 12.6 lbs
Sensor touch display system
Automatic flowstop
Choice of pre-programmed drinks ristretto, espresso, lungo, cappuccino, latte, hot milk, and hot water function for tea
Auto-cleaning milk container
16 used capsule container
30 oz water tank
17 oz milk container with froth settings knob
Ready to use in 40 seconds
Sliding drip tray to accommodate taller cups
Adjustable automatic shut-off timer
Illuminated control panel
Cable Storage
One year warranty
Sale
The Pro will add some ease to your coffee style for sure with it's advanced Latte system.
8. De'Longhi Lattissima Touch
Just one button and one capsule to enjoy a Latte. There are 6 dedicated recipe buttons for easy operation. The automatic milk frother delivers excellent results. The machine is made in Italy, a place known for beautiful craftsmanship.
Features & Specifications
Dimensions: 6.8 x 12.6 x 10.15 in
Weight: 9.9 lbs
Easy cleanup
6 dedicated drinks button – Creamy Lattes, Latte Macchiatos, Cappuccinos, Warm Milk, perfect Espresso and Coffee
Milk froth regulator
Easy to clean body texture
19 bar pressure
40 seconds rapid heat-up time for milk-based drinks
Removable milk container
Descaling alert
Sliding drip tray to accommodate various cup sizes
Touch is the new edition to the family of Lattissima family and is doing relatively well in many kitchens. The reason behind its success lies in easy functionality to make milk-based drinks. If you are a latte lover, this can be your favorite pick.
It's also a great option if you have a small coffee shop at the corner of the society as it brews espresso as well as few milk based specialty drinks.
9. De'Longhi Gran Lattissima –

Best For Latte
The most advanced Latte system by De'Longhi Nespresso models is the latest Gran Lattissima. The looks will surely flatter you with the Matt finish and stainless steel accents. The touch panel is crafted with glass for a premium finish. This machine has 6 dedicated buttons for milk-based recipes and 3 buttons for simple coffee-based drinks.
Features & Specifications
Dimensions: 17.5 x 14.1 x 10.2 inches
Weight: 14.35 lbs
9 Dedicated buttons for One Touch Drinks (3 Coffee + 6 Milk Based)
Coffee Drinks – Espresso, Ristretto, and Lungo
Milk-Based Drinks – Cappuccino, Latte Macchiato, Flat White, Caffè Latte, Hot Milk and Hot Foam
19 Bar pump pressure
Matt finish with steel accents for a premium look
Milk container capacity – 16.9 oz
Water container capacity – 33.8 oz
25 seconds heat-up time for coffee and plus 15 seconds for milk-based
Adjustable drip tray for larger cups
All in all, if you are looking for an amazing cup of coffee always and that too without much fuzz, this is your machine. You'll be surprised as to how this coffee and espresso machine works saving you so much time. Its texture is much easy to clean as there are no hidden parts.
Sale
Now comes the second part of machines that combine the functionality of making regular coffee as well as espresso, the VertuoLine Series. These machines use different capsules and each machine comes with a welcome kit of 12 assortments of VertuoLine Pods.
10. Nespresso Vertuo Evoluo with Aeroccino 3 Frother
The Nespresso Vertuo Evoluo is a coffee and espresso machine that makes both regular coffee and espresso as well. The working is based on Centrifusion technology makes it different from a traditional Nespresso machine. The make is quite different from the traditional looks of dome-shaped Vertuoline machines. The used capsule container holds up to 13 large and 17 small capsules. It comes optionally bundled with Aeroccino 3 frother for the fine texture of hot or cold milk.
Features and Specifications
Dimensions: 11.5 x 19.45 x 15.67 inches
Weight: 12.96 lbs
Centrifusion technology brews both espresso and regular coffee
Two cup sizes: small for espresso and large for coffee
Water Tank Capacity: 54 oz
Fast heat-up time of 15 seconds
Programmable cup sizes
Aeroccino Plus frother heats and/or froths milk
Capsule code recognition means brewing is customized to each blend
One-touch brewing
Automatic shut-off after 9 minutes (Can be programmed)
Used capsule container holds 17 capsules
1-year warranty
Some customers have claimed that the crema tastes a bit different with Vertuo Evoluo as it is produced by spinning instead of forcing water through the grounds under pressure. But all in all, the coffee tastes great and has a velvety texture.
The Aeroccino Plus frother is a separate item that allows you to heat and froth milk for your lattes and cappuccinos. Additionally, it can be used with almost any Nespresso unit. This device also froths cold milk for iced lattes.
Here is a our full review of Vertuo Evoluo you need more details on it.
11. Nespresso VertuoPlus Coffee and Espresso Maker by De'Longhi
The next one here is the VertuoPlus Nespresso machine. It also has the functionality of a coffee and espresso machine in one single unit. With Centrifusion technology, this console stands apart from others in delivering high-end results. This is the 2nd generation product having a fast start-up time of just 15 seconds.
It offers a removable and swivel water tank that can be adjusted according to the counter space. There is also a motorized head that gently closes itself with a push of a button. The water tank capacity is 37.1 oz and the used pod container holds up to 10 capsules. It offers 2 programmable cup sizes – espresso (1.35 oz) and Lungo (7.7 oz).
Features and Specifications
Dimensions: 8.7 x 12.7 x 12.8 inches
Weight: 10.1 lbs
Centrifusion technology brews both espresso and regular coffee
Two cup sizes: small for espresso and large for coffee
Water Tank Capacity: 37.1 oz
Swivel Water tank
Fast heat-up time of 20 seconds
Programmable cup sizes
Aeroccino Plus milk frother heats and/or froths milk
Capsule code recognition means brewing is customized to each blend
One-touch brewing
Automatic shut-off after 9 minutes (Can be programmed)
Used capsule container holds 10 capsules
1-year warranty
This is simply an entry level machine in the VertuoLine series but quality here is not compromised. If the budget is low and the demand is of both regular coffee as well as espresso, this one is way to go.
Why Buy A Nespresso Machine
Nespresso has gained popularity because of its ease of use. It's tiring to make a cup of espresso early in the morning from your typical espresso machine. It consumes time as well as resources along with some mess. Another reason for switching is time, as usual, the espresso machine takes time to heat up, brew, and serve. As it uses a capsule system, it's pretty fast.
Also, it takes a lot of time, practice, experience, and expensive equipment to learn pulling espresso shots like a real barista along with many humanitarian efforts. Since, when Nestlé introduced Nespresso Espresso Machines, they were trying to make it possible for everyone to make perfect espresso regardless of skill level. The idea worked fine and now dominates many renowned coffee maker brands.
On the other hand, it's also worth knowing that Nespresso pays premium prices to farmers for the coffee used in the pods, as well as investing in training farmers and supporting economic growth in developing countries. Coffee farmers are some of the poorest in the world, and it's good to see a big multinational company supporting their interests.
Things to Consider to buy the Best Nespresso Machine
Original Line or VertuoLine
The Nespresso machine you are going to buy largely depends on a simple decision – Do you need regular coffee or are just biased towards espresso-based drinks. Vertuoline Nespresso machines can make both regular and espresso with its centrifusion technology whereas the OriginalLine Nespresso machine will make just espresso. The cost doesn't vary much but the variation comes with capsules as both machines use a different line of those.
There is no prior coffee experience required in both the series as they are easy to use and make great coffee. Just choose the type of drinks you are going to make which will greatly help you pick the correct machine. We have done a real comparison of Original Line vs Vertuoline for a more detailed evaluation.
Milk Or Espresso
If your needs are milk-based drinks, think about getting a machine with a combination of the frother. The best is to pick some Lattissima machine that has an automatic frother resulting in specialty drinks in just some moments. If you are an avid espresso drinker, go with any of the Nespresso machines and that will be fine, but if you need milk-based drinks, the frother is a must-have accessory.
Monthly Budget
The Nespresso OriginalLine machines capsules are cheaper when compared to VertuoLine and they are also available in cheaper forms via other brands. Also, there are reusable stainless steel capsules for OriginalLine machines which can be refilled with ground coffee and can cost almost one-fourth of the actual pod cost. So, if you are on a limited budget, the best is to go with an OriginalLine and to save more, buy refillable options.
But if you are after quality drinks with minimum options, go with VertuoLine as the flavors are really special in a limited way.
Is Nespresso better than Keurig?
Keurig and Nespresso are both world-renowned brands in the single-serve coffee maker category. The first time buyer of the single-serve machine often gets confused within these. Well, both these brands offer a great cup but differ in functionality as well as outputs. Keurig machines are designed to brew regular drip coffee by K-cups. The K-cups for tea and hot chocolate are also available.
On the other hand, Nespresso machines brew espresso and coffee (Vertuoline) too and their coffee containers are commonly known as pods or capsules. There is no option for tea here, but Keurig has that.
So, whenever we are doing a comparison of Keurig vs Nespresso, we are actually deciding between a drip coffee or an espresso! It's that simple.
FAQs
Are all Nespresso Machines the same?
Yep, it feels like that! And yes all machines are almost the same with just minor design and functionality changes like dedicated buttons for specialty drinks, descaling; water tank size variation. The machines largely vary when one opts for a Lattissima or the VertuoLine series as their brewing technology is different. One can choose a machine with parameters like water tank size, kitchen furniture color, counter space, and the variety of drinks that are required.
Can Nespresso make Regular Coffee?
Yes, Nespresso machine can make regular coffee when you buy there Vertuo Line brewer. It is capable of brewing both the espresso and the regular coffee with the Centrifusion technology.
How can we save money on capsules
We suggest to try some alternate compatible capsules from other brands. They are relatively cheaper and are available in wide variety to suit your taste buds.
Wrapping Up
In the end, we really appreciate it if you've found the above collection helpful to pick your favorite. All these machines have proven to be a great companion already. Just bunch your requirements and add the one that is near to that!
<!–noptimize–> <!–/noptimize–>