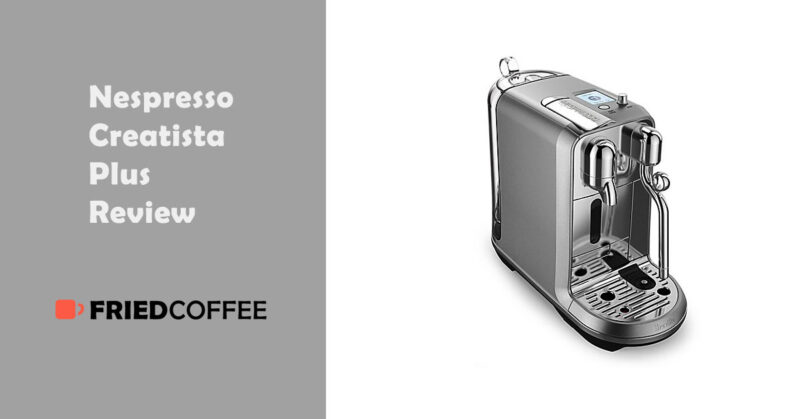 It's been more than a month long since I've last posted about coffee as life has been giving surprises and thus taking some time. There have been a lot of things going on that kept me a little away from me being a coffeeholic for a while. Within the same time, I've been hearing a lot about Nespresso Creatista Plus and so, thought of getting close with this beast to show you our side of the assessment.
Creatista can be said as a new line of espresso makers by Nespresso (along with Breville), that are advanced and feature rich by their predecessors.
Why Creatista Plus
Nespresso in their old days was all about making machines for creating espressos and black coffee. When the brand saw demand for milk-based drinks, it started combining the Aeroccino Plus external frother with its successful models like Inissia and Pixie. It did the work, but it was not up to mark if you are somewhat serious about perfect milk and latte art.
Creatista is for people who want hassle free Latte experience in a matter of few minutes without much fuzz all around.
The brand is already among the most popular ones in the coffee industry but the lack of perfect frothing was letting many customers choose another brand. Breville on the other hand has a focus on creating perfect espresso machines for baristas. Their team makes regular visits to cafes to catch the required improvements. They recently launched a machine called Oracle which was equipped with one of the most advanced frothing wands for creating amazing latte arts.
Nespresso focused their attention on that machine and followed partnering with Breville to combine their pod brewing with the most advanced frothing wand. The result that came out was indeed a beautiful creation ever built by both that can be said as the most innovative product by Nespresso. It was therefore named, Creatista! This one is the best Nespresso machine for Latte and maybe even more specialty drinks.
Features & Specifications
Dimensions: 6.7″L x 16.1″ D x 12.2″ H
Weighs: 10.9 lbs
Stainless steel body
8 Beverage Selections
Water tank capacity 50 oz
TFT display at the top
19 bar pump pressure
Instant heat-up time of 3 seconds
Flow-Through Heating Technology
Auto purge the steam wand
The most advanced frothing wand has features like 11 milk temperature settings and 8 frothing textures along with temperature sensing
Pop-out cup tray for small cups
Used capsule container of 10
Step by step assisted cleaning system
Energy-saving system – Auto shut off after 9 minutes of inactivity
Comes with a welcome kit of 16 Grand Crus and a Milk jug
2 Years warranty
The Smart Wand
Let's first talk about its most impressive feature, the frothing wand. It's really a smart one as it automatically steams the milk to 8 different textures with 11 temperature settings allowing more flexibility in drinks. Moreover, it's not hot to touch and auto purges when finished.
Still, if you are an experienced barista, you might miss the independence of controlling like a manual espresso machine. Though, it saves much time of thinking, practicing, and frothing. The focus here is mostly on producing perfect textured milk that lavishes your cup of coffee, in an easy way.
We just have to put the jug of milk under the steam wand in the right position and press the button. After a few strange sounds, you will be amazed to see the steamed milk that is enough velvety-textured to produce some great latte arts.
The Nespresso Capsule System
If you have previously used a Nespresso machine, you must have been surprised about the consistent brew quality and variety of flavors. The same things are applicable with Creatista as it is compatible with all of those, along with many additional features. With just a single dial button, you can make cappuccino, latte, flat white, ristretto, lungo, espresso, latte macchiato, and much more.
The Latte Art
Great art at the top of the cup of latte almost impresses everyone. The advertisements connected with this machine give a glimpse that you can make these too if you buy this machine. Let's be clear about that, latte art is a manual practice that can be done with normal espresso machines and it's somehow the same here.
If you know about making tulips or a leaf above a latte, then here you can make these too. About complex designs like phoenixes and swans, you must learn and practice this art. But, it will be a little difficult with this machine as most of the pods contain 14 grams of coffee grounds whereas an espresso machine takes about 30 grams of coffee grounds making the base-rich for the latte art.
So if you are seeking the machine purely for latte art, go for some manual espresso maker whereas, for basic designs, Creatista is great to go as it offers much more comfort in coffee creation.
The Taste
Nespresso has never disappointed in terms of the taste of its cup of espressos. Due to its wide variety of flavors and strengths, almost every coffee fanatic person gets his choice. Now with this amazing frothing technology of Creatista Plus, Nespresso is a step ahead of many of its competitors, especially those who complained about the Lattes.
The video below will easily demonstrate as how a cup of coffee is made and it will give you a glimpse of taste too with it's rich extraction of espresso and crema.
Nespresso Creatista Plus Pods
People are often confused about what capsules to use with Creatista Series. The answer though is very simple – this machine uses the same pods as in Original Line machines. You can even use Nespresso reusable capsules as well as the alternates if not satisfied with the cost or taste of the Original Nespresso Pods.
Creatista Plus vs Creatista
There has been a lot of talk about the Nespresso Creatista vs Plus. The brand created two versions to make them more affordable for people unable to spare $500 for an espresso machine.
As the name suggests, the Plus version is the extended variant of the same Creatista. The built-up quality of the Plus variant is better and includes some additional features too. Below we are listing some of the major differences.
Creatista(Former) is made up of a mix of Steel and plastic material whereas, the Plus variant(latter) is completely stainless steel;
The former has a 10-second heat-up time whereas the latter just heats up in 3 seconds;
The former has just 3 texture settings for frothing whereas the latter has 8;
The basic former has 3 different milk temperature settings whereas the Plus variant has 11;
The basic weighs 9.8 pounds whereas the Pus weighs 10.9 pounds.
So, the comparison simply states that the Plus variant has better features and offers more convenience. The price between both variants just differs by approximately $150. We suggest going with the Plus, as these machines are long-term investments and you have to face them daily.
Pros And Cons
Every machine on this earth has its own set of features that make them stand a part. But that every thing has some other face too. Let's have a look at the Creatista's pros and cons:
Pros
Auto milk frothing makes this machine unique;
Easy coffee making with Nespresso capsule system;
Assisted guidance on cleaning;
Stainless steel body makes it durable;
Can be said as one of the best and cheapest automatic espresso machine.
Cons
No manual control over temperature settings as these are predetermined;
Frothing is also fixed with preset settings and so an experienced barista might feel something missing;
Pod brewing can be a hit or miss for those who haven't experienced the Nespresso capsules earlier.
Sale
Breville Nespresso Nespresso Creatista Plus...
Note: 1)Too coarse a grind, too little coffee, or...
ESPRESSO MACHINE: Enjoy a full range of espresso coffee with...
COFFEE SELECTIONS: Brew better coffee at home with three...
SINGLE SERVE COFFEE AND ESPRESSO MACHINE: The Nespresso...
The Verdict
Overall, the Creatista Plus is a great machine that saves time and serves a decent cup of espresso or latte. But don't expect the same results as a manual espresso as it has more manual control over the process. Creatista Plus is purely made for a convenient coffee experience that saves from a lot of hassles in brewing with its capsule system and automatic wand. Moreover, it is very feasibly priced for what it does.