Nespresso is one of the most popular systems in the market for brewing espresso, and also the most controversial due to the Nespresso Pods.  The popularity of this brand is no mystery, as it is by far the simplest way to brew consistently great espresso at home. This pod brewing has changed the way how people drink their coffee, not all but many. What could be easier than putting a coffee pod inside the machine, pressing a button and Yola – here is your Espresso! Finally, the resulting brew is of such a great quality that even restaurants in Italy are using it.
Nespresso Espresso Machines can be found in almost all the parts of the world. These machines use Pods as their input material also known as Nespresso capsules. The price of these pods can be quite high when consumed on daily basis and that's why many people step back on purchasing these machines. Primarily, Nespresso was the only manufacturer of pods but as time passed, many competitors emerged and became successful. With careful selection among the other competitors, one can find good alternate pods that taste better and can also be cheap on pockets. Before we tell you more on selection of pods, lets first have a short glance at few of the drawbacks about using these pods or capsules. Below are also the direct links to other sections of this article.

Recycling Issue: There are some drawbacks to the Nespresso Brewing Method also. The pods themselves are supposedly recyclable but Nestlé has not been transparent about how successful their recycling efforts have been. There is enough concern about the environmental impact of pod coffee that it has recently been banned in Hamburg, Germany, and it's likely that we will see similar bans in other places too in the near future. Although, there is a solution to these and Recyclable Pods are the alternatives and the future is moving there.
Ongoing Cost: Another issue is the ongoing cost of Nespresso espresso pods. The company once had a virtual monopoly on the coffee you could use with these machines, and they still have little incentive to offer competitive prices. As long as they can keep the overall cost lower than you would pay for a similar drink at Starbucks, they can charge as much as they want and still have buyers.
But some people just don't want to buy their coffee the same way they buy printer ink. Coffee is a traditional product that people have been drinking for centuries; being locked into buying from one supply chain because of the kind of machine you own is a business model that many of us rebel against. It has also brought Nestlé into conflict with antitrust regulations in some countries. Is there a way to enjoy the benefits that a Nespresso has to offer without being locked into using it on the company's terms only? The market is now available with many other options of Nespresso Capsules that are 100 % compatible with Nespresso machines and they are now playing quite well in the market. Many people have even stopped using their favorite espresso machines due to simplicity of this pod king.
(Before moving on further, we hope you have a good Coffee Pod Machine. If not, consider reading our article about Best Nespresso Machine Collection )
Pods for Nespresso – The Journey to a Perfect Cup of Coffee in 2017
Let's now discover some of the coolest and feasible options to have best of these at our place. We are recommending the options on the basis of our personal findings and ratings, which clearly depicts the best options. First of all, lets understand the flavors by Nespresso.
Nespresso Pods Flavors
Before we get to know the flavors, we should first understand the concept used by brand. The brand currently produces 24 flavors divided into 6 major categories. These are also referred to as Nespresso OriginalLine Pods.
Espresso – The very basic form of espresso that makes short or standard shots most people prefer. The intensity varies from normal to strong and most of the coffee used in these are blended origins.
Intenso – These are the same espresso capsules with increased intensity and bold flavors. Most of these are again blended in origins.
Pure Origin – As the name suggests, these capsules or pods are from single origin and not blended. All of these will have a unique taste or flavor.
Lungo – It is basically a longer form of espresso that carries more water and strong coffee to bring out more complex and subtle flavors without compromising the intensity of coffee, hence strong in taste.
Decaffeinato – Many people prefer to not take caffeine and there is a lot of debate about it. Hence a section of capsules that doesn't contains naturally occurring caffeine are placed in this category.
Variation – Other flavors or tastes that are left of are placed under this section. Most of the Espresso capsules are added with some contrasting flavors to give a little change to coffee.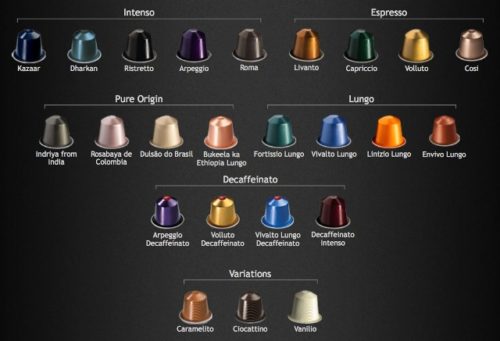 Now that you are somewhat familiar with the concept of pods Nespresso offers, lets get on to finding the best options to buy from.
Buy Nespresso Pods: The Best And Affordable
There's no doubt that using original Nespresso Capsules is the easiest way to get good results from your Nespresso-machine. The machines and pods are engineered to work together, and the company has an incentive to keep the quality high. Their biggest selling point after all is consistent good quality with minimal effort, and when you buy their own brand, you won't have to do a lot in terms of experimentation and shopping around to find something that you like. If you don't have any problems about money flow, the pods from Nespresso is certainly the best option.
If you join the Nespresso Club, you can order your pods online and sometimes get special offers on them. One potential drawback is that you have to order a minimum of 50 of each flavor, which is not great when you're trying a new blend and are not sure you will like it. So, you are usually bound to buy a minimum pack and if you don't like the blend you ordered, you have to consume the rest of 49.
Nespresso capsules are also often available on Amazon were you are not locked into minimum quantity of 50 pods and can also see some limited edition packs with quantity of 10 or 20 pods. To have a taste of numerous Nespresso pods flavors, variety packs are also available on here, which is again a benefit. Many people prefer to buy from here as they are not bound for anything and things are transparent. Most of the people purchasing Nespresso pods from Amazon also have coupons to get some more price cut-offs. Moreover, buying larger quantity pack cuts the price by 30-50%, so consider picking larger packs if you are familiar with the flavors and know what you are buying. Amazon Prime customers get extra discount and free delivery on making regular purchases.
Nespresso VertuoLine Pods
The range of VertuoLine is different from that of basic pods. It uses Centrifusion technology that extracts every drop of flavor from the pods used. This technology spins the Vertuoline capsules to 7000 rotations per minute blending with hot water to give the perfect crema and aroma to your coffee. It also reads the barcode given on each individual capsule to adjust settings automatically without your intervention.
Vertuoline offers a choice of 8 freshly brewed Grand Crus in it's Coffee Range.
Stromio  – Rich and Strong with an intensity of 8 out of 11
Odacio – Strong and Lively with an intensity of 7 out of 11
Melozio – Smooth and Balanced with an intensity of 6 out of 11
Elvazio – Delicate and fruity, especially for fruit loving people with an intensity of 4 out of 11
Hazelino – It's simply the Hazelnut flavor many people love with an intensity of 6
Vanizio – Vanilla, an always loved flavor by most. Intensity 6
Decaffeinato – For decaf lovers, round and malty, intensity lies at 6
Half Caffeinato – Sweet and Velvety  taste with intensity of 5
Now below are the 4 unique flavors in the Espresso Range –
Diavolitto – Highly Intense and powerful punch with an intensity of 11 out of 11
Altissio – Full bodied and creamy flavor  with an intensity of 9
Voltesso – Sweet and light flavor with low intensity of 4
Decaffeinato Intenso – Dense and harmonious flavor with a mid intensity of 7
Nespresso Compatible Pods | Top Alternates
People have been producing knock-offs of Nespresso pods for years now. There are many brands that sell alternative pods and cost much less than the official Nespresso products. Some consumers feel that none of these alternatives really measures up to the quality of the original, while others are able to find brands that taste as good as (or even better) and cost significantly less. I personally feel as trying and testing the other pods will surely help you find the best alternate.
Gourmesso capsules are one popular alternative. They offer fair-trade certified coffee in a wide variety of flavours, and on average cost about 30 percent less than Nespresso. Gourmesso sells its products online, but you don't have to belong to a "club" to place an order, and there is no minimum order required. They sell a minimum pack of 10 capsules costing just $5 means $0.49 per capsule.
Another option that even sounds somewhat similar are the Bestpresso Pods. It sells one single flavour in a pack of 20($9.99) and 40($17.99) and  a variety pack of 120 capsules if you are buying for the first time to taste all the flavours.
Artizan offers 100 percent organic coffee in Nespresso-compatible pods. Although they offer subscriptions deals that can save you money, this company is more about offering higher quality coffee and more ethical choices than are available with the original pods.
HiLine also offers a viable alternative. Even if you buy a fairly small quantity online (20 capsules) you can pay less than you pay for Nespresso pods. Once again, you are not required to join a club on a website in order to buy, and there is no minimum purchase.
Another emerging brand is Caffesso Gourmet Capsules which is also 100% compatible with Nespresso machines. It is Hermetically sealed for freshness and that's one main reason for popularity of this brand. These capsules also cost a ted low in a package of 200 units.
Other companies offering similar products include Coffee Duck, Rosso and Caffe Cagliari. Take some time to try out some of these alternatives, and you will likely find an option that tastes great and also saves you money. Always check to make sure that the pods you are buying are compatible with the exact model of Nespresso machine you have at home. Some don't work with newer models.
Use Permanent Reusable Nespresso Capsules
If you never want to buy disposable pods again, you can try a reusable capsule that you empty and refill each time you use it. One of the most popular choices is Sealpod. Made of stainless steel, the only disposable element of this system is the foil seal that goes on top of the pod.
To use, you simply fill with coffee using the scoop that comes with your purchase, seal it, and drop it in the machine. CM seals seem to work just as well as Sealpod's own seals in this system.
Therefore in order to avoid your machine's needles, the Sealpod is slightly smaller to a regular Nespresso pod. This may be an issue when you're trying to brew a lungo shot, but most customers are very happy with Sealpod overall.
Sealpod capsules are sold in packages of two and five for about 40 and 70 dollars, so they will quickly pay for themselves when you use the ground coffee of your choice.
Reusing Old Nespresso Pods
What do you do with the old pods after you brew your coffee? One way to save money is to refill old pods and brew them again. It also helps nature from environmental hazards. Making the pods reusable is quite simple – just remove the seal using a small pen-knife to cut away the foil. Then dump the old coffee grounds and rinse the pod. Add about 1 ½ to 2 teaspoons of coffee (ground as for espresso) and tamp lightly with a spoon. Cut a square of ordinary kitchen foil to cover the top of the pod, and press it around the rim of the pod to seal it. You can probably get about 3 more uses out of each pod through this method.
To get a better seal when reusing old pods, try a product like Sealpod or CM espresso lids. These are seals that are cut to exactly the right shape and size, and attach to your pod with an adhesive. Some people say the quality of the adhesive is better with Sealpod, but CM is much cheaper. Again as a result, you will be able to use an old Nespresso pod about 3 more times before it is too full of holes to be used again. These seals also come with a coffee scoop that is the right shape for tamping.
In addition to get more uses out of your old pods, try drawing a line on the pod so that you always orient it in the machine the same way. The holes will line up better and you may be able to use the pod more often.
There is one more option we just recently discovered. It's IreVoor Foils having self adhesive aluminium lids that come with 10ps of refillable Nespresso capsules. The materials used are all food grade and come with SGS certification. What's more, you can buy Sealpod reusable capsules stated above with these IreVoor foils that will last longer.
Nespresso Pod Holders
I hope you don't like making a mess in the kitchen with not arranged pods. After buying quantity of these, a problem arises about storing them in an arranged way so to have access to each flavor easily. To come over this, many brands are producing pod holders or drawers which range from $15 to $100. We are listing here few of the very beautiful holders that are both convenient and don't cost to burn your pocket.
The above is a very convenient storage that can be put under the machine and can store up to 50 Nespresso capsules or 24 Vertuoline pods easily.
This design is also a successful one as it comes with a toughened stand to hold the machine strongly. The drawer slides independently below that. It can store up to 42 capsules.
Conclusion
Furthermore, it will take some effort, you can absolutely use your Coffee machine without being locked in to the options that only Nespresso offers. Whether you are trying to save money on coffee pods, improve freshness, support ethical consumerism or simply exercise your freedom to choose, there are many viable alternatives out there. It seems like the options are only going to get better in the future. Probably, the popularity of Nespresso Machines has led to all these alternate developments.
We hope that the above has helped you found an answer about saving some money on these capsules. However, if you have another method or product that can save the cost, please share with us through the comment section.