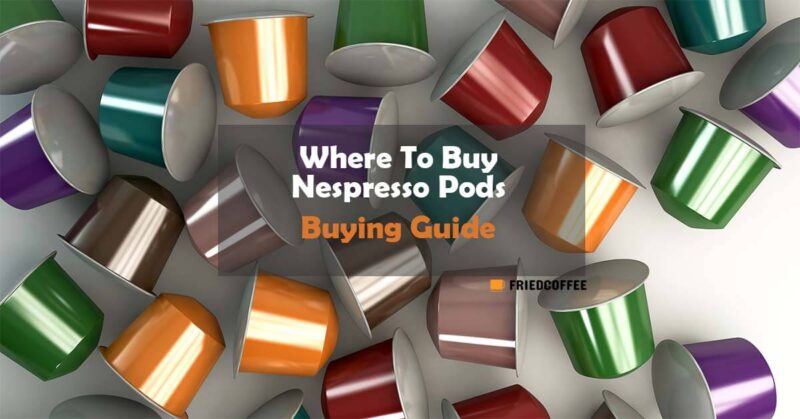 Nespresso, a subsidiary of Nestlé Nespresso S.A based in Switzerland is known for its single-serve espresso machines and coffee-related products. These machines use ground coffee seal-packed in containers commonly known as pods or capsules. So, when you buy a machine from this brand, you are also bringing along the Nespresso Capsule experience.
After acquiring your new Nespresso Machine, the next quest is to figure out as, Where to buy Nespresso pods for maximum freshness and the best deals.
In this Nespresso coffee capsule guide, we will bring you a little closer to things you should really care about when it comes to buying Nespresso pods. From selections to expectations, flavors, and the best deals, we want to ensure you have all the insider information about these coffee pods. We already understand the chaotic world we live in and with the pace at which it goes and, how 'More' often leads to confusion for many consumers. We have done some extensive research to help you make informed decisions with ease.
<!–noptimize–> <!–/noptimize–>
Within this guide, you will discover the best places to buy these pods for fresher dates and variety, in combination with some tips to save even more money for the long run.
What are Nespresso Pods
Nespresso Pods are basically small coffee containers filled with a preset amount of coffee grounds which are vacuum-sealed to keep the grounds fresh for brewing. These containers are then used by Nespresso machines to brew espresso or other specialty drinks while locking in flavor and freshness.
The coffee pods are available in various flavors and strengths. This wide collection often creates confusion for a new user just starting with Nespresso. But once you will get a hang of the flavors and variants, the confusion will naturally fade away.
Now that we know what a Nespresso capsule or pod is, let's have a look on their types:
Types of Nespresso Pods
Nespresso is involved in two different variants of espresso machines and they both use their own capsule types. These are:
<!–noptimize–> <!–/noptimize–>
Original Line – It brews only espresso and is available in 3 cup size options – ristretto (0.85oz), espresso (1.35oz), and lungo (3.7oz);
Vertuoline – It brews espresso as well as a regular drip coffee. Vertuo capsules are available in 6 size options – espresso (1.35oz), double espresso (2.7oz), gran lungo (5.07oz), coffee (7.77oz), alto (14oz), and pour-over style (18oz).
Here are some more specific differences between the Nespresso Original & Nespresso Vertuoline Pods:
Original Line only brews espresso whereas Vertuoline brews regular coffee as well as espresso.
The former uses a pump pressure system as in most of the espresso machines whereas the latter uses Centrifusion (Rapid Spinning) technology.
The Vertuoline machines use an expensive line of capsules and there are no 3rd party capsules available. On the other hand, the Original line has many compatible capsules from other 3rd party brands which come at a reduced cost than the Originals.
Vertuoline machines, due to technology and versatility brew an exceptional cup of coffee as well as espresso.
If you are new to the brand and its machines, we highly suggest reading our in-depth article about Original line vs Vertuoline. You will surely gain better insights about the product line of Nespresso.
How much are Nespresso coffee pods priced at?
To give an idea, the Original line capsule price starts at $0.70 for each. If you buy any of the available specialty versions, it might add 2 to 20 cents more.
For Vertuo line, expect to spend over $1 for each which can go up to $2 depending on the cup size and the flavor. Still, most of the variants hover around $1 to $1.20.
For avid coffee drinkers, we suggest scouring the web for deals on volume packs, as that can help you with some additional discounts. Also since these vacuumed sealed coffee and espresso pods have a great shelf life, stocking up during holiday sales, such as Black Friday, is another great way to save money keeping your Nespresso machine fueled up and ready to brew.
How much Caffeine is in each capsule?
People often are curious about the caffeine content. The basic Nespresso capsule cup size is Espresso which is 40 ml or 1.35oz, whereas some capsule variants are also available in larger cup sizes of 110 ml or 3.7oz called Lungo. The latter is for making a larger cup of espresso and hence has more caffeine.
<!–noptimize–> <!–/noptimize–>
In the normal Original line espresso variants, caffeine varies from 55 to 65 mg whereas, in Lungo, it goes up to 77 to 89 mg of caffeine. The Kazaar blend is an exception with a caffeine content is around 125 mg.
Nespresso Vertuo pods have caffeine content averaging 110 mg whereas the regular coffee pods have caffeine around 165 mg. There are half capsules as well which contain a caffeine content of about 70 mg.
If you are still fiddling with an old capsule machine, why not change it with a new one. Our favorite is Nespresso Gran Lattissima that can brew specialty drinks at one touch. Do check out this amazingly innovative model that looks good, makes espresso as well as milk-based specialty drinks at a touch of a button.
Where to Buy Nespresso Pods
Most of the Nespresso users are often dealing with the question, 'Where can I buy Nespresso Pods with best deals?'. Obviously, there are many options for consumers when it comes to finding places to buy Nespresso Pods. In fact, nearly every grocery store and retail chain that sells coffee products is most likely to carry Nespresso capsules of one kind or another. The key is to know where to buy them with the latest dates, variants, and how to get the best deals on Nespresso pods.
If you are new on the Nespresso trail, we highly suggest buying variety packs first as it will allow you to discover how each flavor tastes. Often this leads to finding an undiscovered flavor you might not have tasted yet but it suits your taste buds.
After discovering the wide assortment of pod flavors through the assorted variety packs, you can thereafter easily pick out your favorite and buy them in larger quantity packs for added savings.
Here are the top retailers which can solve your dilemma about where to buy Nespresso capsules at the best price deals, most variety of flavors, and freshest packaging dates.
Buy from Bed, Bath & Beyond
A well-reputed retail chain everyone has heard about – Bed, Bath and Beyond. This is our first priority place to buy Nespresso capsules as it maintains most of the variants all the time. BBB is strongly trusted in the U.S. as it has a large number of physical stores along with a nice online presence too. So, from their website, you can buy easily at the comfort of your home.
One good thing about buying from Bed Bath & Beyond is that you get the freshest packs. A lot of Nespresso users prefer to buy the capsules from here only and that's why the stock doesn't even reach closer to old dates, and fresh dates mean better-tasting coffee. What's more, they often offer a $20 discount if you shop for $80 or more – That's a deal which is NOT TO BE LEFT ON THE TABLE! Below are the two most hot selling variety packs you can buy online.
There is a lot more variety to explore in Bed, Bath and Beyond store as compared to any other merchant. Click here to discover their collection.
Buy from Amazon
Many people are comfortable buying from Amazon and that's because of its highest online presence and outstanding services. To taste Nespresso's numerous flavors, we again suggest going with the variety packs which are easily available to get new users acquainted with the huge variety.
One flaw we found with Amazon is about their stock. They don't have larger varieties when we compare them to Bed, Bath and Beyond. And that is why we kept the BBB as our top choice.
Why is Amazon one of the Best Places to Buy Nespresso Pods?
People prefer to shop from Amazon as there are no bounds for anything and everything is pretty much transparent from a shopper's perspective. Most people purchasing capsules from Amazon also have coupons or gift cards that get some additional price cuts. Moreover, buying larger quantity packs can cut the cost by 10-20%. So we encourage you to buy larger packs if you already know your favorite flavors. Additionally, Amazon Prime customers get extra discounts and the ever-popular super-fast, free delivery on all regular purchases.
The other top-rated retail stores like Walmart and Target also sell assortments and a variety of Nespresso products, but, frankly, Amazon offers the most user-friendly interface and people are already acquainted with it.
We deep searched the Amazon website for Nespresso branded products and found some of these amazing assortments.
Shop From Nespressso.com
Often the first choice among new buyers of a Nespresso machine is the brand's own site, Nespresso.com. People often opt for this because they are confident that they are getting a genuine product without infringements. This leads Nespresso fans to discover their program called Nespresso Club which gives consumers all of the benefits mentioned below:
Welcome Accessory for a new member
Extended warranty for your machine from 2 to 3 years
Special offers along with discounted prices
Dedicated customer support for ordering or troubleshoot
Nespresso Magazine subscription published 2 times in a year
Easy placement of orders via web, app, or call
Always buy a Nespresso capsule holder to keep your desk arranged. It will systematically hold your coffee pods and will keep you away from the mess.
Buy from Nespresso Boutique
The Nespresso Boutique is a concept that allows consumers to experience everything from the brand under one roof with an ambiance that especially caters to enhancing one's mood regarding their brand. One can discover all the varieties of Grand Crus coffee with a pleasing tasting area especially made for this. Specialty coffee experts are always there to help you with their personalized advice and guidance. So, if you are wondering about 'Nespresso boutique near me', you can locate any through the Nespresso Store Locator.
Shop at Macy's
Our next pick on our list of best places to find good deals on Nespresso pods is Macy's. The first retail store for Macy's opened in 1851 in New York City as a small dry goods store. They have since grown to what is known as one of the biggest department store chains in the world. They sell products both offline and online and with their sizable physical presence, Macy's has a wide coverage area to service shoppers across the United States. Macy's ships for free if the purchased goods are over $25, which is an easy reach for any online shopper. They also offer some of the best assortments of Nespresso coffee pods, and we love shopping from here! Here are some great deals on Nespresso pods from Macy's you can take advantage of today.
Though there are more retailers like Target and Walmart, but we found they have minimal collection as compared to the above options making them not much enticing choice for shopping Nespresso capsules.
How to Save Money on Nespresso Capsules
In a long run, if you continue to buy the pods from Nespresso, you are sure to spend a decent amount. Each pod or capsule costs around $0.70 and if two members at your home drink 3 cups of coffee in a day, the whole month will cost around $125.
However, there are options and tricks both to save some bucks in a long run. You can either refill the used pods with fresh coffee grounds or even buy refillable pods which can be re-filled.
1. Use Reusable Capsules
SEAL POD Refillable Nespresso Pods -...
✅ 【Compatible With: Nespresso Original Line】: Pixie,...
✅ 【Your Coffee, Your Choice】: With SealPod, you get to...
✅ 【Help the Planet / Save Your Wallet】: Reduce...
✅【Rich Crema, Strong Coffee】: Sealpod is specially...
If you never want to buy disposable options again, you can try Nespresso reusable pods. With a reusable pod, you can always refill again with your favorite blend or origin of coffee grounds and dump the used coffee grounds. In this way, you are always drinking the freshly grounded coffee of your choice of the roaster.
To use, you simply fill with coffee using the scoop that comes with your purchase, seal it, and insert it in the machine.
To avoid your machine's needles, the Sealpod is slightly smaller than a regular coffee pod by Nespresso. This may be an issue when you're trying to brew a lungo shot, but most customers are very happy with Sealpod overall.
There is another marvelous trick – reusing the old containers and seal-pack them. Below is a detailed description of that.
2. Reuse the Used Nespresso Coffee Capsules
SEAL POD Espresso Lids for Reusable Capsules...
✅ WHAT'S IN THE BOX There are 400pcs lids in every pack,...
✅ SUITABLE FOR BREWING COFFEE Got a tasteful espresso?...
✅ YOUR COFFEE, YOUR CHOICE Experience coffee from all over...
✅ COFFEE WITH A CONSCIENCE Made from food-grade stainless...
What do you do with the old machine pods after you brew your coffee? Our other trick is to refill old ones and brew them again. It again helps nature a little from environmental hazards. Don't worry as these will not harm your coffee machine anyhow!
The process of reusing the old capsule is quite simple –
Remove the seal using a small pen-knife to cut away the foil, dump the old coffee grounds and rinse.
Add about 1 ½ to 2 teaspoons of coffee (ground as for espresso) and tamp lightly with a spoon.
Cut a square of ordinary kitchen foil to cover the top, and press it around the rim to seal it.
You can probably get about 3 more uses out of each used capsule by this method. For good use of old pods, we can also use perfect seals specifically made for this purpose by brands like Sealpod.
3. Buy Compatible Brands
Another way to cut your capsule coffee costs is to start using capsules from other brands. A lot of brands are now involved in manufacturing capsules for Original line machines and they can cost as cheap as $0.30. If you are interested in alternate brands, here is our guide about the Best Nespresso compatible capsules which will introduce you to the top-notch alternate brands which don't compromise on taste.
Please note, there is no alternate to Vertuo capsules as they have some kind of barcode technology that doesn't allow capsules from other brands
Nespresso Capsules Flavors Guide
Here is something more to read if you have not used the Nespresso system before. Go ahead and explore all the variants that come in regular by the brand and find your own very best Nespresso capsule.
Nespresso Original Line Flavors
A lot of fancy variants are available in both capsule types. The best way to learn about them is to taste it and to taste, start by ordering an assortment pack. The Original Line coffee capsules are divided into 6 major categories which are further subdivided into 24 different flavors varying in intensity, aroma, and cup size too.
Following is the classification that will give you a better understanding of the flavors.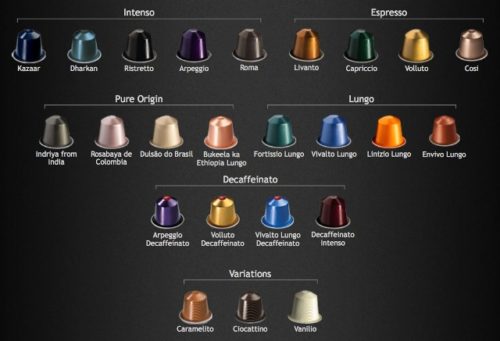 1. Espresso Series – The Best Nespresso Capsules
The very basic form of espresso that makes short or standard shots most people prefer and that's why we said them as the Best. The intensity varies from normal to strong and most of the beans used in these are blended origins. Under espresso, there are 4 variants:
Capriccio: A lightly roasted blend of Arabica and some Robusta from South America that is slightly acidic, balanced, and cereal notes. Intensity 5.
Volluto: Blends of light roasted Colombian and Brazilian Arabicas with sweet and fruity notes. Intensity 4.
Livanto: A medium roast blend from South and Central American Arabicas with a very balanced flavor and caramelized cereal notes. Intensity 6.
Cosi: Lightly roasted blends of South and Central America, and East Africa with balanced flavor and cereal fruity notes. Intensity 4.
2. Intenso Series
These are the same espresso capsules with increased intensity and bold flavors. Most of these are again blends of different origins.
Kazaar: This one is for strong coffee lovers with exceptional bitterness, pepper notes, balanced and creamy texture. This is a blend of Robusta from Brazil and Guatemala with a mix of Arabica from South America. Intensity 12.
Arpeggio: A blend of Central and South Americas roasted for a long resulting in full-bodied, creamy, and cocoa notes. Intensity 9
Dharkan: A blend of washed Arabicas from Latin America and Asia long roasted to give velvety, silky, and pleasant bitterness. Intensity 11
Ristretto: Best Arabicas beans from Colombia and Brazil roasted with a technique of slow split giving powerful, chocolate notes. It also has a touch of Robusta from East Africa for some zing. Intensity 10.
Roma: A very balanced blend of South American and Central Arabicas combined with a hint of Robustas giving woody notes. Intensity 8.
3. Pure Origin Series
As the name suggests, these capsules or pods are of single-origin and not blends. All of these will have a unique taste and flavor profile.
Indriya from India: A perfectly balanced Arabica and Robusta beans from South India roasted quickly to balance their strong character giving spicy clove and coca notes. Intensity 10.
Rosabaya-de-Colombia: It's a collection of Colombian Arabica grown in small plantations. It uses separate roasting giving fruity notes of black currents and cranberries with some acidity. Intensity 6.
Dulsao-do-Brasil: As the name says, the origin of coffee beans is in Brazil, delicately roasted to give a subtle and balanced taste with notes of lightly toasted grains. Intensity 4.
Bukeela-ka-Ethiopia: The origin is the home of Coffee and has very distinct characteristics. It has floral notes of jasmine, white lily, and notes of wood. Intensity 3.
3. Lungo Series
It is basically a longer cup of espresso that uses more water plus strong coffee to bring out more complex and subtle flavors without compromising the intensity of the coffee, hence strong in taste. For old coffee lovers, lungo pods are a must and have gained much popularity.
Envivo Lungo: Highly intense dark roast blend of Arabica from India and Robusta from Mexico. It has potent character, full body, caramelized notes of gingerbread and woody notes scent. Intensity 9.
Fortissio Lungo: West Indian Malabar beans are blended with Latin American Arabicas resulting in an intense and full-bodied cup. It has sweet cereal and malty toasted notes. Intensity 8.
Linizio Lungo: Arabicas from Brazil and Colombia are blended with split roasting technique resulting in a mild and smooth cup with notes of malty cereal. Intensity 4.
Vivalto Lungo: High Altitude Arabicas from Brazil and East Africa are blended with split roasting resulting in a complex and balanced cup with floral notes. Many people prefer Vivalto Lungo over the other options for their amazing taste. Intensity 4.
4. Decaffeinato
Many people prefer to avoid caffeine and there is a lot of debate about it. Hence the brand has a section of decaf capsules that doesn't carry naturally occurring caffeine. Below are the available flavors under this category –
Ristretto Decaffeinato: The Ristretto in a decaffeinated way with the same intensity of 10.
Arpeggio Decaffeinato: Decaffeinated Arpeggio roasted long and an intensity of 9.
Volluto Decaffeinato: An espresso for decaffeinated lovers. Intensity 4.
Vivalto Decaffeinato Lungo: A decaffeinated lungo for long cup lovers. Fruity notes and Intensity 4.
5. Other Variations
Other flavors or tastes that are left off are placed under this section. Most of the Espresso capsules are added with some contrasting flavors to give a little addition to the taste.
Vanilio: As the name says it all, it is an explored base of Livanto having rich tastes and velvety aromas with notes of vanilla. Intensity 6.
Ciocattino: Again this is a version of Livanto with bitter chocolate notes. Intensity 6.
Caramelito: A blend of South and Central American with caramelized notes. Intensity 6.
Nespresso Vertuoline Capsule Flavors
Vertuo Pods can also be called the premium experience for Nespresso users as they brew a totally different drink with distinct premium pods. The patented Centrifusion technology of Vertuoline offers 2 major variations – Grand Cru (Coffee); and Espresso Range. Grand Cru means regular drip coffee whereas espresso pods mean Espresso!
Below are the 9 flavors available in Coffee Range:
Intensio – Thick, and Dense with an intensity of 9.
Stormio – Rich and Strong with an intensity of 8 out of 11.
Odacio – Strong and Lively with an intensity of 7 out of 11.
Melozio – Smooth and Balanced with an intensity of 6 out of 11.
Elvazio – Delicate and fruity, especially for fruit-loving people with an intensity of 4 out of 11.
Hazelino – It's simply the Hazelnut flavor many people love with an intensity of 6.
Vanizio – Vanilla, always loved flavor by most. Intensity 6.
Decaffeinato – For decaf lovers, round and malty, intensity lies at 6.
Half Caffeinato – Sweet and Velvety taste with the intensity of 5.
Now below are the 4 unique flavors in the Espresso Range –
Diavolitto – Highly Intense and powerful punch with an intensity of 11 out of 11.
Altissio – Full-bodied and creamy flavor with an intensity of 9.
Voltesso – Sweet and light flavor with low intensity of 4.
Decaffeinato Intenso – Dense and harmonious flavor with a mid-intensity of 7.
Along with the above variations, often some more limited editions are launched by the brand from time to time.
FAQs
Where is the best place to buy Nespresso pods?

Below are the best places to buy your favorite Nespresso pods:
1. Amazon
2. Bed Bath & Beyond
3. Walmart
4. Macy's
5. Nespresso Boutique
6. Best Buy

How long do Nespresso pods last?

The brand mentions using the capsules within 1 year from the manufacturing date. A capsule won't expire in that time frame, but rather it can lose the locked-in freshness required for an optimal brew. But for best taste, we suggest using your pods within 6 months from the manufacturing date.

Are Nespresso machine pods expensive?

A single Original capsule by the brand costs from $0.7 to $1.35 which is a little more than Keurig pods. To save on costs, one can switch to reusable options or compatibles.

How many times can you use a Nespresso capsule?

The brand says to use it only once, but with lids available in the market, these capsules can be used twice and thrice, with an obvious potential of decreasing the strength with each re-use.

Which is the strongest Nespresso coffee pod?

The Kazaar is the strongest capsule with an intensity of 12/12 and 120 mg caffeine compared to others with a caffeine range of 60-80 mg. If you want a Nespresso Pod that will put a pep in your step, a Kazaar capsule should certainly do the trick.

How to Dispose the pod for Complete Recycling

In an effort to maintain an eco-friendly consciousness of responsibility, Nespresso has a recycling program that does proper disposal of these coffee containers. In this process, the consumers are provided with special recycling bags at no cost for collecting the used capsules. One can order these bags online or can get them from any boutique. These bags then can be returned to any of the collection centers which can be among the following:
– Nespresso Boutiques
– Terracycle Collection Points
– Via UPS through Nespresso's mail-back program

Does Walmart sell Nespresso pods?

Yes, Walmart sells capsules both online at Walmart.com and in Walmart's nationwide retail store locations as well.

Which Non-Nespresso Branded Retailers are good to buy Nespresso Pods?

Bed Bath & Beyond, Amazon, and Macy's are some good places to buy your Nespresso coffee capsules. These have a presence almost everywhere and with huge sales, don't have much older stock in their warehouse.

Can I only use Nespresso's brand of capsules in my Nespresso machine?

No, you can use other brands too, but only if you have Original line Nespresso machine. Vertuo machines don't allow to use other brand capsules with barcode technology.
Wrapping Up
We hope that you found our detailed Guide to Nespresso Pods helpful. Understanding the differences between each of Nespresso's available pod options can truly make a world of difference in your, most likely already, amazing Nespresso coffee experience each day. It is our goal to help you end your quest on how and where to buy the Nespresso coffee pods and hope that you have already selected the right one for you and placed your order for one or a few for yourself!