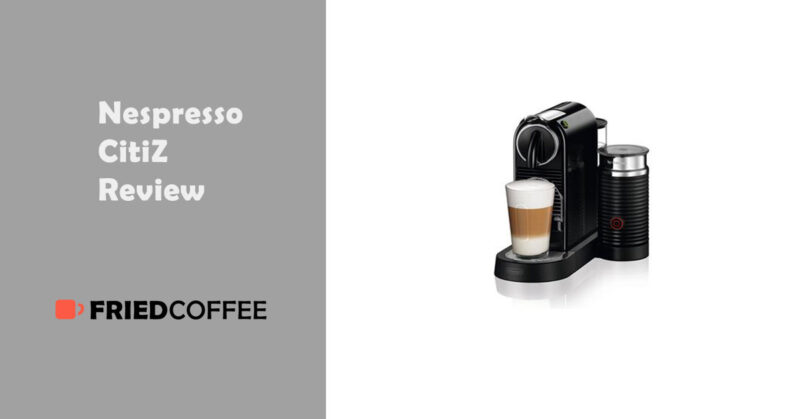 With the compact dimensions to fit most urban kitchens and the design that suits every platform, the Nespresso Citiz by Delonghi. This model even has won the Red Dot design award for being compact, elegant, and user-friendly. What's more, it comes with a 19 bar high-performance pump that creates perfect pressure to extract coffee full of flavors. It also lets the machine warm up in merely 25 seconds which is a lot less as compared to the other basic espresso machines and even some super espressos.
Glance on the Nespresso Citiz Espresso Machine
It just takes about 30 seconds to get the machine ready for brewing and a minute after the insertion of the capsule for brewing a cup of coffee. After just a press of a single button, you are ready to drink a cup of tasty espresso that's fairly comparable with any of the Nespresso makers. Can you think of anything easier than this? I guess, there is absolutely no option if you are searching for the simplest machine that makes no mess on your platform and can do the job faster. However, there are more options by the brand, but Citiz is one of the most loved creations by many coffee lovers.
The pods used in this machine(by Nespresso) are in themselves a quality product. They contain high-quality ground coffee vacuum packed in aluminum shells which costs averaging $0.70 minimum. Although, there are other alternate brands making capsules that are fairly cheaper and have other varieties of flavors.
Features and Specifications
Dimensions: 5.1 x 14.6 x 10.9 inches
Weight: 7.30 lbs
19 bar pump pressure
34 oz water tank
Comes with or without the Aeroccino milk frother
Foldable drip tray for tall cups
2 buttons for espresso or lungo shot
Fast warm-up time of 25 seconds
Auto-off after 9 minutes of inactivity programmable up to 30 minutes
16 capsule startup variety pack included
1-year warranty
Setup of Your New Nespresso Citiz
The machine is fairly easy to set up without much fuss of arranging things. The size is fairly a compact tallboy and you won't have to make any special arrangements to accommodate it. It's a little bit bigger than its sibling Nespresso Pixie, but it has a bigger water tank too allowing it to overcome short refilling time.
Once the machine is put in the desired place, just fill the water tank after washing it up and put it into place. Fill the pod reservoir with pods, plug in the machine, wait 25 seconds to let it warm up, and press for either Lungo (Double Espresso) or the Espresso, and put your cup below the spout. That's it, you are done. Fold the drip tray if you have tall cups.
The Coffee
With a very feasible price tag, Citiz gives amazing espresso shots directly comparable with those of cafes or other costly espresso machines. Thanks to the quality packed Nespresso capsules that come in a variety of flavors to have a different flavor every other morning. Store the capsule sleeves in a coffee pod holder and they will add some style to your kitchen!
Using Aeroccino Frother
Nespresso Citiz can be purchased with or without frother as desired. So if you are purchasing the machine for the second time or already have a milk frother, you can save some bucks by getting the variant without frother. Using the frother is pretty simple. There is just one single button that does all the operations. Press the button for 1 second to froth the hot milk and 2-second press for cold milk froth.
Sale
Nespresso CitiZ Coffee and Espresso Machine...
High performance: The 19 bar pump system offers...
Speed and Energy saving: the fast heat-up system reaches the...
Versatility: Adjustable cup size with two programmable...
Design: citiz's look continues to Please both Espresso...
Conclusion
We hope you have already made up your mind to get the Citiz, but before that we suggest you to with the Nespresso Citiz with Aeroccino frother by Delonghi as this version is the more reliable variant.