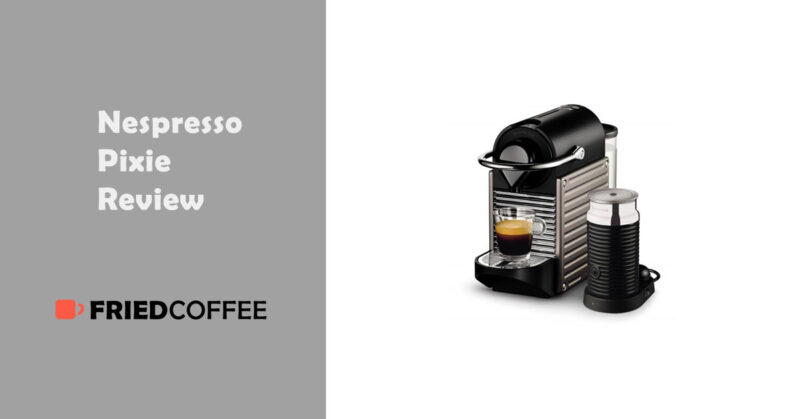 Thinking about Nespresso can simply mean that you are searching for something easy, fast, and reliable. The brand is long been in the coffee industry and dominates the single-serve industry all over. Nespresso has many models to choose from but the one that is leading is Pixie.
By name, it seems something small, but my work is a great single-serve capsule machine in every way. Consider the quality of coffee it makes, the maintenance it requires, and the price it comes for – all in all, it's a great package for anyone looking to make a cappuccino or latte at home without much expense. In the complete range of Nespresso machines, Pixie is a hot selling product that is priced reasonably and works like charm.
Though the things are not that much controllable like temperature, brewing time, brewing strength, etc, if you are just looking for simplicity, this is the machine you might opt for. The process for making a cup of coffee is very simple – fill the water tank, insert the pods, select the drink, select cup size, and press Start. That's all it requires to make a great cup of coffee.
Glance on the Nespresso Pixie Espresso Machine
A small powerhouse of 19-bar pump pressure resting under an ABS plastic shell and aluminum side panels with a smaller footprint is what Nespresso Pixie is all about. This is the smallest espresso machine from Nespresso and is priced just a little above that of Inissia. The panels are available in 6 different colors to suit your preference and also the machine can be bought with or without the milk frother which is a separate entity from the machine. The milk frother gives amazing results and that too automatically. No need to put the steam wand at the required depth and angle as in espresso machines. For an under $200 deal, Pixie with Aerocinno frother is really a deal one should not miss.
Features and Specifications
Super Compact Dimensions: 4.7 x 9 x 12.6 in
Weight: 5.6 pounds
19 bar pressure
1-liter water reservoir
The option of choosing with or without a frother
Variety of Nespresso Capsules to choose from
Fast warm-up time of just 25 seconds
Holds 10 capsules for brewing and 10 used too
Can dispense hot water if brewed without pod
Auto shut off after 9 minutes
Empty water tank indicator
Setup of Nespresso Pixie
The box comes safely packed with an instruction booklet, 16 pieces Nespresso Pod variety pack, an information folder, and a milk frother (If bought with it). If you are cost-savvy, then try the other brand's compatible capsules too that saves almost 30-40% from the originals.
Also Read: Our Guide on Best Nespresso Pods
The setup is simply very easy and doesn't require any specialized procedures. The instruction booklet will guide you with the easy setup to prepare your first cup of coffee in a couple of minutes. Our advice is just to wash the water tank before use and clean the coffee spout with a damp cloth.
You might like: Where to Buy Nespresso Capsules
About the Aeroccino Milk Frother
Nespresso has recently updated their milk frother with the new variant which looks quite well now. We suggest you purchase the Nespresso Pixie with Aeroccino 3, which is the latest frother by the brand. The frother has just a single button doing all the operations. Give 1-second button pressure for hot milk froth and 2-second pressure for cold milk froth.
Pros
Compact in size and doesn't take much space
Low power consumption with auto-off after 9 minutes
Fast warm uptime
Comes with a variety pack of 16 capsules for starting up
Super easy to use
Variety of pods to choose from
Amazing customer service support
Cons
No control over constraints like temperature, brew-strength, and grinds
Pods are recyclable and not completely disposable, so a little bad for the environment
The pods from Nespresso can be costly in the long run so you have to use some other alternates
Sale
Nespresso Pixie Coffee and Espresso Machine...
Note: 1)Too coarse a grind, too little coffee, or...
ESPRESSO MACHINE: Enjoy a full range of espresso coffee with...
COFFEE SELECTIONS: Brew better coffee at home with two...
FOR ALL COFFEE DRINKERS: Embody the expertise of Nespresso...
Conclusion
Overall, Nespresso Pixie is great to buy if you are looking for a coffee machine that without much fuzz gives a cup of great coffee with a few presses of buttons. It even comes with a small price tag of under $200. A simple espresso machine can be cumbersome in the morning when you are just half-awake, rubbing your eyes and looking for a cup of coffee to fully wake you up.