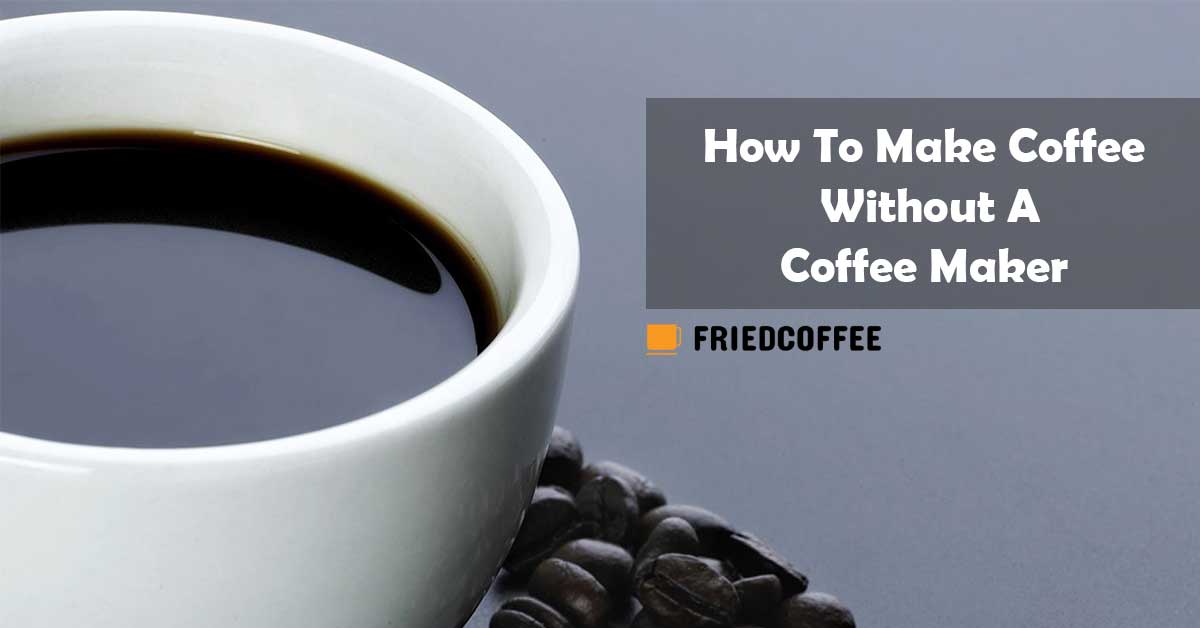 If you love coffee, surely you have a coffee machine, and you rely on it to get that beverage we all love. But sometimes things don't go as planned, you cannot take your machine with you on a trip, or maybe it broke down. This article is all about adapting to any situation, and still, have a great cup of coffee by your side.
The situation can be anything like electricity failure which prevents you from using an automatic coffee maker; maybe you are on outdoor so you need something portable to brew a cup of coffee; or maybe you want to try some other methods.
Let's face it, some of us are like zombies when we wake up (some more than others), and we are not precisely ourselves until that first sip of coffee goes into our mouth. We are truly addicted, and we love being addicted to it, but now, imagine you don't get that cup of coffee, you will turn from a sleepwalking zombie into a human eating one in a second.
But don't worry, we are here to help you, and we will go through the best methods of brewing coffee without a machine, even without electricity (for those random power outages people may experience).
Coffee can join you in camping or outdoors, on the beach, hotels, trips, you name it, the point is having that old friend of yours always backing you up and giving you the energy to keep the challenges of the day-to-day at bay.
The Instant Coffee Method
Ok relax, I know this doesn't sound that good! But hey, it's convenient as it gets, and some instant coffee brands are not bad at all, it's just a matter of actually finding something you may like. Instant coffee can work in a pinch, and it can save you from a day without coffee, after all, think that is way worse for some of us, and again, there are some best instant coffee brands that are not bad at all.
For this method you will need the following –
Hot Water (didn't see that one coming)
Instant Coffee (again, unexpected)
Container (cup, insulated thermos, jug, you name it)
The steps are quite simple, and usually, they come in the labels for the instant coffee (especially the measurements).
How To Brew
If you have cold water only, heat it, some instant coffee works with cold water, but usually, the best way is with hot water.
Check the measurements you need, and add the coffee into the water, mix well.
Check for taste, you may want something stronger or softer depending on it, the label measurements are not a rule, and you should do what you like the best.
The Cowboy Method
Despite the name of this method this has well nothing to do with cowboys, actually, this method was probably created before cowboys were riding on the wasteland sands (I wonder what they named it before that?).
Here is what you need:
Water (Wow really?)
A Kettle or a Pot that you can heat
Coffee grounds (Yes you need coffee grounds to brew coffee)
Some utensil to stir the coffee
A mug or container for the finished product
Instructions are quite straight-forward; you cannot go wrong here:
How To Brew
Usually, when using this method you won't have a lot of measurement equipment, so, add around one tablespoon per cup of coffee into the kettle.
Add water; you will need to measure around one cup of water per serving.
Place the pot over the heating source, fire, camp-fire(if you are camping) or stove, and bring the coffee to boiling temperature.
Let it boil for about two to three minutes, careful; you don't want to burn the ground, then remove from the heat source.
Let it settle, usually; you don't have a filter when using this method, so there will be a lot of coffee grounds in your cup if you serve right after boiling, five minutes should do.
The last step is the tricky one, pouring the coffee with the least possible grounds in it, you have to be patient and careful here.
Sale
OXO BREW Classic Tea Kettle - Brushed...
Easy-open, one-touch spout cap
Soft, angled handle for comfortable pouring
Handle rotates out of the way for pouring or storing
Loud whistle signals when water is ready
The Coffee Bag Method
This method is quite simple as well, and well, if you have prepared tea you will be able to make this quite easily. It just requires a little more creativity instead of just having the tea bag ready to go. Instructions are as follow:
You will Require:
Hot Water (Enough jokes about this one already?)
Coffee filter (you guessed it, that's the bag)
Coffee grounds (Yes I promise I will stop with this one as well)
String or thread, be careful with waxed products and also metal doesn't work that well.
A mug or container for the finished coffee.
Easy as pie, here is how it goes.
How to Brew
Measure a single serving of coffee grounds, again, around one tablespoon per serving, and place it on your filter
Make a little bag, then use the string to close the bag from the top, remember to leave some for inserting and taking out the bag from the mug, just like a teabag.
Place the bag into the cup, making sure the string is long enough to take it out when the coffee is brewed.
Get your hot water (or heat it with whatever method you have available) and pour it into the mug slowly, making sure the bag remains in good shape. Since the coffee won't be in a fire or stove, it will take a little longer to brew, but around five to ten minutes will do, depending on the intensity desired.
Remove the bag carefully, making sure it doesn't open inside the mug, and discard it, enjoy the coffee.
The Straining Method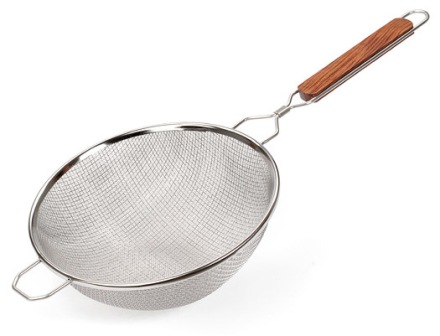 This method is quite amusing but hey, it works, and it involves a strainer, you know, those things you use to drain things up? Yeah, that helps with coffee as well, make sure the holes in the strainer are not big enough to let the ground coffee pass through. Do as follows:
You will need:
Water (I am controlling myself…)
A kettle (optional)
Coffee grounds (Yet again)
Strainer with small holes
Mug or container for coffee
Instructions are incredibly similar to the last one:
Steps to Brew
Measure how many servings you want, note that, since you are using a metal strainer, you can make more than a single cup on fire.
Add the water and the coffee grounds, bring it to a boil and keep it there for around two minutes.
Remove from the heat, and now here comes the real deal.
Hold the strainer above your container and pour it very slowly, if the strainer has small holes it will hold most of the ground back.
Bellemain Fine Mesh Strainer Basket -...
SET OF 3 STRAINERS: Brew tea, rinse grains, sift flour,...
STURDY CONSTRUCTION TO LAST: Stainless steel won't bend,...
FINE WEAVE MESH SIFTS SMALLEST FOODS: 40 holes per inch...
IMPROVED SECURE HEATLESS HANDLE: NEV R BREAK Strong rivets...
The Home Made French Press Method
The French press is a classic that everyone loves, whether you use it at home or not, you admittedly have tried some French Press coffee, that's why this method is so good, it emulates a press without much equipment.
Here are the Requirements
Water (…)
Tablespoon
Mug
A bowl deep enough
Coffee grounds (almost forgot!), coarse-ground is the best
Easy enough Instructions
Boil the water
Add one tablespoon of coffee per cup into the bowl
Add the boiling water, according to the coffee you measured and let it settle for a few minutes
Here is the pressing part, use your tablespoon to press the grounds against the bottom of the bowl, slowly and carefully.
Pour the coffee into the mug, using the tablespoon to keep the grounds at bay.
Denby USA Natural Canvas Deep Noodle Bowl
Hand-crafted in England by skilled artisans from high...
Expertly glazed to prevent chipping and enhance durability
Suitable for oven, microwave, dishwasher, and freezer
The Microwave Method (Chef Mike Approves)
This is a pretty obvious method right? Using your microwave means you have power and well… a microwave. Convenient and fast because you can have coffee ready asap. This is probably the easiest method in the list with the help of Chef Mike.
Here are the things you Need
Water
Coffee grounds
Microwave (AKA Chef Mike)
Mug (Microwave safe)
(Unnecessary) Steps:
Fill your mug with water, and let Chef Mike get it to a suitable temperature, depending on your microwave's power, this will take from 1 to 2 minutes. Make sure the water is not boiling, just really hot.
Stir in a tablespoon of your favorite coffee grounds.
Allow the coffee to sit and settle for about four minutes, letting it brew.
Coffee is ready! Just remember the coffee grounds at the bottom.
Amazon Basics Microwave, Small, 0.7 Cu. Ft,...
Now it's easier to defrost vegetables, make popcorn, cook...
Compact size saves counter space, plus 10 power levels, a...
Alexa is always getting smarter and adding new presets.
External dimensions (Width x Height x Depth): 17.3 in. x...
The Turkish Method
Turkish coffee doesn't mean that you use Turkish coffee beans or anything like that, it is a preparation method and an excellent one for that matter. Turkish coffee has been around for ages, and it is still unique.
The Requirements
Spoon
One small pot
One measuring cup
Ground coffee
Water
This method requires a bit of patience, but it is oh so worth it, follow me:
The Steps to Brew
Measure about half a cup of cold water, add it to the pot, and set to medium heat (Or medium fire, don't want to get this boiling)
Add a teaspoon of coffee to the pot but do not stir, let it settle by itself.
Add around one tablespoon of sugar or salt, depending on what you are aiming for. Again do not stir, just let it be.
After the water heats enough and the coffee starts sinking, mix the components and lower the heat, you don't want this to boil.
A foam should appear at the top of the mixture, when this foam cools and becomes quite thick, we pour it into the cup, do this 2 to 3 times. Remember patience is key
Now pour the mixture into the container, let it settle, waiting for the grounds to sink, and enjoy.
The Hankerchief Method
This method feels like it was brought from a survival show right? You will be using a linen or cotton cloth to act as a filter, this, in fact, is a survival tool, you can even filter water with your socks in an emergency. The method is just a great way to make coffee in a pinch, and keep the grounds out of the product.
For this method you will need
Hot water
A mug or container
Clothespins or some kind of clips to keep the cloth in place
Clean linen or cotton cloth (Or as the name says, a hanky or handkerchief)
Coffee grounds
The instructions may require a little wait, but this method is still excellent:
The Steps to Follow
Place the cloth or hanky at the top of your mug, extending it, then press the middle to make a pouch big enough for the coffee grounds.
Use the clothespins or clips to fixate the cloth in place; you don't want it to go all the way down and hit the coffee.
Add the coffee grounds to the "pouch," then, start pouring hot water slowly, until the grounds are covered, you will have to wait for it to drip down and repeat the process.
After a few times and adding the water needed, remove the hanky carefully without dropping the grounds into the coffee and enjoy. You may have to adjust the clothespins since the weight of the water may move the cloth a bit.
EcoHanky Men's Handkerchiefs 100% Cotton...
SIZE: 16'' x 16'' / 40cm x 40cm.
PACKAGE: 12 pieces handkerchiefs per pack.
CLASSIC DESIGN: classic vintage gentlemen's hankies,...
QUALITY: Durable, Absorbent, Moisture-Wicking and...
The Cold Brew Method
This method is not fast, but you don't even need a fire or a stove, so it's fail-proof. You will make coffee without the heating steps, so it's extremely simple, as long as you are okay with waiting. This also a really good beverage for those hot summer days, where hot coffee is not exactly the best.
The Things Needed
Ground coffee
Water
Two mugs or jars
Cloth or coffee filter
Clothespins or clips
Spoon
Instructions (Again, be patient):
Pour all the water and coffee into one of the containers, wait for a minute, then stir it well.
Cover the mug and let it sit for 10 to 14 hours, this is the patience part.
After a long wait, prepare the other jar, place the filter or cloth, make a pouch, and fix it in place with the clothespins or clips (similar to the hanky method).
Pour the coffee slowly, fill the pouch and let it drip slowly.
Remove the cloth or filter and enjoy your cold-brewed coffee!
Wrap Up
So, guys, the above was kind of DIY methods where we used things that are easily available and don't hit any kind of budget concerns. If the reason is not budget but rather portability, learn how to use Chemex or some other kind of manual pour-over coffee makers like Hario. These allow brewing a consistently perfect cup of coffee without requiring any electricity. Take them anywhere and they will be your best companion.
Hope you guys have enjoyed the above brewing methods. Some methods are hit or miss but are helpful when you are actually helpless, especially in the morning when your coffee maker says – Sorry, I can't. Even more helpless when you have bad neighbors or no neighbors to give you your morning coffee.