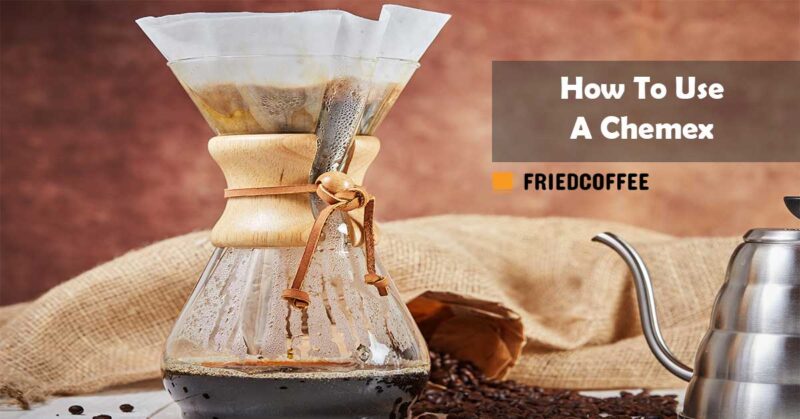 The Chemex Coffeemaker is classic, stylish, pure, useful, and efficient. Why should you use it? Well, most people claim that this is one of the methods that bring the best results, and for those with enough passion for good coffee, this reason is more than enough.
Also, Chemex is not only good but is also fundamental to brewing coffee and is quite easy to use. The design is fantastic, and that's why one of these coffee makers is in the Museum of Modern Art collection. The wood handle, iconic from the Chemex machines, is a beautiful touch, and it won't get more stylish than that. In my opinion, Chemex coffee feels like the western equivalent of Turkish Coffee. It's just Unique!
In this article, we will tell you step by step about how to use Chemex, perfectly!
How To Use Chemex
Things Needed, the Essentials
So what do I need to work with this piece of art? A great design not only means that it looks slick in your kitchen, but also, that it's easy to use, and it doesn't get more comfortable, to be honest. A French Press also is a great companion in your kitchen and is often compared with Chemex. Remember that Chemex tends to be the way to go, as well as filters, they know what they are doing and we should follow them in this fantastic journey.
The Brewer – First, you will need a brewer, obviously, and these little apparatus are not hard to find or even expensive, in fact, they are cheaper and common, and you can see some things out there for a great price, turning this method into one of the most convenient ways out there. One of the distinctive features of the brewer is the handle in the middle of the hourglass-shaped jar, to handle it when hot coffee is inside.
The Filters – WAIT! Before you go out there and buy some random filters for some drip machine, you have to know something. The Chemex method is also unique when it comes to filters, unlike the drip filters; these are thicker, allowing a cleaner version of coffee to drip into the containing area that is why the coffee made in Chemex is considered to be pure and better. These filters are made from bonded or folded paper, making layers that improve the quality of coffee and making it superior to that of drip coffee by your regular machine.
Coffee Beans – Just pick your favorite coffee and use those. This method works well with light to medium roast beans. Though it works well with dark roast, that has many different answers. if you already have ground coffee then use it. But grinding it right before making the coffee is just a great experience that can improve the outcome by a nice margin.
The Kettle – Water goes here, it heats up, and you pour it, easy as it gets. A kettle, for example, makes the job so much easier.
Water – Obviously, but hot water.
The Receptacle – Just pick whatever tumbler or mug you like, your favorite is the best one for this point.
Brewing With Chemex – Step by Step
Heat the water – Usually, two cups of water ratio to coffee do the trick for most Chemex Coffeemakers, so heat the water to the point before boiling. Add around half a cup for the Pre-Heat section.
Grind the beans – For the coffee, one tablespoon of ground for each cup of water, so prepare that as well, also, the ground doesn't have to be too thin or thick, so pick a middle point.
Pre-heat the filter – The Pre-Heating of the filter is essential, and it will improve the quality of the coffee and makes the process just better. Place the filter on the brewer and add the extra water (half a cup) to rinse it, preheat it, and fix it in place. After few seconds remove that water from the brewer.
Pour some water– Now comes the two-part section of the preparation, first you will place the coffee grounds in the filter and add water uniformly with the help of a pour-over kettle until they are all wet. Wait and let it sit for around a minute to ninety seconds. This will allow the coffee to hydrate and prepare for the real deal (Often called Coffee Blooming or Hydrating).
Pour rest water – Continue to pour the rest of the water and have a great coffee ready for action!
The result of all these little steps is fantastic, something most people don't expect and something most people don't know. The Chemex-made coffee is not only more transparent than other coffees, but it is also famous for having a pure taste, an aromatic bouquet, and bright color. The process, although simple, it can take longer than a simple drip machine, but the result is impressive, and to be honest, if you like making coffee, this is just extra fun for you.
Overall, the result is terrific, and you will find a new pleasure in this method.
Chemex Filters: The Real Deal
As I mentioned, the filters for the Chemex are specific and made only for this method, they are thicker, and they have better filtering capabilities. And in my opinion, a remarkable filter is fundamental for a tremendous Chemex coffee, so here are some tips, tricks, facts, and overall everything you need to know about these filters.
I mean, in the end, the creators must have something right, so for the Chemex filters I simply go to the Chemex Amazon store, they sell the filters the way they should be, and for an excellent price, you can buy a ton of them that will last for quite a while. Chemex also thinks about the convenience of their customers, the filters are pre-folded, and they come in a perfect cone shape that ensures you will have a great coffee in no time.
They are thicker than most, and also are made from a particular fiber, assuring that the bitter elements from the coffee and even the grounds, stay in the filter and not in your precious beverage.
They manufacture these filters with top-notch quality, and they are the creators of this method for a reason, so why not just go for their professional filters, knowing that they know exactly what they are doing.
Types Of Chemex Filters
We suggest never to go with the metal filters as Chemex is all about purity. The paper filters that Chemex sells are laboratory grade. They filter out the impurities, bitterness, and oils from the coffee resulting in a pure form of coffee and that's why Chemex is the most reputed means of brewing coffee.
Only buy filters sold by Chemex and don't get confused about which one is better. They usually come in 2 shapes – Round and Square. The round one sits perfectly with your coffee maker whereas the square has edges at the top. So, it's just a matter of personal preference.
The second difference is about the bonded, natural, and classic. These papers are exactly the same and the only difference is that the brown filters go through just hot water baths whereas the white paper goes first through oxidizing cleansing bath and then a series of hot water baths. The bonded are the ones that go through the chemical oxidizing process.
So, now we know about how to use a Chemex, let's have a look at a few of the best Chemex coffee makers.
Best Chemex Coffee Makers
The Chemex 6 Cup Pour-Over Classic Coffeemaker
Chemex Pour-Over Glass Coffeemaker - Classic...
CHEMEX - simple, easy to use with timeless, elegant design
All CHEMEX Coffeemakers are made of the highest quality,...
The patented CHEMEX pour-over design allows coffee to be...
All CHEMEX Coffeemakers are measured using 5 oz. as 1 cup
Here is the real apparatus that has been in so much talk. The Chemex classic pour-over coffee maker is the one that is the most preferred apparatus by any coffee connoisseur. You will for sure find this with every coffee barista as it's something that aids learning more about coffee and its characteristics.
The coffeemaker is made up of nonporous borosilicate glass that doesn't absorb any odors or chemical residues. The coffee in this pour-over system can be easily refrigerated or reheated without any loss of flavors. A lot of brands are selling the same concept with their trademarks, but the trust of Chemex remains the same.
The Latest : Chemex Ottomatic
So the filters are necessary, that is clearly stated, but a quality brewer is also essential for making the coffee, so people ask: Which one should we pick?
Here is our answer, and this is the one which we would pick, the Chemex Ottomatic. We will explain the why in a second.
Chemex finally made it possible to get our great coffee in an even easier way, and automated the whole process. This machine actually makes Chemex Coffee by itself. It's like an electric drip coffeemaker, but it makes even a better cup of coffee. The single fact is that you can use this with the electrical system or also manually. You can simply take the jug out and do it manual brewing which makes Ottomatic a fantastic option.
Features
The Chemex Ottomatic (currently 2.0) is fantastic. It includes the typical Chemex hourglass-shaped jug, while also it consists of a water tank and a pour system that will not flood your coffee, but instead, it will carefully water it, like a precious flower, and make the result perfect.
Includes a Hot Plate underneath to keep the coffee hot inside the jug. It will also maintain a specific temperature, so the flavor stays true.
Measures the optimal contact time between water and coffee, making the pouring system just precise and amazing.
It also comes with an Iced Coffee Mode, for those scorching summer days.
The Technology used in this machine is fantastic, they make sure that every single cup of coffee is perfect, the "Greedy Cup" system used by the computer has each brewing cycle measured, and ensures the optimal temperature and the optimal extraction for the ideal flavor.
What Comes in the Box
The Classic Chemex Coffeemaker, with a capacity of six cups (30oz).
One Small pack of Chemex Bonded Filters, which as I mentioned above, are quite important
Glass Coffeemaker Cover
Coffeemaker Cleaner, they make it easier.
The Judgement!
The Chemex method is a must for most coffee lovers. This article not only includes how to do it, but how to do it right, with the best tools available there, and how everything should work to bring a great cup of joe. Also, Chemex just broke the rules with their Ottomatic machine and made it so much more comfortable and convenient now. Drip Coffee has nothing on this impressive piece of engineering, and I believe everyone should try using Chemex. At least once, you will fall in love.