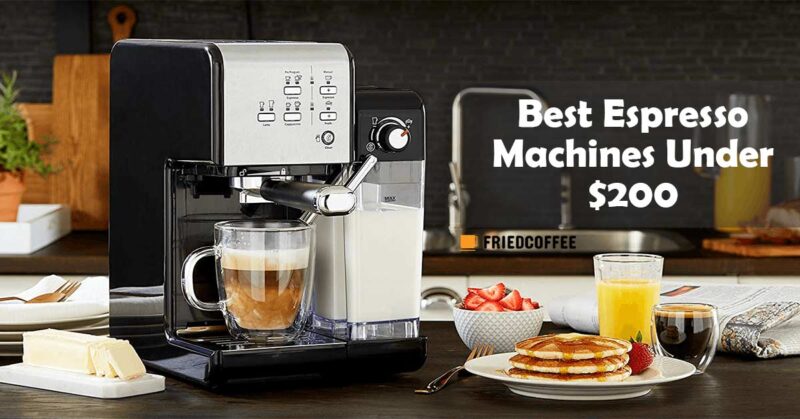 Espresso is one of those things that once you try and like, you can never turn back. Making espresso however has a major downside, that you need a specialized machine, and buying a really good one can actually be a rather expensive and unaffordable endeavor. Luckily, nowadays you don't need to buy one of those fancy Italian super-expensive espresso makers, you can find perfect budget espresso machines for under $200, and that's where this guide comes into play.
AT A GLANCE ON OUR FAVORITE BUDGET ESPRESSO MACHINES UNDER 200
Let's now move over to find the best espresso machines that go for under 200, get to know all important aspects of them, and allow us to help you make that purchase.
Best Rated Espresso Machines Under $200
1. De'Longhi EC155
DeLonghi EC155 15 Bar Espresso and Cappuccino...
Note: 1)Too coarse a grind, too little coffee, or...
EVERY CUP TO YOUR LIKING: 15-bar professional pressure...
BREW LIKE A PRO: Whatever your preference – single or...
YOUR FOAM, YOUR WAY: A manual frother mixes steam and milk...
One of the best home espresso makers that brew with both coffee grounds as well as pods. The dual-function filter holder serves both needs. With a self-priming operation, you don't have to worry about the start-up. Its swivel frother prepares milk for amazing lattes and cappuccino cups.
At such a minimal price, the product has two thermostats for separate temperature control of steam and water. This helps in faster brewing times and with constant temperatures resulting in a perfect cup of espresso. The 15 bar pressure is adequate for a good cup of espresso with this price range.
The water tank is removable for cleaning and refilling. It's also clearly visible so that you can refill it the time it's needed. All in all, EC155 is a great pick and has already been serving many American homes for their morning espresso.
2. Espresso Works 7
Espresso Machine & Cappuccino Maker with Milk...
Includes: 15 Bar Pump Espresso & Cappuccino Maker, Electric...
ESPRESSO MACHINE and LATTE MAKER 15 BAR PUMP PRESSURE...
A SINGLE SHOT AND A DOUBLE SHOT OF ESPRESSO – Includes a...
A VIEWABLE REMOVABLE WATER TANK (1.25L capacity) lets you...
The EspressoWorks 7 All-in-one comes in at a price slightly above the $200 budget, but it's worth it with the features. It becomes a rather tempting offer considering everything that we get for this competitive price tag. With a double shot system (that can be a single shot as well), a removable water tank, an included coffee grinder as well as a frothing cup with a steam wand, this machine truly has everything we need.
This machine comes with pretty much everything you need to start making either espresso or cappuccinos out of the box. This package is rather popular and funnily enough, is not a bad quality machine at all.
EspressoWorks truly bring it with one of the best bang-for-the-buck machines we've seen in a while. The 15 bar pressure system as well as 2 porcelain cups (because yes, even cups are included in the box) make this machine a great choice for pretty much everyone looking for a machine at this price point.
3. De'Longhi EC702
With a slight price above $200, this budget espresso machine is a beast. The brand has a bulk reputation for making quality espresso machines and this can be easily proved with so many products of this brand on the list.
EC702 is a machine for a home barista. Play and experiment with the drinks you always have dreamed of. With two separate thermostats, steam and water can be controlled separately resulting in irresistible perfection. It also has a rapid cappuccino system eliminating the gaps between brewing. The portafilter comes with 3 holders for single shot, double shot, and easy-serve pods.
The large water tank of 44 oz needs less refiling and is removable for cleaning. The drip tray is also removable and both are dishwasher safe. This machine is highly suggested for people looking to make professional drinks at home or for practicing as a barista. We have a full review of De'Longhi EC702 if you just want to have a look at it.
4. Breville Vertuo Pod System
Sale
Nespresso Vertuo Coffee and Espresso Machine...
Note: 1)Too coarse a grind, too little coffee, or...
SINGLE SERVE COFFEE and ESPRESSO MACHINE: Single serve...
COFFEE FOR EVERY OCCASION: Brew better coffee at home with...
VERSATILE COFFEE MAKER: Brew 4 different cup sizes at the...
Breville and Nespresso team up to bring this rather interesting machine, featuring the new Vertuo pod system for larger espressos. As we know, this is a fully automatic, fast functioning machine that really only requires to have water in the removable tank and a pod to work. Also, this one includes the famous Nespresso Aeroccino, which, in our opinion, is a magnificent tool for automatic milk frothing.
With 5 different size options for your cup and a rather easy control system, Nespresso does it again with their convenience-focused machines. The price hovers around 150 but we must also consider the constant cost of the pods, which will add up over time. This price, however, is okay if we value convenience and something we always say about various Nespresso machines is that their coffee quality is really good with the pod system, so that's a big plus for most of the people that are in a hurry.
5. De'longhi ECP3630
Sale
De'Longhi is a well-known brand and the products they make are usually of high quality while being affordable, and that's why the EXP3630 made the cut and is here for a review. Featuring a rather simple design and controls, the ECP3630 is easy to use, as well as being pretty compact, so you can fit it in almost any corner of your kitchen. The 15 bar pressure system is ideal for espresso extraction and the self-priming makes the start-up a breeze, as well as including a removable water tank for ease of use.
Overall, this little machine covers all that we need for a decent espresso, and for a price tag of around $170, it's a great option. Take into account that the small form factor comes with some disadvantages, including the fact that the maximum cup height is rather limited, so taking this into consideration is a must.
6. De'Longhi ECP3120
De'Longhi ECP3120 15 Bar Espresso Machine...
EVERY CUP TO YOUR LIKING 15-bar professional pressure...
BREW LIKE A PRO Whatever your preference - single or double...
YOUR FOAM, YOUR WAY A manual frother mixes steam and milk to...
ONE ESPRESSO SHOT OR TWO? The three-in-one filter holder,...
Back to another De'Longhi machine, this time we bring one of the best prices we could find, at only around $100, it can be quite a deal. The price may be awesome but always remember that you will be losing a few things, like, for example, a tall cup height and whatnot. This machine is rather basic, but it still has a frother, a removable water tank, and a really comfortable size.
This little machine is easy to use, simple to understand when it comes to controls, and easy to clean. Mainly focusing on convenience at a low price, the ECP3120 is a great option for those who really don't want to go over the top with the price.
The machine is designed to be compact, lightweight, and simple to use, so people who value that, as well as the price, will prefer this one over a more fancy one.
7. Nespresso Vertuo Evoluo
Nespresso comes back, this time with De'Longhi to bring yet another Vertuo pod machine priced under 200. This one features pretty much the same specs as the previous one, with a different branding as well as a different finish. For these two, we simply recommend buying the one that goes for cheaper or the one that you esthetically like more.
This one includes the Aeroccino as well, which we already stated we like quite a lot, and the 5 sizes of a cup depending on what you need: Espresso (1.35 oz), Double Espresso (2.7oz), Gran Lungo (5 oz), Coffee (7.7 oz), and Alto (14 oz).
We would like to repeat that Nespresso is the king of convenience, sacrificing very little to achieve a fast and easy cup of coffee, with high quality in between.
Of course, we remind people that a pod will mostly always be more expensive than regular coffee, so it's really a matter of paying the premium for ease of use.
8. Mr. Coffee Cafe Barista
Sale
Mr. Coffee Espresso and Cappuccino Machine,...
Note: 1)Too coarse a grind, too little coffee, or...
2)It is important to note that the amount of espresso...
Please refer to user guide or user manual or user guide...
Semi-automatic 3-in-1 espresso, cappuccino and latte maker
Mr. Coffee is a classic, and their machines are rather good and simple. This one for example, for a fair price, brings us an automatic milk frother, along with a full semi-automatic system. The automatic frother is a welcome sight that adds speed and ease of use, and the removable tank (as well as the milk reservoir in the automatic frother) makes it quite easy to clean. The controls are not as straightforward as other machines but they are super intuitive due to everything being written and properly marked. It also has an automatic cleaning button so yeah, easy to clean again.
The Mr. Coffee Cafe Barista is indeed a superb espresso machine under the budget of $200. It's not a machine that looks impressive or anything but it doesn't look cheap either, and the size is quite compact for what you get so we highly recommend it.
9. Sowtech Espresso Maker
SOWTECH Steam Espresso Machine Espresso Maker...
EASY TO USE: Single switch knob with indicator light for...
BREW LIKE A PRO: Powerful 3.5 bar pressure espresso coffee...
YOUR FOAM, YOUR WAY: Coffee espresso machine with frothing...
COMPACT DESIGN: The stainless steel compact design of the...
The Sowtech can be called the cheapest espresso machine that brews a great cup of espresso every time. With minimal hiccups, this small machine is ready to serve you in minutes. It also takes minimal space on your counter.
We won't say that this machine is actually for coffee freaks, but rather for general people who want to start their day with espresso. With 3.5 bar pump pressure, it makes a generous cup of espresso and we cannot compare it with machines that have 15 bar pressure.
It comes with a steam wand for frothing needs as well and works decently. A single knob works for all functions and so, you cannot brew and froth at the same time.
10. Flair Espresso Maker
Flair Espresso Maker - Classic: All manual...
HANDCRAFT SHOTS OF ESPRESSO - With the Flair Espresso Maker,...
FULLY MANUAL & COMPLETELY BEAUTIFUL - The Flair is a 100%...
EASY TO CLEAN - The Flair Espresso Maker is the only manual...
BUILT TO LAST - Now with an upgraded, stronger base, post...
Sometimes things are better if you do them yourself, and that's where the Flair espresso maker comes into play. This machine is quite literally a human-powered pressure machine that you have to manually pressurize the system for customized extraction. This high-quality machine doesn't come in cheap, considering it's not electric, but it will last for a lot of years and users are in love with it.
The included manual pretty much explains every aspect of the process so you can adapt it to your taste, something that is not exactly possible on most electrical machines, and hands down this product are just way too cool to not mention. The apparatus comes with a carrying case that fits every single part of it perfectly, so it's a rather useful piece of equipment for camping, for example.
Acquiring a burr grinder is highly recommended since it will allow you to really control every single part of the process.
Buyer's Guide for Budget Espresso Machines Under 200
Now that we know the best Espresso machines under the $200 budget, let's talk about the different aspects we need to take into consideration. All these aspects really depend on each buyer and you will have to adapt them to your individual situation, like the size based on the amount of space you have on your counter, so let's begin.
Size
The size of the machine is really important since having something too big on a small counter will feel like a waste of space or a lack of it. You must choose well when it comes to the footprint of the machine, and also what you want to do with it. Portability comes into this category as well, if you want something to move to your office every day, you will need a small lightweight machine with only a few accessories, so always take that into account.
Durability
An extremely important aspect, usually steel will last longer than plastic and we need to be aware of this. You want your machine to last as long as possible, but the material used for the external build is not the only factor. Make sure to check reviews to see how long the machine usually lasts and if there is a lot of bad feedback regarding this aspect, be careful. In this category, we can also consider the warranty since longer warranty periods usually mean better durability, or at least an easy fix in case the machine doesn't last as long as advertised.
Ease of Cleaning
This is a quality of life category that many of us will absolutely take a priority, especially those who are extremely busy. Being able to clean your machine with a simple wash and a push of a button is a big advantage, and can really make your life easier. Also remember that materials play a big part in this, as cleaning things like stainless steel is usually easy and fast, while plastic can prove to be a little more difficult at times. We recommend that you just make sure that the machine doesn't require a full disassembly to clean, as it can get annoying.
Grinding Strength
This feature is not as important at this price range, as most of the machines do not include a grinder, but make sure that the grinding is good enough for your needs if you are not gonna be buying the ground coffee. Worst case scenario you can buy a fairly decent grinder for a little bit extra, but also make sure that the quality is good and you don't lose quality during this process. No matter how good your machine is and how amazing the extraction is if the ground coffee is not good enough, that's a fact.
Frothing Capacity
If you simply want espresso, then don't bother with frothing, but if you also want that milky drink to be available for you, then this is important. From a frothing or steaming wand to an automatic frother or the Aeroccino from Nespresso, take this point seriously if you like your espresso-based milk beverages, like cappuccinos. In our opinion, these kinds of drinks really shine when the frothing is well made and we all love a good micro-foam of milky goodness. Also if you want to froth, remember that wands are manual while automatic frothers make it easy for the user, but it means you have less control over the process.
Water Storage Capacity
Another quality of life category and we can say that this really matters based on how much coffee you drink. One cup a day means a big reservoir will just be an encumbrance, as the water can actually go to bed from being several days in that container. But if you drink several cups a day then needing to fill the reservoir every 5 minutes will really become painful. Our recommendation is to be realistic with your consumption and buy accordingly, as this will make your life easier in every single way possible. Also, a removable water reservoir is a must-have in our eyes.
What to Expect from an Espresso Machine under $200
An espresso machine within this budget can be referred to as entry-level. We can have basic features that brew as a good generous cup of espresso. along with a steam wand for milk frothing. Though, we can't compare these models we listed above with espresso machines under 500 bracket as they are built for more perfection and advanced usage.
Conclusion
Nowadays you can get a really good espresso machine for under $200, so there is no excuse to not enjoy the pleasures of this amazing drink. Espresso is a part of many people's lives, including the famous cappuccinos and lattes. This just means that the espresso is a versatile drink and base for other drinks, and we can just say, go ahead and try it.
If you are a coffee lover, trying espresso is a must and the chances of you liking it are really high. We hope that our guide helped you to get a good machine and it's good to bring more people into this amazing world.
FAQs
Can I get a good Espresso Machine under $200?
Yes, but beware of those cheap ones that break over a few weeks of use. Always buy from reputable brands that also offer good warranty periods and overall great customer service.
Is Nespresso worth it considering the pod cost?
This is a matter of convenience, Nespresso shines in this aspect, and if you want to have the easiest cup of quality espresso you can get, the Nespresso and the pod system got you. Sure you'll have to pay a little premium, but for most, it's well worth it.
Why should I get an Espresso machine?
If you like coffee, make sure to try espresso, it's a completely different experience and for a lot of people (myself included) it's like coffee enhanced since it has a whole new spectrum of aromas and taste. Try some espresso and you will find out why it's worth having one of these machines at home, especially now that they are fairly cheap and offer high quality.
What grind do I need for Espresso?
Go for a fine grind, it's quite common and is usually the standard for espresso extraction. You will find it to be similar or finer than table salt.
Is Espresso Machine under $200 good for home use?
Obviously, a machine under $200 is great for home as we are only going to use it periodically. For commercial use, heavy-duty machines are needed that can serve regularly and consistently.