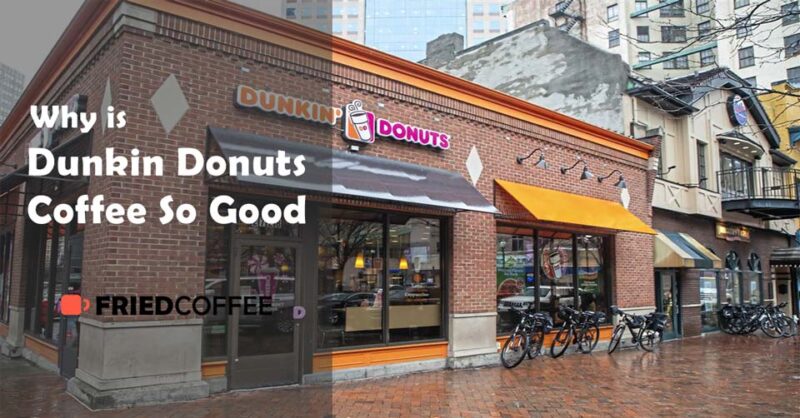 Dunkin Donuts is an American company that has Coffee and Donuts centers across the globe. They serve approximately 12,900 locations stretched in 42 countries! No wonder, their coffee, and donuts must be different from other coffee brands as every brand has its own process of doing things. And, the People of America and other parts of the world found Dunkin donuts coffee so good and enchanting.
Nevertheless, before plunging deep into the topic, let us go through a few things about coffee beans and flavors as they will be needed for further reading.
Find the Hidden Gem
Whether it is Starbucks or Dunkin Donuts Coffee, each coffee store has its own uniqueness and flavors. However, not only the roasting and blending determine the flavors of coffee, the hidden gem is the grades of coffee beans you are using. Most coffee manufacturers restrict us from knowing about the coffee beans. Of course, this is their business policy and brand privacy.
But, you can still know, that the grades of coffee are marked as 1-5. Here, grade 1 means the best coffee beans according to SCAA or Specialty Coffee Association of America. The experts grade the coffee based on aroma, acidity, and moisture. In addition, they take special care to identify the defects.
So, Why is Dunkin Donuts Coffee so Good?
Dunkin claims that the coffee beans they use are 'Premium', as written on the packages. As per the gradation method of SCAA, premium coffee beans are categorized under level 2. Therefore, this means the coffee beans Dunkin Donuts coffee gets the second position. Not bad indeed!
Furthermore, they claim that they use 100 % Arabica beans. These beans come from Central and South America. Surprisingly, many of us do not know that they are Rainforest Alliance compliant to ensure the best coffee is sourced.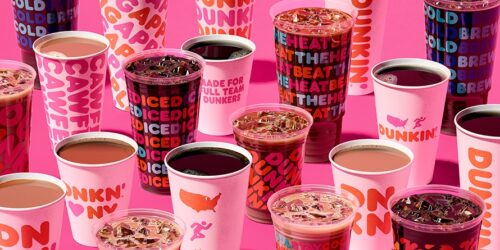 Consequently, Dunkin Donuts Coffee is obviously doing great. Otherwise, they would not have so many crazy fans and dedicated customers.
The Dunkin Donuts Coffee comes in a variety of flavors, both sweetened and unsweetened form. On one hand, sweetened flavors include caramel, mocha, cookie dough, pistachio, and butter pecan. On the other hand, unsweetened flavors are Toasted almond, blueberry, raspberry, and hazelnut. Apart from the flavors, there are reasons that will allow Dunkin Donuts to make a place in your heart.
The Donuts
The donuts are worth mentioning. When is the last time you had donuts in a coffee shop? However, here you have the options to enjoy donuts with your coffee. There are almost 50 varieties of donuts. In addition, they have seasonal varieties as a surprise for the customers.
Above all, donuts can never replace pastries. They are tummy-filling and the perfect combination to go with your yum coffee.
The Cream
Many customers have praised the cream used in Dunkin Donuts Coffee. The fat content in milk ascertains the quantity of cream. The cream used in Dunkin has higher fat content than any other popular coffee chain.
Therefore, for those who love less bitter but flavored coffee, Dunkin is the appropriate place.
No Burnt Beans
Some of us do not like the taste of burnt beans in the coffee. It tastes awful sometimes. At Dunkin, every cup of coffee comes with natural ingredients and it tastes perfect. They do not have a burnt taste in coffee.
Tastes Better
When you order a Dunkin Donuts Coffee, be assured that the coffee will have the perfect taste. Their flavors are easy to understand. You can assess what you are going to get on the table.
If you want vanilla or butter pecan, the taste will be like that only. There is no adulteration in flavor. Therefore, it tastes much better than other brands.
The terminologies used in the menu should be simple. If you do not understand the actual proportion, you may end up taking something big or small. However, the menu here is very simple. They have Regular, Medium, and Large, which is logical and considerable for all.
Cheaper One
Dunkin Donuts Coffee is pocket-friendly. So, if you are hungry and want to save some money, this is the place to be. Moreover, they will add flavors, sugar, milk, cream without charging an extra penny! For instance, if you love caramel on your coffee, ask for it contentedly. There are no hidden charges; what you see, you pay.
Coolattas!!
Summer is on the way; what can be better than a cold drink to satisfy your thirst! The Coolattas won millions of hearts already. They are unique, fresh, and lip-smacking. No other company has ever thought of such an idea and came up with this. In addition, they serve smoothies and shakes for those who do not love hot coffee.
Munchkins
Yes, you heard it correctly. Dunkin serves tasty munchkins. Therefore, if you have a kid, you will have no worries at all. Order munchkins for them and they will be happy.
Reward System
Just like Starbucks, Dunkin Donuts comes with a reward system for their regular customers. You can download their app and order from there. Pay the amount online or get delivery at the nearest location. Additionally, you can send gift cards to your friends. All these come with amazing rewards.
Moreover, how much you spent does not matter. Every member gets new coupons each month. It is always amazing to have rewards, right?!
So Many Options
Although many people opine that Dunkin Donuts has fewer options than other does, it indeed comes with a wide range of options. In addition, if you are a dessert lover, this is the place for you.
Donuts For Free
Who does not want a portion of free food at the counter? Dunkin offers you a receipt with the option to perform an online survey. The online survey will generate a code with which you can get a free donut in the next purchase.
Therefore, free donuts every time! Obviously, this one reason will take you to Dunkin at least once.
Milk and Sugar for You
Adding milk and sugar is sometimes irritating. Moreover, we either add more or less and the taste of the coffee degrades. Obviously, a barista is an expert in making perfect coffees. Dunkin mixes the milk and sugar for you. Hence, you will get the perfect mix of sweetness with milk and coffee.
Customized Menu
Items on the menu at Dunkin Donuts have options for customization. You can add or remove according to your choice and get the best one for you.
Quick Delivery
People visiting coffee shops may not have it all day long. While some shops take a longer time than normal, Dunkin got many happy customers for quick delivery. Some people even reviewed that they received coffee even before completing the payment at the counter.
Double Brewed Ice Coffee
Dunkin serves delicious iced coffee. The reason behind this is the double brewing process. That means, they use double the amount of coffee for brewing. Consequently, freshness and flavor are leveled high up than any other iced coffee.
The Variety in Food
Surely, Dunkin supplies freshly baked donuts. However, their bakery selections and food will leave you contented every time. They offer breakfast and lunch combos, which include a coffee or tea at no additional cost. The combo deal costs much less than a single coffee at any other branded shop. Moreover, with the abundant sandwich combination, Dunkin's Menu serves customers with choices of meals that are less than 400 calories. On the other hand, only a single drink can be 400 calories in your favorite coffee shop. So, it is obviously better to have a tummy-filling meal with a coffee that too in such low calories.
Friendly Behavior
Behavior is the most important thing to win customer's hearts. At, Dunkin customers are very happy with the kind behavior and smiling face.
Making Dunkin Donuts Coffee at Home
The taste of making Dunkin Donuts Coffee at home is difficult to match to that of the store. The machines and the beans used are definitely better than what we have at our home. Still, if you follow the steps, you can probably make one close to the Dunkin.
Purchase the best Dunkin Donuts Coffee beans. Make sure you are storing them properly. Coffee beans have the property to absorb moisture and aroma around them. Therefore store them in an airtight container within the freezer for longer shelf life.
Grind the required amount of coffee beans. Make it a coarse ground for making the best coffee.
Use a coffee maker of your choice. However, a French press is good to use. It is easy and effective. But, make sure you clean the coffee maker properly. The reason is any leftover coffee will destroy the coffee. Consequently, you will not get the fresh flavored coffee that you want to have in your coffee like Dunkin.
This is the most significant step. The measurement of coffee and water is very important. In addition, you have to take care of the temperature also. To get a cup or pot of hot coffee close to Dunkin Donuts, take 1.5 tablespoons of ground coffee for every 6 ounces of water.
Steep it for 4 minutes and maintain the temperature of water correctly. If you are preparing on the stovetop keep the burner on for less than 20 minutes.
To make an iced coffee like Dunkin, soak twice the amount of ground that is, 3 tablespoons for every 6 ounces of water. The reason is quite simple. When you put ice, it will dilute the freshly brewed coffee. Therefore, to keep the taste intact, use twice the amount of coffee ground.
Interesting Facts about Dunkin Donuts Coffee
The mentioned points are enough to understand why Dunkin Donuts Coffee is so good. However, there are certain facts that will make your trust stronger on the matter.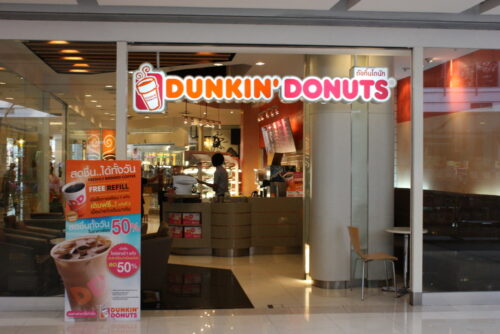 Full-time Coffee Tasters
There are two full-time executive coffee tasters in Dunkin Donuts Coffee. They taste every cup of coffee each day and assure that they are of the best quality and taste the same.
Dedication
Every employee at Dunkin is highly dedicated. In a single day, tasters even taste 100 cups of coffee.
The Science Lab
Perhaps, this is the most authentic reason for a great coffee. Dunkin has labs in every country from where it imports coffee beans. Consequently, this ensures the best quality of coffee beans in your cup of coffee.
The Obsession
If a single trait is missing in any cup of coffee, the total lot is sent back to the roaster, without a second thought.
Job Training
Working at Dunkin is not easy. It takes three hectic years to make the sense organs work perfectly. It is only after so many years, a person becomes an expert in understanding the different aromas in the coffee.
Rigorous tasting
A coffee taste-tester in Dunkin has to taste 100 cups of coffee per week. Based on aroma, flavor, sweetness, and balance they give grades from 1 to 7.
The Success Story
Apart from offering excellent brewed high-quality coffee, Dunkin has surpassed other brands by using two fruitful steps – Changes and Franchisee opportunity.
The sudden surprise perks in their menu are bound to grab more customers. Nobody loves a boring menu every time they visit. These surprises for members are heartwarming and they excite the customers. On the other hand, it spread its wings to other countries through affordable franchisee options. These two have clicked like magic and it became a brand to be known by all.
The End Note
Serving quality products and getting happy customers is a part of every business growth. However, Dunkin excels in its humanitarian ground also. They have especially taken care of the farmers who grow the perfect beans for them. Most companies do not care about the group of people who helped them to reach the summit. But, Dunkin Donuts Coffee is different. They are helping the farmers to have a thriving future.