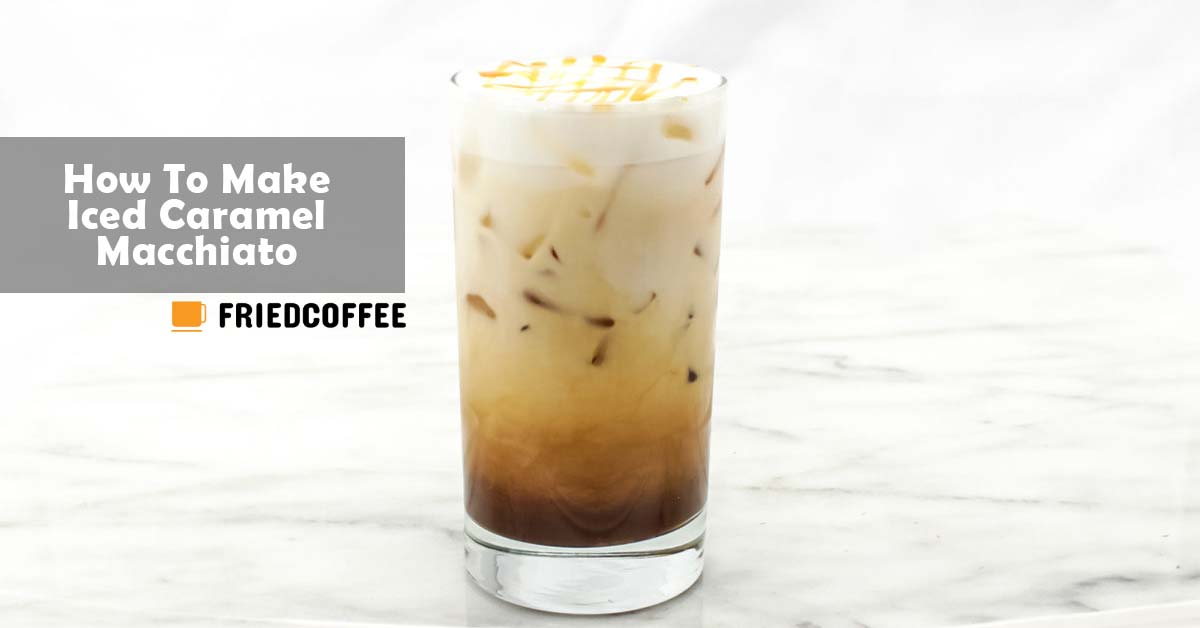 Before we jump into this decadent iced coffee beverage, there are a couple of issues that need to be addressed. I'm sure that many of your friends are not all on the same diet, and may have lifestyle changes. If you're a vegetarian or vegan, the ingredients of the Iced Caramel macchiato recipe are going to need alternatives. Even the milk used will need to have a suitable replacement. Let's go through all the ingredients and let you know which can be good for your preference.
About the Ingredients In Iced Caramel Macchiato
Espresso
For many of us who are espresso fans, you know that quality coffee beans depend on a few important points. For some, it's the roast, while for others it's a special blend. But in recent years, there has been a growing awareness that has led to the popularity of organic beans. These are collected from plantations that don't use toxic insecticides on their coffee plantation trees or soil.
Perhaps these organic beans are more focused on the ethical aspect than anything else. If you're looking for ethical coffee, you can count on Rainforest Alliance organic coffee beans certified by the USDA. This will satisfy Vegan coffee lovers who want to know their coffee is not exploiting workers or disturbing migratory birds. If you're looking for a bird-friendly seal on your beans, look for the Rainforest Alliance.
Vanilla syrup
Another important ingredient in making an authentic caramel macchiato is adding vanilla syrup. This is the sweet and delicate flavor that wanders around in your mouth after each sip. As far as being a critical element that is added first in the cup, this syrup has to be a quality brand that doesn't mix immediately with your milk. Before you start to grab that old bottle of Torani vanilla, you might be missing out on the quality.
You can find that DaVinci and Monin both make very fine vanilla syrup. If you want to know what Starbucks is using, they use the Fontana brand of vanilla and caramel syrup. If you are also concerned about whether your vanilla syrup is Vegan-friendly you can count on Monin which is sugar and gluten-free.
But if you're looking for a healthy alternative you can also make your own at home. This version is Paleo-friendly assuming that people 2.5 million years ago were using vanilla beans for cooking.
Milk
If there's one thing that makes a macchiato more creamy and smooth, it's going to be the milk. This helps balances-out the flavor of espresso and makes for a refreshing mixture in every kind of coffee recipe. Although, there's a downside to milk that anyone on a diet will admit. They don't need all the fat that goes with it, so this is why non-fat, low-fat, and skim milk are all great alternatives.
Perhaps you have a dairy allergy or you can't digest dairy products so easily. You can easily find non-dairy milk options that are very good replacements. There is coconut milk, soy milk, almond milk, cashew milk, peanut milk, and rice milk. Alternatively, you can choose flax and hemp milk, while oat and pea milk are relatively new substitutes that are popular too. If you're big on walnuts, they have a powdered walnut version that's often used for smoothies.
Perhaps the creamiest of them all that's the closest to real milk is oat milk. Just make sure the brand you pick is GMO-free and of course is organic.
Whipped cream
Long before you top off a delicious iced caramel macchiato with caramel, adding a dollop of whipped cream is an option. Some people liken this to the sweet treat that makes any cup of hot chocolate even better. No matter what brand of whipped cream you tend to reach for, homemade whipped cream always tastes better. This is where you'll want to have a whipped cream canister to add to your gas cartridge.
Now aside from using natural milk, there's really good news if you are lactose intolerant. Most people might not even know this trick is possible! Take any kind of milk replacement such as rice, soy, wheat, or coconut and add to Aquafaba. This is the clear liquid found in any jar or can of chickpeas. Use at least a 50:50 mixing ratio and add a drop of two of vanilla extract for flavor. Now you can add this to your whipped cream canister.
Give it a good shake and use it to top off your macchiato with a whipped cream that's amazingly just like the real thing. This mixture can be stored in the fridge for up to 5 days before you need to toss it out.
Caramel sauce
For this final topping, you just don't want to skimp on the rich and sweet taste of gooey caramel sauce. There are many kinds to choose from, but who's better at caramel sauce than Ghirardelli. This San Francisco-based Chocolate manufacturer has a sea salt caramel sauce that was meant for espresso-based drinks. Unlike other caramel sauce you've had before, this is a sweet mixture that's topped with just the right amount of real sea salt.
Finding an alternative replacement isn't going to be hard to find either. It's just a matter of using your kitchen skills and some time to prepare this Vegan-friendly caramel clone.
How to make Iced Caramel Macchiato
Now the part that you've all been waiting for, the best recipe you can make at home. Why go to Starbucks when you can enjoy this caramel macchiato that's so much better. To be honest, the ingredients you choose to use for this recipe will end up tasting better anyway. Here's what you'll need from start to finish:
Ingredients
1-shot Espresso (per 12oz cup)
Ice cubes (enough to fill a 12oz cup)
1 Tbsp vanilla syrup
1 Tbsp Caramel syrup (add more if you like)
1/4 cup milk (can be real or supplement)
Whipped cream topping (store-bought or home canister)
Finally, Making the Iced Caramel Macchiato
Add vanilla syrup – Take your cup and add the vanilla syrup to the bottom. If you have a real sweet tooth, you can add more than one tablespoon.
Add ice cubes – Then add ice cubes to the cup at least up to the top.
Pour Milk – Slowly add your milk into the ice and then carefully pour (cooled) espresso onto the very top. The espresso should be cooled because it can start to melt your ice cubes. This will water down the mixture and make it taste weaker.
Add whipped cream – Give your whipped cream canister a very good shake for at least 30 seconds before dispensing the cream. The better mixed the contents the creamier the foam will be. Spray on a rich foamy top but not going over the edge.
Pour caramel syrup – You still have the caramel syrup to add. Now you can drip caramel over the whipped cream. If the whipped cream is whipped enough, the caramel won't soak through it so easily. It should rest on top like a little pillow. Enjoy!
Expert Tips to make your Recipe Even Better
Do you want to turn your caramel macchiato into an expert recipe? Here are some advanced tips that make it even better.
Put your caramel into a squeeze bottle and keep it chilled in the fridge before adding it on top. This will look incredible, so it doesn't sink into the whipped cream. You can also add a dash of powdered cinnamon and nutmeg mixed with a little sugar. Vegans can use natural organic raw sugar.
Chill your vanilla syrup so it dilutes into your macchiato over time. If you have to use a drinking straw to mix it in, the vanilla syrup is the right temperature.
You don't need espresso that piping hot, so let it cool off for a couple minutes. The milk that's poured over the ice creates a chilled barrier. If your espresso is warm it sits at the top instead of mixing into the lower milk. Pouring it slowly also helps keep the colors separated.
The milk should always be cold because it prevents warm coffee from mixing so easily. It also makes the presentation and color separation more impressive.
The vanilla syrup has a very pretty layer at the very bottom that stays put until you mix it.
All the different layers of this style of macchiato are the real star of this flavorful coffee drink. If you follow these expert tips you can have a show-stopper you can make for your friends.
Cleaning Up The Mess
I don't know if you've ever seen the Tipsy Bartender in action, but some of us like adding an extra shot. Whenever you have espresso, you need to add some liquor that has equal value for flavor. That can include a shot of Irish whisky, some of your favorite bourbon, or perhaps some creamy liquor. I recommend using Kahla or Baileys Irish Cream that is already sweet and doesn't ruin the flavors you already have. With so many ways to prepare coffee you're only one step away from creating a new trend.
If you want something that will knock your socks off, try using a regular shot of your favorite alcohol. Don't be afraid to experiment with different alcoholic beverages for those special occasion get-togethers.