A skull and crossbones is a sign for danger, death, or at times even a sign for a pirate. The common thread being, it signifies something bad.
It is one of the few things that people all across the world really agree on. In the coffee world, however, it happens to be the logo for the company that is on our radar today. If the image hasn't scared you off already, perhaps the name will.
Death Wish; a company that proposes and promises to offer us mere mortals, the world's strongest coffee.
About Death Wish – Short Glance
Born eight years ago, Death Wish is the brainchild of mister Mike Brown. The brand first appeared in a small cafe in the city of Saratoga Springs, New York. The beans used by them are sourced from fields of India and Peru. The people at Death Wish boast of offering a unique coffee blend that is a result of their signature roasting technique and mix of meticulously selected Arabica and Robusta beans.
The company claims its calling is to 'fuel you wherever you go.'

– Death Wish Coffee Company
They do this through the organic product that they've ensured are fair trade. With an eye on their environmental and social impact, Death Wish has ensured their product is processed using sustainable means and is certified by the United States Department of Agriculture.
Before You Buy Death Wish, Consider these facts
So have we piqued your interest? Got those wheels turning?
Before you decide to leap into the deep end and immerse yourself into the world of Death Wish, there are a few things you should be asking. That is if you haven't been wondering about them already.
It never hurts to dig a little deeper before you commit.
The Caffeine Buzz About the Brand
Are you someone who's often had to wear the title of a person who looks like death? Have you had to face concerning glances either early in the morning or in the middle of a particularly difficult time during the day with people wondering if you're going to make it through? If you've answered in the affirmative, Death Wish pitched itself as the answer you've been waiting for.
The brand launched with the claim to offer a caffeine content two hundred percent more than we were used to in our usual morning cup. It led to a lot of excitement and anticipation. It offered itself up as a healthier alternative to energy drinks that people were guzzling away to burn the midnight oil. Before the product even entered the market, Death Wish was all anyone in the online coffee world could talk about. It led to the company taking the number one slot on Amazon for the most wished-for coffee.
How Do You Like Your Coffee
Coffee culture has taken center stage in recent years.
However ever since its discovery, people all over the world have been experimenting with their own unique adaptations of the beverage. Some people play with the raw ingredients that go into a caffeinated drink, while others alter the order in which they are added. And others still modify how they enter your cup.
There is an indisputable fact that everyone likes their coffee differently. Some consider tainting a strong cup of pure black coffee with any form of cream or sweetener nothing short of sacrilege. While others love the comfort that comes from a cup of frothy goodness.
Whatever your choice. Feel free to express it and enjoy your cup your way.
Who Should Not Drink This
While Death Wish can be the answer to a much sought-after pick-me-up in the middle of a busy day or a key ingredient to kick start a dreary morning, there are certain cases in which you simply cannot turn to it.
Health care workers ask pregnant women to avoid their usual intake of coffee if possible, naturally, which puts Death Wish with its extra-strong dose strictly off the menu. Since the quantity of caffeine you will be consuming will increase by a significant margin if you choose to shift to Death Wish coffee. Be sure it is the best choice for your sleep cycle.
If you're someone who suffers from a sensitive digest system it would be a good idea to give Death Wish a hard pass. Similarly, if you've had issues with anxiety or hypertension. it would be wise to look for an alternative elsewhere.
The Method You Use For Brewing
So you've decided you're going to jump in and give it a go?
The question arises how do you like your coffee constructed. There are almost as many ways of making a delicious cup of coffee as there are types of caffeinated drinks. Maybe more. So how do you like it?
Are you someone who prefers getting their hands dirty so to speak? Do you want to be part of the process and learn and perfect the nitty-gritty that goes into making that steaming cup oh so irresistible? Do you have the extra tools, time, and patience that it takes to brew a delicate cup of coffee using an intricate method?
Perhaps your answer to all these questions is a loud resounding NO. Perhaps you're someone who prefers to push a button and have a machine do all the work done for them. Whatever the case, find what floats your boat and find a way to make it work.
Death Wish coffee can be created using a range of options. You might need to experiment a little with the coarseness of the coffee and water to coffee grind ratio, but once you lock in the magic formula there's nothing stopping you from enjoying that perfect cup every time.
French press: This no filter external no-fuss technique can ensure the authentic flavors of the beans are pressed and captured in your morning cup.
Aero Press: With this petit, travel-friendly, and highly functional method, you can carry and create your perfect cup of Death Wish even when you're away from home.
Chemex: Enjoy a work of art while you use it to create your morning cup free from any flavor altering impurities.
Espresso: There's no more effective way to kick start your day than to kick start it with a Death Wish espresso. You've ensured a running start into your daily battle.
K-cups: If you're in the mood for a quick easy option for a cup that needs you to do nothing more than lift a finer. The single-serve Death Cups are right up your alley.
Now A Detailed Review About Death Wish
Now that you've cleared up a few doubts. You've taken note of the Dos and Don'ts. It's time to take a good long peek behind the curtain. You've asked yourself the necessary questions, it's now time to ask a few more of the brand.
History
The world was properly introduced to Death Wish coffee for the first time when the owner of the brand Mike Brown won a contest. It was by beating 14,999 entrants of other small business owners, that the company was rewarded with the platform of the 2016 Super Bowl to showcase a 30-second advertisement of what they offered the world.
The concept of Death Wish however was born eight years ago in a New York cafe. Mike noticed a lot of people entering his cafe simply asked for the strongest coffee on the menu. It inspired him to dig a little online, experiment for a while, and come up with a blend of his own.
The inspiration for the logo of the brand came from a souvenir his girlfriend gave him of a picture of a mean dog. He also drew on old warning labels on poison bottles that had flooded the market in the nineteenth century. It was chosen to highlight the fact that Death Wish was not your regular morning coffee. It was smoother, bolder, and more potent.
The Flavor
An interesting outer look and feel of a product only go so far in getting it on your shelves. What's going to ensure that you keep coming back for more is the flavor.
Death wish offers its consumers a rich smooth drink with just the right hint of acidity.
A big sticking point of the blend is the fact that you cannot taste any bitterness that you might have come to expect which in turn removes the need for any additional sweeteners. While the taste is strong and bold, it does not overwhelm your other senses. If you're in the mood for it, you can also attempt to pair it with almond milk or use some brown sugar for a splash of sweetness. Don't be surprised if you find yourself enjoying hints of chocolate and cherry in your cup. The company also releases a pumpkin blend in the fall as an ode to the season.
The company manages to get you your beans while they are quite fresh in turn rewards you with a magnificent bloom while brewing.
Caffeine Content Comparisons With other strong brands
Offering the strongest coffee in the world is a bold claim to make. What's more, Death Wish isn't the only brand to claim that title as their own. It all comes down to numbers. So let's take a look at the caffeine content these brands claim to contain.
A normal-sized (12-ounce cup) serving of Death Wish coffee contains close to 728 milligrams of caffeine.
To give you a point of reference, the same cup, if filled with coca-cola instead would offer you only 2.8 milligrams of caffeine.
Banned coffee sounds positively mild in comparison offering only 474 milligrams of caffeine a cup. A number which any other circumstances would be alarming in its own right. Australia's strongest coffee, (Killer Coffee) comes close with 645 milligrams of caffeine in a cup.
On the deadlier side of the scale, Biohazard coffee holds 928 milligrams of caffeine in the same-sized serving.
It is important to note that if you were to refer to the FDA guidelines, you would be advised not to pass a daily intake of 400 milligrams per day for a safe existence.
How Death Wish is Available – Beans, Grounds or Capsules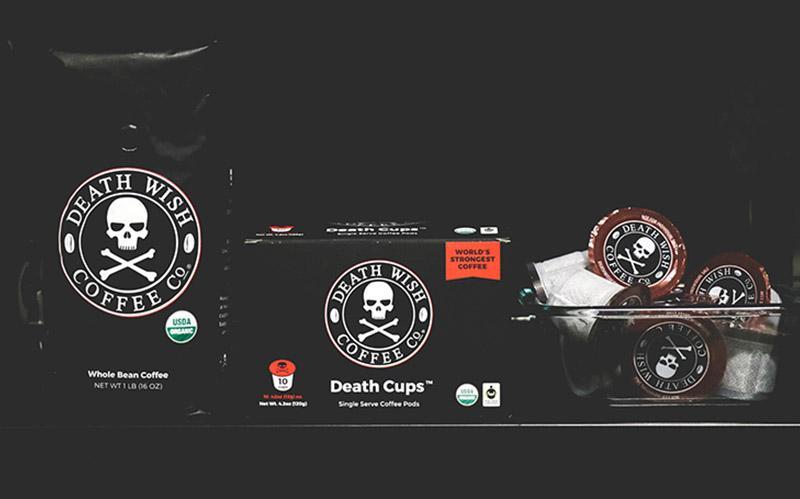 So you've finally made the decision and are ready to invest in some Death Wish coffee. All that's left to decide in what form you want to bring it home.
If you're someone who prefers to brew their own coffee using a pour-over method, or any other; you can grab a ground bag of Death Wish and follow the necessary steps. The ground beans are fresh and you can even enjoy the visual spectacle of watching some Death Wish bloom. If however, you've got a coffee grinder at home, you can choose to get the whole grain variety and grind them yourself before brewing.
Maybe you're not a fan of the mess this method and can at times create, in which case there is a solution ready. Death Wish is also available in single-serve coffee pods. They go by the name Death Cups.
Should you be in the mood for something a bit cooler, you can opt for the Death Wish Coffee canned cold brew. It is available in a range of flavors including cream and sugar latte, slightly sweetened, and unsweetened black.
Best Brewing Methods for Death Wish
How you drink your coffee is a purely personal choice. The ingredients included and method of preparation can differ drastically from person to person. Given that Death Wish coffee is available in a variety of packages, you are not forced into any one corner.
A lot of people prefer to prepare a cup of Death Wish using the pour-over method. The main reason for this is to enjoy the enticing aroma when the hot water hits the ground beans and to watch them bloom. In which case people have turned to everything between a French Press, Chemex, Aeropress, or Hario V60 pour-over to accomplish the task. While there might be some trial and error once you start in order to alter the quantities of all the ingredients to your tastes, we recommend considering 2.5 tablespoons of grinds to every 6 ounces of water.
Where to Buy Death Wish
DEATH WISH COFFEE Whole Bean Coffee [5 Lbs.]...
EXTRA KICK OF CAFFEINE: Our whole roasted coffee beans will...
FULL BODY ROAST: Our whole roasted coffee beans will utterly...
EMBRACE THE BOLD: Immerse yourself in a smooth, subtle...
FAIR TRADE AND ORGANIC: Every single 80 oz. Death Wish...
When the company began it took Death Wish a little time to find its feet. At the start, the coffee was mainly available through online demand and delivery. After the Super Bowl advertisement, however, the brand was propelled into the forefront of everyone's radar. Requests started streaming in and online deliveries weren't enough to keep up. Slowly the in-store presence of the brand grew. Today you can get your hands on a packet of Death Wish in several retail stores across the United Nations.
If you live outside those borders rest easy. While the company is yet to lock on any deals guaranteeing them distributors or retailers anywhere outside the United States; today Death Wish ships its product to more than a hundred countries all across the globe.
So have we managed to get you excited? Are you keen to get your hands on a bag of freshly roasted Death Wish Coffee? Don't let us keep you then. Get to it.
Alternatives to Death Wish
Sure Death Wish was one of the first to enter and shock the coffee market with their particular unique selling point. They are however by no means the only ones standing in that particular lane today.
With the growing fascination for coffee the world over, there has been a fierce race between brands to one-up each other. Coffee has now become a staple wake-up call in almost every house all over the globe. Death Wish now has a couple of contenders claiming the spot of strongest coffee out there. Let's take a look at a few of the top choices.
Banned Coffee
Banned Coffee Whole Bean World's Strongest...
Great Taste and Aroma. You will want to get out of bed just...
Strong and Smooth Clean taste. Delicious bold flavor but...
3 Times the amount of Caffeine than popular brands of energy...
Natural Source of Vitamins, Minerals and Anti-oxidants. Our...
The first entrant on this list is the beast that calls itself Banned Coffee.
They offer a careful mix of robusta and arabica beans roasted between medium to dark using European techniques. How you choose to create your coffee won't be an issue with this brand. You can buy the whole bean or ground version of the coffee. If you have a machine that only allows pods, those are available too. As a unique selling point, coffee also claims to contain a natural source of vitamins, minerals, and antioxidants.
As a special treat, you can even enjoy a cup of their pumpkin spiced variety during the holiday season.
Biohazard Coffee
Biohazard Ground Coffee, The World's...
Biohazard coffee presents the strongest coffee on Earth.
928mg of caffeine will wake you up from the deepest of...
This product is pre-ground for your convenience.
This product is 100& Robusta beans.
Normally the word Biohazard has most people running the opposite way as fast as humanly possible. And for first-time coffee drinkers, that's exactly what you should do. Using only Robusta beans, a normal 12-ounce cup of biohazard coffee contains between four to five times the caffeine we are used to.
They do claim to be the perfect solution if you find yourself in need of help when parenting hyperactive kids. Cramming for exams. Surviving a particularly tedious week or recovering from a crazy weekend to face a needed working week. It is downright dangerous for anyone suffering from hypertension or another heart condition, pregnant women and children.
Black Insomnia
Black Insomnia Classic Roast Whole Bean...
Roasted & Packaged in the USA! Wake up! Black Insomnia...
Want better flavor and more caffeine than any other coffee?...
Medium-Dark Roast blend of premium Robusta and Arabica...
Every Black Insomnia coffee bean is roasted to perfection in...
Hailing from South Africa this brand uses both Robusta as well as Arabica beans in an 80:20 ratio. Apart from the rich chocolate, the brand also offers macadamia caramel and hazelnut, aromas. Be aware if you decide to treat yourself to a single cup of Black Insomnia coffee amounting to roughly 12 fl oz. You're ingesting close to three times the amount of caffeine it is safe for an adult to intake in a day.
The side effects from consuming this coffee is hinted in the name of the brand, it can give you trouble sleeping. It can also cause restlessness, nervousness and in some severe cases can even result in an irregular heartbeat. If you have underlying issues that can be triggered, it might be good advice to stay away.
Killer Coffee
Killer Coffee Beans 16 Oz + Bullet Travel...
Killer Coffee pack: Bullet-shaped Travel Flask 15 fl oz –...
Rich, smooth coffee. Aromatic with notes of caramel....
53.2mg/fl oz caffeine: Death-defying caffeine hits, without...
Dark roasted, 100% Arabica. Works perfectly as espresso, in...
Coming in all the way from the land down under, our next entry does not believe in the concept of subtlety either with words or images. Killer Coffee is composed of three varieties of 100% dark-roasted hand-picked Arabica beans. This allows you to brew a deliciously smooth rich cup of coffee that does not hold even a hint of bitterness.
It is also perhaps the only brand on our list that does not call itself the strongest coffee in the world. It does however claim to hold the title for "Australia's Strongest Coffee."
Coffee Sin
With 928 mg of caffeine content per 16 oz of coffee, the Sin claims to be the strongest! It's however a new addition to the strong coffee family and people are liking it. The brand promotes their coffee by sticking some health benefits of taking caffeine like increased metabolism rate, boosts memory concentration, reduction in damage to DNA with its rich antioxidants, and more. Though these benefits come with every coffee with high caffeine but overusing might be a problem. Take high caffeine in a limited dose, it's our recommendation!
So, What's Your Wish?
The world around us is constantly buzzing. People always seem to be running either towards something or away from something else. There is a sense of urgency that needs you to be alert at all times. It can get exhausting. At the times that it does, it doesn't hurt to have a secret weapon in your arsenal. Death Wish can be used to provide that burst, that push that you'd need to get you through the day without collapsing. On other days it can be what propels you into a new morning helping you get ready to face any challenges the day will bring.