The 21st century has brought with it interesting new tech including Handpresso Pumps that you can carry along anywhere you go. These portable espresso coffee makers are entirely hand-powered and offer you a small footprint without the need for electricity or a cartridge.
The technology used to develop these devices is similar to that of bike pumps. A pressure of 16 bars is developed as you load up the device with your coffee. The Handpresso pump does not limit the quality of grind to use. You can use ground coffee beans for espresso or ESE(Easy Serve Espresso) pods, which gives you quite a range of options to work with. This device has a water reservoir with a capacity of 50 mL, and the pump's handle also acts as a tamper.
Once you have the right amount of coffee, water, and pressure, you simply hold your Handpresso pump over your favorite cup or the small espresso cups provided and press the pressure switch. What you end up with is a well-flavored espresso with a rich cover of crema. Be sure to use freshly ground coffee and tightly pack the cap provided to avoid leakage. This happened to me twice and ended up with weak espresso.
Handpresso is an awesome camping coffee maker created for travel and outdoor nerds, who love to have coffee anywhere or everywhere they go.
Glance On Handpresso Pump
A Handpresso pump has an average weight, portable, and can fit into your backpack or luggage. The framing is built from stainless steel together with BPA-free plastic. The complete kit is somewhat sized somewhat the same as a makeup kit. But, one can simply carry the Handpresso pump which can slip inside anywhere into your backpack.
Handpresso Pump Specifications
The Handpresso has a standard dimension of 11 by 6 by 5 inches and weighs a little under 1.1 pounds. Its water reservoir has a capacity of 1.69 ounces. Bathed completely in black or silver, the Handpresso works with both ESE and ground coffee.
As stated earlier, this pump does not require a battery or electricity to run. However, you will need hot water from a thermos flask or some kind of coffee kettle as the pump does not have a heating mechanism. The complete kit which we received contained:
A Handpresso Pump
Coffee Thermos
4 Espresso Cups
Cleaning Handkerchief
Ground coffee adapter
ESE Pod Adapter
Instruction Manual
Carrying case with Handpresso Embossed (Dimensions -26 x 21 x 9.5 cm)
Ground coffee or ESE compatibility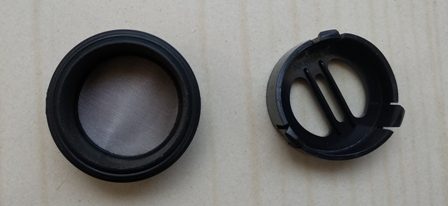 This Handpresso pump works with ground coffee or ESE pods, which means your options are not limited. If you are a traveler, having options is a blessing. Many coffee brands on the market make ESE coffee pods. That way, it becomes easy for you to find espresso pods that can work with Handpresso.
Extremely Easy to Use
Preserving espresso with this pump is quite easy. The first thing you need to do is raise the pressure to about 16 bars. The process is the same as when working with a bicycle pump. Then, add in some hot water and screw the lid back on. Obvious instructions are provided with the instruction manual, and we suggest you go through it when using it for the first time.
Hot water is the other ingredient you need to prepare espresso using this pump. You can boil water and store it in a thermos provided along with. If you have a kettle, simply boil it in. Though the thermos provided can keep the water hot for a long time and also has a temperature gauge above it. But still, if you are in search of a thermos that can keep water hot for a long time so that you can prepare espresso any time you feel like it, consider investing in a Hydro flask or a S'Well bottle. Both make good thermos flasks and the frame is mainly stainless steel so that your water can stay hot for many hours.
Pros
Highly portable
Easy to keep clean
Pocket-friendly
Prepares one cup at a time
Cons
Doesn't boils water
Espresso is not commercial-quality
Alternative Travel Espresso Makers
If the Handpresso pump does not excite you, there are other equally functional alternatives that you can carry along as you travel. Let's sample each one and find out what they have in store for you.
Minipresso GR Espresso Maker
This espresso maker features a cylindrical construction and is best suited for travelers who don't feel excited by the Handpresso's design. It works quietly, easy to use, and clean, and you can make a decent cup of espresso with it regardless of your location. However, it does not offer a lot of versatility when it comes to brewing.
Wacaco Minipresso GR, Portable Espresso...
Manual operation only! No battery/electricity need. Compact,...
Need to add the boiling water. It can not heat up water....
Simple to operate! Add ground coffee to the filter basket...
If you have any problem with our products or need help,...
For one, it only works with ground coffee, so it is best not to tamp your grounds however much you are tempted. This coffee maker is not able to handle pressure resulting from forcing water through the grounds.
AeroPress Coffee and Espresso maker
This coffee maker is a lot cheaper than a Handpresso and quite appealing, which is why some people find it attractive. It can fix a strong cup of espresso, something that is rare when it comes to portable espresso machines.
Aeropress Coffee and Espresso Maker Pack with...
THE PERFECT CUP: Rapid, total immersion brewing process...
FAST: Total brewing time for an espresso shot is about 30...
EASY CLEANUP: The tightly compressed coffee grounds pop...
QUALITY: Unlike a French press, the microfilters prevent...
That said, the Handpresso lasts longer since the AeroPress' glass receiver tends to crack with time. In addition, the AeroPress requires quite a lot of maintenance. Cleaning is a little involved because there are many parts to consider.
Staresso Espresso Coffee Maker
Staresso Espresso has a robust design and fits into the same price range as the Handpresso Maker. Its most attractive feature is the fact that you can opt for a cold brew, something that is welcomed during that hot day. Nevertheless, it requires a lot of cleaning because of its compact and narrow design.
Handpresso Auto
Unlike the Handpresso pump, this one is fully automatic. That means you can fix a cup of espresso in your car. You simply plug it into your vehicle's 12-volt cigarette lighter. If you enjoy road trips, this product is the ultimate espresso maker.
Another cool feature is its ability to heat water. If you are constantly on the go, you only need access to a cigarette lighter, add in water and an ESE pod and turn the coffee maker on. It will handle the rest for you. It heats water to a hundred degrees within 2 minutes. Thus, whether it's a road trip or a long drive to your office, this coffee maker offers an interesting way to brew a cup of espresso.
Final Verdict
If you are an adventurous person, who loves to enjoy a cup of espresso while on the move, the Handpresso is your best companion. With this device, you will be able to fix a cup of espresso whenever you feel you need a boost from your favorite brew. However, you need to boil water and keep it in a thermos so that you can use it to brew your bliss. Alternatively, you can look for a brand that boils water as well just to make things easier for you.