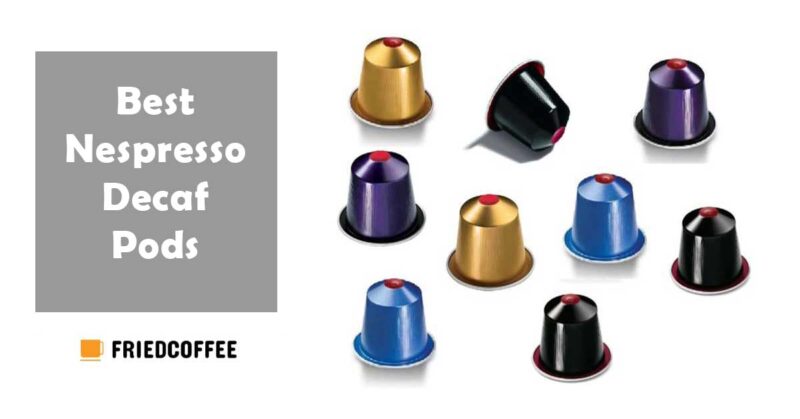 Caffeine presence in a coffee cup has always been a controversial topic. Whatever we or others have opinions about caffeine, it will always be in contradiction of today vs tomorrow. So, it's better to switch to decaf when this dilemma spikes your mind too. As a solution for single-serve systems, we have collected some of the best Nespresso decaf pods for your capsule machine.
Nespresso is one of the largest and trusted brands involved in the coffee business manufacturing both caffeinated and decaffeinated capsules for its single-serve espresso machines. The Decaf capsules by Nespresso are processed using a natural water-process. This process removes almost 94-96 % of the caffeine from the beans which are then ground and sealed pack into capsules we see and use. The remaining percent of caffeine is negligible and won't have any side-affects by anyways.
A Nespresso decaf pod (by the original brand) can be easily identified with a red color dot at the center. You can arrange them in your coffee pod holder or organizer lining them separately to easily identify them for your next use. As we have already talked about the basics, now let's move over to the best picks to find your favorite decaf coffee pods.
The Best Nespresso Decaf Pods
Apart from Nespresso, there are some other brands involved as the manufacturer of some of the most amazing decaf capsules. So, along with the brand, we will be covering all of those brands which tasted great to us and are worth a try. Trust us, and you will be for sure will linger for these capsules again and again.
<!–noptimize–> <!–/noptimize–>
1. Nespresso Arpeggio Decaf capsules
Nespresso Capsules OriginalLine, Arpeggio Decaffeinato,...
INTENSE & CREAMY: This decaf Nespresso coffee boasts the same strong character, intense body and...
INTENSITY 9: This Nespresso coffee blend is made from a selection of the best Arabicas from South...
ARPEGGIO DECAFFEINATO COFFEE BREWS 1.35 OZ: These Nespresso OriginalLine pods are part of the...
WE RECYCLE: Nespresso aluminum capsules are fully recyclable and guarantee coffee freshness - we...
ORIGINALLINE ONLY: Nespresso Original Line offers a full range of espresso coffee. From a milder...
When you are new to decaf and are trying to build your senses for the decaf coffee, try the Arpeggio Decaffeinato pack by Nespresso. This is the original form of Nespresso that sticks to quality standards. It is a 50 capsules pack containing Original Line Arpeggio Decaf capsules. This variant is the hot-seller in the decaf capsules sold by the brand and resembles almost the same taste as the original caffeinated version.
You will notice a strong character with indulgent cocoa notes and intense body with Arpeggio Decaf. It scales 9 on an intensity of 9, so enough to give you a strong coffee jolt.
2. Bestpresso Decaf Pods
Bestpresso is not a new brand for Nespresso coffee capsules and is well known by the people using single-serve pod machines. People blindly buy capsules from this brand because of the trust and quality they have maintained for so long. Their decaf capsules are made by natural process and have the most intense creamy body. It's nutty, has a chocolaty aroma, and full-bodied. And more, it is Kosher certified that confirms its quality standards.
One good fact that Bestpresso maintains is their recyclable capsules. The brand really cares for the environment.
3. Carter Phillip Decaffeinated Capsules
<!–noptimize–> <!–/noptimize–>
Espresso Capsules Compatible with Nespresso...
RICH, 5-FLAVOR VARIETY PACK Contains four delicious blends and one decaf - 6 capsules of each blend
PREMIUM Arabica coffee from Colombia, Costa Rica, Ethiopia and Tanzania. Craft roasted by artisans
COMPATIBLE with all Nespresso Original Line machines: NOT Vertuoline, Evoluo or Dolce Gusto
FITS Essenza, Pixie, Inissia, Citiz, U, Lattissima, Prodigio, Maestria, Le Cube and Kitchenaid
AIRTIGHT, hermetically sealed caps preserve freshness and retain the just-ground coffee flavor
Our next pick is the variety pack by Carter Phillip containing 5 variations which include 4 caffeinated and 1 decaf variant. If in a family, there are people with mixed choice, this pack can be great as it contains both the decaf and non-decaf capsules.
The beans used are 100 % Arabica and are sourced from Colombia, Costa Rica, Ethiopia, and Tanzania and it tags with artisan roasting that claims for its perfect roasting. It comes in environment-friendly recyclable shells that make it a guilt-free product. The price will cost a lot less as compared with Nespresso.
4. Mixpresso Decaf Capsules
Mixpresso Decaf Single-Cup Coffee Pods | Single Serve...
PREMIUM QUALITY COFFEE BLENDS - 50 Capsules of Decaf 100% Italian Espresso Pods, Artisanal style...
COMPATIBLE WITH MOST MACHINES - Compatible with all Nespresso OriginalLine Coffee Makers included...
GREAT RICH FLAVOR - with creamy flavor rich and smooth, we select and roast only the finest beans so...
ROASTED IN NAPLES, ITALY - Roasted by Hand in Small Batches by Third Generation Roasters of Napoli...
Mixpresso is another prominent brand that comes when we talk about Nespresso capsules. The beans used in these Italian Espresso Pods are hand-roasted in small batches by the Third Generation Roasters of Napoli Roasters. It outputs a rich, flavorful, crisp, medium-bodied, and classic espresso Italian flavor.
Great for people searching for decaf pods at an affordable price tag!
5. Gourmesso Decaf Peru Dolce
50 Peru Dolce Decaf Espresso Pods – Fair Trade...
✔ SATISFACTION GUARANTEE – We promise to go above and beyond to make you completely happy with...
✔ FAIRTRADE CERTIFIED – Gourmesso coffee capsules source from sustainable coffee farms to...
✔ OUTSTANDING TASTE WITH LESS EXPENSE – Excellent flavoured espresso with bold taste and great...
✔ COMPATIBLE WITH ORIGINAL LINE MACHINES that accept Nespresso Capsules* – Our Nespresso* coffee...
✔ DECAF PERU DOLCE ESPRESSO BUNDLE INCLUDES ✪ 50 Capsules Decaf Peru Dolce - Intensity 3
The next one in our suggestion is Gourmesso. It is also a popular brand known for some of the very best capsules that are compatible with Nespresso. It sources its bean supplies from sustainable coffee farms and is Fairtrade Certified. The capsules being offered are naturally gluten-free and there is no sugar added. The decaf by this brand is again loved by many Nespresso lovers and is worth considering.
6. Artizan Heavenly Project Decaf Organic Coffee Capsules
Another brand that is made its name fast is Artizan. In a short duration of its launch, this brand has gained enormous attention and is trusted by many Nespresso users. The group was founded in 2005 containing 450 members that cultivate the land of 1900 hectares in Apia. The capsules are decaffeinated via a natural Swiss water process. Artizan is USDA certified for organic coffee and is also certified Kosher by the association.
It's a Fairtrade coffee and the beans are grown in safe and healthy conditions. You would really be surprised with it's amazing mouth lingering taste.
7. Cap'Mundo Decaf Capsules
Cap'Mundo Paris Nespresso Compatible – Decaf, 100%...
COMPATIBLE with all Nespresso Original Line machines. NOT compatible with Vertuo Line machines
QUALITY: We pay 2-3 times more than average for only the best specialty grade, green coffee beans
ARTISANAL: Each of our blends is slow-roasted by our 2nd generation roast master in Strasbourg,...
INNOVATIVE: Our "double foil" capsule structure (top and bottom) ensures compatibility
HAUTE COUTURE DESIGN: Roast information is displayed on each capsule so you'll always grab the right...
To ensure the quality, this brand pays 2-3 times more to its roaster so that they receive a batch of great quality coffee. Each blend used is roasted for 15 minutes long as compared to 5 minutes of general roasting resulting in a full, complex flavor. It's called Artisan roasting. The capsule is hermetically sealed to keep coffee fresh and free from oxidization. Each coffee is marked with its strength to easily check what it contains. The group is called 'Small Batch Espresso' which is based in Europe.
8. Nespresso Vertuoline Decaf Pods
Nespresso Capsules VertuoLine, Decaffeinato Intenso...
DENSE & HARMONIOUS: This Nespresso coffee blends Colombian and Brazilian coffee with an Asian...
INTENSITY 7: This Nespresso coffee blend is an intense decaffeinated espresso with a dense body for...
DECAFFEINATO INTENSO ESPRESSO BREWS 1.35 OZ : These Nespresso VertuoLine pods are part of the...
WE RECYCLE: Nespresso aluminum capsules are fully recyclable and guarantee coffee freshness - we...
VERTUOLINE ONLY: Nespresso Vertuo delivers you a full range of cup sizes and coffee styles from...
Vertuoline, a lot less variety as compared to the Original line pods, but more flavorful and precise in flavors. You don't get a lot of options because no other brand sells any compatible products due to unique barcode patterns and copyrights.
This decaf Intenso Vertuoline pod blends Colombian and Brazilian coffee with an Asian Robusta resulting in coffee that has fruity notes and a cocoa aroma. You will have an espresso that is creamy and rich with a dense body. It is rated as intensity 7 on a scale of 12.
Why Decaf Coffee?
Drinking coffee, both regular or decaf has health benefits if done in the right way with right quantity. It helps prevent premature death, reduces risk of cancer, heart disease along with prevention of type 2 diabetes.
People addicted to coffee simply consume a lot of coffee. This overly drinking habit introduces some side effects too into the body. Usually, a cup of coffee contains 100 mg of caffeine. For a single day, 300 mg of caffeine is good and safe for most of the adults, but above that is not healthy. It's a fact, everything is good when done within limits, crossing that is not a good idea – the same applies here too.
If you are pregnant or breastfeeding and are coffee addicted, you must either switch to decaf or limit your caffeine intake to 150 mg a day, as studies say. Or else, it will have adverse effects on the growth of your child.
The pros of caffeine can easily take over the cons. So, if you are not addicted to drinking coffee and take a maximum of 3 cups a day, it's okay to stay with regular coffee. But, if you are addicted, it's better to switch to decaf as the regular can lead you to sleep disorders, nausea, anxiety, stress, or irregular heartbeats.
Decaf or decaffeinated coffee still contains some amounts of caffeine which varies from 0 to 7 mg which is a very mild range and doesn't have any effects. Many of the brands have a range of decaf products, so if you are worried about caffeine intake, explore the decaf products and you will be amazed by the wide range.
If you are not into Nespresso and rather on Keurig, their are tons of variety in Keurig Decaf Kcups too. They are also among the popular single serve brand and are found in many parts of the whole globe.
In The End
We understand that each person has a taste palate of their own and that varies. We have picked the best decaf pods for your Nespresso machine from the market, and you will find only the ones who select their beans carefully and roast precisely. Most of the above products are Artisan or Fairtrade certified ensuring a top-notch cup of espresso every time. So we suggest finding your taste palate first by trying from top to bottom, and once you have found your best, order for larger quantities.