Nespresso is one of the most popular systems in the market for brewing espresso, and also the most controversial due to the Nespresso Pods.  The popularity of this brand is no mystery, as it is by far the simplest way to brew consistently great espresso at home. Pod brewing has changed the way how people drink their coffee. What could be more easier than inserting a capsule in the machine, pressing a button and Yola – here is your Espresso! Finally, the resulting brew is of such a great quality that even restaurants in Italy are using it.
Nespresso Capsules – An Introduction to the Brand & the System
Nespresso is the referring brand name of Nestlé Nespresso S.A based in Switzerland known for quality espresso machines and related products. The machines use ground coffee seal-packed in containers which are called Pods. The brand as we all know now is a very strong pillar in coffee industry. Almost the whole world knows them for their wonderful coffee and machines.
Different names have been given to these coffee containers which might confuse sometimes. These are popularly known as Capsules or simply pods. Vertuoline machines are capable of producing both an espresso and regular coffee as well, just like some good drip coffee maker. The pods for this machine are also referred as Grand Crus. Many websites use different terminology but all of these refer to a same thing. We will be using a mix of terms at some parts of this article just to make sure to get you familiar with all terms..
Types of Nespresso Coffee Capsules
As now we understand the basics, let's dig a little deeper into the sub categories. The brand actually manufactures two series of single serve coffee machines – both using different technology. The first one is called Original Line (Basic machines) and the second one is Vertuoline that uses Centrifusion (Rapid Spinning) technology. Being different in brewing process, both coffee machines use a separate line of coffee containers. One major difference between both is – OriginalLine machine only makes espresso whereas Vertuoline can prepare normal coffee as well as espresso.
The OriginalLine machine has more variety in flavors as compared to Vertuoline and many other brands now sell the compatibles. Vertuoline machines, on the other hand, use rapid spinning technology and work with only special dedicated capsules by the brand. The flavors used in this machine are all premium and there are no other compatible brands to it.
Nespresso Original Line Pods
The Original Line coffee capsules are divided into 6 major categories which are further subdivided into 24 flavors varying in intensity, aroma and cup size too. Following is the classification that will give you a better understanding of the flavors.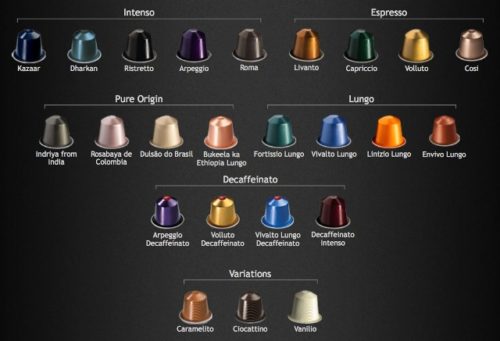 Espresso – The very basic form of espresso that makes short or standard shots most people prefer. The intensity varies from normal to strong and most of the coffees used in these are blended origins. Under Espresso, there are 4 variants:
Capriccio: Lightly roasted blend of Arabica and some Robusta from South America that is slightly acidic, balanced and cereal notes. Intensity 5.
Volluto: Blend of light roasted Colombian and Brazilian Arabicas with sweet and fruity notes. Intensity 4.
Livanto: A medium roast blend from Central and South American Arabicas with a very balanced flavor and caramelized cereal notes. Intensity 6.
Cosi: Lightly roasted blend of Central, South America, and East Africa with balanced flavor and cereal fruity notes. Intensity 4.
Intenso – These are the same espresso capsules with increased intensity and bold flavors. Most of these are again blended in origins.
Kazaar: This one is for strong coffee lovers with exceptional bitterness, pepper notes, balanced and creamy texture. This is a blend of Robusta from Brazil and Guatemala with a mix of Arabica from South America. Intensity 12.
Arpeggio: A blend of Central and South Americas roasted for long resulting in full-bodied, creamy and cocoa notes. Intensity 9
Dharkan: A blend of washed Arabicas from Latin America and Asia long roasted to give velvety, silky and pleasant bitterness. Intensity 11
Ristretto: Best Arabicas from Colombia and Brazil roasted with a technique of slow split giving powerful, chocolate notes. It also has some a touch of Robusta from East Africa for some zing. Intensity 10.
Roma: A very balanced blend South American and Central Arabicas combined with a hint of Robustas giving woody notes. Intensity 8.
Pure Origin – As the name suggests, these capsules or pods are of single origin and not blended. All of these will have a unique taste or flavor.
Indriya from India: A perfectly balanced Arabica and Robusta beans from South India roasted quickly to balance its strong character giving spicy clove and coca notes. Intensity 10.
Rosabaya-de-Colombia: It's a collection of Colombian Arabica grown in small plantations. It uses separate roasting giving fruity notes of black currents and cranberries with some acidity. Intensity 6.
Dulsao-do-Brasil: As the name says, the origin of beans is Brazil which is delicately roasted to give a subtle and balanced taste with notes of lightly toasted grains. Intensity 4.
Bukeela-ka-Ethiopia: The origin is the home of Coffee and has very distinct characteristics. It has floral notes of jasmine, white lily, and notes of wood. Intensity 3.
Lungo – It is basically a longer cup of espresso that carries more water plus strong coffee to bring out more complex and subtle flavors without compromising the intensity of coffee, hence strong in taste.
Envivo Lungo: Highly intense dark roasted blend of Arabica from India and Robusta from Mexico. It has potent character, full body, caramelized notes of gingerbread and woody scent. Intensity 9.
Fortissio Lungo: West Indian Malabar beans are blended with Latin American Arabicas resulting in an intense and full-bodied cup. It has sweet cereal and malty toasted notes.Intensity 8.
Linizio Lungo: Arabicas from Brazil and Colombia are blended with split roasting technique resulting in a mild and smooth cup with notes of malty cereal. Intensity 4.
Vivalto Lungo: High Altitude Arabicas from Brazil and East Africa are blended with split roasting resulting in a complex and balanced cup with floral notes. Intensity 4.
Decaffeinato – Many people prefer to not take caffeine and there is a lot of debate about it. Hence a section of capsules that don't contain naturally occurring caffeine is placed in this category.
Ristretto Decaffeinato: The same Ristretto in a decaffeinated way with the same intensity of 10.
Arpeggio Decaffeinato: Decaffeinated Arpeggio roasted long and an intensity of 9.
Volluto Decaffeinato: An espresso for decaffeinated lovers. Intensity 4.
Vivalto Decaffeinato Lungo: A decaffeinated lungo for long cup lovers. Fruity notes and Intensity 4.
Related: Best Decaf pods for Nespresso Machines
Variation – Other flavors or tastes that are left of are placed under this section. Most of the Espresso capsules are added with some contrasting flavors to give a little change to coffee.
Vanilio: As the name says it all, it is an explored base of Livanto having rich and velvety aromas with notes of vanilla. Intensity 6.
Ciocattino: Again this is a version of Livanto with bitter chocolate notes. Intensity 6.
Caramelito: A blend of South and Central America with caramelized notes. Intensity 6.
Nespresso Pods Vertuoline
The patented Centrifusion technology of Vertuoline offers 2 major variations of Grand Cru or capsules known as Coffee Range and Espresso Range.
Below are the 8 flavors available in Coffee Range:
Stromio  – Rich and Strong with an intensity of 8 out of 11.
Odacio – Strong and Lively with an intensity of 7 out of 11.
Melozio – Smooth and Balanced with an intensity of 6 out of 11.
Elvazio – Delicate and fruity, especially for fruit loving people with an intensity of 4 out of 11.
Hazelino – It's simply the Hazelnut flavor many people love with an intensity of 6.
Vanizio – Vanilla, an always loved flavor by most. Intensity 6.
Decaffeinato – For decaf lovers, round and malty, intensity lies at 6.
Half Caffeinato – Sweet and Velvety  taste with intensity of 5.
Now below are the 4 unique flavors in the Espresso Range –
Diavolitto – Highly Intense and powerful punch with an intensity of 11 out of 11.
Altissio – Full bodied and creamy flavor  with an intensity of 9.
Voltesso – Sweet and light flavor with low intensity of 4.
Decaffeinato Intenso – Dense and harmonious flavor with a mid-intensity of 7.
How much Caffeine is in Each Coffee Capsule?
People often have this question in mind about caffeine content. There are actually two series of these coffee containers – Original Line and Vertuo Line. The OriginalLine is again subdivided into 2 cup sizes – Espresso(40 ml) and Lungo(110 ml). Lungo is the large form of espresso and hence has more caffeine. In an espresso shot, caffeine ranges from 55-65 mg whereas in Lungo, 77-89 mg. The Kazaar blend is an exception with caffeine content of around 125 mg.
In Vertuoline series, the espresso group has caffeine content averaging 110 mg whereas the coffee group has caffeine of around 165 mg. There are half capsules as well containing caffeine of about 70 mg. (Source: Caffineinformer)
Let's now discover some of the coolest and feasible options to have best of these. We are recommending the options on the basis of our personal findings and ratings depicting the best options. First of all, let's understand the flavors by Nespresso.
Where to Buy Nespresso Pods: The Best And Affordable
Now that you are somewhat familiar with the concept by Nespresso, you might be thinking as places to buy these at best prices – so let's discover the best spots to grab them and save some money on the long run. If you are just starting up, try to buy variety packs first as it will bring you closer to what each flavor tastes like. After that, when you have already tasted the best flavors, buy them in larger quantities to save some bucks.
Buy From Nespressso.com
There's no doubt that using original Capsules are the easiest way to get good results from your Nespresso-machine. These both are engineered to work together, and the company has an incentive to keep the quality high. Their biggest selling point, after all, is consistently good quality with minimal effort, and when you buy their own brand, you won't have to do a lot in terms of experimentation and shopping around to find something that you like. If you don't have any problems with money flow, the OriginalLine pods are certainly the best option.
If you join the Nespresso Club, you can order online and sometimes get special offers on them. One potential drawback is that you have to order a minimum of 50 of each flavor, which is not great when you're trying a new blend and are not sure you will like it. So, you are usually bound to buy a minimum pack and if you don't like the blend you ordered, you have to consume the rest of 49. Other than the online store, you can also search for physical Nespresso store locations on maps were you can check the things, if you are the first time buyer. There are also many Nespresso boutique & cafes, especially in US that let you sit and enjoy the coffee flavors, and then buy whichever interests you more.
 Best Assortments by Amazon
One can also find these capsules at Amazon where you are not locked into a minimum quantity of 50. We can also see some limited edition packs with the quantity of 10 or 20. To have a taste of numerous flavors, variety packs are also available allowing getting familiar with different flavors. Many people prefer to buy from here as there are no bounds for anything and things are transparent. Most of the people purchasing capsules from here also have coupons to get some more price cut-offs. Moreover, buying larger quantity pack cuts the price by 30-50%, so consider picking larger packs if you are familiar with the flavors and know what you are buying. Amazon Prime customers get extra discount and free delivery on making regular purchases.
The other online stores like Walmart and Target also sell assortments, but still Amazon is the best in these.
How to Save money on Nespresso Capsules
In a long run, if you continue to buy the pods from Nespresso, you are sure to spend a descent amount. Each unit costs around $.70 and if two members of your home drink 3 cups of coffee a day, the whole month is going to cost at least $120. However, there are options and tricks both to save some bucks in a long run. You can use either compatible capsules that can cost around $0.40 per unit or use reusable options which can be re-filled with fresh grounds. There is another marvelous trick – reusing the old containers and seal pack them. Below is the detailed description about all options we said.
Best Nespresso Compatible Pods | Top Alternate Brands
People have been producing knock-offs of Nespresso capsule for years now. There are many brands that sell alternative and cost much less than the original brand products. Some consumers feel that none of these alternatives really measures up to the quality of the original, while others are able to find brands that taste as good as (or even better) and cost significantly less. I personally feel like trying and testing the other pods will surely help you find the best alternative.
Gourmesso capsules are one popular alternative. They offer fair-trade certified coffee in a wide variety of flavors and on average cost about 30 percent less than the originals. Gourmesso sells its products online, but you don't have to belong to a "club" to place an order, and there is no minimum order required. They sell a minimum pack of 10 costing just $5 means $0.49 per unit.
Another option that even sounds somewhat similar is the Bestpresso. It sells one single flavor in a pack of 20($9.99) and 40($17.99) and a variety pack of 120 capsules if you are buying for the first time to taste all the flavors.
Artizan offers 100 percent organic coffee in Nespresso compatible pods. Although they offer subscriptions deals that can save you money, this company is more about offering higher quality coffee and more ethical choices that are available with the originals.
HiLine also offers a viable alternative. Even if you buy a fairly small quantity online (20 capsules) you can pay less than you pay for an original Nespresso's. Once again, you are not required to join a club on a website in order to buy, and there is no minimum purchase.
Other companies offering similar products include Coffee Duck, Rosso, and Caffe Cagliari. Take some time to try out some of these alternatives, and you will likely find an option that tastes great and also saves you money. Always check to make sure that the pods you are buying are compatible with the exact model of your Nespresso machine at home. Some don't work with newer models.
Use Permanent Reusable Capsules
If you never want to buy disposable pods again, you can try a reusable pattern that you can empty and refill each time you use it. One of the most popular choices is Sealpod. Made of stainless steel, the only disposable element of this system is the foil seal that goes on top of the capsule.
To use, you simply fill with coffee using the scoop that comes with your purchase, seal it, and drop it in the machine. CM seals seem to work just as well as Sealpod's own seals in this system.
Therefore in order to avoid your machine's needles, the Sealpod is slightly smaller to a regular coffee pod by Nespressp. This may be an issue when you're trying to brew a lungo shot, but most customers are very happy with Sealpod overall.
Sealpod capsules are sold in packages of two and five for about 40 and 70 dollars, so they will quickly pay for themselves when you use the ground coffee of your choice.
Another option is to go for Recaps, again a trusted option in this category. This brand also has been serving from long and makes quality product that is trusted and used by many coffee lovers.
How to Reuse Old Nespresso Coffee Pods
What do you do with the old pods after you brew your coffee? One way to save money is to refill old ones and brew them again. It also helps nature from environmental hazards. Making them reusable is quite simple – just remove the seal using a small pen-knife to cut away the foil. Then dump the old coffee grounds and rinse. Add about 1 ½ to 2 teaspoons of coffee (ground as for espresso) and tamp lightly with a spoon. Cut a square of ordinary kitchen foil to cover the top, and press it around the rim of the pod to seal it. You can probably get about 3 more uses out of each used capsule through this method.
To get a better seal when reusing old pods, try a product like Sealpod or CM espresso lids. These are seals that are cut to exactly the right shape and size and attach with an adhesive. Some people say the quality of the adhesive is better with Sealpod, but CM is much cheaper. Again, as a result, you will be able to use an old unit about 3 more times before it is too full of holes to be used again. These seals also come with a coffee scoop that is the right shape for tamping.
In addition to get more uses out of your old pods, try drawing a line on them so that you always orient it in the machine the same way. The holes will line up better and you may be able to use the them more often.
Best Capsule Holders for Nespresso
We hope you don't like making a mess in the kitchen with not arranged pods. After buying a quantity of these, a problem arises about storing them in an arranged way so to have access to each flavor easily. To come over this, many brands are producing pod holders or drawers which range from $15 to $100. These are both convenient, help to reduce mess and don't cost to burn your pocket.
The first one that we liked is DecoBros Crystal Tampered Glass Vertuoline capsule holder. It an store up to 40 units easily and can even store normal pods in a quantity of 20.
Another option is by Mind Reader that can hold up to 50 OriginalLine units or 24 Vertuoline units. It's very basic form of storage liked by everyone and is convenient to use.
Few Cons of Nespresso Capsules
Pods are the fastest way to have a cup of coffee in a matter of minutes. However, there are some drawbacks to using them too. Maybe you are already aware of them or if not, consider having a short read below.
Recycling Issue: There are some drawbacks to the Nespresso Brewing Method also. The pods themselves are supposedly recyclable but Nestlé has not been transparent about how successful their recycling efforts have been. There is enough concern about the environmental impact of pod coffee that it has recently been banned in Hamburg, Germany, and it's likely that we will see similar bans in other places too in the near future.
We can tackle this problem by using the alternate reusable capsules. This will save us some money and will also help in reducing the environmental affect. However, Nespresso has also started a project that does proper recycling of these coffee containers. The reports speak that 70% of pods are recycled from the total sold quantity which is a huge figure. The original recycling plant is established in Canada and there are services to pick up from Canada as well as the US. There are special bags provided by the company to carry the used capsules for recycling.
Ongoing Cost: Another issue is the ongoing cost of Nespresso espresso pods. The company once had a virtual monopoly on the coffee you could use with these machines, and they still have little incentive to offer competitive prices. As long as they can keep the overall cost lower than you would pay for a similar drink at Starbucks, they can charge as much as they want and still have buyers.
But some people just don't want to buy their coffee the same way they buy printer ink. Coffee is a traditional product that people have been drinking for centuries; being locked into buying from one supply chain because of the kind of machine you own is a business model that many of us rebel against. It has also brought Nestlé into conflict with antitrust regulations in some countries. Is there a way to enjoy the benefits that a Nespresso has to offer without being locked into using it on the company's terms only? The market is now available with many other options of Nespresso Coffee Capsules that are 100 % compatible with Nespresso machines and they are now playing quite well in the market. Many people have even stopped using their favorite espresso machines due to the simplicity of this pod king.