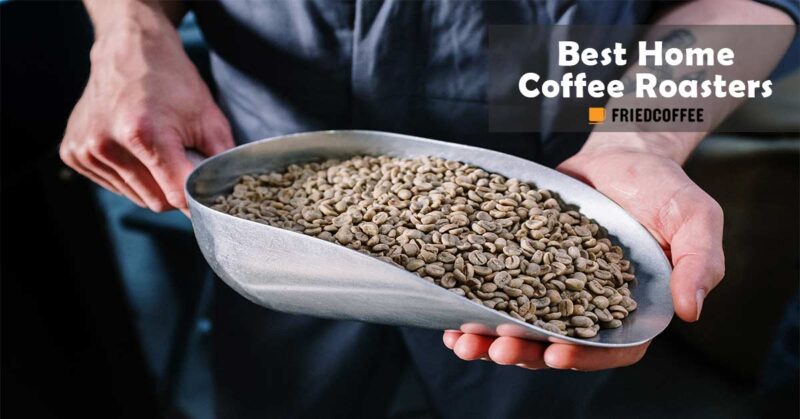 For a coffee connoisseur, the right things obviously matter! Getting the right coffee beans, the right coffee maker, the right grinder. But many people forget the importance of buying a home coffee roaster machine to start roasting their own coffee beans. It makes a huge difference in your coffee drinking experience.
Roasting gives your coffee a fragrant, dark brown shade that you have come to know so well. But why roast? Green coffee has a lot of flavor and aroma locked inside the beans. Roasting helps to release flavor and aroma, which makes your coffee much actually enjoyable which otherwise can't be as it tastes. Moreover, it also alters caffeine levels making them suitable for drinking.
When you subject your beans to a rapid and high temperature, chemical processes take place that balance, alter or create acids, aromatics, and flavors. Once the beans are roasted, they are cooled to stop the chemical processes going on.
Roasted coffee beans have a strong aroma and weigh much less because most of the water has been removed during heating. Such beans are crunchy, which makes it easy for you to grind and brew coffee. However, if you don't use your beans within a short time after roasting, they will lose flavor.
Why Roast Coffee At Home
You have a good grind, a perfect coffee maker, then why not coffee roasting equipment? To enjoy your cup of coffee, try roasting coffee beans on your own. Roasting at home guarantees you a fresh cup of coffee, and a little practice ensures you find a flavor that suits your palate. If you have ever wanted to be a home barista, then this is one of the steps.
For you to roast coffee beans at home, you need high-quality coffee beans and a few other supplies. Also, be sure you understand coffee roasting in general so that you will be able to control the flavor. If you are a serious barista at home, you must owe an espresso knock box and a good quality coffee tamper. Although these are small elements of coffee brewing, they tell more about how serious one is into the process. Here is our little guide about, 'How to roast coffee beans', if you want to learn the process without experimenting much.
Best Home Coffee Roasters – Our Favorites
As a person who appreciates a fresh brew each morning, buying your own beans and handling the roasting process at home is the easiest way to fix a cup of pure bliss. While it may seem like a lot of work, it shouldn't be. You'll get freshly roasted beans at home!
Rather than roasting your own beans on a makeshift pan, you could simply purchase a coffee roaster machine. There are many top-quality home roasters available at an affordable price. Here we go with our list.
1. Household Coffee Roaster
Electric Coffee Roaster Machine 500g Coffee...
HOME COFFEE BEAN ROASTER:100-240 ℃ adjustable temperature...
800G LARGE CAPACITY: The best baking capacity is 300-500g,...
TRANSPARENT GLASS COVER: The glass cover with 4 ventilation...
EASY TO USE:1200w high power,easy to operate, you can bake a...
If your daily routine involves a lot of roasting with no room for a fuss, this roaster is your best bet. This is a product that is purely made for home roasting.
This roasting machine looks similar to a rice cooker and roasts coffee without much involvement. Though, it should be either kept in the outdoors or a well-ventilated area as coffee roasting involves a lot of heat out. The machine along with heating the coffee beans also tumbles them for evenly heating.
Pros
Beans roast evenly
Can roast more than one pound at ago
Preset temperatures for various roasting levels
Beans tumble automatically
Fits well almost anywhere
Cons
No Manual
Doesn't Turns off automatically
2. Nesco CR 1010 PR
Nesco CR-1010-PR Coffee Bean Roaster, Black
Advanced Patented Catalytic Technology Significantly Reduces...
Roasts a batch of beans in less than 20 minutes
Roast up to 1/3 lb beans - makes 36 cups of coffee
Combines warm air with a powerful agitator to create an even...
Although it looks like a mix between a blender and a standard mixer, Nesco CR 1010 PR is easy to work with and can roast green beans in almost half an hour. If you are new to coffee roasting, this roaster is the best tool to get you started.
As an air roaster, it is quite loud, which makes it difficult to tell your stage of roasting. Thus, you will have to rely on color. Also, it has a smaller capacity and can only roast about 4 ounces at a time so it is not a good fit if you have a busy roasting schedule or drink too much coffee.
Nesco CR 1010 PR features a catalytic converter to help keep smoking at a minimum and a COOL button to blast cold air over your beans. If you want slightly darker beans, consider roasting for more than 35 minutes.
Pros
Easy to operate
Small sized and attractive looking
Minimal smoke
Cons
Roasting takes longer than half an hour
Small capacity
Quite loud
3. FreshRoast SR540
Fresh Roast SR540 Automatic Coffee Bean...
☕ Fresh and flavorful coffee guaranteed - Why roast coffee...
☕ Roast any kind of coffee even espresso up to Roast...
👍 Easy to use for the novice and fully adjustable for...
☕ Beans are roasted to your liking Combine different bean...
This machine is for those who prefer to spend less but use a little more effort when roasting. It is a fluid bed roasting machine, which makes it easy to operate. While it looks a little like an air-popping machine, this unit was designed to roast green beans.
Some of its best qualities include an adjustable control. You can alter the fan velocity, temperature, and timer as you roast your beans. That way, you can make the necessary changes on the go. Unfortunately, it can't be left to run on its own. It requires you to keep an eye on it as roasting goes on. If you don't want a fast fan speed, you can stir the beans to encourage even heating. Once your beans are roasted properly, turn on the cooling cycle to bring down the temperature.
FreshRoast SR540 can handle up to four ounces at a go, so it is not meant for heavy roasting.
Pros
Adjustable controls
Small sized
It is not loud
Has cooling cycle and chaff collection mechanisms
Cons
Requires manual stirring
Handles a maximum of four ounces
4. Nuvo Classic Design Handy Roaster
Nuvo Classic Design Eco-Friendly CC Home...
▶︎ The Nuvo CC is the best-selling, patented, and...
▶︎ FIND the BEST TASTE of your OWN - The Product enables...
▶︎ EASY SUB LID OPENING & MONITORING - You can open the...
▶︎ DUAL ROASTING SUPPORT - The Nuvo CC Roaster supports...
Originally made in Korea, this roaster has bagged many awards thanks to its minimalistic design. This product is manufactured using aluminum making it incredibly lightweight. The handle is well-crafted using a beech tree covered in genuine leather.
Nuvo Classic Design Handy Roaster has a lid at the top that opens and closes allowing you to place and remove coffee beans. Alternatively, you can also roast beans with the lid open. Roasting with the lid closed traps air within and the beans roast really well.
To check if the fresh green beans have roasted to your liking, simply open the lid and check the color. While this product is not as sophisticated as others from the same company, it still looks attractive.
Pros
Awarding winning finish
Offers a simple and old school way to roast beans
Roasts by circulating air within
Lightweight
Cons
Not as precise as the electric types
You can't leave the roaster unattended
Does not offer smoke suppression
Roasts a few ounces of coffee beans at a go
5. Kaldi Home Roaster
Stainless steel and high-quality coffee devices go hand in hand, and that includes coffee roasters too. Kaldi home is built entirely out of medium gauge steel, which makes it exceptionally attractive and durable.
The largest of the Kaldi home roasters measures 22.1 by 14.1 by 8 inches. It weighs a mere 14. 6 pounds, which is not that big, and storing your device won't be a problem at all. Also, it is significantly lighter and pulling it out for your routing roast is pretty easy.
With Kaldi home, you can roast up to 8.8 ounces at a go. Roasting is mainly manual because it does not feature advanced electronics onboard. So, there are no profiles or presets to work with.
Although it is entirely old school, it has a chaff strainer that traps all the chaff from your beans meaning your working space won't be messy. It also features a smoke suppression mesh just above the drum to suppress smoke produced during roasting.
Pros
Low tech and well designed
Cons
Quality of roast depends on your skills
6. Kaldi Wide Home Roaster Machine
KALDI WIDE size (300g) Home Coffee Roaster...
KALDI Motorize Coffee Roaster WIDE model (up to 300g)
Flame arrest (mesh plate): A flame arrest system was...
Perforated drum: Kaldi's self-developed perforated drum uses...
Component Description: The hopper, thermometer, bean sampler...
With a capacity of 0.5 pounds, this roaster is quite big making it too large for home use. If you own a restaurant or are thinking of starting one soon, this is the best tool for you. Not only is it large, but buying one won't cost you an arm and a leg.
This roaster has a suave construction and a stainless steel finish, which gives it an attractive look. Its design incorporates a drum that turns your beans allowing for an even roast in a little under 15 minutes. In addition, its design incorporates a chaffing tray that collects all the chaff from your roasting process and a temperature probe that lets you control the flavor of your beans.
Pros
Easy to maintain
Allows you total control during roasting
Has a high quality design
Cons
Requires an external source of heat like a propane burner
7. Korean Ceramic Handy Roaster
If you feel an eco-friendly coffee roaster would make a valuable addition to your kitchen, consider Korean Ceramic Handy Roaster. It is constructed out of cowhide and ceramic material. Unlike most roasters, this one works with an open fire or you can place it on your stove.
Korean Ceramic Handy Roaster is an environmentally friendly product that produces outstanding results. It offers incredible insulation as it is made of a ceramic material. It is a cheaper option and best suits those who prefer to roast the traditional way.
Pros
Ceramic design
Eco-friendly
Useful during outdoor activities
Cons
Requires an open fire or stove
8. Hamilton Beach 73400 Hot Air Popcorn Roaster
Hamilton Beach Electric Hot Air Popcorn...
QUICK AND EASY SNACK: Make hot and delicious popcorn in just...
SERVES A CROWD: Pops up to 18 cups per batch for a crowd.
HOT AIR = HEALTHY: Uses hot air for a healthy snack, no oil...
POPS INTO YOUR FAVORITE BOWL: Pops into your favorite bowl...
Popcorn roasters can also be used to roast coffee beans. This device excels at making popcorn, which it releases and sends to a holding bowl. It features a buttercup that you can also use to measure quantities.
One batch of these popcorn poppers holds about 16 cups of popcorn, and you can expect the same level of performance or even better when roasting coffee beans!
Pros
High class quality
Cup can be used to take quantities
Gets your roast ready within a short time
Cons
It is noisy
No off or on switch
9. Franklin's Original Whirley Pop Stovetop Roaster
Sale
Franklin's Original Whirley Pop Stovetop...
Make DELICIOUS and authentic movie theater popcorn at home,...
REAL wood handle & EXTRA LARGE 6 qt aluminum pot distributes...
ALL METAL GEARS and patented stirring mechanism. Prevents...
EASY TO USE and CLEAN - Pour contents of the Franklin's...
This pop stovetop is extra-large and supports up to 6 quarts of popcorn. If you prefer to prepare your coffee beans in large quantities, Whirley pop stovetop is the product you need. Plus, it has a non-stick inner surface, which makes cleaning easy.
Pros
Heats up quickly
Leads comes with wooden stirring stick
Cons
Lid is not transparent, so you need to keep uncovering to check on your roast
Lid tends to fall off
10. Great Northern Popcorn Popper stainless steel
Sale
Great Northern Popcorn Original Stainless...
POPCORN MAKER – This 6.5-quart stovetop popcorn kettle can...
STIRRING HANDLE – The campfire popcorn kettle features a...
MOISTURE RELEASE LID – The stainless-steel popcorn kettle...
EASY TO CLEAN – This popcorn pot for stove top is made...
This popcorn maker supports about 5 quarts, which is why it is ideal for large batches of coffee roast. Its pot features a well-design spinner that ensure your beans won't burn as your roast.
Pros
Eccentric spinner, and large capacity
Wooden handle protects your hands from getting burns
Easy to clean Nonstick pan
Cons
You have to keep lifting lid to check on your beans as it is not transparent
How to Choose the Right Coffee Roaster Machine
If coffee is your bliss, then you know that you need the best beans, a good cup, and the right grinder. Another essential accessory that you may not have thought about is a Coffee Roaster. Having your own coffee bean roaster guarantees a tasty brew right at the comfort of your home.
You might be interested in: Best Coffee Grinders
You have thought about it long and hard and it only seems right that you should plunge into home roasting. So what's the problem? There are many brands of coffee roasters on the market and finding the right one is a huge challenge. It doesn't actually matter much as if you are roasting for an espresso or a drip coffee, what matters is how you want to roast!
Don't let that stop you from enjoying homemade coffee. We have put together a list of things you should think about when choosing a roaster for your home.
There are different types of coffee roasters to choose from, so let's explore a little more and find out what the market has in store for you.
Types of Roasters
There are two types to choose from. The first one is the air roaster and its working mechanism is like that of a popcorn maker. An air roaster heats coffee beans using the process of convection. Hot air moves through a roasting chamber and goes straight to the coffee beans.
The other type of coffee roaster is called the drum roaster. Unlike the air roaster, this one applies heat to your coffee beans indirectly in its roast chamber. In other words, it roasts your coffee beans through conduction. Drum roasters have a rotating metal chamber. Thus, your coffee beans roast when they meet the drum's surface.
Roasting Indoor or Outdoor
Before you go for a roaster, consider where you will use it. Some roasters are meant to be used outdoors. Why? Well, the process of roasting coffee produces a lot of smoke. Typical places where you can put your coffee roaster include the garage, porch, or patio.
Roasting coffee produces much more smoke than is the case when cooking a meal. In addition, coffee beans produce paper-like chaff when roasting, which requires a lot of cleaning once you are done. If you prefer a darker roast or have many coffee beans to roast, it's better to do it outside.
However, if your kitchen is equipped with an efficient vent, keep it indoors. Besides, there are coffee roasters that come with a chaff trap and a smoke filter to minimize the amount of cleaning you'll have to do and smoke produced.
Some coffee roasters don't do very well in cold places. Thus, you will have to come up with tricks to keep it warm.
Is the Interface Easy to Understand?
Let's face it; there are many coffee roasters out there with complicated user interfaces. The problem with a complex user interface is that it takes time to learn how to use it. Also, getting the right roast from such an interface is next to impossible.
When shopping for a roaster, be sure that you can read, understand, and able to use its interface. If you prefer a computer user interface, then this is one more reason why you should go for something you can easily operate.
Technology has evolved over the years. Some coffee roasters can be synched with a computer to give you added control over your roast. In fact, you can save each recipe and replicate it in the future if you are satisfied with the taste.
You simply need to download the control program and install it on your PC. That way, you have a user interface to interact with and you can modify saved roasts without having to re-roast. However, be sure to test your roaster before you take it home so as to determine whether its interface is easy to understand.
Equipment Capacity
Roasters are built for different capacities. The size of the roaster you want depends on your roasting needs. Ideally, an air roaster can handle small quantities of roast while a drum roaster can roast bigger batches thanks to its drum chamber.
If you prefer a small batch of roast at a time each week, an air coffee roaster is a right choice for you. Otherwise, bigger batches require a monster with a bigger capacity like the drum roaster. To choose the right roaster, look at the quantity of coffee you consume each week as well as the frequency of roasting. If you have a large appetite for coffee, that means you need a large roaster.
Is there a Cooling Feature
Cooling your roast is an important part of the roasting process. Once you are done roasting, your beans' temperature can be as high as 210 or more. If the roaster does not have a cooling mechanism, beans will cool on their own.
Unfortunately, this takes longer and beans will develop rye or malty taste, a flavor that most roasters try their best to avoid. Before you purchase a roaster, check whether it has a cooling mechanism to start with. Also, consider the type of cooling mechanism. There are two ways your roaster can cool your coffee beans. They include cooling by water or air.
Noise
Coffee roasters have varying noise levels. Some are loud while others work quietly in the background. When it comes to specific types, air roasters are quite loud compared to drum roasters. Noise is usually an issue, particularly where new roasters are involved because you need to detect the first or second cracking sound that tells you how well your beans are roasted. It is better if your roaster is the quieter version as it will be easier for you to detect these cracking sounds.
Easy to Clean or Not
Coffee roasters require cleaning on a regular basis. Cleaning is important because it helps to keep bacteria and mold at bay. Both of these populate very fast in a warm and moist environment. Also, a dirty coffee roaster tends to ruin the flavor of your beans.
Cleaning your roaster ensures it will last longer too. Nevertheless, roasters come in different designs, meaning some are easy to disassemble and clean while others require a little more work. For that reason, you need to find a roaster that you can easily take apart and clean as often as you use it.
The Size of Equipment
Coffee roasters are built in different sizes and shapes. Some are able to fit on a typical kitchen countertop while others are quite large, usually more than a few feet wide. Most kitchen spaces are built to accommodate medium to small-sized electronics so that there is space left for other kitchen appliances.
Thus, the kind of model you want must be able to handle your roasting frequency and quantity and still fit in the available space. Measure your space and be sure you know what area you are working with before you bring in a roaster.
FAQs
Is home-roasted coffee better?
Well, in roasting coffee beans at home, we are actually getting freshly roasted beans which are way better than using the coffee which we don't really know as to when it was roasted. So, getting a home coffee roaster is not a bad move.
Does roasting coffee beans smell bad?
It depends as some people like the burning smell. I personally don't feel bad about this smell but some people might fade away. So before you buy a coffee roaster machine, check at some nearby roaster as you can bear that smell or not.
What are the different roasts of coffee?
There are many various levels and people have identified differently. But still, the common roasting levels include Half city roast, cinnamon roast, full city roast, Italian roast, French roast and there are more.
How long do roasted coffee beans last?
Consume the roasted beans after 2 days of roasting but within a time frame of 10 days, which means 2-10 days. However, the beans don't die but after that duration, the flavors start declining and almost become bad to taste within a month. Don't forget to store them in an airtight coffee container to ensure the freshness lasts.
Are shiny coffee beans better?
It means the coffee beans have been roasted for a long and have developed a high level of roast. Most of the shiny coffee beans are dark roast and if you love the dark flavors, it will taste better to you.
When can I drink coffee after roasting?
Consume the coffee after 2 days of roast but within 10 days of the roasting date to have the optimal taste. However, you can consume the beans within a month after roasting but usually, the taste declines after 10-15 days.
Wrapping Up
With a perfect coffee maker and a grinder, you are half complete. Get a home bean roaster and you are a perfect coffee connoisseur. There are many different types of coffee roasters. From our list above, you have quite a number to look through to find one that works for you. Some are simple while others are quite sophisticated. Thus, before you choose one, decide where most of your roasting will take place and your coffee preference.
Once you answer these two questions, it will be easy to find the right coffee roaster for your needs. It's that simple!