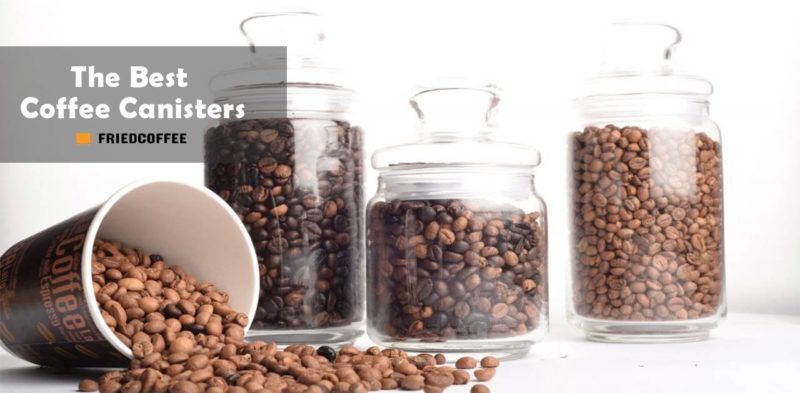 Fixing a tasty cup of coffee in the comfort of your home is as important as finding the right coffee beans. However, after that, you have to find an ingenious way to store the beans, like in an airtight coffee canister.
There are many factors that can cause your coffee to taste bitter or stale, however, a common culprit is a poor storage. To sort this, we will introduce you to some of the best coffee canisters which can store your beans airtight to avoid being exposed to external factors. Leaving your beans in pouches, bags, or common food storage jars that are open and exposed to heat, light or moisture will cause them to go bad within a very short time.
At a Glance on Best Sellers
The Best Coffee Canisters – Our Favorite Picks
1. Coffee Gator Airtight Container with Co2 valve
Any coffee barista will tell that the roasting date of coffee beans affects their freshness, aroma, and flavor. That means you should avoid buying the ones that are roasted older than one month. But, if you love your coffee too much, ensure you keep track of the roast date. In that case, this coffee canister from Coffee Gator would come in handy. If you have a coffee roaster, this function comes in pretty handy.
One of its best features is its date-keeping lid that adjusts accordingly and lets you keep track of the freshness of your beans. Another cool feature is its airtight system that comes with a patent valve. The valve prevents air from flowing into your canister but releases carbon dioxide from your coffee to preserve its aroma and flavor.
Coffee Gator is built out of high-quality steel, which gives it a shiny appearance and a high level of durability. This product also features a stainless steel scoop that you can use to pick coffee out coffee beans without causing any spillage.
Pros
A patent valve that releases carbon dioxide while keeping out oxygen
Lid features a calendar that lets you monitor the freshness of your beans
It is built out of high-quality steel
Has a scoop with which to take out coffee beans without causing a mess
Cons
Should not be cleaned in a dishwasher
2. TightPac CoffeeVac
Professional Series 1 lb Coffeevac V with...
Patented Vacuum System and Patented Degassing Valve keeps...
Professional Series - Roaster Approved - Airtight, Oxygen...
Europe's # 1 Coffee Container - Maintains Aroma and Rich,...
Food Grade Recyclable Plastic
One of the qualities that make Tightpac Coffeevac a success is its simplicity. It doesn't feature any kind of mechanics to keep your coffee beans fresh. All you have to do is fit the lid tightly and you are good to go.
Its key feature, the vacuum seal, does everything else for you. In fact, if you listen closely, you will be able to pick out the vacuum seal working quietly in the background whenever the lid is taken off. There is a faint whooshing sound, which indicates that pressure has been released.
Tightpac can hold up to 500 grams of coffee beans. It has a wide opening that is large enough to fit an entire hand so cleaning and scooping are effortless. You can also clean it by hand-washing or using the dishwasher. If you choose the dishwasher, ensure that you remove any debris stuck on its lid or exterior.
CoffeeVac is classy, minimalist, and a sure a fit in any kitchen space irrespective of décor. In addition, it is incredibly reliable where your coffee's freshness is concerned.
Pros
Easy and simple to use
A friendly and convenient design
Cleaning is easy, thanks to its extensive opening
Has a highly functional vacuum seal
Cons
Features a plastic body that is off putting to some people
3. Airscape Coffee Canister by Planetary Design
Airscape is among the most sought-after canisters because of its unique lid design. This patented lid expels air out of the storage area preventing your beans from going bad. Once you lock the lid into place, you are guaranteed that there won't be any air trapped inside.
It features a patent valve that removes all the air. The lid is clear allowing you to see the contents inside without taking it off.  There is no need to worry about light penetration because the lid is made out of a UV-resistant material.
As a result, this container can also be used to store other items such as sugar, flour, tea, spices, and cereals. Plus, the steel used in this product is restaurant-grade steel and absolutely BPA-free. If you prefer a specific color, there are multiple shades to choose from and you are guaranteed to find something that matches your kitchen's décor. It can fit really well in any pantry and can store about one pound of coffee beans. But, you can also opt smaller one if you feel that your pantry does not have enough room.
Pros
Has a unique airtight system that ensures your coffee beans remain fresh for a long time
Its construction is compact allowing it to fit nicely in your pantry
Its top is clear, which makes it easy to see through without opening the lid
Can be used to store other items, including perishable products
Cons
Its plunger, used to secure the lid, takes up space inside
4. Prepara EVAK Airtight Coffee Storage Container
If you enjoy looking at coffee beans as much as you love drinking and smelling them, EVAK is the one you can consider. Manufactured out of borosilicate, this container keeps in all the flavor while keeping itself stain and odor-free.
EVAK's proprietary technology is so efficient that it creates an airtight space the moment you push down on the lid. While you may not be so crazy about a glass canister that allows light to pass through, if you store it in a shaded environment, you will enjoy its aesthetic value. Besides, it is available in three distinct sizes and up to four unique color selections.
Pros
Completely airtight
Resists stains and odor
Has an aesthetic look
Comes in distinct colors and sizes
Cons
It's made out of transparent glass
5. OXO Good Grips
Hold on a second. A container that is see-through? Doesn't it allow harmful ultraviolet rays to pass through? Well, a normal one would! However, OXO is tinted, the same way you would tint your car's windows, to keep out almost all the UV rays that land on its surface. You are guarantee that the coffee beans within won't suffer a sunburn.
There's more. OXO is BPA-free, weighs 1.5 quarts, and is a perfect fit for one pound of coffee beans. That said, you should be careful not to store flavored coffee beans in it. You can create an airtight cavity by simply pressing a button on the lid. OXO also incorporated a corner that allows for easy pouring without spilling the beans. Its silicon gasket can be cleaned using a dishwasher while the rest of it is designed to be hand washed.
Pros
Tinted surface keeps out 99 percent of incoming UV rays
You can create an airtight seal at the touch of a button
The tint makes for an attractive kitchen display
Cons
Not suited to be used with any flavored coffee
6. JavaShield Black Coffee Beans Container
Did you know that coffee beans release carbon dioxide, which causes their freshness to decrease over time? JavaShield does, and that is why they created this revolutionary airtight container specifically to handle this problem.
It features a unique valve built into the lid to let out Carbon dioxide while keeping out light, moisture, and air. Thus, it maximizes your coffee's freshness. JavaShield also features a strong steel body with a brushed nickel texture that adds function as well as an up-to-date design to your kitchen. It has a staggering 16 ounces of space, which makes it large enough to store whole beans.
You will be pleased to know that its lid is BPA-free and is built out of the same grade of steel used to make food containers. In addition, the lid features a calendar that lets you monitor the freshness of your beans and a scoop that helps you quantify the right amount of beans for your needs.
Pros
Modern and durable
Keeps your beans fresh for a long time
Features a calendar and a free scoop
Cons
Some people feel that the steel is a little too thin and the lid does not close tightly enough
7. BlinkOne Coffee Canister
BlinkOne is among a few but well-reviewed coffee canisters, thanks to its impressive airtight silicone seal. This seal does a wonderful job at preserving the freshness of your roasted beans. Its stainless steel frame also ensures that you have a durable piece of product.
This built is somewhat compact and weighs just about 15.90 ounces. Despite its small size, it's able to store up to 18 ounces of roast coffee beans. Thus, you are guaranteed the most for your money because this one can outdo others of a similar size. Its material is not just durable, the silicon used to make the sealing material is BPA-free. Thus, this BlinkOne won't cause you any harm by storing beans in it.
Pros
Its airtight seal preserves freshness, aroma, and flavor
Somewhat compact but large enough to hold about 18 ounces
Manufacturing materials are sturdy and durable
Cons
Its capacity maybe a little too small for some coffee aficionados
8. Friis Vacuum Sealed Coffee Container 16 Oz
Friis is yet another giant in the canister market. This one does an excellent job at keeping your coffee beans as fresh as when you bought them. It achieves this with the help of a polymer lid that creates an airtight cavity.
Since humidity and air are sealed out, Friis allows your coffee beans to stay fresh for a long time. It also expels carbon dioxide that causes the beans to lose their freshness and flavor with prolonged storage. It was made using sturdy and durable steel, which is why it won't break that easily, and that gives you value for your money. Each unit comes with a scoop to help you pick up coffee beans every time you want to make a fresh cup of coffee. Also, Friis comes with a well-detailed user guide to ensure you derive maximum benefit when using it. Also, the 16-ounce capacity allows you to store either whole or ground coffee beans.
Pros
Has a highly effective lid that seals out air keeping your beans fresh for long
Expels carbon dioxide
Lid is BPA-free
Comes with a scoop to help you pick coffee beans
Features a guide to get you started
Cons
Stainless steel base tends to rust with time
9. Coffee Vault Premium Coffee Canister
Are you looking for a canister that will keep your beans safe one cup after another? Try Coffee Vault. It will hold in that taste you love so much and secure your coffee beans against damage for a long time.
These storage jars feature a vaulted design that locks every gram of moisture and oxygen out using a one-way patent vent valve. The valve also lets out carbon dioxide responsible for the loss of flavor in coffee beans.
Its design ensures no spilling of beans meaning you can say goodbye to all those fiddly packaging packets. The manufacture also provided a scooping spoon with which to measure and extract beans. This unit also features a dating mechanism to help you keep track of your coffee's freshness so that you won't feel the need to use them with haste.
Pros
Keeps your beans fresh for a long time
Its vault design keeps out air and moisture
Has a scoop that minimizes spilling
Cons
Some people feel it's cheaply built and poorly assembled
10. Bean Envy Airtight Coffee Canister
Bean Envy designed their canister to offer two important things: a rustproof and elegant product that will look beautiful in any kitchen. Essentially, what you have is a vault that you can use to store ground or whole coffee beans, flour, tea, and even sugar.
To put it simply, Bean Envy features an elegant patent-pending design that includes a steel scoop with a smooth, sleek handle. So, whether you have guests over or your day is just starting, this is the perfect thing to store your beans fresh and full or aroma for a couple of days along with looking stylish.
Everything about this product screams state-of-the-art, especially its day tracker that is seated on a cantilevered stainless steel lid. The day tracker acts like a calendar that tells how long your beans have been inside. It also features a unique wico-valve to expel carbon dioxide leaving your beans looking and tasting fresh for days.
Pros
Rust-resistant and durable stainless steel
Guarantees long lasting freshness
Has a state of the art design
Comes with a steel scoop
Cons
Its wicovalve gets damaged when exposed to water
11. CoffeeMax Deluxe
There's nothing as bad as waking up to a stale cup of coffee. Don't allow anything to come between you and a perfectly flavored cup of morning Joe. Take control with CoffeeMax because they are offering you an easier way to uplift your morning.
Keep all your coffee beans secured away from flavor sucking elements such as air, moisture, and light with CoffeeMax's. Its hermetic seal features an opaque vault that can hold up to a pound of coffee beans.
If you are fed up with bulky and cheap products, get this magazine-worthy coffee canister. Its brushed steel finish adds a luxurious look to your kitchen. Buy a set or 2 so that things look seamless in your kitchen and mark them with what's inside.
CoffeeMax has also done its best to ensure you have everything necessary to brew a tasty cup of coffee. You can measure the right amount of coffee beans with the included long-handle scoop. That's not all. You also get a recipe book that you can use to fix different types of coffee drinks for your guests.
Pros
A free long handle scoop
Free recipe book
Has a sophisticated and sleek design
Maintains the freshness of your beans for days
Cons
Some people feel the lid isn't tight enough to maintain an airtight cavity
12. Gourmia GCC9390 Stainless Steel Coffee Container
Gourmia GCC9390 Coffee Canister - Stainless...
CO2 VENT VALVE: Any coffee connoisseur can tell you the...
EASILY TRACK YOUR FRESHNESS WITH A GLANCE: The lid of the...
PREMIUM STAINLESS STEEL MATERIAL: Minimize additional...
WEEK SUPPLY OF STORAGE: Our canister brings you with more...
Gourmia has an amazing and superior design quality. It has an in-built mono-directional valve that keeps out carbon dioxide. Your beans retain their flavor throughout in this airtight coffee container. Moreover, it has a calendar that enables you to keep track of your coffee's freshness. Each pack also comes with a freebie scoop. If you are looking for a perfect gift for that special occasion, this one set fits the bill.
This product features an extremely roomy design that can store upwards of 1.5 lbs of whole beans or 1.2 lbs grounds.
Pros
An airtight and luxurious fit for connoisseurs
Has an inbuilt calendar so that you can keep track of the freshness of your beans
Has a roomy design and can store more
Cons
Some customers feel the actual canister looks a lot cheaper than what is presented in pictures
Why Store Coffee Beans in Airtight Container
Coffee beans begin to lose flavor the moment you expose them to air. This process is known as oxidation, the same process that takes place in metals leading to rusting. Actually, oxidation begins when you are roasting coffee beans, and unfortunately, there isn't a way to prevent it. The best you can do is slow down the process.
Handling coffee beans is often a tricky process, and the biggest challenge you have to deal with is racing against time to find the right coffee beans, store and use them before they lose flavor. Although it is usually appealing to store coffee beans in a see-through container, exposing them to light affects their longevity and freshness. Some of the things you should try to avoid when handling coffee beans are oxygen, light, and heat. These three factors can damage the freshness of your coffee beans, so storing them properly is important.
Good storage can extend the shelf life of your beans so that you can enjoy the flavor and aroma of your brew for one more week. To ensure you enjoy every brew, we have even compiled a buying guide for coffee canisters that you can find at the end of this article. But first, let's start here with our best picks.
Things to conisder when buying a Coffee Canister
Here are some points to take care of when buying something for coffee storage:
Size
Most kitchens or pantries have little space to spare, so you wouldn't want to purchase a huge one that will take up a lot of room. On the other hand, you shouldn't buy something that limits the number of coffee beans you can store. Thus, find an average-sized product with enough space to let you store a rare roast for a long time.
Air Seal
This is a critical quality and the most important factor to consider when looking for coffee storage. Airtightness prevents oxygen from entering the storage container and coming into contact with your beans, which can lead to oxidation. In fact, there are canisters with co2 valve that lets carbon dioxide escape without allowing air to pass through.
Built Quality
The built quality shouldn't be a major factor when you are choosing storage for coffee. However, if you have to choose between two or more having almost indistinguishable features, then built quality will get you out of your dilemma. That way, you will choose a quality that agrees with your taste and kitchen design.
Wrap Up
All the coffee canisters we have reviewed are highly recommended. Each one has its pros and cons, but as far as feedback from consumers is concerned, the best overall win is the Coffee Gator. It's an amazing product already been trusted by many coffee connoisseurs.
Anyways, it's not always the best pick as each of us has varied requirements and so, I suggest picking any as they all have some features that others don't have.