This mid-range Gaggia Titanium Super-Automatic Espresso Machine is designed to make your morning espresso or latte as effortless and consistent as possible. You'll fall in love with it's first look. Once you've chosen your settings, a single press of a button will take you from whole beans to a hot cup of perfect espresso every time. Gaggia products are made in Italy and sold in the US through WholeLatteLove and Amazon. A super-automatic espresso machine is a complicated piece of equipment. Many different manufacturers offer a range of super-automatic machines, each with its own strengths and weaknesses. Here we'll be doing the reviewing the Gaggia Titanium with closer eyes:
Features and Specifications
Built-in ceramic burr grinder
8 ½ ounce hopper
18 grind settings and 7 dose settings
Bypass Doser for using pre-ground coffee
3 brew volume settings
Separate boilers for brewing and steaming
Pre-infusion brewing
Removable brew group
Telescoping brew spout for different heights of cups
60-ounce water reservoir
Frothing Wand
Automatic frothing attachment
Active cup warmer
Gaggia Titanium Has Mid-Level Pricing
Gaggia offers a decent variety of quality super-automatic espresso machines, with the Titanium priced somewhere in the middle. You can get a Brera for about $450 or pay as much as $1300 for the Prestige and $1650 for the Accademia, while the Titanium costs around $500. Top end models by other companies, such as the Xelsis by Saeco, can run as high as $2500.
With the higher-priced machines, you will get features like automated milk steaming and frothing, and possibly a better-constructed machine that will last longer and be more robust. Otherwise, the Titanium offers most of the features that are available on most super-automatic machines.
The Grinder
Gaggia Titanium features a built-in ceramic burr grinder with an 8 ½ ounce hopper. The grinder has 18 different settings so that you can customize how coarse or fine the grind is depending on the beans that you buy. There is also a bypass Doser, which is a great option when your hopper is full and somebody wants a decaf.

Unfortunately, as is often the case with less expensive semi-automatics, the grinder tends to get clogged up and stop working if you use very dark oily roasts. If you love your dark shiny beans, you may not get to use your favorite coffees with this machine unless you use the bypass Doser.
The Brewing Part
Making a perfect shot every time is the main selling point of super-automatic machines, and the Titanium doesn't disappoint in this area. Once you figure out your grinding, dosing and brew settings, you will be able to make great-tasting coffee at the just a push of a button.
You can set three different brew sizes for single, double and Gaggia's signature café crema. All of these come pre-programmed, but you can reset them by holding down the button for as long as you want to program the size of the serving.
The brew group is removable for easy cleaning, and the brew spout height can be adjusted to fit most mugs (though not tall travel mugs).
Steaming and Frothing Milk
The Gaggia Titanium features separate boilers for steaming milk and for brewing coffee. The advantage of this system is that you can steam your milk at the same time as the coffee is brewing, rather than having to wait. This saves you time because you can do two things at once, and because you don't have to wait for the water to come back up to brewing temperature after steaming.
This machine gives you two different options for steaming milk. The first is a traditional steam wand that allows you to heat and froth milk in a pitcher as you would with any espresso machine. This takes a little practice but allows you to decide exactly how hot you want your milk to be.
There's also an optional attachment that lets you draw milk out of a container and heat/froth it automatically into your cup. While this option takes the guesswork out of steaming milk, it also takes away your control over the process and the final temperature. It also leaves you with a complicated little gadget that you somehow have to clean the milk out of after you use it. In our opinion, most people will be happier with the traditional steam wand once they get used to it.
Cleaning and Maintenance
When everything works as it should, the Titanium is an easy machine to look after. The water tank is fitted on the back, where you can access it by turning the whole machine, which is mounted on a lazy-Susan type of turntable. You can either remove the tank for filling or fill it in place using a pitcher.
The LCD screen tells you in plain English when the machine needs attention such as emptying the grounds bin or de-scaling the water lines. When the drip tray needs to be emptied, a red button will rise up out of the tray itself.

To remove the brew group for cleaning, open up the front "door" of the machine, remove the drip tray and dredge tray (for the used coffee grounds), and you will see exactly how to get at the brew group.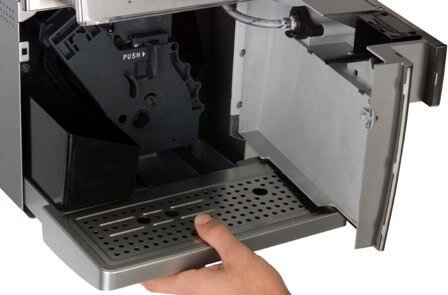 Whole Latte Frustrations
This model has a few number of issues that have plagued the good owners (Well every machine that has many parts have some issues). Few people report that the machine, though it looks to be made mostly of stainless steel in the pictures, actually contains a lot of plastic parts that are not as durable as they should be. Layers of plastic can peel off the exterior if not maintained, which cheapens the look, and internal parts may start to break down after a while. The option is to keep the machine in normal temperature area, not the warm one.
The sensors also start to act upon the Titanium. You may get messages to empty dredge tray when it's already empty, or fill water tank when it's just filled. Worst of all is the dreaded "ventilate" message. For no obvious reason, the machine produces this command and will not work until you manually prime it with water according to instructions in the manual. Some people get this message at the time they try to brew coffee or steam milk, and priming it as instructed doesn't always helps. Although this happens with few people, some have also reported using the machine for years without any flaws or cons.
(The machine comes in almost half the cost of the premium ones. And so some sort of steps have to be taken for cost-cutting of the product.)
Warranties and Service
The manufacturer's warranty is good for one year. Be sure to keep all of the packaging materials that come with the machine. It's in case there is a problem and you need to ship it back.
Getting the Titanium serviced is a pain and can end up costing you a lot of money even if it is still under warranty. You have to pay for shipping both ways yourself, and you will be charged if the machine is damaged in any way during shipping. If you have problems after the warranty period is up, it can be difficult to find anybody who is willing or able to do repairs from the brand.
It's important to remember that many if not most customers are happy and love the coffee that Gaggia Titanium makes. But an unacceptably high number of buyers report serious problems and significant barriers to getting them dealt with.
Some reviewers have noted that ratings on WholeLatteLove's own website are much positive than those on neutral sites like Amazon. It seems that they are simply not publishing the negative reviews they receive for their own products!
However, there is a solution to everything. You can buy an Extended Warranty by Espresso Services Inc after the main warranty has expired.
Overall
The Titanium has a lot of great features. It is capable of making an excellent espresso, latte or cappuccino with very little effort. It is much more affordable than many of the other options out there for super-automatic espresso machines.
The warranty period is short, the shipping is expensive, and the machines are fragile and prone to damage in transit.
This model might be worth the risk if you are able to buy one at a store in your area. Check if that store provides good customer service options in the event that something goes wrong. Returning a machine is not such a big deal then. You simply just have to put it in the back of your car and drive to the store.
Otherwise, if you have your heart set on super-automatic, you may want to look at other options like Gaggia Accademia. It's a little expensive, but it's a king of all. Make sure you read reviews before you buy, paying special attention to customers' experiences with returns and repairs. Gaggia Titanium Espresso Machine is complicated, delicate machine, and there's some potential for something to go wrong. You may be better off spending more for a more robust machine that will cause less trouble in the long run. However, there is one more option to opt, extended-warranty by Espresso Services Inc. These guys are probably there to cover up after the main warranty has expired.
You May Also Like:
Gaggia Titanium Review
Design

Features

Brew Control

Built Quality
Summary
Titanium is a budget machine that doesn't compromises with the quality, instead to reduce the price, some of the features are made manual.