Very probably, you are trying to find a solution to either save money on recurring cost of Nespresso capsules or searching for a system that can let you use fresh coffee grounds in a Nespresso machine. Unfortunately, the original pods are expensive and also by using these, one is contributing to tons of plastic waste which is a threat to environment. So its wise to replace them with Nespresso refillable capsules that can help you with all the above issues – save money, save nature and use the very fresh coffee beans.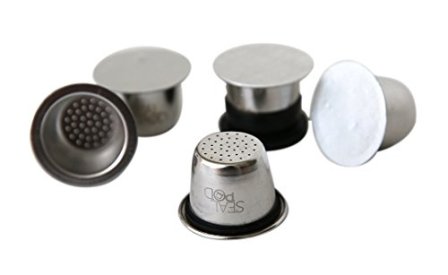 With the rise in the use of single serve machines, many brands have jumped into reusable capsules and are already accepted by many coffee fanatics. Obviously,when there are numerous options, there are some good, better and best. So, to ease your selection, we have pre-selected some of the top products as Nespresso capsules alternates doing great in the market. Preference here was to use pods made up of metal, as in the coffee brewing process, a lot of heat is involved and plastic is any way a victim of heat. Below are the options that can be counted as best refillable Nespresso pods and are already trusted by many coffee fans.
Watch the video below to see as how easy is to use Nespresso reusable pods at home. 
Note- The products below are compatible with OriginalLine machines and not with VertuoLine.
Reusable Nespresso Compatible Capsules – Top 5 Picks
#1

Recaps Stainless Steel Reusable Capsules
Recaps is a reputed brand in making reusable capsules and this is actually a kit containing 3 reusable pods, a tamper to press and 120 Lids. Lids are available individually thereafter. These pods are compatible with all the OriginalLine machines like Pixie, Inissia, Citiz, Essenza, and Latissma. For brewers with a single pin and the brewers before 2010, the company suggests not to buy as there might be a compatibility issue.
#2

Sealpod Nespresso Refillable Capsules
Next on the list are the Refillable Pods by Sealpod. It is available in either 2 or 5 pc packing as required along with an option to choose either 24 or 100 packing lids. These are again metal capsules that last lifetime or until they are lost somewhere. Compatible with most of the Nespresso Machines, Sealpod is a little costly than the Recaps, just slightly which is negligible. Buy the brand you trust more or have heard more about.
#3

MyCoffeeStar Refillable Stainless Steel Capsules
This is a great option if you can spare some extra bucks. Lids and tamper are not provided and hence are to be bought extra. However, the construction is solid and it has also won Greentac award, the Reddot award, and an International Design Award. This alone can say that this product is a great option to have for your espresso machine.
#4

Gold Tone Reusable Capsules
Built with high-quality FDA grade stainless steel, these pods are sure to last long. These pods come with complete metal body construction including the lid. The gold color is achieved by using chemical-free process. This capsule is again compatible with all the Nespresso OriginalLine machines except with the one pin models.
#5

 Chillax Reusable Coffee Pod
Our next pick is Chillax – This product was launched on February 2018 and has already captured the attention of many with it's intuitive design and process of refilling. The kit includes the equipment that are used for refilling that packs the pods almost like it's a company sealed. The seals that are used to pack the pods are available separately in case you are short of them.
The product is compatible with almost all the Nespresso machines that are manufactured after 2010. All the parts are also dishwasher safe and pass all food safety regulations.
#6

My-Cap vPack Reusable Vertuoline Capsule

Now this is a good news for the Vertuoline machine owners – My-Cap has released a reusable option for Vertuoline brewers which was not available from long since. These machines use different brewing technology than the Original Line machines and hence, the capsules were a bit difficult to reuse.
My-Cap with long research and testing has introduced this product that can be reused and is 100 percent BPA free. The made up is very different from the normal capsules but refilling is easy. Just fill the capsule with desired coffee grounds and seal with the foil or cap, Simple!
Conclusion
Nespresso is no doubt an expensive affair because of the ongoing cost of their pods. If you are a coffee addict and lot of cups in a day or the whole family consumes coffee 2-4 times per day, the pods are surely going to burn a hole in your pocket. The options is to either use compatible Nespresso pods or the Reusables. With other compatible brands, prominent issue that people mostly face is about disposing the used pods. With tons of production of these pods, a lot of plastic waste turns up each year which is becoming a big challenge for the government to cope up. With the use of refillable options, you are not only helping the system but are also playing an important role in saving the environment.
It felt great to write about the reusable Nespresso capsules as encouraging the use of these helps cleaning some clutter for the environment. We have covered here the best options and have neglected the plastic products. We also request you to encourage other people having Nespresso machines to use the reusable products and help in cleaning some of the environment.
You Might Also Like
Best Nespresso Refillable Capsules
Recaps

SealPod

Mycoffeestar

GoldTone

Mister Barista

My-Cap VertuoLine