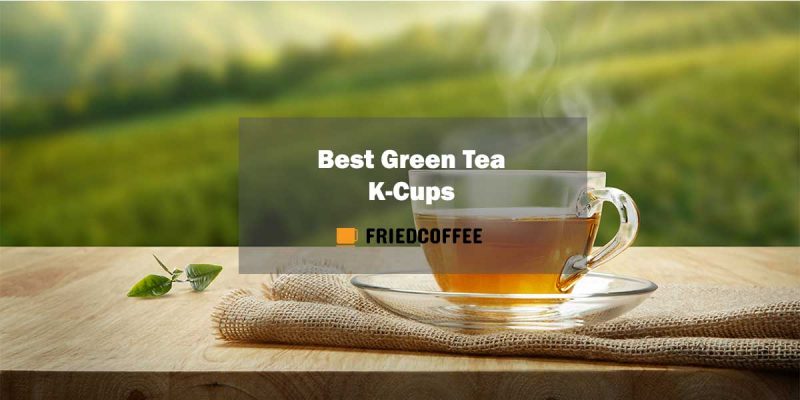 Many people in this fast paced world have switched to automatic coffee machines like Keurig and Nespresso to make their morning coffee cup. However for Keurig people, there are plethora of flavors to choose from, and that includes the green tea k-cups.
Why Green Tea
Green tea is a popular beverage known for its stimulating and calming effect on the human brain and body. It has a smooth flavor, fresh taste, and enticing aroma. And not only it has an amazingly smooth taste, but also comes packed with incredible health benefits like energizing the body, boosting brain functionality, lowering blood pressure, weight loss, heart ailment, diabetes control, etc. So, if you have decided to add this green healthy drink to your daily routine, you have made the very right decision. It will for sure is going to help you in the long run of healthy life by maintaining your body in the right proportions.
Coming back to the track, we will introduce you to the amazing collection of Keurig K-cups in Green Tea flavors to add some more charm to your beautiful k-cup holder by introducing fresh green k-cups. Here we start!
Best Green Tea K-Cups
With competition in the market, there are lots of cheap k-cups to pick and it is natural to get confused around them. Here we are listing the best ones that taste great and have received positive feedback from all around. Some of these k-cups are even sold by Keurig directly.
1. Twinings Green Tea K-Cups
Twinings Green Tea K-Cup Pods for Keurig,...
NATURALLY CAFFEINATED GREEN TEA K-CUP PODS: Six boxes of 12...
DRINK IN LIFE: With a signature blend of tradition and...
WELLBEING AT THE HEART OF EVERY CUP OF TWININGS: By...
SOURCED WITH CARE: Our responsible sourcing program; which...
A tea company with an expertise of over 300 years is renowned all over the world for its quality tea. Twinings is the name that tops the list when we talk about tea. It all started back in 1706 when Thomas Twinings started this venture in London. Today, the brand is sold in over 100 countries and the famous Thomas shop of London is still there selling over 300 varieties of tea variants.
Each K-cup is enriched with smooth and ultra-rich flavor. The expert blenders at Twining's test pure and natural green tea made from the leaves of the Camellia Sinensis plant. When you are buying Twinings, you are made sure that each of your k-cup gives you a 100% flavor and there is no compromise on quality. It is made with all-natural and no artificial contents. This will be your last hunt if you already love green tea.
2. Keurig, Celestial Seasonings, Natural Antioxidant Green Tea
Celestial Seasonings, Green Tea, K-Cup...
Includes 2 boxes of 24 K-Cups each, for a total of 48...
Traditional green tea with fresh flavor and a smooth finish.
Airtight to lock in freshness and flavor
Brewing occurs inside the K-Cup so no flavor residue is left...
Our next favorite is the product by Celestial, another great and amazing player when we talk about green. This K-cup is a blend of authentic green tea and the delicate Bai Mu Dan white tea to create an amazingly smooth balanced flavor. Both the included ones are Fair Trade certified, so you are paying right for the farmers too.
Each of the green tea k-cup is packed in an airtight plastic cup that has an aluminum lid topped with a filter. It's obviously airtight to protect the green tea from moisture, air, light, and seals the freshness of green tea that we all crave for. There is no need for messy grinding or any cleanups when you are using a k-cup. All you have to do is insert the K-cup into the Keurig brewer and enjoy a fresh, rich cup of green tea.
3. Bigelow K-Cup Portion Pack for Keurig Brewers
Bigelow is a distinguished tea company that has been producing the finest tea since 1945. The product contains amazingly refreshing K-cups sealed with fresh green tea inside. The best part about the green tea of Bigelow is that it is never astringent or grassy. What sets apart Bigelow's green tea from others are the toasty notes and the delicate rich flavor which you might not find in any other.
Bigelow is again counted for quality k-cups if you are on a hunt. Try this one also if you have already tried with the above-mentioned products and need some change of flavor from just a basic green tea to some added toasty notes.
4. VitaCup Green Tea Pods
VitaCup Green Tea Pods, Enhance Energy &...
🍵 ENERGY & WELL BEING: Stop feeling sluggish, emotional,...
⏰ WAKE UP YOUR TASTE BUDS: Our magnificent vitamin blend...
💊 DAILY VITAMINS: Signature vitamin blend contains B1...
🍃 QUALITY GREEN TEA: Enjoy a deliciously smooth and...
VitaCup green tea pods come with a unique blend of Matcha powder, Moringa, and essential vitamins to give you a daily boost. These are Premium-quality Green Tea leaves giving a deliciously smooth and complex Umami flavor. The vitamins cover B1, B5, B6, B9, B12, D3 with antioxidants. This powerful blend helps you gain focus and do more of whatever you do daily. It gives your mind a calming effect that helps in the stability of mind, and regularly doing that changes your perspective of life in a very positive way.
5. Lipton Green Tea K-Cups with Chamomile Mint
Lipton Green Tea K-Cups, Chamomile Mint, 12...
What You'll Get - Caffeinated and sweetened Lipton Green Tea...
Delicious Lipton Flavor - Indulge in a Lipton tea with a...
Wake Up with Lipton - This Lipton tea is caffeinated, so you...
Easy to Make - Place your glass filled with ice under your...
What better way to calm your mind, body, and soul than drinking the healthy and tasty Lipton Green tea. What distinguishes Lipton's green tea from others is their unique blend of real green tea leaves that are mixed with highly pressed leaves of spearmint chamomile, peppermint, a hint of natural citrus flavors, and various aromatic herbs. The result is the formation of a refreshing and soul-touching cup of green tea that is utterly out of this world.
Each box has 12 sealed K-Cups that are specifically designed to be used with Keurig K-Cup Brewing Systems. Above all, the Lipton Green Tea Chamomile Mint K-Cups are Rainforest Alliance Certified. You'll be getting a fresh green tea from a high garden and Lipton ensures that the freshness remains an integral part.
6. Twinings Decaffeinated Green Tea K- cups
Twinings Decaf Green Tea K-Cup Pods for...
DECAFFEINATED GREEN TEA K-CUP PODS: Two boxes of 24 Decaf...
DRINK IN LIFE: With a signature blend of tradition and...
WELLBEING AT THE HEART OF EVERY CUP OF TWININGS: By...
SOURCED WITH CARE: Our responsible sourcing program, which...
The next one in our list is again for Twinings that topped above. But this one is a little different and is for people who don't want caffeine in their drink. But don't worry, the tea will always be energizing as green tea in itself has boosting substances to give a buzz to your body. People who have already tried it are really happy to find a decaf version.
7. Stash Green Tea-Chai
Stash Tea Chai Green Tea - Caffeinated,...
A FRESH TAKE ON CHAI: This twist on traditional chai is...
Brewing up Goodness: All Stash Teas are Non-GMO Verified,...
Proud to be a B Corp: B Corp certified companies are part of...
Over 100 Flavors: With classic and unique flavors of black,...
Stash Tea Company has been in the market since 1972 and they have made a name for themselves by introducing high-quality tea over all these years. They believe that their teas are not just good, but the best and avid tea consumers would unquestionably agree with that.
Their green tea is unique because they blend Chinese green tea with whole cloves, cinnamon, cardamom, sarsaparilla, and ginger root, thus creating a blend that is refreshing, flavorful, and a little spicy. You can drink green tea with milk, sugar, or without sugar. This tea will taste a lot different from any of the other ones as it includes some other ingredients.
Note – The brand has recently discontinued its K-cups to focus more on its variety of flavors and offerings. So, the above product comes as tea bags and you can buy a reusable k-cup to work this out. Just empty a tea sachet into the reusable k-cup and put that into your Keurig brewer, that's it. Moreover, you can even try other flavors that are not available as k-cups.
FAQs
Are Green Tea K-Cups good for you?
With incredible health benefits like providing antioxidants, diabetes control, energizing body, boost brain functions and many more, green tea is obviously a good thing to include in your life.
How much caffeine is in green tea?
In an average serving of 8 oz by a k-cup, it can vary between 35-50 milligrams of caffeine
Which green tea is the healthiest?
Green tea along with Matcha is the most healthiest one to go for. VitaCup in our list comes with that and we can call it the healthiest.
Wrap Up
Everyone knows that green tea is good for health but very few become habitual of consuming it as a regular beverage. But there is a way; any thing can become a habit if we are able to repeat it for 2 to 3 weeks regularly. Try doing that if at first it doesn't feels good. In this changing environment, it is beneficial to have a strong immune system that defeats many complications in our body naturally, and green tea is one way to go.