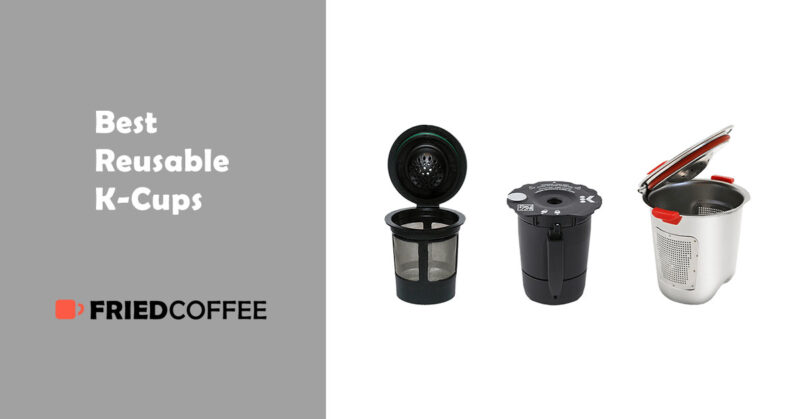 Probably, you have landed here in search of Refillable K-Cups that allow the use of coffee grounds in a Keurig. Your reason for the search for Reusable K-cups can be any among the following:
Saving some money on regular use of K-cups;
Using freshly ground coffee in every cup you brew;
Use flavor or coffee of your choice in Keurig;
Tired of drinking weak coffee because of the low quantity of coffee grounds in the K cups;
Save space by not stocking a huge pile of your favorite flavors of K-cups.
Lastly, the pile of plastic waste created by hugely used K-cups. It's a threat to the environment.
Why Use Reusable K-Cups
The waste created by K-Cup brewing systems has raised many environmental concerns. In response to these concerns, several solutions have been reached. One prominent solution is to start using a reusable single brew pod that will act like a K-Cup, providing enough coffee for a single cup.
However, rather than being disposable, these cups can be washed out and refilled. This means that you only have to purchase the reusable cup once, and then fill it with any coffee at any price. Even when using decent quality coffee, the savings using a reusable cup can be upwards of 50% or more. Not only does this method save money, but it is also far more environmentally friendly and opens a way of using fresh ground coffee.
Best Reusable K-Cups To Consider
Let us now browse through the best options available in the market that are excellently built and are sold the most.
1. Keurig My K-Cup
The very first option that strikes is My K-Cup by Keurig itself. The brand also insists on using reusable options as it knows how important is the environment. This product has the excellent built quality and is compatible with Keurig 1.0 and 2.0 brewers. It is marked with a barcode required by the scanner in brewers so no hiccups incompatibility.
It even has two measuring lines to optimize brewing further for travel mugs or normal mugs. Overall, a great pick if you are buying this thing for the very first time.
2. Fill N Save Elite Stainless Steel
If you are concerned about the BPA stuff in plastics, then this one might be your favorite pick. It's not like other 'Come to N Go' brands and has been for longer. This option is compatible with the 2.0 series and not with the 1.0 models.
The Fill N Save is dishwasher safe and can be even washed easily with water as coffee oil is easy to wipe off with water. It has a specially designed mesh that allows better brewing.
3. DI ORO MaxBrew 24K Gold
With Gold comes purity as it doesn't exhibit any unwanted flavors into your coffee over time. This product has 24K Gold pleated honeycomb mesh that lets brew a great coffee every time. There is no such material used that will affect the taste of the coffee.
It is compatible with almost any K-cup coffee maker and the brand specifically mentions that it works with K200, K300, K400, and K500 series. It is even tagged with a lifetime warranty for complete peace of mind.
4. ECO-Flow Stainless Steel
Another product that comes with quality is ECO-Flow. This product is also built durable and is compatible with almost all 1.0 and 2.0 series brewers. It has perforated holes in the sidewalls for optimal brewing.
The coffee will again, taste superior as there is nothing that can affect the brewed coffee.
5. Reusable K-Cups by IpartsPlus
This is actually a set of four refillable K-cups that are compatible with almost all the Keurig brewers. These are sold for a long since the concept of reusing the K-cups was born.
They fit seamlessly with your Keurig brewers and there is no need for tampering with the unit.
6. SoloFill K3
The next option in our favorites is the SoloFill K3. It has a patented mesh that is guaranteed not to break. It has a unique piano hinge design with a permanent micro foil chrome filter that minimizes the insertion of coffee particles in the cup.
It even has a Decaflo spray head that uniquely and evenly spread the water over the coffee for perfect brewing.
7. EZCup Disposable Filters
These are actually not the reusable K-cups but rather the filters to be used in these. To avoid coffee sediments in your cup of coffee, you can use these filters as a precaution as these block the sediments from passing through the tiny holes of refillable pods.
So, above were our favorite picks that you can too use in your favorite Keurigs and save some money as well as land waste to help the environment.
How To Use Reusable K-Cups
Now, this comes up very often when you are first thinking about refillable options. It's actually a very easy process and is common with almost all brands of reusable pods. Below are the steps or instructions that might give a hint:
Clean your reusable cup thoroughly so that it doesn't carry any residue or small of the previous brew.
Fill the pod with your favorite ground coffee. Some options allow only 10 grams of ground coffee while a few allow over 13 grams.
Replace the cap tightly and make sure no residue is left at the edge
Brew as you brew with normal K-Cups
If you are looking for just saving money, you can also look at our article about How to find Cheap K-Cups. It tells many ways to save some bucks with a few tips and tricks.
With these, one can even brew tea by filling the favorite tea in the filter. A lot can experiment once you have these. So, let's not waste much time and skip to our favorite picks that don't require any tampering to your machine and are trusted by many buyers.