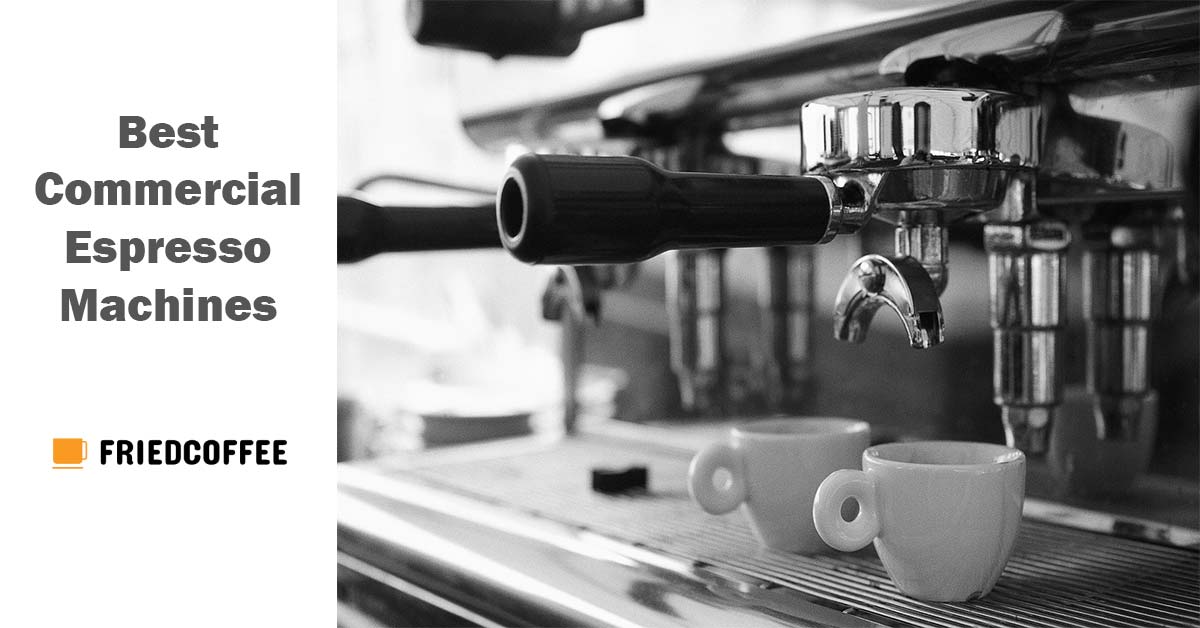 How do you start when you're looking for a Commercial Espresso Machine for your restaurant or cafe? There are many factors to think about, not the least of which is the fact that some of these beasts can cost over 20 thousand dollars or more.
A commercial machine is not like your regular espresso machine, it's something more technical than you think. These machines are to be used regularly in a single day, so they must be made from solid counterparts. So, we have prepared a small guide to help you decide your best. You can navigate to that with the index below.
Now, without wasting much of your time, let's head on to the products which we think are best for your café. We have scoured the web a lot to find the following espresso machines for commercial use. It's an important decision, so take your time and bookmark this page if you need more time to decide.
The BestSellers
Best Commercial Espresso Machines
#1

Brezerra BZ10
Made for cafes, the Brezerra BZ10 is a single group espresso machine. It is made of AISI 304 commercial grade stainless steel to last for long. The grouphead is pure professional with dual heating elements to maintain temperature stability. These dual elements provide even temperature to group head and are controlled by thermostat.
<!–noptimize–> <!–/noptimize–>
The machine has 1.5 liter heat exchange boiler let's one brew and forth at same time. The steam and boiled water wands are mounted on ball joints for full articulation. The excess water is drained to drip tray via 3-way solenoid valve. All in all a great standing machine that has most the professional barista's need and can cater a decent volume of crowd.
Features
Two dedicated heating elements
5 liter heat exchange boiler to brew and steam simultaneously
AISI 304 commercial grade polished stainless steel
Fully articulated steam and hot water wand
20 oz of constant steaming; recovery time only 40 seconds
Weight – 42 lbs
Dimensions – 9.8 x 14.7 x 16.7 inches
Bezzera BZ10 Espresso Machine
Beautiful and durable, the BZ10 is housed in...
The namesake of the machine, the BZ10 group...
The BZ10 brews using a 1.5 liter heat...
#2

Nuova Simonelli Musica
A beautiful beast by Nuova Simonelli, it's a perfect machine for the people with barista traits or one, who is just starting up his small business, but wants everything to be top-notch. Nuova is a name known to professionals who have been into business. It might sound new to you if you are just leaning towards the café business thing.
This machine can be programmed for the sizes of Ristretto or other espresso drinks.The machine automatically stops brewing when the required amount has been dispensed. It has 1-cup, 2-cup and continuous brew buttons which is a need at cafes.
<!–noptimize–> <!–/noptimize–>
We can also program the hot water dispensing the required amount via its easy to use panel. The hot water is always fresh heated and passes through flash-heating before being dispensed.
All in all, a great package for people just starting up their professional café.
Features
Stainless steel casing
Water reservoir – 3 liters
Automatic espresso dosing
TFT screen for easy use
Hot water output
1-cup, 2-cup and continuous brew button
High quality 58mm portafilter
Cup warmer at top
Weight – 50.5 pounds
Dimensions – 12.75 x 16.75 x 16 inches
Sale
#3

La Pavoni Pub 1M R-1
La Pavoni is another brand that has a good name when talking about commercial espresso machines. It has few of the best units that are loved by many high end cafes. The model we are talking about is Single group and can be a good fit were the daily capacity is of around 150 cups. It has a 6.5 liter heat exchanger, which is enormous. The features are mostly manual for a professional barista, but machine is very durable and of high capacity.
Features
Stainless steel construction
Cup warmer at top
5 liter heat exchanger
8 liter pour in water tank
Steam wand and hot water wand
Origin Italy
Weight – 80 pounds
Dimensions – 21 x 15 x 22 inches
#4

Nuova Simonelli Appia Volumetric – 2 Group Espresso Machine
The Appia is a big step up and a good choice among commercial machines for a busy restaurant with a sideline in coffee, or for a moderately busy café. This model features an 11-liter boiler capacity and an electric cup warmer. A heat exchanger allows you to brew shots and steam milk at the same time. We first thought of including the Nuova Oscar, but Appia is actually better one for commercial use.
The Appia has two brew-heads that are able to accommodate tall glasses, and two steam wands. This model is available in both semi-automatic (pressure is controlled, but barista manually controls size of shot) and automatic-volumetric (pressure and shot quantity are both automated). The choice really comes down to personal preference and budget. If you need more capacity, than a Group 4 model is also available.
#5

LaPavoni BAR-T 2V-B Commercial 2 Group
I know, the name sounds a bit longer and typical to remember, but this is how commercial machines are. La Pavoni is another name that is known for commercial espressos along with Nuova Simonelli. These two brands are pioneer in the industry from long ago and make highly durable machines which can withstand larger volumes.
<!–noptimize–> <!–/noptimize–>
If you've got hundreds of people stopping by for their morning coffee every day, you need a top-of-the-line commercial machine that can produce consistent high quality shots quickly and efficiently. This model has 2 groups for larger capacity cafes and has enough sources so that 2 people can work simultaneously.
Features
14 L boiler
Electronic programmable dosing
4 cup size selection with continuous brewing mode
2 Groups for volume work
Independent radiator hydraulic system
Water softener included
Single flexible hot water tap
Weight – 130 lbs
Dimensions – 27.5 x 20 x 20.5 inches
Commercial Espresso Machines For Low Volume
Now we will talk about small volume machines that are to be used in small cafes like those in a society were daily consumption is around 40-80 drinks. The machines listed here come under a small budget and are working well for many such cafes. These machines also compliment small restaurants were coffee is a small part of a mega foodie menu.
#6

Breville Barista Express BES870XL
You might have already heard this name and its right; this machine is developed to stand for long. If you have sharp eyes, you might have already seen it in many small cafes around.
This machine has been in this era from quite long and has already served many. With some manual controls and some automated features, it's a perfect balance to serve your customers the drink they desire. It has manual steam wand to create the perfect texture, precise temperature control to extract a great tasting espresso, dose control, grind size dial and much more. Moreover, it comes with a magnetic coffee tamper that sticks under the hood.
Features
Dose Control
1600W Power
Precise temperature control
Grind size dial
Manual Steam wand
Micro foam milk texturing
Single or Double shot settings
Weight – 23 lbs
Dimensions – 13.25 x 12.5 x 15.75 inches
#7

Rancilio Silvia Espresso Machine
The next great competitor in the commercial machines is the Rancilio Silvia. The brand has not introduced many models, but has this one perfect serving from almost a decade. The people who owe this have already mastered many barista skills.
<!–noptimize–> <!–/noptimize–>
This machine can also be found in many cafes which have low to medium volume. What makes this machine unique is the simplicity and pro parts like perfect to handle steam wand knob, commercial grade group head for optimal brewing and stainless steel panel.
For budget conscious people opening a small café in the corner will be happy with it. You can upgrade to a bigger machine when you see the volume growing, but for a start, it's a perfect pick.
Features
Commercial grade group head
Stainless steel panels
Perfect steam wand with professional steaming knob
Less clutter of controls
Ergonomic portafilter handle similar to expensive commercial machines
Can be used with pods with optional adapter kit
Weight 30.8 pounds
Dimensions – 9.2 x 11.4 x 13.3 inches
#8

DeLonghi La Specialista Espresso Machine
Another boy in the town of espresso machine is by DeLonghi. The Specialista machine comes with some advanced features that lifts up some manual efforts. It has hands-free frothing wand with control on the wand itself for producing froth for latte or cappuccino.
The grinder has sensors to deliver consistent grind for optimal brew. It's smart tamping technology reduces the mess and uses just a lever to tamp without even removing the portafilter.
This machine comes with dual heating mechanisms working independently for brewing espresso and frothing milk saving time. It also has a 1 second quick start feature so that your customers would not have to wait for long.
Features
Dual Heating system
Smart tamping system with just a lever pull
Precise grinding technology
Advanced frother
1 touch quick start
Hot water outlet
Weight – 29.7 lbs
Dimensions – 14.48 x 12.48 x 13.98 inches
#9

Jura 15145 Super-Automatic
The next product in our considerations is Jura 15145, especially made for small offices and self serve coffee bars. Anyone can extract their favorite cup with a press of button as it is a super automatic espresso maker. The output will always be fresh as the grinder only grinds on demand.
Jura is a precision product we all know. It's a brand with everything perfect inside, there are no compromises and so, a little costly affair.
Features
Exclusive pulse extraction process for optimal extraction of espresso drinks
12 Different drinks at a touch of button
Conical burr grinder with Aromeg3 technology to grind the most finest
101 oz water container
6 oz beans hopper
Customizable water and ground beans in the drinks
Completely programmable
Large TFT display
Weight – 22 pounds
Dimensions – 17.5 x 11.6 x 16.5 inches
#10

Jura XS90
Our next unit is again by Jura, so yes, they make home espresso makers but can serve small cafes at the corner of the street of society were people are more for a small meet-up or gathering. XS90 comes with dual thermoblock heating system that keeps espresso process and frothing independent.
Thanks to the six-setting precision grinder, an impeccable blend of large and small grains is achieved. It is ultra-easy to use and the display enhances the convenience level that is already provided by Jura Impressa XS90 One Touch.
There is also an integrated cleaning and rinsing option that ensures an active life of this espresso machine. The reservoir can hold 1.5 L water and it is big enough to give the first impression of a heavy-duty automatic machine.
This machine comes with dedicated switches to latte and cappuccino, so if these are in the volume demand, this machine might be a great pick. Don't worry, it can also prepare 12 different types of drinks like most of the Jura's.
Its grinder comes with 6 different settings to for optimum taste of your drinks. The machine also comes with self cleaning system that indicates you when it needs to be done. To make it look less cluttered, few less frequently used buttons are concealed behind a flap.
Features
One touch cappuccino and latte buttons
15 gallon water tank
10 oz of coffee beans capacity
40 portions of ground beans capacity
Display in red TFT with voice
Rotary switch for easy operation
Weight – 34 pounds
Dimensions – 15.5 x 16 x 18.6 inches
Things To Consider
Before you make your final decision about your restaurant or cafe, you should think about few things first. Below are some, I think are important.
Semi-Automatic or Super-Automatic
The machine type is going to define your purpose. A semi-automatic espresso requires some skills and efforts to prepare a drink whereas with a Super-automatic, you just need to press a button to get the work done. In a semi-auto machine, due to manual process, one can customize the variables of drinks accordingly whereas in a super-auto, it can't be done as everything is preset.
The other face of this variation is, you need to have trained staff to prepare the drinks via a semi-auto, whereas for a super automatic, any novice can make the drink with a press of button.
How Many Cups a Day – The Volume
The best way to start narrow down your choice among the commercial coffee machines is to consider how much use the machine will get. First of all think about, how many shots will you be pulling in an hour? Calculate this for the busiest hour in the day: if 90 percent of your coffee is sold during the morning rush, you still need a robust machine that can keep up with that rush even if the rest of your day is typically slow.
If you expect a moderate rush in the whole day, you can go with a budget machine!
Types of Coffee Drinks To be Made
Match up with the features of machine to the required drinks as would you be able to serve these or not. Not deciding this prior might shorten your menu.
The Budget
Another most important factor is the Budget. Decide it at first so that you don't climb high while making your choice ruining the whole setup. If you spend your entire budget into the machine and have nothing left for café, things might get imbalanced.
FAQs
How are commercial espresso machines different from domestic ones?

I'll be short and precise with this thing so that it get's easy to understand and saves time. The first thing, commercial machines can produce high volumes continuously. Second thing, they can withstand temperatures after higher number of shots. Third thing, the brew groups are more stable in maintaining temperatures which is a key part of brewing espresso. Domestic machines can give a good start but when used for long, can become uneven. Fourth, and my last, commercial coffee machines are more programmable so that drinks can be fine tuned accordingly. Every shop has it's own preference and so, it's a required thing.

What brand espresso machine does Starbucks uses?

Starbucks is very popular and that's why this question is asked many times. The brand uses Super automatics by the brand Mastrena. The brand is from Switzerland by Thermoplan AG and makes machines exclusively for Starbucks.

Does Starbucks sell espresso machines?

As of now while writing this, the Starbucks only sells coffee and espresso beverages. There are some accessories like coffee mugs, beans etc but not coffee machines.

How long does a commercial coffee machine lasts?

This question is not one sided and cannot be answered properly as there are many parameters to it. A large answer would be anything between 1-10 years but could be even more. It all depends on usage and maintenance.
Conclusion
So the above were all the best commercial espresso machines serving a lot of successful cafes today. You can consider a super automatic, if you don't like to get much involved in manual brewing. These machines will do most of the work automatically and the only work of serving the drinks will be left for you.
But if you like to serve drinks that your are in full control off, a semi-automatic would be a perfect fit!
<!–noptimize–> <!–/noptimize–>