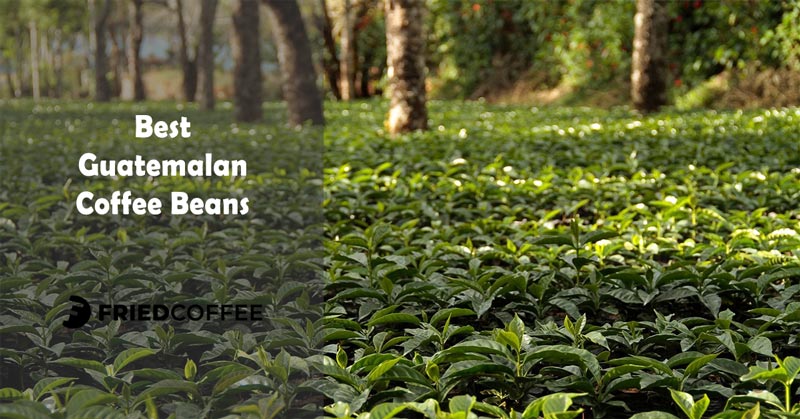 The year is 2020 and there's no denying that we are living in the times of influencers. The internet in general and social media, in particular, has considerable control over public opinion. Word of mouth has never been more paramount than it is today, and the word is – the Guatemalan coffee beans are some of the best beans you will ever taste.
Guatemala is the home to numerous exceptional coffee growers, and a lot of great coffee beans come to the world market from this country with a volcanic landscape. People often call Guatemalan coffee 'the jewel of the Central American coffee industry.' What's the secret behind this popularity? Let's find out!
About Guatemalan Coffee
So what is it that has everyone reaching for the beans from this Central American country? Let's hop on to find it out!
History and Origin
Coffee entered the borders of Guatemala close to three centuries ago. As with the country of Colombia, the brown bean was introduced to Guatemala through the hands of Jesuit missionaries. Sadly though when coffee made its first tentative steps around the country, economic conditions were far from ideal. As a result for almost a hundred years, coffee simply sat stagnant in the country. Through that time, coffee was considered a pretty green plant and used for decorative purposes in some places.
Towards the year 1860, the country began to see a drop in the demand for indigo; a crop that played an important role in the Guatemala economy. The government of Guatemala decided to step in. They actively encouraged the people of the country to take up coffee farming. In just two decades, coffee took over the exports of the country making up 90 percent of products leaving Guatemala's shores.
By 1986, they had their own union up and running -The Asosiación Nacional del Café, also known as the Anacafé. The union took it on itself to improve the lifestyles of the coffee farmers in the country. They provided research, training, and workshops. The union is also responsible for ensuring the standard of coffee leaving the country's shores never drops.
Guatemala specializes in specialty-grade coffee. Today it rounds off the list of the top 10 coffee-producing countries in the world after Honduran coffee and Mexican coffee. Costa Rica is another coffee region in Central America that is nearby and we have all heard about Costa Rica coffee, but that doesn't makeup to the top coffee-producing regions.
Regions
Over the years, coffee in Guatemala has managed to spread its tendrils all across the country. As a result of the number of both active and inactive volcanoes in the area, the soil offers the ideal nourishment for coffee to flourish, while farmers all over are committed to the growth of coffee. There are seven regions that can claim responsibility for most of the country's produce.
This is the region most commonly associated with Guatemalan coffee by caffeine drinkers all over the world. The beauty of the place is that it is surrounded by not one, but three volcanoes. As a result, there is often a new layer of volcanic ash added into the soil every few months providing further nourishment. Antigua witnesses less humidity than most of the other coffee-growing regions in the country.
The coffee in this city grows between 1,500 and 1,700 meters above sea level. It is mainly picked in the beginning months of the year. The hint of cocoa in the coffee exiting the region is unmistakable. Some of the popular blends exiting the borders include Caturra, Bourbon, and Catuai.
A region that enjoys weather on the humid side of the scale. Rain wets the soil almost every day of the year in the Cobána region. The rain results in a slight ever-present haze that hovers over the growing coffee. The coffee is grown in soil mainly composed of limestone and clay at altitudes of 4,300 to 5,000 feet.
All the coffee here grows above a height of two thousand feet. The soil in the valley is nourished by volcanic ash, making it the perfect canvas for the little brown bean to flourish. Added to that, are the minerals that leak into the soil from the varied trees growing in the surrounding forests.

The farmers in the area have learned to depend on the land and its natural resources to help in the growth of their crops. You can be guaranteed the coffee exiting the region is organic.
Known for welcoming the famed Xocomil winds, Atitlan enjoys a micro-climate of its own. You can therefore be guaranteed a rich complex flavor in the coffee leaving the region. Almost all of the coffee in this region is grown on farms standing on the slopes of volcanoes. The coffee farms spread around the region circling the incredible Lake of Atitlán.
Home to some of the highlands of the country. The coffee exiting the area all fit into the strictly hard category. It is one of the few regions in the country that cannot call volcanoes its neighbors. The region also enjoys slightly dryer climatic conditions when compared to the other areas in the country.
Home to both elevated altitude and elevated rainfall. This area counts an active volcano as part of its neighborhood. Pacaya volcano is perhaps the most live volcano around, showering the soil in the region with minerals and ash. Unlike a few of the bordering regions, Fraijanes enjoys a comfortable mix of climates throughout the year.
San Marcos is one of the warmest of the coffee-growing regions in the country. The region also manages to collect the highest amount of rainfall in the country, which is why the valley is covered in an umbrella of green trees. Anybody who knows anything about coffee can tell you that shade-grown coffee grows better when it is protected from the harsh damage of the sun.
Flavor Profile & Characteristics
While Guatemala certainly cannot be classified as a big country, it still manages to offer an impressive range of coffee profiles. Given that the climate and altitude in the various growing regions in the country vary, you shouldn't be surprised to find a medley of tastes in the beans leaving the country.
The basic principle with coffee is – the higher the beans grow, the bolder the overall flavor. Since most of the country has a fair share of greenery gracing its land, fruity nutrients and flavors from the trees seep into the soil and contribute towards the taste profile of the beans. Add to the fact that the coffee farms in Guatemala grow on rich nutritious soils and volcanic ash is almost an ever-present ingredient in the composition of the soil. You start to understand why the country holds a reputation of high quality among the coffee community.
If you find yourself reaching for a bag of coffee beans originating in Guatemala, you're in for some strong coffee. But don't fret. There are a few medium body blends containing a complex flavor. If your coffee has a zing of some spice with floral and chocolaty tones tying in. Chances are, they were grown on farms in Antigua or Atitlan. San Marcos is known to offer up some naughty nutty flavored beans. The coffee farms standing closer to the oceans yield beans with less acidity. Whatever your palate prefers, Guatemalan coffee seems to have an answer.
Types
The country of Guatemala has a reputation to uphold when it comes to the coffee beans leaving their shores. Sure you see the usual suspects in the faces of Pache, Caturra, Typica, Bourbon, and Catuai varieties. However, the Anacafé is constantly working with research and innovation teams to discover and create new variations. The Pacamara, Maracaturra, and Geisha beans that have recently seen a spike in production are the result.
The majority of the coffee growing in Guatemala is Arabica. Robusta beans make up less than five percent of the total produce. However, it is an area the country is interested in investigating and developing. Close to one-fourth of the coffee grown in the country is rust-resistant. You can now find the questionable Catimor varietal and the Arabica varieties like Sarchimor exiting the country.
If you want us to drop a few names, the notoriously favored Santa Barbara beans call the city of Antigua their home. Sought after by coffee connoisseurs all over the world brewing the beans truly is a treat for all the senses.
Best Guatemalan Coffee Beans
Nurture your heart and soul, brewing the coffee you can't resist. Besides, enjoy the excellent health benefits offered by quality coffee beans. The list includes but is not limited to better heart health, balanced weight loss, and better physical performance. In this list, we have curated the best Guatemalan coffee beans. Let's check them out!
1. Volcanica Guatemala Geisha Coffee Beans
Roast: Light
Tasting Notes: Sweet, floral & tea-like
The Geisha varietal of Guatemala coffee beans from Volcanica Coffee is known for its pronounced floral and stone fruit notes. With its origin from eastern Ethiopia, Geisha coffee is undoubtedly the coffee jungle king. However, many were unaware of these miraculous coffee beans till the year 2004.
In terms of their appearance, there was dissimilarity with other coffee beans, and therefore, their cherries were processed with other plants. Once processed separately, this variant came into the picture with its uniqueness, and the rest is history.
Grown at an altitude of 5000 feet, geisha coffee is processed under a light roast to preserve the natural aroma and flavor. This variant of coffee is undoubtedly an ideal move for those engaged in work and who prefer a sweet, bright, floral, and tea-like taste. However, if budget is on your mind, geisha are great for a caffeinated celebration or special occasions.
Who is this for?
For people who call themselves coffee enthusiasts! These coffee beans are versatile, and their unique floral flavor adds a different charm to a cup of regular coffee.
2. Guatemala Finca Nuevo Vinas – Roasted by Caffe Vita Coffee Roasting Co.
Grown over at high altitudes from over a century by the Keller family near the extinction of a volcano. It's a balanced, sweet, and comforting coffee.
 Roast: Medium
 Tasting Notes: Balanced, sweet, chocolaty, comforting
These bright & silky coffee beans come with a blended vanilla and citrus aroma. The dark, rich chocolate undergirds brown sugar notes. A caramelized creaminess reminiscent of crème Brulee adds more to its appeal.
The Keller family of the lush valley near the extinct volcano Tecuamburro has been growing Finca Nuevo Vinas for over a century. In 2003, the farm decided to make an entire transition to organic farming with a philosophy of environmental stewardship and sustainability.
Guatemala Finca Nuevo Vinas beans undergo on-site processing, which ensures the better handling of the beams at each stage of processing. From cherry selection, density separation to pulping, fermentation, and sun-drying, impressive biodynamic experiments in each stage of processing enhance the quality of the beans and leave a premium touch.
Additionally, the utmost attention to detail promotes delicately nuanced medium roasted Guatemala Finca Nuevo Vinas – one of the most sought-after Guatemalan coffee beans available in today's market. When it comes to talking about its taste, it's balanced, sweet, and comforting.
Who is this for?
Guatemala Finca Nuevo Vinas beans are the perfect choice for anyone fascinated by sipping a cup of robust and relaxing coffee after a long, hectic day.
3. Ivonne Herrera – From Onda Origins
Roast: Light
Tasting Notes: Red apple, almond brittle, ginger snap
The world's first blockchain-traced coffee Ivonne Hennera is unique in every aspect. Grown by Ivonne Herrera, a student of clinical nutrition and a single mother who managed a coffee farm and helped her workers get their very first bank account.
Ivonne says that her father is her inspiration when it comes to growing coffee. He was in coffee harvesting for over two decades. A few years back, Ivonne decided to start her coffee harvesting firm. Money that she earns from every bag of coffee is shared with the farmers who put their best effort and labor to produce them.
Grown at an altitude of 1500 meters, this Catuai / Sarchimore / Caturra coffee variant's origins lie in Las Paràsitas, Santa Elena Barillas.
These washed, light to medium roasted coffee beans offer a blended red apple, almond brittle, and ginger snaps flavor, making it distinctive in terms of taste. These responsibly sourced coffee beans help you start an energetic day.
Just a few ounces of quality water and a few amounts of Ivonne Herrera coffee beans can help you make your morning coffee more delightful! Apart from being amazingly tasty, these Guatemalan coffee beans come with several health benefits like maintaining good heart health, lowering the chances of type-2 diabetes, and improving brain function.
Who is this for?
For people who're passionate about aromatic beans that make a cup of coffee with natural sweetness. Also, the best choice for those who always look for the ideal blend of health and taste.
4. Portland – Introduced by Portland Coffee Roasters
Roast: Light
Tasting Notes: Chocolaty and Sweet
Portland Coffee Roasters delivers an unblemished experience of a creamy treat in the form of a cold brew. It introduces you to the iced coffee season with ease, hence making it ideal for summers.
The Portland Coffee Roasters have almost crossed a decade farming these beans; thus, they have succeeded in nailing every hook of perfection. Sip a cup of this coffee, and be rest assured to endure a well-balanced, smooth, and minimal bitter aftertaste.
These medium roasted Guatemalan coffee beans are grown at an altitude between 1200-1500 meters and levels up your brewing or Espresso thrill. Besides, there's a comment you might come up with at the very first sip – 'beautiful.'
The quality of the cup isn't just through growers, but it's the light-roasted, well-balanced, and perfectly blended attribute that spreads the magic. While you enjoy every single sip down your throat, it's the organic and biodynamic techniques playing their roles in the preparation of your next "palatable" coffee experience.
Get into the grips of a balanced chocolaty and sweet flavor and enjoy your summers to the fullest. Be it wake-up coffee or a mid-day refreshment; the Guatemala Finca is going to tick its name to your heart.
Who is this For?
This coffee strain is dedicated to the espresso and cold coffee lovers. However, if you're the one who enjoys experimenting with coffee, you can surely give Portland Coffee Roasters a try.
5. Cooper's Cask – Brought To You by Cooper's Cask Coffee
Discover something new called aged barrel coffee by Cooper's Cask. You would wonder what you've been missing for so long.
Roast: Medium to Dark
Tasting Notes: Bold, Earthy, Rustic, Dark Chocolate
Cooper's Cask is a Rhode Island-based coffee roaster who roasts their avant-garde beans in quite an exceptional way. Using world-class rum, bourbon, and whiskey barrels, they create a unique range of gourmet coffee.
The founders of Cooper's Coffee started the venture out of roasting coffee simply out of curiosity. One of the co-founders, John Speights, got to know that a few tea companies follow the practice of aging tea leaves in wine barrels to produce distinctive tastes. This method won over John's heart, and he decided to try this with coffee.
He on-boarded Jason Maranhao, his bosom buddy and the other co-founder of Cooper's, to start producing delish whiskey and rum barrel-aged coffee.
Barrel aging the beans allows Cooper's Cask to maximize the aroma and flavor. They store the fresh, green coffee beans in barrels for three to six years. Since the barrels were previously used to produce rum or whiskey, they carry that pungent aroma of alcohol.
The blended tang of aged coffee beans and alcohol creates one-of-a-kind palatability, making Cooper's Cask Coffee beans stand out in miles.
Cooper's Cask Single Origin Coffee Beans
Apart from the barrel-aged one, Cooper's Cask also produces world-class single-origin coffee beans.
Each single-origin coffee blend from the house of Cooper's Cask has specific nuances that make it distinguishable from one another. Cooper's Cask Single Origin Sumatra Dark Roast, Single Origin Farm Gate Kenya Coffee Beans,m and Ethiopian Bold Roast are some of the best-sellers of Cooper's Cask Single-origin coffee beans.
Who Is This For?
The versatile nature of Cooper's Cask coffee beans has managed to win over the heart of millennials. If you're a die-hard admirer of French Press, Auto-drip, Espresso, Turkish or cold brew, Cooper's Cask coffee beans are meant for you!
You might like: Best Dark Roast Coffee Brands
6. Aroma Ridge Guatemala Antigua Coffee
Aroma Ridge Guatemala Antigua Whole Bean...
Grown in the Antigua district southwest of Guatemala city
Smoky ,rich with a truly intense flavor.
Recognized as one of the world's best coffees
COFFEE ROASTING AS ART - Aroma Ridge is a small...
Roast: Medium
Tasting Notes: Chocolaty floral notes
The next one in our selection, we have the contribution of a family-owned business. Aroma-Ridge is dedicated to sourcing the finest mountain-grown superior quality coffee and providing it to consumers all across the globe. Their contribution to our list today is in the face of the Guatemala Peaberry coffee beans.
Originating in the famed Antigua, Santa Barbara region, the beans once brewed, resulting in a flavor bomb meshing together floral notes with the smoothness of chocolate iconic to the region. Don't miss the secret splash of spice that adds in the extra oomph to your morning cup of coffee. Each blend is evenly and carefully roasted by artisans to bring out the perfect balance of flavors from the beans.
The company boasts of having strong family connections with the people behind the scenes in Guatemala, precisely, the farmers and workers responsible for growing and processing the beans. Freshly roasted in the USA, the people at Aroma Ridge guarantee you're going to love what they have to offer. They're even willing to provide a refund if you are left unsatisfied in any way.
7. Copper Moon Guatemalan Antigua Blend
Copper Moon Guatemalan Antigua Blend, Light...
PREMIUM COFFEE BLEND: Guatemalan blend is grown at high...
CAFÉ QUALITY COFFEE BREWED BY YOU: Coffees from Guatemala...
COPPER MOON COFFEE WHOLE BEAN: Copper Moon Coffee is Gluten...
REACH FOR THE MOON!! Copper Moon Coffee is a family roastery...
Roast: Light
Tasting Notes: Smooth, nutty with hints of chocolate
Next on our list, we have Copper Moon offering up a caffeinated blend of the best quality beans found in Antigua. This light roast brews into a rich creamy cup that holds hints of chocolate and specs of spice, finally finishing off with a nudge of nuttiness. The beans in the blend are both gluten and allergen-free. Additionally, they are a single origin blend and are not genetically modified in any way
The coffee is roasted in small batches to ensure the beans are fresh when they get to your doorstep. The Copper Moon Guatemalan Antigua Blend is organic coffee, so you can be assured that in all practices, from growing the beans, to processing, drying, and packaging them, everything is conducted without the outside interference of artificial chemicals. The beans are sourced sustainably with due attention offered to environmental, economic, and special impact.
The blend is available as whole beans, allowing you to freshly grind your coffee each time before you brew and extract optimum flavor from the beans. If you don't happen to have a grinder in your kitchen, have no fear, the blend is also available in a pre-ground pack.
8. Peak Performance High Altitude Organic Coffee
Peak Performance High Altitude Organic...
Fair Trade - Low Acid - USDA Certified Organic - Single...
Healthy Coffee Rule #1) Always Go Organic. Why? Because...
Healthy Coffee Rule #2) Coffee Grown At High Altitude Is...
Healthy Coffee Rule #3) Single Origin Coffee Is Better. Why?...
Roast: Medium
Tasting Notes: Smooth and Balanced
Trotting next on our list is a brand with formidable claims. Peak Performance offers a solution to those who stay away from caffeinated beverages claiming health as a concern.
This time, Peak Performance brings you a blend constructed from Strictly Hard Beans growing in the Guatemalan Highlands. The added advantage this blend promises to bring you is a boat full of antioxidants with every brew. The aim of the game is to offer you everything you need to start your day at peak health in a cup. The result is a crisp no-nonsense cup of coffee that is low in acidity and goes down smooth.

The blend is certified organic by the United States Department of Agriculture. The beans are non-GMO and sourced using fair trade practices, which means the farmers growing the crop in Guatemala and all the people in between working to get the coffee to you are treated fairly.
The people at Peak Performance are so confident that you're going to love what they have to offer. They're willing to provide a 100% satisfaction guarantee.
Who is this for
For those who are concerned about their health and have the terms 'toxin free' or 'mold free' in their search, this one is for them. High Performance has been strict in its policies and only packs the best beans in the package.
You might like: Best Organic Coffee
9. Two Volcanoes Coffee – Gourmet Guatemala
Two Volcanoes Coffee - Gourmet Guatemala...
DELICIOUS AROMA, GREAT TASTING GUATEMALAN RARE, SINGLE...
THE BEST FLAVOR AND AROMA BECAUSE IT'S MEDIUM ROASTED TO...
ROASTED IN SMALL BATCHES TO GUARANTEE AN EVEN, MEDIUM ROAST...
PRESERVE THE BEST TASTE, AS LONG AS POSSIBLE - We know...
Roast: Medium
Tasting Notes: Delicate floral notes, no bitterness
Stepping through next is Two Volcanoes with their enticing blend. The medium roast contains single-origin beans from the San Marcos region in Guatemala. And as the name suggests, they grow in farms neighbored by two volcanoes. The ash from the volcanoes ensures the soil that the coffee calls it's home takes bath in nutrients and minerals throughout the year.
The cup holds a flattering heap of nuttiness with whispers of floral to finish, a treat for more than just your taste buds. When you brew the Two Volcanoes Gourmet blend, you're whipping up an aroma to tempt even the most hardcore naysayer into craving a cup of coffee.
The best thing is, the blend is low in acidity. So even those who stay away from bold blends on account of stomach issues can turn to the Two Volcanoes coffee for their morning dose.
The arabica beans are grown and processed organically. They are roasted to a medium brown in small batches in order to provide fresh produce every time you order. The beans are packed in a bag that comes with a degassing valve. You are guaranteed that air will only leave the pack. And never be able to enter in and alter the enjoyment of the blend.
10. Volcanica Guatemalan Coffee, Antigua
Roast: Medium
Tasting Notes: Honey, Apple, Tea, and Floral Brown Sugar
Wrapping up our list is a medium roast by Volcanica, composed completely of single-origin beans from the Santa Barbara Estate in Antigua. The blend brews into a rich velvety cup with a smooth finish. The beans are grown in soil flavored by volcanic ash. You can be confident that the flavor and quality of the coffee beans meet the highest of standards.
If you opt to bring this blend home, you're going to be treated to a delicious steaming cup of coffee containing notes of nuttiness and chocolate. The rich chocolate is not just a taste to treasure, it brings a delicious tingle to your nose every time you brew.
The beans used in this blend are organically grown. They are also certified by both the Rainforest Alliance and Fair-Trade coffee. So be assured the people at Volcanica have great concern for the social, environmental, and economic impact of their actions in the country.
The beans used in the blend are roasted after you order. You are ensured a fresh batch will be knocking at your door each time. The blend can be best enjoyed when constructed using a drip method or French Press. If you like the flavor, but despise the caffeinated rush that follows, do not despair. The blend is also available in a decaf offering.
Also read: Best Coffee Beans for French Press
Best Brewing Methods for Guatemalan Coffee
So you've decided to take a trip down the rabbit hole, you've bagged yourself some delicious coffee from Guatemala. It's now time to navigate your way through the scores of choices, and land on the apparatus that's going to make your coffee just a little bit extra special.
Cold Brew
There really is nothing that can be compared to the joy a refreshing cup of cold-brewed coffee can bring to a dull summer day. Coffee beans that call Guatemala their home are known to possess varying hints of floral flavor. The cold brew is a particularly patient method of getting the flavor out of the beans that works beautifully here. The time the grinds are immersed also works well to pull out the sweetness from the beans. The result, needless to say, is completely often worth the wait.
French Press
One of the simplest methods that coffee lovers often turn to. Guatemala is known for coffee beans bursting with flavor. When you choose to completely immerse your coffee grinds in hot water. You can be ensured the full flavor will be pulled out. It is the perfect marriage of apparatus and bean. You will be rewarded with a rich full-bodied cup of caffeine to power through your day.
A note of caution though. If you opt to brew with this method, follow the steps precisely. Don't forget to opt for a coarse grind setting. Do not allow the grinds to sit in the hot water for too long. Or your morning cup might err on the side of bitter.
Pour Over
The favorite of everyone who takes pleasure in being involved in creating their cup of coffee. Since a pour-over gives you a lot more control over the various elements in the process. Feel free to be adventurous and experiment when you brew. Just don't forget to allow your coffee grinds time to bloom, however eager you are for your cup. The pour-over method of brewing works best with a lighter blend. So opt for one of those amongst Guatemala's numerous flavor offerings.
There is no real hard and fast rule over which method you need to opt for, a V60, Chemex, or even the Kalita Wave will do the job admirably.
At the End of the Day
There's a famous saying quoted by a well-known singer a long time ago. It goes something like; Big things come in small packages. No other place personifies this saying quite like Guatemala. While the country already offers an impressive Rolodex of top coffee blends to the community. Make no mistake, they're by no means done. The government, union, and locals themselves are committed and determined towards the little brown bean to explore all it has to offer to the world.
FAQs
How many people in Guatemala produce coffee?

There are over a hundred and twenty-five thousand locals whose livelihoods are dedicated to producing coffee in the country.

How is the coffee grown in the country processed?

All the coffee grown in the country is wet-processed before being dried and roasted.

How much coffee does Guatemala produce in a year?

Guatemala produces close to 21,59,09,968 Kilograms of coffee in a year. That, in turn, accounts for 2.7% of the total global coffee production.
---
Resources