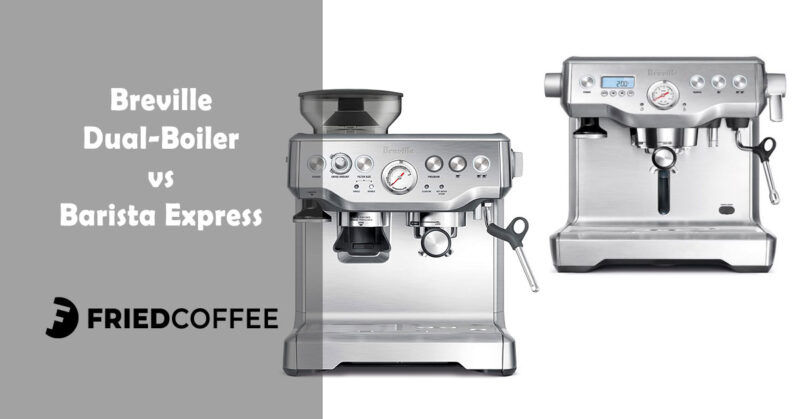 Are you also a coffee lover? But do you find it hard to make the cafe-like lattes at home? Well, that is the time for you to consider the espresso machines to convert your home kitchen into a perfect barista for brewing and making the best coffee. Breville provides top-notch models for the home barista needs of beginners as well as professionals. These machines make the entire process more accessible while ensuring a cafe-like taste in the drinks.
Reviewers from TechGearLab, a highly trusted source that undertakes credible, in-depth testing, praised the Breville Dual Boiler Espresso Machine. It was selected "Best for Serious At-Home Baristas" in its "Best Espresso Machine of 2021" collection, making it a product worth considering for serving all the barista needs.
The Breville Barista Express was praised by reviewers from several respected publications, including America's Test Kitchen, TechGearLab, and CNET; it performed admirably in their in-depth, hands-on roundups and was named "Best for DIY types" by America's Test Kitchen, "Best for Heavy Use" by TechGearLab, and "The Best Espresso Machine Value" by CNET, among others.
Head to Head: Barista Express vs Dual Boiler
This article contains a brief comparison between Breville Dual Boiler and Breville barista Express to help you identify and choose the best fit for your needs. Go through it to understand all the key specifications, similarities, and differences between the two espresso machines.
Specifications
Here is a list of all the key specifications of Breville Dual Boiler and Breville Barista Express:
| | | |
| --- | --- | --- |
| Name | Breville Barista Express | Breville Dual Boiler |
| Volume in cm cube | 35997.76 | 53419.25 |
| Weight in kg | 4.08 | 17.24 |
| Water Tank Capacity | 2 | 2.5 |
| Availability of pressure gauge | Yes | Yes |
| Ground coffee usage | Yes | Yes |
| Portafilter | Not available | Available of 58mm |
| Availability of steam and commercial wand | Yes | Yes |
| Availability of integrated grinder | Yes | No |
| Availability of PID controller | Yes | Yes |
| Availability of integrated filter | Yes | Yes |
Similarities between Breville Dual Boiler and Breville Barista Express
Here are the features similar in both the barista machines of Breville:
1. Programmable Buttons
Both the machines contain 2 programmable buttons each. They help provide different types of coffee and drinks, like doppio, ristretto, espresso, etc. These buttons ensure that once you get the perfect combinations for any type of drink, you can save and use that every time you wish to have the same.
2. Pre Infusion Function
Availability of pre-infusion function ensures that you can maintain a lower water pressure before it starts ramping up to as high as 9 bars of pressure. This ensures that the grind gently expands, and as a result, a smoother extraction is produced.
3. 3-Way Valve
Another common feature in both machines is a 3-way valve. After the extraction, a 3-way solenoid valve releases the portafilter of pressure and moisture. This results in a dry puck that can be readily removed afterward. It also means you won't have to wait for the pressure to equalize before making several cups of coffee.
4. Easy Cleaning
The Breville dual boiler and Barista Express, both the machines contain a special feature to alert you whenever they require cleaning. Furthermore, the water tanks are also removable in both the machines, making the cleaning and refill process easier. A built-in water filter is also present in them, ensuring that the water used to make the drinks is always clean, and it also aids in the prevention of limescale buildup.
5. PID Controller
The temperature of the boiler in both the espresso machines is electronically managed using a PID controller. It has significantly more accuracy and consistency than a traditional mechanical thermostat for temperature control. This is crucial since pulling the perfect espresso requires a temperature of roughly 92°C to 96°C, and it can be easily managed using this controller.
6. Cup Warmer
With a cup warmer, you can warm the cups before pulling your espresso, preventing it from becoming too cold and compromising the taste and quality. It also eliminates the need to manually heat the cups with hot water, and this function is making both the machines highly recommended.
7. Pressure Gauge
The amount of pressure used is one of the most critical factors in pulling a fantastic espresso. The pressure, and hence the overall quality of the extraction, can be affected by factors such as how tightly the portafilter is tamped. A pressure gauge is present in both of these espresso machines to assist you in fine-tuning your process to a perfect 9 bar of pressure.
Differences between Breville Dual Boiler and Breville Barista Express
Sale
Breville Barista Express Espresso Machine,...
The Breville Barista Express delivers third wave specialty...
DOSE CONTROL GRINDING: Integrated precision conical burr...
OPTIMAL WATER PRESSURE: Low pressure pre-infusion gradually...
PRECISE ESPRESSO EXTRACTION: Digital temperature control...
Even though both the machines are the prime models of Breville, they highly differ from each other. Here is a brief description of all the factors differentiating the two espresso machines from one another.
1. Physical Differences
The physical size of these machines is the first notable distinction. A Dual Boiler is a large machine in person, even larger than most heat exchanger units. This arrangement will take up substantially more room on your counter than the Barista Express once you add a grinder to go with it.
Having said that, the larger Dual Boiler is in many ways easier to live with. A sophisticated incorporated castor system makes the Dual Boiler even easier to move around. It's advantageous because it makes cleaning behind and underneath the machine easier.
Finally, the polished chrome on the back of the Dual Boiler gives it a slightly retro appeal, whereas the plastic water tank on the back of the Barista Express dominates the backside.
2. Differences in Workflow
We'll start with the Dual Boiler's party piece before moving on to the aspects that affect the real coffee-making process. Because the brewing and steaming boilers are independent, you won't have to wait between each step of the latte-making process. You can not only avoid waiting, but you can also brew and steam at the same time. Dual-boiler machines are a relatively high-end alternative. Therefore, this will be a huge benefit if you enjoy creating milk-based drinks like lattes or cappuccinos daily.
But, this is not the case with Breville Barista Express.
You might like: Best Latte Machines
3. Design of Steam Wand 
Another benefit of the dual boiler is better steaming pressure and a three-hole steam wand instead of the single hole on the Barista Express. This implies that you may steam not only sooner but also faster on the Dual Boiler. 
However, a three-hole steam tip will also take a bit more practice. Things can also go wrong faster since it steams faster, and the steaming angle differs somewhat from a single-hole wand. It will take some getting accustomed to, but it will be well worth the effort.
You might like: How to Steam Milk
4. Espresso of Superior Quality
The Dual Boiler has some differences when it comes to espresso brewing. Its most notable feature is the use of a full-sized 58mm portafilter. A 58mm portafilter creates a thinner, wider bed of coffee for the water to travel through, in addition to enabling you access to a limitless number of standard-sized tamping and dosing accessories. Depending on the quality of the grinder you're using, this can be a good thing or a terrible one. You'll get a shot with outstanding clarity and deep nuanced flavors if you use a good grinder.
The 58mm portafilter will begin to work against you if you use a lower-quality grinder because, with a thinner puck, slight defects soon lead to severe channeling.
5. Differences in more Features
The Dual Boiler comes with a few extra convenience advantages in addition to the steaming and brewing differences. Changing settings is considerably easier with a digital display than with the Barista Express. Changing the brewing temperature, brewing pressure, pre-infusion time, and shot length is as simple as pressing a button, unlike the Barista Express, which requires pulling out the manual.
The digital display can also be used to program the machine to switch on and warm up at a specific time each day. This is vital because the Dual Boiler takes a long time to heat up compared to the Barista Express. Using the program option, you may set it to turn on 30 minutes before your alarm goes off, ensuring that it is warm and ready to use the moment you wake up.
Also Read: Basic Coffee Glossary and Common Terminology
Final Words
The Breville Dual Boiler is superior to the Breville Barista Express as an espresso machine. Because of its 58mm portafilter, amazing temperature control, and wide range of programmability, it can prepare lattes in half the time and provide a superior shot of espresso. However, to make use of those capabilities, you'll need to invest in a good grinder and accept that using a 58mm portafilter and 3-hole steam wand comes with a steep learning curve.
But, if you are a bit strict on your pocket and want to start with something that requires less practice but assures cafe-like espressos, then you must consider Breville Barista Express. Moreover, this is also an ideal choice for you if you have a compact space and want to get an espresso machine that fits everywhere without consuming more space.
---
Related