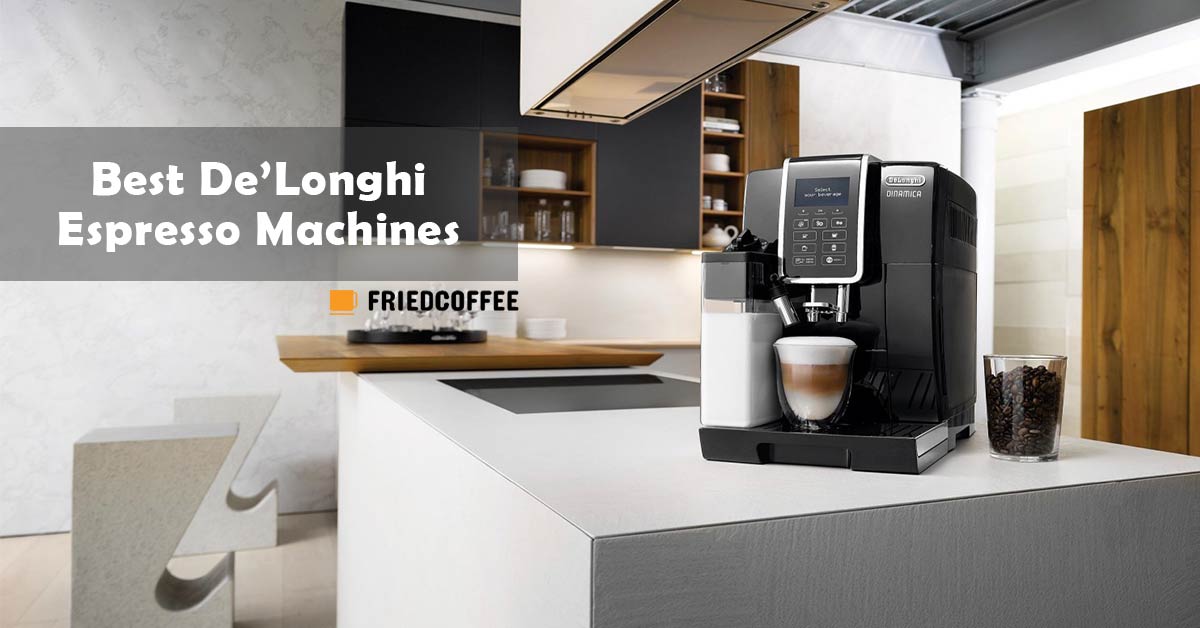 It's almost impossible if someone is looking for an espresso machine and has not heard of the name 'DeLonghi'. The brand has been a pioneer in kitchen appliances from decades now and has a perfectionist hand in building some of the best espresso machines.
The brand after over 100 years of being in craftsmanship, became a small company in 1950's. It was still at that time the chief supplier of heating systems to other companies. In 1970, the company started their own products and expanded to Heaters, Air fryers, Portable Air-Conditioners, Radiators and obviously Espresso Machines.
In 1990, DeLonghi launched it's first espresso machine which than continuously evolved to some of the amazing systems we and many cafes today use.
We know that you are aware of the brand, so the above was the small intro. Let's now head over to the some of the very best DeLonghi espresso machines that the world loves.
At A Glance on Best Selling DeLonghi Coffee Machines
<!–noptimize–> <!–/noptimize–>
Best DeLonghi Espresso Machine – Our Favorites
The above were few of the best selling products by the brand. If you are in a hurry, go through their specs and see if they solve your problem. For more details, read our individual views for the best ones.
1. DeLonghi EC155
The tiny soldier from the brand, this product does great work. It's one of the hot selling unit and can be found in many home due to it's small foot print and affordable price. With just a price tag of around $200, who want to miss an espresso shot at home. Even if you are not planning to buy an espresso maker, hearing a small ticket price might change your mind.
Doesn't it feels excited. Let's elaborate a little more about this small powerhouse – It can brew your coffee grounds as well as ESE pods; what's more, it has a filter to brew two shots at one go. This machine is really a tiny powerhouse and it's also included in our espresso makers collection. With 15 bar pressure, it brews espresso mostly up to mark. It comes with a manual frother connected with a separate thermostat to control temperature independently. Even their is no waiting time between cups as the advanced system maintains the optimal temperature.
<!–noptimize–> <!–/noptimize–>
The removable water tank and drip tray allows easy cleaning. With small footprint, this machine can fit most areas.
Why Buy This
With such a small investment, you are getting an espresso machine by a reputed brand. It has long been serving many families. So, if you have small budget or a small apartment big machines can't be placed, this one is to go for. After all, it's a DeLonghi.
2. DeLonghi Dedica
Our another marvel is Dedica. With a sleek built design and all over chrome finish won't let your eye roll, it keeps your attention. Even if you will keep this machine beside the some premium ones, you are sure to grab the Dedica side.
With 15 bar pressure, this espresso maker brews a perfect cup of espresso. Dedica also has the adapter to brew a single shot, a twin shot or a shot from ESE pod, something similar like the EC155. Minimal control options ensure you will not get messed up into anonymous things that happen with super automatic machines. The height is tad higher so as to accommodate taller cups, which is a plus.
Note: We suggest to get a non-pressurized Mr. Coffee 4101 filter with this machine to produce real crema. The one with the machine will produce crema, but not to a full extent. Along with, get a 49 mm tamper to tamp perfectly.
Why Buy This
A small, tall and bold footprint that is easy to clean, brews a great cup of espresso with it's 15 bar pressure technology. It's an entry level machine that does a good work as compared to espresso machines available under $500 budget.
<!–noptimize–> <!–/noptimize–>
3. DeLonghi ESAM3300 Magnifica
The next one is sure to blow away things, and is a very hot seller from years. ESAM3300 is a super automatic that just comes around a budget of $500, and is from a brand that is famous for it's perfectionist machines. For years, ESAM3300 is the hot selling product that has paved it's way alone. Gaggia Brera is just the one that competes with this product in the similar category and affordability; but this one looks far better.
You won't get a display or sophisticated panel with this Super automatic, but rather some simple buttons to press and get your drink. The top accommodates the burr grinder that grinds each time you brew, so fresh grounds every time. The grinder has 13 settings to suit your preference. There is also a chamber for using coffee grounds, a good feature.
The brew unit can be removed for easy cleaning. Moreover, it adjusts it self automatically for a single or double shot. If you have some customized preferences of brewing espresso or cappuccinos, they can be programmed as well and the machine will remember those settings for your next cycles.
Why Buy this
We guess, the price we are paying for this machine is way cheaper than the features and built quality we are getting. There are almost no competitor in this segment from years and we don't suppose will be.
4. DeLonghi Lattissima Plus
The next one in our list is a Nespresso capsule machine that has changed the way people drink coffee. The main reason to include this product here is 'convenience'. What's more easy than just inserting a capsule, filling water in reservoir and press a button! What's more, it not just brews espresso, but also latte and cappuccino.
With 19 bars of pressure this machine brews amazing cup of coffee. It offers 3 milk based drinks and 2 simple coffee options. There is a dedicated button for each of these drinks. Drinks can also be personalized as they are programmable. The milk container is removable so that it can be cleaned thoroughly or the left milk can be stored in the refrigerator. The machine auto shuts off after 9 minutes of inactivity. It also has intuitive descaling feature which alerts according to programmed water setting (soft, medium or hard). Just plug a the pipe and the descaling an espresso machine is fun.
<!–noptimize–> <!–/noptimize–>
Lattissima Plus uses the OriginalLine Nespresso capsules for it's functioning which comes in an array of flavor choice. You can even use a reusable capsule to brew your own choice of freshly ground coffee.
Why Buy this
Convenient, Time saver and easy to use are some attributes that define this machine. Moreover, it's a capsule machine with 19 bar pressure, which brews an excellent cup of espresso, consistently.
5. DeLonghi Dinamica
An extreme hit by the brand recently. Dinamica was launched in the market in May 2019 and became an extreme hit in the Super Automatic segment. The reason behind that is it's built quality, the price segment and the brand trust on top. With a heat up time of less than 40 seconds, this machine can even TrueBrew technology for brewing Iced coffee.
The true Brew process delivers full-bodied and smooth Iced Coffee by brewing at a lower temperature, pre-infusing and infusing the Coffee over ice that's never watered down. The grinder grinds only the beans it's gonna use in the process and therefor, fresh grinds every time you brew. it comes with 13 grind settings to play between your taste. The integrated frother also has customization options to suit your preferred steam and foam levels in specialty drinks.
With 15 bars of pressure, this machine is at par an standard to make great espressos, though an 18 bar could have been much better. The machine can be easily cleaned by removing the brew head and the drip tray.
Why Buy this
Dinamica is for those who want a fresh cup of coffee with automation and not a hole in the pocket as well. This machine brew great cup of espresso, even iced coffee at a very feasible price as compared to other super automatic machines.
6. DeLonghi Eletta
Now this is something most advanced by DeLonghi but is less popular due to it's price. Eletta does all the hard work and you just have to pick your ready cup of cappuccino, latte or espresso. It has pre-programmed 11 drink options – Regular Coffee, Espresso (multi-length), Cappuccino (auto), Caffe Latte (auto), Lattemacchiato (auto), Espresso Macchiato, Flat White (auto), Milk (auto), My Milk, Hot Water, Americano among which 7 are just one-touch recipes.
Eletta has the largest water reservoir of 2L which doesn't needs to be refilled again and again. The automatic milk frothing system and manual steam wand gives flexibility to the user. The average heat up time is of 60 seconds and the machine is backed by 2 thermoblocks. The bean container capacity is also the maximum; 14.1 oz. Overall, it's a very user friendly machine that is easy to use and has all the features you would demand in a super automatic espresso machine.
Why Buy this
Eletta is the most top-notch machine by DeLonghi and if you are looking for the most powerful and feature packed machine without any budget constraints, this one is right to grab.
Wrap Up
The above were all the great pieces by DeLonghi. As you can see, the price range starts as little as $200 and goes up to $2K. It clearly says that they have almost all kind of products for any budget, and most of all, everything is quality packed. So just close your eyes, think about your budget and pick any from the above as we have already excluded the units which might not make you happy for your investment.
<!–noptimize–> <!–/noptimize–>