The name "Barista Brain" may conjure up an image of a super high-tech coffee maker loaded down with gadgets and gizmos that you'll never get around to using. You will be pleasantly surprised to learn that this Oxo On Barista Brain is simple, straightforward, and almost minimalist in design. It looks great, it doesn't have any complicated controls and most of all, it makes a perfect cup of coffee every time.
A Short Glance At 9 Cup Oxo On Coffee Maker
The Barista Brain does make good use of technology, but only where it really counts. First and foremost, it successfully maintains an optimal brewing temperature for perfect coffee every time. The "brain" or microprocessor is there to create a brewing cycle that imitates a manual pour-over by an expert barista. Secondly, the Rainmaker shower head disperses the water evenly that extracts full flavor from the grounds something exactly that we do in pour-over coffee making.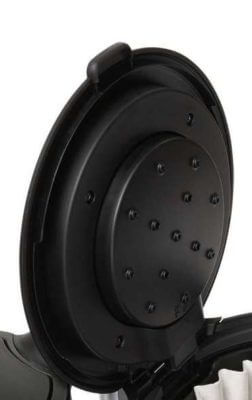 Below is the list of features that this marvelous piece of coffee machine is going to provide:
Features and Specifications
Brews 2 to 9 cups (10 to 45 ounces)
SCAA approved: brews at the optimal temperature of 197.6 to 204.8 F
Smart microprocessor to control brewing cycle
Rainmaker shower head for optimal coverage
Thermal stainless steel carafe
Programmable timer for morning coffee
Removable silicone mixing tube
Setting for 2 to 4 cups or 5 to 9
Easy-to-use LED display controlled by a single dial
Cone filter basket takes reusable mesh or paper filters
Brew pause function
Freshness countdown keeps track of how long coffee has been sitting since brewing
Sleek Style
The first thing you will notice about the Oxo On coffee maker is its sleek modern look. The brushed stainless steel and tall narrow shape combine to make this a striking addition to any countertop.
You'll also be fascinated to watch the brewing process: you can see the water heating up in the transparent reservoir and bubbling up through the glass tube and across to the showerhead.
The Brains of the Outfit
The Oxo's microprocessor controls the brewing cycle to imitate a manual pour-over technique, giving the grounds time to bloom in order to optimize flavor extraction. Separate settings for 2 -4 cups and 5 – 9 cups also help to optimize the coffee brewing process. It really is like having your own barista!
This coffee maker doesn't have a lot of bells and whistles, but it does have a few handy features. The LED display is highly intuitive and all programming is done by using a single dial. You can program this drip machine to brew in the morning before you get up. As soon as brewing is completed, the display switches to a freshness countdown so that you will know at a glance how long the coffee has been waiting for you.
Designed for Best Brewing
It's a well-known fact that coffee tastes best if it is brewed at between about 198 and 205 degrees Fahrenheit. The Oxo On Barista Brain is SCA-approved because it keeps the water in this temperature range throughout brewing.
Inside the carafe, you will see a silicone mixing tube. This is designed to draw the freshly-brewed coffee directly to the bottom of the pot so that the temperature and brew strength are uniform throughout. If it's getting in your way, you can easily remove it.
The cone-shaped filter is also considered best by most coffee experts, especially when brewing smaller amounts of coffee. You may have noticed that all pour-over brewers are cone-shaped.
The stainless steel thermal carafe will keep the coffee hot without burning or scalding it as the heating elements found with glass carafes sometimes do. If the carafe is not keeping the coffee hot enough for your tastes, try pre-warming it with boiling water before brewing.
Cleaning and Maintenance
The Oxo On 9 Cup Coffee Maker is easy to maintain. The showerhead twists off for easy cleaning, and most other parts are removable.
There is no way to remove the water reservoir for cleaning but however, as long as you lift the lid and allow it to dry out between uses, there should be no reason to clean this area beyond periodic descaling. Note that the machine always uses all of the water in the reservoir, no matter what brew setting you use.
You probably won't be able to fit your hand inside the carafe, but you can use a dish mop or bottle washer to clean inside easily enough.
Pros
Hot brewing temperature
Pre-infusion imitates manual pour-over
Sturdy construction
Brews quickly and quietly
Cons
The reservoir is not removable
Reservoir should be filled each time you brew
Coffee maker may be too tall for some kitchen

countertops
Sale
OXO Brew 9 Cup Stainless Steel Coffee...
BetterBrew Precision Brewing controls water temperature and...
Fully programmable and easy to use, a single dial lets you...
Temperature-controlled brewing keeps the water between...
Rainmaker shower head evenly disperses water over coffee...
Overall
The 9 Cup Oxo-On Coffee Maker is a top-quality appliance for coffee-brewing and also has distinctly amazing looks. The coffee it makes is comparable in quality to the coffee made by any French press or a good manual pour-over, but it's as easy to use as any standard automatic drip machine. Although it's fairly priced as compared to other known drip coffee makers and is comparable in quality-style to much more expensive models such as the Technivorm Moccamaster. One much closer competitor is Bonavita BV1900, which is cheaper in price and it also delivers the coffee in optimum quality.
If you're looking for the convenience of automatic drip combined with the quality of barista-style coffee, you will love the Oxo On Barista Brain. We are happy to give it our highest recommendation.