Keurig is a well-known brand for its huge range of single-serve coffee makers and is almost present in all countries where coffee is well consumed. The machines that have been produced differ in brewing capacities, brew cycle, ease of use, automation of work, etc. One product among this range is Keurig K145 OfficePRO which has gained good popularity in offices as well as at homes. It is built using heavy-duty materials that can cope with a lot of daily use and can give the output in less time. With a decent-sized reservoir and different brew sizes, this machine is a great fit for any place. So, if you are seeking some quality Single Serve Machine that is durable in all aspects, K145 is the one to go for.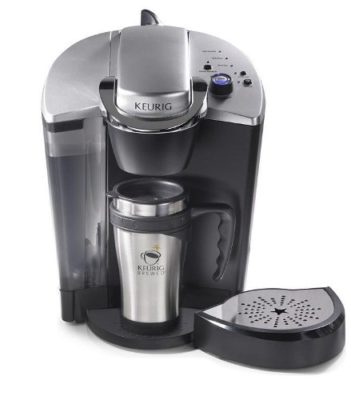 Glance on the Keurig K145 Office Pro
Here, we will be having a thorough look on the Keurig K145 which was built keeping offices and commercial places in mind.
Design and Features
Most of the Keurig machines look a lot similar to each other and can be called as brothers or sisters of each other. The brand inherits the same look to every machine as the design is practical and a very successful one. The left side of machine is the large 48 oz water reservoir to handle multiple uses at once. The control panel can be easily absorbed and is very simple to operate too. The machine is described as a "Commercial Grade" brewing system.
The difference between it and the "Home" version brewing systems are: The Office units has heavy duty power cords, and heavy duty pumps whereas most Keurig Home models are now having what is called "Quiet Brew Technology", and as the name suggests, are much quieter than the Office models. The main reason behind being quieter is that they have smaller/weaker pumps. Many people have complained about them failing prematurely. The K145's pump is quite loud and can scare your pet but that indicates the stronger pump inside that is going to do the job for you.
The main features of Keurig K145 OfficePRO are:
7 x 15 x 13.6 inches
6, 8, or 10 ounce cup size
48 ounce removable reservoir capacity
Easy cleaning
Drain button that lets all the water out including that of water tank
Heavy Gauge Materials
2-hour automatic shut-off
Removable drip tray to allow large travel mugs
Weighs 14 pounds when empty
Performance and Taste
Keurig's are all built to perform fast with less fuss using pods. The pods are now available in large varieties and flavors to suit everyone's taste and mood and thus eliminating the possibility of bad tasting coffee.
96 Count Variety (12 Amazing Blends), Single serve Pods...
COMPATIBLE WITH ALL KEURIG 1.0 AND 2.0
96 cups in 12 Unique Blends of Premium Roasted Coffee
Carefully Selected Excellent Highest Quality Beans blended for richness, and flavor - KOSHER...
Count size: Contains 8 cups each of City Roast, French, Donut, Colombia, Italian, Costa Rica,...
Small Batch Roast - Expert Packaging for Ultimate Freshness
Mind Reader Combine 2 Piece Coffee Station, 20 x 14 x...
THE "ORGANIZER" 2PC SET: Two piece system offers the best of both worlds - the "COMBINE" plus the...
STURDY NON SLIP MULTI-SLOT WITH DRAWERS: Caddy features compartments and drawers for storing...
PERFECT FOR AT HOME, OFFICE, RESTAURANT OR HOSPITALITY: Makes coffee and tea service areas easy to...
VERSATILE ORGANIZER SPACESAVER: multi-compartment organizer helps to keep loose condiments, ketchup...
MEASUREMENTS: Condiment Storage Caddy: 12" (L) x 5. 4 (W) x 11 (H), Single Serve Coffee Pod Storage:...
The brewing technology is great that gives a nicely brewed cup every time in just a push of a button. The coffee is much hotter as compared with other Keurig models and it's brewed perfectly. So, if you are looking for a machine that serves great coffee in lesser time without any fuss, Keurig's are the answer and this K145 OfficePRO is a jewel among them which is both durable and feasibly priced.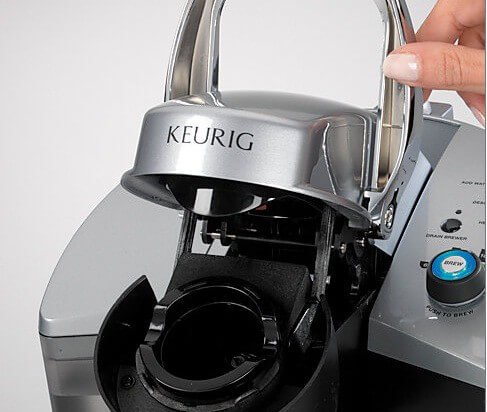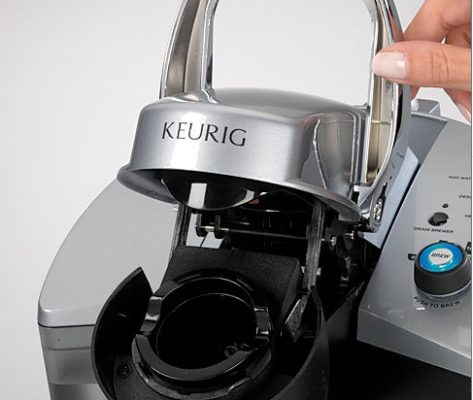 The Good
Easy to clean
Large water tank
Easy to brew
Lot of varieties in Keurig K-cups including coffee, tea and hot chocolates too
The Bad
Noisy because of heavy duty pump
No water filter
A little plastic smell sometimes
The pods are not fully disposable
<!–noptimize–> <!–/noptimize–>
Keurig K145 OfficePRO Brewing System with Bonus K-Cup...
Choice of 3 cup sizes (6 oz., 8 oz. and 10 oz.)
Easy cleaning and refilling with removable 48 oz. water reservoir
Auto-off turns brewer off after 2 hours
Heavy gauge materials for high volume use
MY K-CUP is not compatible with the OfficePRO brewer
Conclusion
The Keurig K145 is a great pick from the Keurig 2.0 range and makes a great cup of coffee every time consistently and we have a wide variety of flavors to choose from. Grab a variety pack to find your favourite flavors.
Overall, for this price tag it's a great buy as it reduces a lot of time in coffee making and then cleaning up all the mess; spend this saved time with your dear ones and make them feel loved. So if you are looking for a machine that gives a decent cup of coffee in short spans, this might be the one that you are looking for. Don't take this as a perfect machine, but for this price, it's a steal and is also included in our Collection of Keurig Coffee Makers. It's durable and can long last on your counter without much to look for.