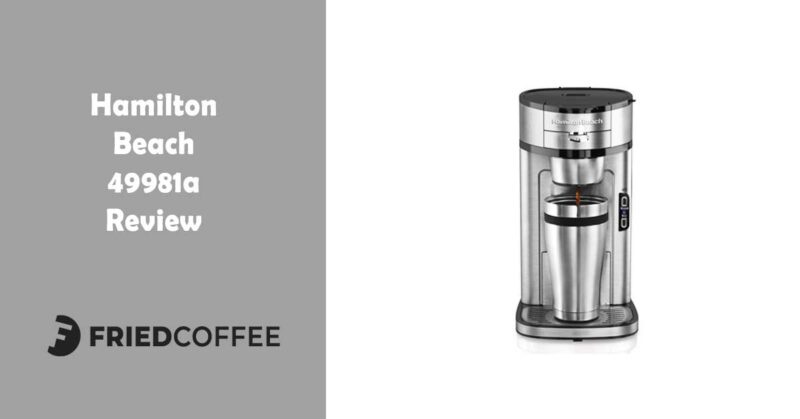 Hamilton Beach 49981a is a very beautiful coffee maker designed with solid steel construction. It has already been awarded for its unique design by IDSA( Industrial Designers Society of America).
Let's Check Out The Hamilton Beach 49981a
With single-serve coffee makers becoming more and more popular after the drip coffee makers for home, choosing the right one can be a daunting task. While single-serve systems can help reduce energy usage and product waste, many models can be very costly. Hamilton Beach has addressed this issue by creating a single-cup system that uses regular coffee. This not only eliminates the cost of coffee pods but also allows you to use any coffee you choose. This versatility and cost-effectiveness make the Hamilton Beach 49981a one of the best Single-Cup Coffee Makers. It comes with a mesh scoop filter that gives the user the ability to choose any flavor, any brand, and any strength.
Features and Specifications
Convenient single serve portioning: The metal mesh coffee filter in the 49981a takes away any guess work for measuring coffee. The filter is designed to accommodate the perfect amount of coffee for a single cup. You no longer need to mess with scoops or spoons, as you can pour grounds to the MAX fill line. This line ensures the perfect amount of coffee is used each and every time.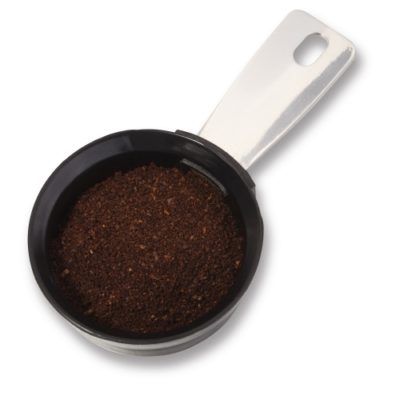 Durable metal filter: The coffee filter included in the Hamilton Beach 49981a uses a durable metal mesh design. This means that you never have to worry about running out of paper filters ever again! The metal filter is easy to clean, requiring nothing more than a quick rinse after use. The lack of paper filters is another way that the 49981a is cost-effective, as well as environmentally friendly.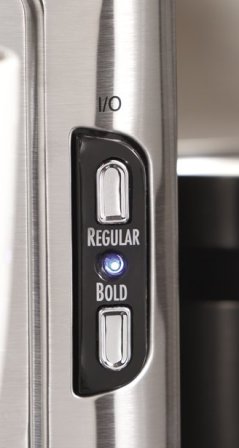 Brewing versatility: Two buttons on the Hamilton Beach 49981a allow you to customize the strength of your coffee. Choose the REGULAR button for a standard cup of coffee. For something with more kick, choose the BOLD button.
Fast brew time: The 49981a can brew an 8-ounce cup of coffee in just under 90 seconds. This means that you can instantly fulfill a craving for coffee any time of day! The fast brew time is critical as this model has no coffee pot to rely on.
Efficient design: With no large water reservoir or coffee pot, the Hamilton Beach 49981a requires little maintenance or cleaning. Simply pour in the exact amount of freshwater you need, and never worry about stale water ever again. This design also eliminates the need for charcoal water filters which need to be replaced regularly. The single-serve system means that no coffee pot is left cooking on a burner all day long. Not only does this ensure fresher coffee, but it reduces energy usage and product waste.
Versatile cup stand: A fully adjustable cup stand allows you to position your cup close to the pour spout. This keeps the coffee from spluttering all over the table, as some brewers are apt to do. Additionally, the short space between the brew spout and your cup will keep the contents hotter during the brew cycle.
Large drip tray: An extra wide drip tray helps to keep the counter coffee-spill free. While the 49981a will only deliver as much water as you put in, accidents can still happen. The large drip tray makes any accidents minor, as it is easily removable and equally easy to clean. A quick rinse is often all that is needs to keep the drip tray in pristine condition.
Stainless steel construction: The stainless steel construction of the Hamilton Beach 49981a makes this model very durable. This is perfect for any home or office environment where accidents are commonplace. The stainless steel construction also makes for easy cleaning, needing nothing more than a quick wipe with a wet cloth. Additionally, the all metal design gives this model a more stylish appearance, enhancing any environment it is used in.
Automatic power-off feature: The 49981a shuts off automatically after each brewing cycle. This means that you will never have to worry about leaving the coffee pot on ever again. Additionally, this means that the unit won't draw power constantly, making it more cost effective. This is also a plus for anyone trying to be environmentally friendly in terms of energy conservation.
Positive customer response: With a 4.1-star rating out of 5 stars, from 2,717 reviews, the Hamilton Beach 49981a has. This high rating ensures that you will get your money's worth from this model.
Image Source: CoffeeHabitat
Using The Hamilton Beach 49981A
As with any new coffee brewing system, it is always best to rinse it before use. Run a few brew cycles with just water in order to rinse out any dirt or residue in the system. The 49981a will shut off automatically after each brewing cycle is complete, giving you added peace of mind. Pressing the REGULAR or BOLD buttons in mid-cycle will power down the unit in case of emergency. Make sure to never use more than 14 ounces of water per brew, as that is the unit's maximum capacity.  Additionally, never put coffee above the MAX fill line, as this will cause grounds to get into the system.
Pros
The lack of a water reservoir means that you get fresh water in every cup of coffee you brew. This also eliminates any overflow accidents caused by erroneous brew settings.
The small size of the 49981a makes it a perfect model for home offices, where counter space is scarce. It will also fit under the cabinets in even the smallest of kitchens.
The cleanup of the 49981a is less than many pod brewing systems.
The lack of programming makes brewing quick and easy, with no distracting lights, bells, or alarms.
The 49981a delivers piping hot water for your coffee each and every time.
Cons
The 49981a tends to splash a lot as it brews. This means that any space between your cup and the brew spout will result in splashed coffee on the counter.
Hamilton Beach The Scoop Single Serve Coffee...
SCOOP YOUR FAVORITE GROUND COFFEE, PLACE AND BREW. Simplify...
ECO-FRIENDLY AND EASY ON YOUR WALLET. For fresh flavor and...
CHOOSE YOUR SIZE: With the adjustable stand, you can brew...
BREW COFFEE YOUR WAY: Make your coffee stronger or weaker to...
Conclusion
All in all, the Hamilton Beach 49981a is a perfect balance of efficiency, convenience and reliability. Providing the perfect cup of coffee without complicated programming or adjustments, this model is as simple as it is reliable. Perfect for home or office, the 49981a is a must for anyone who desires hassle free single serve coffee.