With an ultra-quiet brew technology, Cuisinart SS-10 surely ranks itself as an impeccable single-serve coffee maker. It seems identical to SS-700, but SS-10 is more enhanced in functionality than many of single-serve coffee makers in the market.
Your search for the single serve coffee maker is finally over with this machine, and now you have to take a deep breath and read the thorough review of premium SS-10. It is versatile and fully programmable home-brewing unit that offers a lot of features at a quite affordable price range.
Cuisinart SS-10 Review
Cuisinart has an history in making consumer appliances and the journey has been good so far. As we already know that Cuisinart coffee makers are immense popular for brewing coffee at homes, they are indeed involved in making toasters, sandwich makers, mixers as well as ovens.
Features And Specifications
Single serve coffee maker that brews any K-cup coffee pod
5 available beverages sizes from 4-12 oz.
72-ounce water reservoir
Patented HomeBarista™ reusable filter cup
It has a removable water reservoir
There is a built-in water filter
It is Energy efficient
Removable drip tray for the convenience of user
Dimension of the machine is 13 x 14.8 x 16.4 inches
Weight of the machine is 9.5 pounds
Design And Compactness
The SS-10 model is redesigned to give it a sleeker and modern look than the model SS-700. One thing to look for is the use of plastic. There were doubts over the durability of plastic used to make this model, but it sure seems like a model made to last for a good run. It is mostly made of housing plastic and there are some stainless steel parts. The overall design is compact and the machine is made to endure pressure and overuse with the passage of time.
Enhanced Capacity
There is a 72-ounce removable water reservoir that ensures that you won't have to worry too much about the refills. You can choose from the five brew size options from (4-12 oz.) It is fully programmable, and it has a removable drip tray, so convenience is an added factor that makes this machine more tempting.
Ultra Fast Brewing Technology
This is one of the best features of this machine. If you like a hot delicious cup of energy-filled coffee early in the morning and that too without moving many muscles (it is fun to be lazy!) then you would love this machine. There is no heat up time required for this machine, and it brews in less than a minute. With one-touch button technology, it brews a hot, tempting cup of coffee for you in no time at all – a great time to live in, right? If you have previously used Nespresso or Keurig machines that uses coffee pods, you are surely going to love it.
Control Panel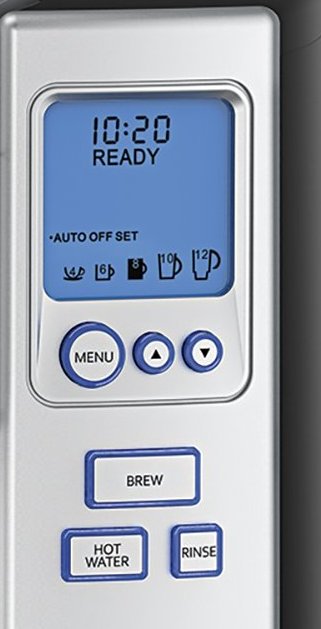 The added control panel takes care of all the hassle for you. There is a blue backlit LCD that assists in performing many functions such as auto on/off timing, brew size, and brewing temperature. Cuisinart focuses a lot on making things easy for the users, and this model is a clear example of how convenient they make things for the consumers.
Charcoal Water Filter
There is a charcoal water filter deployed in the machine to ensure that the best taste is achieved without the grounds entering the coffee and ruining the whole party. One thing to notice is that charcoal water filter is known for its effectiveness and that explains why Cuisinart selected to use it over the other filters.
Instant Rinse Feature
What more do you want when the machine cleans itself in a matter of seconds and that too in between brewing sessions. The rinse feature is liked by many users since it cleans the inside of the brew chamber in an instant.
Pros
Compatible with every type of cost friendly K-Cup known
Programmable and easy to use
72 oz. water reservoir makes it more tempting
Durable
Convenient to clean
Cons
Some users reported it to be slow
It can create a little mess
There is no water reservoir light
Wrapping Up
Are you into convenience while making morning coffee to satisfy your caffeine addiction? Then Cuisinart SS-10 is the best thing for you. It is easy to use and it comes at an affordable price range. All in all, it is the perfect gift for you or anyone who is guilty of loving coffee the most in the world!
Recommended Reads