Kenyan coffee is from a country known for sprawling wild landscapes you've probably spotted in movies like Born Free, The First Grader, and Tomb Raider- The Cradle of Life. Nestling in a tiny pocket in East Africa, Kenya is a treasure trove of history, culture, tradition, and wildlife. Many may or may not know that the country has also contributed some important steps towards creating the map of coffee the world knows today. Yes, Kenya produces some of the best coffee we know or drink today.
About Kenyan Coffee
We're here to walk you along with the steps the little brown bean took through the lands of Kenya to reach the far corners of the world. Sooner, you might even feel how this particular origin tastes like with some facts that you'll feel great to know about.
Kenyan Coffee History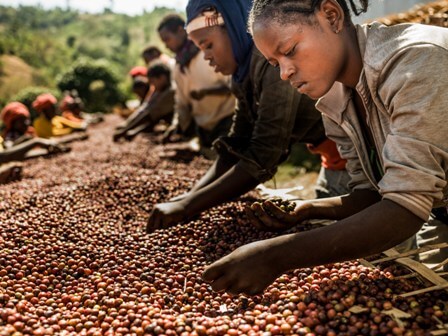 Legend has it that once upon a time there was a group of French missionaries who called themselves the Holy Ghost Fathers. They traveled from the island of Réunion in the Indian Ocean towards the coast of Kenya in the year 1893. Though they were few, they did not arrive alone. They brought with them the fated brown bean to the land of Kenya. The missionaries are said to have set up a base close to the capital city; Nairobi. It was there that the first coffee plants were born in the country, in the face of Mission farms.
At the start of production, the country was under the rule of the British empire. They decreed that the highest grade of coffee produced in Kenya was to be exported out. As a result, locals never got a chance to experience the quality of their produce. Even today a large chunk of the population leans more strongly towards tea than caffeine.
It took drastic efforts through the years to bring the Kenyan coffee industry to the standard of the global excellence that it sits at today. The country houses some path-breaking research facilities and an auction extort to guarantee all transactions are taking place in a safe and legal manner.
Characteristics of Kenyan Coffee
Coffee originating in Kenya is considered to be amongst the crème de la crème by many in the coffee community. The beans calling the country their home boast of holding in a bold intricate flavor combined with a powerful aroma that sets mouths watering. Kenyan and Ethiopian coffee has some similarities as both belong to the mainland of Africa, but they taste totally different. Both of these have complex and balanced flavors, yet Kenyan is slightly more acidic and has a dry berry character as compared to the wet-processed Ethiopian coffee.
Coffee plantations in Kenya cover the entire land expanse of the country. The soil, elevation, and environment in the coffee-growing area all play a role in adding and subtracting flavor from the beans. A common profile carried through the country however includes a fruity overlay through the hints of bergamot orange, lemongrass, and black currant berries.
The coffee brewed hits the right notes with a steady compromise between savory and sweet profiles. You are guaranteed a crisp finish with a blend that will go down smoother than a glass of wine.
Types Of Kenyan Coffee
The country of Kenya exports ninety-five percent of the coffee they grow. There are close to 150,000 farmers employed in growing and nurturing the crop. A further six million inhabitants of Kenya have livelihoods that run on account of their contribution to the country's coffee industry.
By Size
The coffee coming out of this country can be split into brackets, depending on its size.
Some of the categories are –
E – Standing for Elephant – The largest coffee beans offered up by the country.
Kenya AA bean – This stands as the biggest of the specialty beans in the country.
PB Standing for pea-berry – The result of a coffee cherry fruit known for a more intense flavor.
By Kind
Scott Laboratories, one of the first research bases in the country, at the government's behest worked hard to develop and promote strains of coffee during the 1930s. The aim of the project was to find the beans to provide the biggest boost to the nation's economy.
The result was dubbed the SL-28 and SL-34. The SL naturally stands for Scott Laboratories in this instance.
The SL-34 crop had leaves that would end with a bronze undertone. This variant could withstand and continue to flourish through all sorts of extreme weather conditions.
The SL 28 was known for its broad leaves and prominent coppery tips. The icing on this particular bean so to speak was the quirky tang of tomato that set it apart from almost anything else ever offered up to the coffee community.
Growing Regions
The country of Kenya has a natural gift of perfect blank canvas for the coffee crop to thrive. It is one of the best regions for coffee all over the world because the air, altitude, and soil combine to form the perfect medley for coffee to grow and flourish. You will spot most of the coffee crops in Kenya growing at an altitude of something between 1,400 meters to 2,000 meters. While a majority of the coffee is grown on a small scale by local farmers, one-third of the crops in the country thrive in large plantations.
Take a stroll with us through some of the areas most densely populated by coffee plantations.
This area lies slap-bang in the middle of the country. The tallest mountain in Kenya is home to one of the most popular coffee-growing plateaus. Offering an altitude commencing at 45,000 feet and rising to 17,000 feet it is the perfect setting for coffee to flourish naturally. Even the soil in the area which is rocky and rich in natural minerals is the perfect base for the coffee to take root.
Lower down and offering a slightly altered landscape is the Nyanza Province standing tall to the southwest of the country with Lake Victoria as its Eastern neighbor. The various elements in the area blend together to create the ideal environment for coffee plantations to thrive.
Close by is another plateau range that extends for over one hundred miles. The location of this range on the map could put goldilocks to shame. This means the weather in the area is not too hot or too cold. The wind, rain, and heat are all just right for coffee to grow. It's not just coffee that thrives here, there are lush forests in the region that pump nutrients into the soil that work their way into the nourishment, and in turn flavor of the coffee beans emerging from the region.
The Best Kenyan Coffee Brands
Now you know where the beans come from, how they grow, and what you need to do to get the most out of them, its time now to take a peek at the top five Kenyan Coffee brands contending for the title of best Kenyan coffee.
1. Volcanica Kenya AA Coffee Beans
Volcanica is our favorite when it comes to beans. Try once and you won't regret the taste and quality.
Roast: Medium
Tasting Notes: Strawberry, Lemon, Guava, Wine & Black Currant
Starting strong with this rich blend of pure Arabica beans from Volcanica, as the name suggests, a bag of these AA beans contains the largest and densest variant of beans in Kenya. These sun-dried beans, once brewed, present as a sharp drink that merges the sweet and sour berries with the delicate touch of fresh redwood and fresh forest flowers.
The high altitude at which the plants flourish ensures a crop that has grown without any form of artificial interference in the shape of pesticides or herbicides.
The folks at Volcanica are so sure you're going to love the medium roast, that they've guaranteed 100% customer satisfaction. They offer up bags in both the pre-ground or whole bean range. For those of you who think twice before approaching a cup of coffee because they are afraid of the impact on your digestive tract, stay free of fear. The blend is also available in a decaf offering.
Who is this for?
Dedicated to those coffee buffs who are looking for an exceptionally complex variety that alters its taste with the change in brewing method!
2. Cooper's Cask Kenyan Medium Dark Coffee
Roast: Medium-Dark 
Tasting Notes: Honey Wheat, Bittersweet Chocolate and Molasses Biscuit
Each sip of Cooper's premium Kenyan Coffee contains the finest coffee beans, hand-roasted to medium-dark. The roast of the beans is indeed perfect; however, their quality inspection begins much before that, ensuring that you get to sip the finest quality coffee every time you brew them!
Using the avant-garde bourbon variety Kenyan Coffee beans, Cooper's Cask has left the ever-desired touch of perfection in this select roast. The confidence of quality in each serving is so high that Cooper's provides a 30-Day refund guarantee!
The coffee exhibits a great combination of tartness and sweet fruit notes. It has an inviting aroma reminiscent of molasses honey and homemade wheat tea biscuits. The flavor profile prominently features a pairing of bittersweet chocolate and sweet cherries, which work beautifully together. Overall, the coffee has a bold, smooth and flavorful tasting profile, guaranteeing that you'll come back for more!
Who is this for?
This is the perfect coffee for enthusiasts who prefer a well-balanced brew. The balancing begins from the medium-dark roast and is carried through in its taste. The bittersweet chocolate notes go superb with the balanced tartness and sweet fruit flavors, bringing you a beautiful medley of tangs to enjoy!
3. Peet's Kenya Auction Lot Coffee
Roast: Medium-Dark
Tasting Notes: Citrus, Brown Sugar, Cassis
Auction Lot is the premium Kenyan coffee offered by the renowned rosters -Peet's coffee, and it does justice to its reputation. Juicy, complex, sweet, and dazzling are some of the adjectives that define these coffee beans, and it is undoubtedly going to leave you wanting more!
Each shipment of the Auction Lot has freshly roasted beans. They are hand-roasted every Wednesday, and the roasters seal them right after roasting, delighting you with the ultimate freshness offered by these world-class beans. You can enjoy this coffee in a variety of ways! From classic cold brew, authentic latte and mocha, evergreen cappuccino to the trendy Dalgona – the options are endless!
The intense flavor of these beans gives you a bold taste with each sip, with a long-lasting, full-mouth feel! The best part is, this strong taste never intersects with overly bitter brews. Instead, they produce cups that retain their sweetness even after constant brewing. The undertones of sweet brown sugar elevate these flavors to bring great taste to each cup!
Who is this for?
Coffee lovers who appreciate versatile brews are surely going to love this one! Try it out in various brews, each with its distinct flavor profile, and enjoy different tasting notes with the same coffee.
4. Kenya AA Medium-Roast: From The Coffee Bean and Tea Leaf
Roasted to the perfect medium brown level, this single-origin coffee is a longtime favorite of coffee lovers from across the world.
Roast: Medium
Tasting Notes: Citrus, Acidic Wine
Kenya is widely considered to produce the best coffee in Africa and arguably the world. A true jewel in the crown of Kenyan coffee is the AA Medium Roast by The Coffee Bean and Tea Leaf.
Only the highest quality Kenyan AA grade beans are selected for this coffee. The beans are the largest found in Africa and are packed with exquisite flavor. You can purchase them either whole or ground. Grind it finely to enjoy your espresso, medium for drip coffee, and coarsely for French press.
The coffee has a truly unique flavor profile, headlined by a citrus flavor that is beautifully complemented with a hint of wine-like acidity. This distinctive pairing works together admirably to create an intense flavor and instant impact with each sip of the brew. Its aroma is excellent and invitingly alludes to a tangy aftertaste. The coffee is ethically sourced from small farms and co-ops which grow their produce on Mt. Kenya.
Who is this for?
This coffee is crafted for discerning coffee enthusiasts! Its great citrus and acidic wine cup notes are going to make your coffee time amazingly blissful! Complementing the cup with blueberries and caramel or richly buttered croissants will play the role of game-changer!
5. Cooper's Chardonnay Wine Barrel-Aged Coffee
The inviting aroma reminds one of honeysuckle nectar and lends a new dimension to each serving. The flavor is reminiscent of Chardonnay wines and is truly spectacular to experience.
Roast: Medium
Tasting Notes: Green Apple, Grapes, Honeysuckle Nectar
This is a premium coffee offering by Cooper's. It is meant for the veteran coffee aficionado looking for a high-end brew. The beans are all single-origin, have a broad range of grinds to choose from. These include whole beans, French press, auto-drip, drip, espresso, and coarse. The beans used to make this coffee are of the highest AA quality and size rating in Kenya, giving you a superior experience with each sip.
The preparation process of this coffee sets it apart in its segment. The beans are first roasted to perfection, but they are not freshly packed. Instead, the beans are then deliberately aged in wine barrels like delicate wines. This involves delicate temperature control and a complex aging process- infusing a rich and deep flavor into the beans.
A dominant, full-bodied taste characterizes this brew. It also has subtle undertones of green apple flavor, which gives an understated tartness to each cup. A hint of green grape skins is paired with the tartness of the apples to create a slightly sweet finish to the flavor profile.
Who is this for?
This coffee will be greatly appreciated by those who are looking to explore from among high-end options. It is also great for individuals wishing to try a unique and new flavor that doesn't come across often!
6. Kenya Chania Bridge- From Portrait's Coffee
Roast: Medium Roast 
Tasting Notes: Blackcurrant, Lime
Connoisseurs across the world enjoy Portrait's coffee. Oscar-winning director Barry Jenkins, such a coffee enthusiast that he has a signature coffee named after him, greatly admires Portrait for their exquisite brews. Portrait's Kenyan coffee offering, the Chania Bridge, is sure to blow you away!
Grown in the crisp, unpolluted Kenyan air at an elevation of 1600m in Muranga County, the coffee is of premium quality. The beans are washed and roasted under the sun with other flavor-providing elements such as limes and blackcurrant, which infuse the beans with greatly flavorful undertones.
Each sip of the Chania Bridge coffee has a prominent sweet and tart flavor contrast. The blackcurrant imbues the sweetness, and the limes provide an acidic tartness to the flavor. This flavor pairing contrasts beautifully to create a complex medley of flavors that plays on the palette. The blend is richly aromatic and leaves a delectable aftertaste.
Who is this for?
This is the perfect blend for those who enjoy the fusion of sweet and sour in their cups. A refreshing morning breakfast routine is incomplete without this brew!
7. Starbucks Medium Roast Kenyan Coffee
Starbucks Medium Roast Whole Bean Coffee —...
A medium roast coffee that delivers an elegantly complex and...
Exceptional whole bean coffee sourced from premier growing...
Contains only premium Arabica coffee beans
Expertly blended and roasted to bring out the distinct...
Roast: Medium
Tasting Notes: Light wine, Blackcurrant, and Blackberry, Tart Grape
Next, we have a brand name that can be used in place for the coffee itself. That's right. Starbucks has finally stepped its toes into the land of Kenya, offering up a blend of premium quality beans. As is expected of the coffee grown in the region, the Starbucks Kenya African blend boasts of a flavor encompassing an array of tropical fruit, balanced out with a mild offering of brown sugar. The volcanic soil that is home to the beans of this blend ensures a good quality blend from a healthy crop.
To provide the freshest produce possible the beans are bagged immediately after they are roasted. Since coffee tastes best when brewed with freshly ground beans, the blend is offered up in the whole bean option. In case you don't have a grinder at home, it is also available in a pre-ground option.
Who is this for?
These beans are meant for those exceptionalists, who are in search of a bright juicy acidity fused with low wine and fruit & floral cup notes in their brews.
8. Chiru Coffee Connection, Kenya AA
Chiru Coffee Connection Fresh Roasted Kenya's...
1.KENYA'S FINEST AA - Single Origin Kenya AA is grown in...
2.RICH AROMA AND TASTE - Chiru Coffee Connection's Kenya...
3.FAIR TRADE - Chiru Coffee Connection is proud to source...
4.BE THE HERO EVERY MORNING - Kenya AA coffee beans are...
Roast: Medium
Tasting Notes: Light Honey, Citrus and Berry
The next competitor in the arena has a bit of a home-field advantage. The Kenya AA blend offered up by the Chiru Coffee Connection is under the leadership and guidance of one Christine who hails from Christine, Kenya. Having spent most of her youth in the country, the creator of this blend has a very real and clear understanding of the process and problems that come with coffee growing in the area.
The blend offered up is a complex medley brought in by the mix of fruity flavors, pulled together with a mild hit of honey. Once brewed you can taste an overarching presence of berries and other citrus fruits. The beverage finishes off leaving your palate pleased with a whisper of wine.
It shouldn't come as a surprise to know, the coffee used in this blend grows in the central highlands where the air, climate, elevation, and atmosphere work together to create the perfect environment for coffee to not just grow but flourish.
Who is this for?
Dedicated to those coffee lovers, who love the whispering undertone of honey blended with sound fruity flavors that turns your ordinary cup into a distinctive one!
9. Volcanica Kenyan Peaberry Coffee
Another variant from Volcanica! It's a medium roast with a sweet fragrance and a balance of fruity flavors.
Roast: Medium
Tasting Notes: Chocolate and raisin
That's right. The Kenyan coffee offered up by Volcanica is good enough to start and close up our list. Since the Peaberry coffee beans are unique to only a few areas of the world, it's only fair to shake things up a little with this entrant on our list.
The medium roast blend balances out the classic citrus, berries, and floral hints which is an expectation from beans blooming in Kenya. A treat for more than just your taste buds. Enjoy the sweet fragrance that circles you when you brew this blend. Low on acidity, it is the perfect choice if you're trying to go light on your tummy.
Who is this for?
This one is people who are desperately searching for the coffee that gives the feel of escaping to mountains? Rich mouthfeel, nutty, chocolate and raisin notes add more to its appeal.
You might like to read: Best Peaberry Coffee Brands
How to Make Kenyan Coffee – Traditional Way
For a country so deeply invested in the cultivation, production, and promotion of coffee. It might come as a bit of a shock to learn, the locals prefer to classify themselves as team tea.
There is however a percentage of the population especially around the towns of Mombasa, Lamu, and Malindi that follow a local preparation of the beverage formed of the brown bean called Kahawa Chungu.
This traditional preparation is primarily in practice by men. The reason? The unique drink is considered by many to be an aphrodisiac.
There are two variations to this drink – a concentrated, bitter, and darker version called Kahawa Chungu. And a sweeter diluted offering called the Kahawa Tamu.
How Kahawa Chungu is Prepared
The beans are picked from the coffee fields once they turn red. They are then left to ferment by soaking in water for two days. After this, they are washed and dried in natural sunlight.
The dried beans are then roasted over a coal fire in an open pot till they go medium brown. They are then freshly crushed in a traditional larger version of a mortar and pestle.
Once the grinds are ready, hot water is brought to a boil in a brass kettle. The freshly ground coffee is then added to the boiling water. It sits inside for three to five minutes. The mixture is then strained through a sieve into small cups and enjoyed piping hot.
How to Brew Kahawa Tamu
The base preparation is the same and so you would first have to make Kahawa Chungu. After that, you need to increase the quantity of water and add in sugar for a Kahawa Tamu. It is a milder and sweeter variation for those who do not stand for the bitter punch. Nowadays you can also see people add cardamom pods, cloves, nutmeg, and cinnamon sticks into the boiling water to add more flavor variations.
If you like your coffee with a side of some snacks, you can usually spot locals enjoying their coffee with a side of kaimati; a sweet dumpling made of dough, or at times some hot haluwa.
Other Ways to Brew Kenyan Coffee
If you don't have the apparatus, patience, or simply do not prefer the traditional style of coffee preparation, there are other methods that can bring out the best from your Kenyan coffee.
Cold Brew
You might have judged by now but forest, fruity and fresh flavors are forever circling the flavor profile of beans originating in Kenya. It shouldn't take a mad scientist to figure out where we're headed with this train of thought.
While it is true that coffee is often the favored companion on a rainy or cold winter's day. There is nothing more refreshing than a blast of chilled caffeine to wipe away the dreariness that at times comes with a particularly hot summer day. The coffee growing in Kenya holds a flavor profile that encompasses a range of fruits including tropical offerings, berries, and certain citrus fruits too. It almost reads like a menu card tailored to be the best experience in a cold brew.
How you choose to create your cold blend is up to you. If you want to make it an elaborate experiment and experience out of it, let your coffee grinds sit in a pitcher of cold water for anything between twelve to twenty- four hours. Once the time has eclipsed, strain it out into your favorite coffee cup and drink up to kick start your day. There's no real hard and fast rule though. If you'd rather just brew your coffee into a cup full of ice cubes, that could do the job too. Desperate times might call for desperate measures like sticking your cup into the freezer for half an hour or so. Don't be self-conscious, this will work just as well.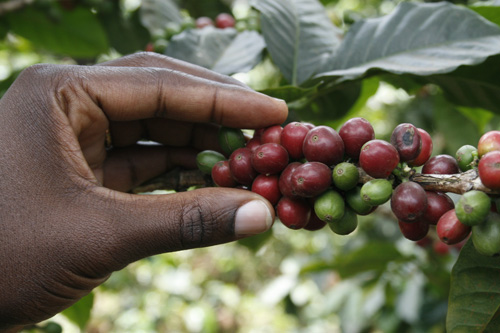 As you might have guessed by now, all the methods employed so far revolve around allowing the Kenyan coffee grinds to sit in the water for some time. While the amount of time varies depending on the method you use. What cannot be ignored is that it is a smart idea to have all the grinds of a Kenyan blend to be submerged in water.
You might love to read: Best Coffee for Cold Brew
Naturally, the best methods we advise to brew with next involves the act of steeping.
Steeping By French Press
The soil, environment, and elevation at which most of the beans in Kenya grow result in beans that are dense and bursting with flavor. The French Press works as the perfect medium through which you can best extract all the oils connecting flavor into your drink. Unlike other methods that might need you to use a filter or techniques where the water doesn't permeate all the coffee grinds well and equally. A French press ensures you're getting everything out of your coffee grinds.
If you're going to give freshly grinding coffee at home a go, try to get your coffee to a coarse size before you brew. If you find the coffee in your cup a little too acidic for your tastes, check if you're giving your coffee grinds enough time to bloom. Thirty to forty-five seconds should do the trick. Kenyan berries are a great French press coffee if you really have a love for this kind of brewing.
You might like to read: Best Coffee Beans for French Press
AeroPress Steeping
The AeroPress stands as a more portable option that essentially does the same job as the French Press listed above. While you might usually opt for a coarse grind when brewing with this apparatus. Feel free to experiment a little with a few finer settings if that suits your tastes better. Like all other methods of brewing, a little trial and error goes a long way.
Wrapping Up
So that's it! We did it again and packed our virtual bags and flew over the imaginary ocean. We took a trip down history and peaked into the presence of coffee in Kenya. The truth is, every country leaves a bit of an imprint on its offer to the coffee community of the world. Chances are you've brewed yourself a few cups of coffee from the country in the past without noting its origin. But the next time you brew a blend of coffee bursting with the flavor of berries and fruit and finishing off better than a glass of wine, you're going to be reminded of the colorful country of Kenya.
FAQs
How much coffee does Kenya grow in a year?
The country manages to produce 100 million tons of coffee in a year. This places it 16th on the list of the top twenty coffee-producing countries in the world. 
Where does Kenya rank today on the global scale of coffee exporters?
Kenya stands twenty-fifth on the list of the largest contributors of coffee to the world.
What kind of coffee beans grow in Kenya?
You will find primarily Arabica beans grown in the country. 
How are the coffee beans processed?
Almost all the coffee beans in Kenya are green processed using both the wet and washed methods.