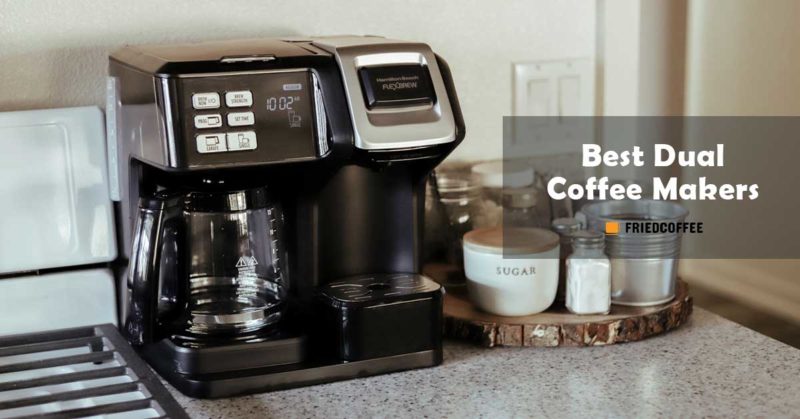 Thinking about a 2-way or a Dual coffee maker simply predicts your love towards coffee. It is an absolute need right from the mornings until you get to sleep. Coffee, being a morning elixir for most, has evolved through the years to include a wide variety of preparation types.
It is almost impossible for anyone to walk down a street today without spotting at least two coffee houses boasting of something special to begin your day. For most coffee drinkers, a walk into your local barista is almost always followed by a deep enticing breath of the deliciously brewed fresh beverages.
However, a daily trip for your regular coffee cup might not be too kind to your wallet. You also can be someone who is either not able or not willing to make the trip at the start from the bed. There is a different type of delight that cannot be denied in enjoying a steaming coffee cup from the comfort of your home. A middle ground to satisfy all your senses is a home coffee machine that won't let you miss your trips out.
Understandably people want the best coffee maker as they have different preferences when it comes to their daily caffeine intake, while there are some who would swear by a classic black coffee to start their day, others prefer anything ranging from espresso, latte, cappuccino, mocha, ristretto, or something else altogether.
Why Use a Dual Coffee Maker
As the name suggests, a 2-way or a dual coffee maker offers the most obvious added advantage on variety in your daily coffee preparations. But there are an array of benefits which you can receive, sitting right in the comfort of your home. Don't confuse yourself that we will be discussing something about a coffee maker with a grinder; a 2-way coffee machine is actually a double coffee maker with two brewing units in a single appliance.
1. Double Brewing Units
Well, the biggest benefit is having a double coffee maker in one single machine. Now you can brew a single cup of coffee as well as a full pot of coffee. So we don't have to use full resources (as with a regular brewer by brewing 4 cups at a time) when we just need a single cup.
2. Saves Space
For smaller apartments, this is again very convenient as it saves the space of one extra unit if you were thinking of buying 2 coffee units. So all in all, it's a space-saving coffee machine for space-o-holics people.
3. Experiment with taste
You will realize a difference in taste when you sip instant coffee and a freshly brewed one. The machines mentioned here will offer a chance to experiment with various styles of coffee. Depending on the machine, you can also control the strength of the brew along with the number and size of cups being made.
Mastering the use of a maker gives you control to modify the brew to mild/strong. It allows you a chance to broaden your caffeine palette and possibly play with a few original creations of your own. It's almost like a play arena wherein you can find your desired sport.
4. Compromises at bay
A 2-way coffee maker ensures convenience. On most days when you're in a rush to leave for work, you can simply make a quick single-serve coffee. But you always have the convenience to brew a pot as well, on days when you have friends and family over.
5. Investment
For the coffee fanatics who relish their brew frequently, a dual coffee maker is a great deal. It saves you a lot of bucks. Takedown a piece of paper and pen. Now, calculate the quarterly amount spent on purchasing the most regular coffee from the café down the street which you can now simply prepare from the single-serve segment of your dual machine. Compare this to the amount of most coffee makers. Draw out an average. In the long run, you will notice that purchasing a double coffee maker turns out way more cost-effective for your pocket.
6. Health Factor
This point is not actually related to dual machines, but between instant coffee and regular drip.
As soon as the coffee is released from the brewer, a lot of healthy oils are also extracted in your cup. These contain nutrients and antioxidants which help in your body's functioning, especially metabolism. An instant coffee lacks these healthy elements. Although, as a fact, everything is good only in moderation. This holds true for brewed coffee as well and if you drink it like water, it's gonna overreact.
In comparison to instant, regular drip coffee does bags brownie points on health. So, having a coffee maker and that too a dual helps you brew coffee instead of instant!
Now, let's head on to some of the best products in this category.
Best Dual Coffee Maker – Our Favorite Picks
And now, here are our favorite dual machines that are amazing, well equipped, and already favorites of many.
1. K-Duo Coffee Maker
Sale
Keurig K-Duo Single Serve K-Cup Pod & Carafe...
BREW A CUP AND A CARAFE: Use both ground coffee and K-Cup...
STRONG BREW: Brew a stronger, more intense single cup.
MULTIPLE BREW SIZES: Brew a 6, 8, 10, or 12-cup carafe and a...
LARGE 60 oz. WATER RESERVOIR: The 60 oz. water reservoir is...
Living the coffee-pod life? Offering your daily cup in a wide range of serving sizes this machine allows you the option to use either ground coffee beans or K-cup coffee for your morning cup.
This multi-function, sleek and sturdy K-cup coffee maker is designed to fuel your day. A delightful array of brew sizes (6, 8, 10, or 12-cup carafe and a 6, 8, 10, or 12-ounce cup) comes along. In case you're someone who likes to grab a bite before their first sip, then there is no need to stress. The heating plate will keep your brew steaming until you're done munching.
This maker scores high on durability with its reusable coffee filter. Spacious in capacity with a 60-ounce water reservoir, this eases morning routines and saves your time without having to refill. For the ones who need to plan their morning way before sunrise, the programmable carafe auto brew feature helps automatically brew a carafe up to 24 hours in advance.
What's Cool ?
If you are someone who likes their coffee piping but cannot wait for it, you're in luck. The coffee maker offers the option to pause mid-brew for up to twenty seconds so you can have your hot coffee right away.
The programmable carafe auto-brew feature and smart start not only brews but heats up in one single take.
You have both options in hand: either use ground coffee or K-Cup pods.
Strong heating plate.
Boasts of a classic bulky design on the kitchen counter.
2. De'Longhi Combination Pump Espresso and Drip Coffee Machine
De'Longhi BCO430BM All-in-One Combination...
1 machine does it all: 1 side makes authentic 15-bar...
Flavor savor brew system: De'longhi's patented coffee...
Front-loading system: Both water and coffee reservoirs are...
Your foam, your way: The advanced cappuccino system mixes...
A one-stop shop for all your caffeine vices. This espresso machine with a coffee maker offers the dual service of brewing fresh black coffee for you and delivers genuine 15-bar espresso, cappuccino, and latte. Ready to put up your own barista?
If you're someone who enjoys a decent delicious serving of froth in your daily cup, you're in luck. The advanced cappuccino maker melds milk and steam to the perfect texture for you to enjoy. The machine is designed for ease of use with front access to both the water and coffee reservoirs. Weighing at roughly 10.25 pounds the machine rates high in flavor and ease of use.
What's Cool ?
The machine has an active carbon filter for the water used in your coffee, keeping it fresh and free of germs.
Brews espresso as well as a regular cup of coffee
Helps you avoid stale coffees with its special indicator.
Make the most of your cup of coffee. The integrated cup storage tray warms your cups.
The warm function is a treat as it keeps the entire pot hot for two hours.
The aroma button helps improve brewing performances, letting out a tempting aroma into your living room.
3. Hamilton Beach FlexBrew Dual Coffee Maker
Sale
Hamilton Beach 49976 FlexBrew Trio 2-Way...
THREE WAYS TO BREW. Brew 12 cups with ground coffee on the...
SINGLE-CUP COFFEE MAKER. Brew a cup with a K-Cup pod,...
BREW A FULL POT OF COFFEE: This programmable coffee maker...
CUSTOMIZE YOUR BREW STRENGTH: Control how strong you want...
Offering the freedom to pick between brewing a pot for the whole household, or just popping a K cup pod in and making yourself your daily dose, this machine offers a lot of customizable features. Each brewer comes with a separate water reservoir, which is easy to fill. It doesn't take more than three minutes to brew the perfect blend of strong coffee to start your day. The cup rest in the machine can be adjusted to allow for cups of varying sizes.
The device rates high in ease to use and easy to clean, along with flavor and versatility. The machine comes with a brew basket for ground coffee along with a holder for single-serve packs. Apart from the regular coffee the machine also offers a bold brew should you be in the need of more of a kick.
The machine can offer anything between 1 to 12 cups of coffee at a time. The machine comes with a digital clock that allows you to schedule the time you want your coffee to brew twenty-four hours in advance.
What's Cool ?
If you're someone who constantly forgets to turn devices off, or forgets if they remembered to turn devices off, you're in for good relief.
The machine comes with an auto-shutoff function after a two-hour keep warm cycle. So you can throw that worry away.
It does a fair job of pleasing different types of coffee drinkers by addressing multiple coffee types and quantities. Brew a pot, or brew a cup for only yourself using a single-serve pod or grounds on the single-serve side.
4. Cuisinart CHW-12 Coffee Maker Plus Hot Water System
Cuisinart Plus 12-Cup Hot Water Coffee Maker,...
Note: 1)Too coarse a grind, too little coffee, or...
TEMPERATURE CONTROL: Variable heater plate for temperature...
12-CUP GLASS CARAFE: Includes drip-free pour spout, knuckle...
ENJOY WITH EASE: Cuisinart's trademarked Brew Pause...
Offering up to 12 cups at a time this machine provides everything ranging from an automated on/off function and brew-pause, to its own hot water system and a three-year warranty.
Are you someone who likes their coffee steaming hot? Or perhaps you have a strange fondness for a cup only after it has had time to cool. The carafe temperature control offers three settings of high medium and low for your cup. The drip tray in the machine can be removed should you need to make room for a larger-sized cup.
With its hot water system, this machine takes up multiple roles in the kitchen. You're simply notified once the water is hot with the help of indicator lights. The ease of dispensing is impeccable. With a press of a lever, you can dispense hot water into your soups, porridge bowl, tea, hot cocoa, tea, and a ton of other preparations.
What's Cool ?
The system has indicator lights to alert when the water is hot and ready to dispense, and when it needs to be refilled.
It also has a safety function that prevents any water from accidentally getting dispensed without your will. 
Pure drink of the sultans: The machine also comes with a charcoal water filter and gold-tone filter to remove impurities that would otherwise show in the taste of your drink.
The starred highlight of this particular machine is the separate hot water system. When not making coffee, it can also be used to heat up water for any other preparation.
Also Read: Best Cuisinart Coffee Makers
5. Hamilton Beach 49966 FlexBrew Thermal Coffee Maker (K-Cup Compatible)
Hamilton Beach FlexBrew Trio 2-Way Coffee...
THREE WAYS TO BREW. Brew a single cup with a K-Cup pod or...
10 CUP STAINLESS STEEL CARAFE KEEPS COFFEE HOT: The thermal...
SINGLE-SERVE SIDE FITS A CUP OR TRAVEL MUG. Simply remove...
WAKE UP TO HOT COFFEE WITH EASY-TOUCH PROGRAMMING: Make...
Rated high in ease to use and easy to clean, this machine offers delicious steaming coffee should you choose to brew an entire pot or one cup using the K-Cup pod. This machine also comes with a brew basket for ground coffee and a holder for single-serve packs. The separate brewers both come with their own water reservoirs that are easy to fill and monitor.
If you want your coffee to stay hot longer inside the stainless steel thermal carafe, you should try washing the inside of the carafe with hot water before brewing your beverage.
What's Cool ?
This machine comes with a thermal carafe that can fit up to 10 cups of coffee and keeps them nice and hot.
Reservoirs that are easy to fill.
This machine allows K-cups, which is so great for pod lovers.
The programmable timer and auto-shutoff features bring about great convenience. No need to worry further if you left that switch on!
6. Ninja CFP301 DualBrew Pro Specialty 12-Cup Drip Maker
Sale
Ninja CFP301 DualBrew Pro Specialty 12-Cup...
Note: 1)Too coarse a grind, too little coffee, or...
DUAL COFFEE MAKER: Grounds and pods coffee system with 9...
4 BREW STYLES: Select Classic, Rich, Over Ice or Specialty...
SPECIALTY BREWS: Brew a super-rich coffee concentrate that...
Versatility would be the term if asked to describe the Ninja CFP301 DualBrew Pro Specialty in solo word. With its excellence as both pod/carafe coffee makers, this machine is loaded with an array of user-oriented and well-thought-out features.
It comes with nine ground brew sizes and four traditional pod brew sizes, well complemented by four different brew sizes – the machine is indeed a stockpile of features. In addition, it comes with a multi-position 60oz. water reservoir, which will ensure that the user doesn't run out of water while brewing a full pot or even several pods for individual cups.
The stunning-looking machine allows you to dial in the time you would love to have coffee and lets you froth milk with its frother attached to the side of the unit. Overall, the Ninja CFP301 DualBrew Pro has almost everything responsible for delivering an avant-garde brewing experience to coffee enthusiasts. Therefore, when you bring this home, it's not just a coffee machine you purchase, but rather an experience you would definitely fall in love with.
What's Cool
The Thermal Flavor Extraction DUO ensures even saturation and temperature control delivering delectable coffee.
Built-in, fold-away frother.
Wide-mouth pour spout, which diminishes the chances of spilling coffee.
Beeps when the brewing cycle completes and if there's a shortage of water as per what you've chosen.
Comes with very useful functions like delay brew, keep warm, paper filter kit, Ninja Smart Scoop.
Classic, Rich, Over Ice, Specialty – Brew styles to suit your mood.
Avails you of an independent hot water system with two temperature settings. Thus, there is no need for having a kettle when you wish to have some tea or are even willing to prepare soups, hot cocoa, etc.
Comes in impressive packaging, ensuring that it reaches you well-protected.
Why buy?
Coffeecionados who are desperately searching for a fully-functional and supercharged coffee machine to satisfy their reasonless coffee cravings should consider betting on this gizmo. It's classic, efficient, compact, and has numerous attributes that award it the ability of intellectual brewing!
7. Ninja Specialty Fold-Away Frother Coffee Maker (CM407)
Ninja Specialty Fold-Away Frother (CM407)...
Specialty brew: brew super-rich Coffee concentrate that you...
Iced Coffee: brew fresh over ice for flavorful Iced Coffee...
6 brew sizes: brew anything from a single cup or travel size...
Fold-away frother: turns hot or cold milk into silky-smooth...
Classic brew? Rich brew? Or Iced coffee? This Ninja machine is surely making you wonder how you were satisfied with just the regular coffee!
One of the most unique-looking machines on our list; rates high on flavor, blending power, and ease of maintenance. This machine helps brew concentrated coffee that can be used for creating a range of beverages including cappuccinos, lattes, macchiatos, and others. If you head to work after the others in your family, the stay warm feature is bliss. The design is clearly well-thought-out as it's super easy to fill and dump the grinds.
You can enjoy your preferred drink in a variety of sizes including a single cup, XL single cup, travel mug, XL travel mug, half carafe, or full carafe.
If iced coffee is more your style, you're in luck. The machine also comes with a built-in foldable frother that can be used on the milk in your drink regardless of temperature. If you have more budget, we would suggest going with a Ninja Coffee bar, a more cool and functional version.
What's Cool ?
The fact that this machine makes such delicious cool beverages. The iced coffees taste rich and not watered down.
Elegance on the counter: The foldaway attached frother makes the machine look sleek.
One can transform the milk (hot or cold) into a silky froth in a jiffy with the built-in frother.
Thermal temperatures retained.
Multitude of options for brew sizes.
Pods aren't needed. This opens up the way for unlimited & customized variety.
This maker bags brownie points as it is Specialty Coffee Association certified.
8. Hamilton Beach 49980A 2-Way Coffee Maker
Hamilton Beach 2-Way 12 Cup Programmable Drip...
2 WAYS TO BREW:SINGLE CUP OR FULL POT. Brew a single-serve...
EASY TO USE. With the included mesh scoop, adding your...
SIMPLE SINGLE-CUP BREWING — DOESN'T USE K-CUP* PODS. Brew...
PEACE OF MIND WITH 2 HOUR AUTOMATIC SHUTOFF. How many times...
Need a stronger caffeine fix, today? Another one from the Hamilton family, this fully programmable machine allows you to pick between making yourself an entire pot of coffee or a single cup using the K- cup pod. It also provides the chance to customize your brew strength between regular and bold. Weighing only 10 pounds, the machine has scored well on ease of use, easy to clean, and blending power.
For those of you that love hitting the snooze button in the morning, don't worry. The Hamilton Beach 49980 comes with a built-in programmable timer that you're allowed to set up to 24 hours in advance. So be assured you'll have a steaming cup waiting for you when you wake.
What's Cool ?
Brew strength selector option to brew to your mood: regular or strong fix?
The size of your brew can be customized to the size of your cup should it be a travel mug, a carafe, or a short cup.
Keep it hot & steamy. Once the brewing is done, the nonstick, keep-hot plate retains the piping-hot coffee.
Shuts off automatically after two hours.
9. Cuisnart SS-15P Coffee Center and Single-Serve Brewer
Cuisinart Single Serve + 12 Cup Coffee Maker,...
Note: 1)Too coarse a grind, too little coffee, or...
SINGLE-SERVE: Enjoy three serving sizes – 6 ounces, 8...
SUPERIOR FUNCTIONALITY: Our single-serve brewer has a 40oz...
CARAFE BREWER: Serve up to 12 cups of coffee at once with...
This compact coffee maker offers you the option of controlling how strong you want your daily brew. There is a regular option for us mere mortals, there's also the bold option for the adventurous ones out there. The machine also helps you receive the authentic flavor with gold-tone coffee filters removing all impurities.
The single-serve option in the machine allows you to choose your brew size from anything between 6, 8, and 10 ounces. You could also brew an entire pot at one go if that is what you prefer. The machine also comes with medium roast dark roast and french vanilla recyclable coffee capsules.
What's Cool ?
The machine also comes with a reusable coffee filter that works with both K-Cup pod and ground coffee.
The water reservoir and drip tray are removable for making it easy to clean and refill.
Want to make a single serving? Well, it does include a reusable filter cup as well.
10. CucinaPro Dual Coffee Brewer Station
Sale
Double Coffee Brewer Station - Dual Drip...
Double Coffee Maker- Brews two 12 cup pots
Dual Coffee Brewer- Includes 2 permanent filters and coffee...
Spring out coffee filter basket for easy refilling and...
Double Coffee Brew Station- Water window with level marks....
This design definitely speaks like a beauty with beast features. Rating high in ease of use and flavor, this two-in-one coffee machine has two brewers that can work at the same time brewing up to 12 cups each. I think it does a good job of keeping everyone pleased. Whether your husband likes decaf, and you prefer it regularly; you can simply create both pots at the same time without having to ponder upon your dilemmas.
Each brewer has its own individual heating elements that allow you to multitask and can be monitored and controlled separately. It is very easy to keep track of the water levels of each brewer thanks to the level markings on them.
What's Cool ?
The double brew coffee station is definitely a people pleaser.
This beauty scores high on ease of maintenance. The spring-out filter baskets make it a breeze to clean.
How to buy the Best Dual Coffee Maker
Before making a commitment towards any dual coffee maker, there are certain things you have to take into consideration and a few questions you're going to have to answer. I fondly address them as the seven commandments.
1. Money Matters
One of the most obvious things to take into account is the impact of the machine on your wallet. The research will help provide clarity on how much you should be willing to spend on a particular machine. Obviously, price does not always equal good quality, however, having a clear price bracket will help narrow things down.
2. Type
Are you going to mostly prepare milk-based coffee? Or is your daily consumption black? Would you prefer a dual machine that can give you filter coffee and espresso for example or would you prefer another combination?
What will be the serving size you will require? Most dual coffee makers for domestic use offer the option of making anything between 1 to 12 cups of coffee at a time.
3. Size Matters
The size of the actual coffee machine. The kitchen is often crowded, and a big or bulky appliance might get in the way. Determine how much physical space you want the machine to take on your kitchen shelf or countertop and it will help you narrow down your choices. Pick up a small coffee maker if you are feeling already occupied.
4. Wiping it down
Let's face it. Cleaning is a pain! So take special note of the cleaning and maintenance process of the machine you pick as chances are it is going to be part of your everyday routine.
5. Programmable settings
Look for a machine that doesn't have an unnecessarily complicated display. The instructions to get your daily up should be easy to follow.
6. Involvement
Ask yourself how involved you want to be in the coffee-making process. Do you want to just press one button and let the machine do everything for you? Or would you prefer to fidget around and be part of the creation process?
7. Shelf Life
A coffee machine is often an investment and something that is easy to get attached to.
Naturally, the cleanliness and general upkeep of the machine will play a role in how long it lives in your household. Most coffee machines come with a warranty life that you should make note of.
FAQs
How do you clean a dual coffee maker?

The dual coffee makers are cleaned somewhat the same as the normal drip machines. Most of the dual brewers allow you to run both parts in one instance and so luckily, you don't have to double your time cleaning both sides.

Does Keurig make a dual coffee machine?

Yes, Keurig has a product called the K-Duo coffee maker which brews regular coffee as well as espresso. The brand has recently launched this product and is now successfully competing with its rival, Nespresso.

What is Flexbrew by Hamilton?

FlexBrew is the flexible brewer by the brand Hamilton Beach that can brew simple drip coffee by coffee grounds, as well as can brew with k-cups, soft pods also.
Ready to be your own Barista?
Whether you're a diligent coffee fan or simply relish a refreshing glass of hot brew, the right coffee maker can be the perfect tool for your kitty. It is a well-known fact that a good cup of coffee can be the perfect start to your day or the perfect pick in the middle of a busy one. It's hard not to sip it when it tastes this yummy while infusing one with that energy kick. Once you start experimenting with the types and strengths of brew, you could perhaps start your own little barista in the comfort of your home.