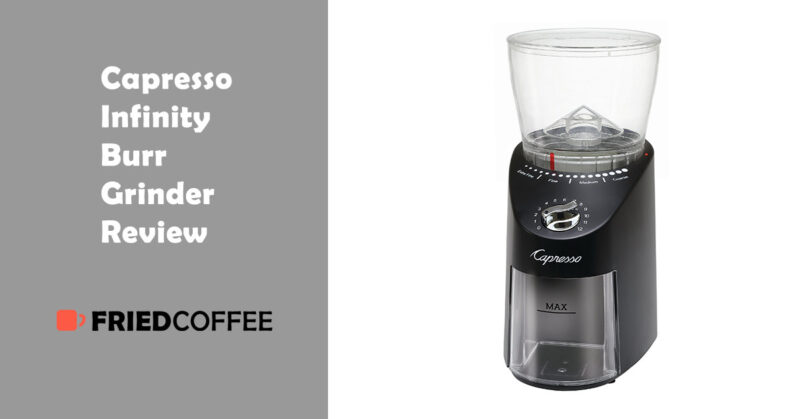 Capresso 560.01 is one of the Top-selling products in the coffee grinder category because of its ease of use and price tag. If you don't have a big budget but need a grinder that outputs decent results, the Capresso Infinity is the one for you.
Capresso Infinity Burr Grinder Review
Ever felt like enjoying restaurant-grade coffee in the comforts of your own home? There is a way to do it, and the best thing is that you do not need to break your bank. The solution to your need is the Capresso 560.01 Infinity Burr Grinder. We hope you understand the importance of a grinder, it's an essential element for a great cup of coffee.
The body of the Capresso 560.01 Infinity Burr Grinder is beautifully crafted and colored. It looks quite modern with its black and white color combination. The designs, along with the controls and the transparent white plastic hopper, give a radical look to the device! Below you shall find the features, advantages, and disadvantages of the device given in the most unbiased manner.
Features and Specifications
16 grind settings with a 100-watt conical burr grinder: The Capresso 560.01 Infinity Burr Grinder comes with all the features you can want from your device. After all, you will not be satisfied by drinking a latte all day. At some point in time, you would give anything for a change in the form of a cup of cappuccino. In this fantastic machine, which comes with 16 grind settings, you can enjoy 16 kinds of brews. Therefore, if you wish to enjoy an exotic Turkish fine coffee powder, then you just adjust the settings of this device, and it shall be served!
Commercial-grade conical burr: The device comes with a commercial conical burr. Burrs are that actually grinds coffee beans into the awesome coffee powder which we actually need to pour in our brews. The one which makes the powders better is a commercial grade burr, which is always of a far better quality when compared to the normal ones.
Considerable storage space: You can store anything between 7 to 8.5 ounces of coffee beans in a plastic container. Having a large quantity stored ensures that you do not have to refill frequently.
The device comes with a timer: This alerts you when it has finished grounding and pounding the beans into powder.
Also Read: Best Espresso Coffee Grinders
Pros
The Capresso 560.01 Infinity Burr Grinder has several advantages which shall delight you.
Its conical steel burr component is more than capable of grinding the coffee beans into the finest powders you can dream of. It does all the heavy work for you with precision so that you do not have to.
The machine comes with a gear reduction motor – One problem seen in most other machines is that they are not quite durable due to the wear and tear. However, this does not happen in the case of the Capresso 560.01 Infinity Burr Grinder due to its gear reduction motor.
The conical burr on the top can be removed easily whenever you want to clean it.
The coffee container underneath is tight enough to negate any chances of an accidental spill. In fact, you can fill it near capacity, and yet there shall be no spills or leakages.
A few verified purchaser's reviews would be a cherry on the cake :
Simple to use. Simple to clean. Surprisingly quiet. Perfect grind every time! No doubt this will last for years and years with daily use. A quality product for sure. Well worth the price if you're serious about your coffee. I would recommend this to a friend!
This is a great grinder for the price. It's great in the office and at home. Would highly recommend it. I would recommend this to a friend!
Capresso Infinity Conical Burr Grinder, Black...
PRECISION GRINDING: Commercial-grade, solid steel conical...
WIDE GRINDING RANGE: From ultrafine Turkish to French Press...
PRESERVES AROMA: Gear reduction motor grinds slow with...
LARGE CAPACITY: 8.8 ounce bean container and 4 ounce ground...
Cons
Like all other devices, the Capresso 560.01 Infinity Burr Grinder is not without cons, the Capresso Infinity Grinder comes with 16 grind settings which are lesser as compared to the competitors like Baratza Encore and Preciso. But it can't be said as a complete con as the brand is providing the best of settings normally required in daily use.
Verdict
Available at an affordable price, the Capresso 560.01 Infinity Burr Grinder is one that cannot be missed. Having this at your home or at any other premises ensures that you get a brew just like the ones made in restaurants and hotels. For beginners, it is a breeze to use.