Find the Best Deals on Coffee Makers, Espresso Machines & more…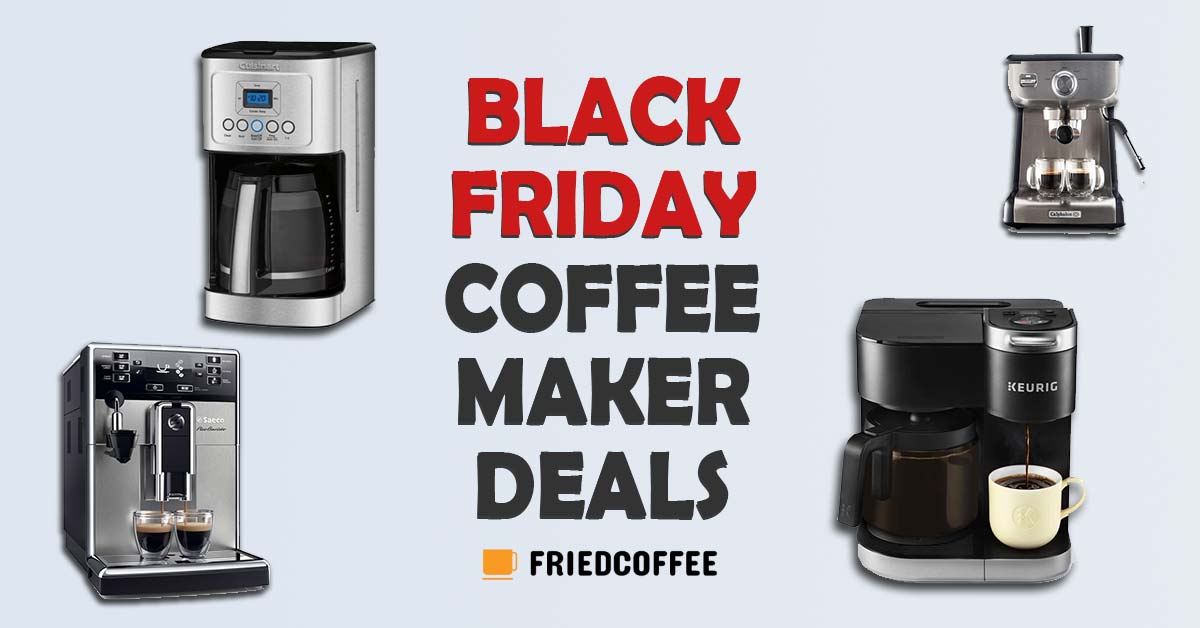 Shopping for the hottest deals on Coffee Makers & Espresso Machines this holiday shopping season?
It's finally here! It's that time of year where the thoughts of Black Friday Deals & Holiday Shopping Deals are filling our hearts, as well as our wish lists, with all the latest gadgets and toys. Smart shoppers know that this is the best time to buy your favorite consumer products at unbelievable discounts.
Frankly, quite often we take advantage of the savings to buy things we have wanted all year, even if it is for ourselves. At FriedCoffee.com, we love a good deal almost as much as we love coffee. This is why we created this Black Friday shopper's guide to help holiday shoppers find the best deals for 2021 during Black Friday and the Holiday shopping season(plus we have another article about Cyber Monday Deals). Cut out the guesswork, avoid the crowds, and start saving money by picking the perfect new coffee brewing gear with the help of our detailed product reviews, equipment analysis, and shopping guides.
We bet you have already created your wish list and have waited a long time for the holidays to come again. That is why this Holiday Shopping Season we want to help make things easier by helping you find the perfect coffee-making products at the best prices, saving you time and money. So if you happen to have a new coffee maker on your gift list or the gift list for a loved one, this is the perfect place to find the best deal! From all of us at Fried Coffee, we welcome you to our 2021 Black Friday Shopping Guide for Coffee Brewing Equipment.
We understand that you've most likely already scoured the web for coffee makers and as a result, some confusion might have already started brewing inside your mind. Let's face it there are so many options and features and brands to choose from. To help you with this, we have created a guide on some of the very best Black Friday Coffee Maker deals, so that you can choose the best one while getting the best deals! What's more, we have selected almost every kind of coffee maker from almost every category, so that you don't have to keep surfing around on the web from website to website just to add to the confusion.
We hope you'll take notice that our recommendations throughout this guide to the best coffee maker deals this Black Friday are not just based merely on discounts, but rather, our priority is to give the best product in each respective category. That said, rest assured that all of the options we have decided to present have not only gained our respect and the respect of coffee aficionados from around the world, but are representative of some of the hottest deals you will find on espresso machines, automatic coffee makers, or single-serve pod coffee makers this Black Friday.
We all know how often we have rushed to get amazing deals only to find out that the deal wasn't as great as we hoped for. It's never fun when our assumedly amazing purchase turns up to be less than adequate for our needs. So, we'll help keep you confident gearing up for the "Superbowl of Shopping Seasons" with our expertly chosen selections below that you simply can't go wrong with.
Okay, Let's Go… Less Talk & More Discounts!
Online Shopping For The Best Coffee Maker Deals
Drip Coffee Makers
Among all of the types of coffee makers, you can buy drip brewers are the most common and so we are listing them at the top. These are the most affordable and easy-to-use machines that don't require much practice or patience to brew a cup of coffee. Just fill the coffee grounds, top up the water reservoir, press the button, and wait for the coffee. That's it and you're done! Below are our favorite picks for the Black Friday Deals when it comes to drip-style coffee makers. If you have the budget, go with our favorite Moccamaster by Technivorm.
Single Serve Coffee Makers
As many things have become more personalized, coffee makers are not left behind. Single-serve coffee makers are our next favorite as they allow us to brew a single cup of coffee at one go. The need for these has grown tremendously as one can brew with his own preference and doesn't has to depend on a single wake-up time of the family. If a person wakes up at 7 am and another person of the same family ups at 8 am, he has to drink the coffee already made at 7 via a drip machine. So, there came the need for a single-serve.
This category is especially popular with students and small families because the drip coffee maker comes with a minimum setting of 4 cups which tends to be wasteful in some situations. Another market that buys a lot of single-serve coffee makers is the hospitality industry, namely Hotels and Motels. Single Server Brewers are often found in hotel rooms for guests to conveniently make a quick cup of coffee. Our list below contains only the single-serve coffee makers in which you use your preferred fresh coffee grounds from your favorite coffee roaster, as opposed to single-serve pod/capsule brewers which we will discuss next.
So, here we go with our top picks for the best Single Serve Coffee Maker Black Friday Deals.
Pod Coffee Makers (Capsule Machines)
Our next selection in terms of popularity is again the single-serve coffee makers, but specifically, those which use pods this time around. When you are short on time or need a simple way to brew coffee, the pod machines come in handy. Nespresso vs Keurig is always the battle between the two pod giants and both have a tremendous variety of brewers to blow your mind and equally confuse you as to which one to purchase and which one to leave on the store shelves. So below are the selections of the best pod coffee makers with Black Friday deals to fade your questions away.
The first up on deck are these deals on Keurigs Coffee Makers:
And next we have the top deals on Nespresso machines:
The pod coffee makers are mostly spotted in the lunchrooms of businesses and offices where time is precious and nobody is engaged in brewing coffee for 10-15 minutes. They just need a fast cup of coffee. With the hustle and bustle of today's world, the desire for these has swept the home brewer market by storm years ago and continues to do so to this day. At, Fried Coffee, we anticipate this repeating itself this holiday shopping season.
Automatic Pour Over Coffee Makers
Pour-over brewing is praised over other conventional methods of crafting a cup of java. Throughout the history of coffee, the pour-over technique to brewing is traditionally done manually so that one has control over brewing parameters such as water temperature, steeping, and blooming time. Those who love this method, but want it done automatically with optimal parameters can go ahead with making considerations in this category. We have listed some of the best brewer deals in automatic pour-overs.
Top Holiday Shopping Deals on Espresso Machines
Espresso Machines
For those crema lovers, espresso machines are like a gift from God. We know you enjoy waking up by the aroma of a perfect cup of espresso. As a stand-alone drink, espresso is often the base for many specialty drinks like a latte, cappuccino, mocha, and many more. To combine the comfort of your home and these specialty drinks, you need to have that perfect espresso machine.
Well, here are some great Black Friday deals you could grab as your perfect espresso machine.
Super Automatic Espresso Machines
So, you just want the creamy rich cup of cappuccino without doing anything! A super-automatic is like a barista at home who does all the work for you including grinding, brewing, and frothing to make you a delicious cup of espresso. Beyond just a cup of espresso, it also makes latte, cappuccino, and other specialty drinks at a touch of a button. Most of these machines are programmable and you can program them accordingly to your needs. We have picked the best deals from the house of Gaggia, Philips, and Saeco which give great outputs and stay within budget.
Here are some amazing deals to make your day.
For no budget constraints, go for a Jura machine, for a hassle free coffee experience. Here are some good picks by Jura.
The Best French Press Deals
French Press Coffee Makers
Moving over to people who have an intrinsic passion for coffee. They just can't begin their day without coffee with the utmost precision and optimal constraints they need to focus on. So, the way to achieve this is obviously manual. French Press is one most popular categories in manual brewers because they are easily available, fairly easy to use, and don't create much mess. They perform the immersion brewing process in which the coffee is fully immersed underwater for some time to undergo extraction.
Here are some products that will give you a great immersion experience along with jaw dropping deals.
Deals on Cold Brew Coffee Makers
Cold Brew Coffee Makers
Calm and peace are the two words that resemble this kind of coffee drinker coincidentally. Though we can brew cold coffee via a French press or an AeroPress. But for a faster and exquisite brewing, a dedicated cold brewer is needed so that you can brew drinks like nitro cold brew at home. The good news is, the market has not numerous but some really good options one can crack the deal on. With a dedicated cold brewer, you can brew faster and easier than that conventional method of making cold brew coffee.
Wrapping Up The Best Holiday Shopping Deals
We suggest trying not to get confused in the details with so many deals available this year. In our list of the best Black Friday Deals above, we hope that you can focus on the type of coffee maker you need and grab the one that perfectly meets all of your requirements. If you have already sorted out the details and have your mindset, it is going to be very easy to grab the right one during the Black Friday discounts with confidence.
We hope you have enjoyed reading the Guide above. From all of us at Fried Coffee, we hope you have a safe and happy Holiday Season, and don't forget to share this with your loved ones who love coffee too so they can also grab some of these amazing Black Friday Deals.